These are the crowd-developed Eve V's final hardware specs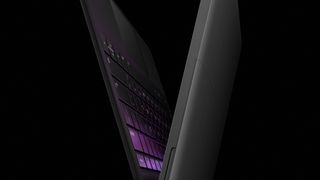 As promised, Eve has officially unveiled the final, detailed list of hardware that will come packed in its crowd-developed Windows 10 2-in-1 tablet, the Eve V. We've previously seen Eve tease various aspects of the tablet, like its screen and fingerprint sensor, but this is the first look at the full spec sheet.
Without further ado, here's what hardware you can expect from the Eve V:
| Category | Specification |
| --- | --- |
| CPU | Intel 7th Gen Core M3/i5/i7 |
| RAM | 8GB/16GB LPDDR3 |
| Storage | 128/256/512GB |
| Connectivity | 802.11ac 2x2 MU-MIMO, Bluetooth 4.2 |
| Ports | 2x full USB 3.1, 1x USB 3.1 USB-C, 1x Thunderbolt 3 USB-C, 1x 3.5mm audio, 1x Micro SDXC reader |
| Display | 12.3-inch IGZO LCD, 2736 x 1824 resolution, 1:1500 contrast, 450 nits, anti-reflection coating |
| Battery | 48 Wh (10-12 hours) |
| Sensors | Fingerprint, Hall, Gravity, Light, Gyroscope, GPS |
| Audio | Quad 1W speakers, dedicated TI headphone audio amplifier, 2 noise-canceling microphones |
| Cameras | 2MP front, 5MP rear |
| Stylus | N-Trig, Surface compatible, 1024 pressure levels |
| Keyboard | Pogo-Pin and Wireless keyboard with backlight and latest glass clickpad by Synaptics (Microsoft Precision drivers), Bluetooth 4.2, connects up to 3 devices, 15-hour continuous typing battery life |
Alongside the full spec reveal, Eve also gave us a quick look at the wireless keyboard that will launch alongside the Eve V. The company is really talking up the durable build quality of the keyboard, along with the precision trackpad and backlit keys. You can find an in-depth explanation of the decisions that went into the Eve V's keyboard at Eve's full blog post, but here's a look at what you can expect the keyboard to look like.
The Eve V is officially set to hit Indiegogo on November 21. The company only expects to have 500 units available in its initial round, so you'll want to be quick if you're planning to snag one of your own. There's still now expected price available, but for now, you can get a quick comparison of how the Eve V stacks up with the Surface Pro 4 in the chart below.
Thanks, Ruben, for the tip!
Dan Thorp-Lancaster is the Editor in Chief for Windows Central. He began working with Windows Central as a news writer in 2014 and is obsessed with tech of all sorts. You can follow Dan on Twitter @DthorpL and Instagram @heyitsdtl. Got a hot tip? Send it to daniel.thorp-lancaster@futurenet.com.
Why the slower usb 3.1 gen 1?

What do you mean? I'm sorry, I don't understand your question...

I'm not sure how to make that question any clearer. The spec sheet says it is using USB 3.1 Gen 1. Gen 1 is 5 Gbps, while Gen 2 is 10 Gbps. Why use the slower speed? Other devices on the market today have Gen 2.

At the time, it wasnt possible to get that technology. But we got Thunderbolt 3 instead ;) We want to be able to attach that eGPU :)

It has already been delayed over and over, back in June you were telling us to hold off on buying any other computer because this was just around the corner. We are now well into November, other devices have been shipping for a while with Gen 2. Thunderbolt 3 devices started shipping in December 2015, while USB 3.1 Gen 2 devices were shipping back in August of 2015. If USB 3.1 Gen 2 was shipping before TB3 devices, then why not be able to get it into a device that has been delayed?

No need to bash, its really hard to make a product within a year... And some licences cost millions :( I dont remember quite well, but there was some trouble with it... It was way cheaper to get Thunderbolt 3 for what we, in community, wanted. Like camera tech for example... The licence to use higher then 5 Mpx is a seven figure one. Anyway, the reason is somewhere at eve.community. Im sorry, really dont remember 100% correctly.

So you and your friends bash other products, telling us that taking a few days to ship from when it was announced, you personnaly calling that other product "a waste of money," you calling it "outdated in a month or so​" when that month or so came and passed without a shipping Eve and has outdated hardware. I am pointing out how there are technical deficiencies in your favorite unshipped product, and then you go on giving excuses for the delay, then try to distract with other specs, and then say that there is a reason and I need to look it up. To me and quite a few here, you and the rest of your friends have completely destroyed any interest we may have had in this device. You have repeatedly attacked other products, and us. And now you are complaining that we are bashing this device? You reap what you sow.

You surely show a lot of interest :) I'm confused. Again, don't think that something is made easily. There are a lot of problems. A lot of "protection" from big players who make the availability of the best parts "unavailable" and so on... Like, you agree on some part, design around the rest and suddenly, that part isn't available. What then? Find another supplier, design again and so on... Time passes by... Remember, we are small players that are trying to make something that "others" don't want us to... We have finally everything that we need. Every. Single. Part. Eh... It isn't easy :( But it's done :) Can't say more.

My issue is that you seem to think it is OK to bash other products, tell us to wait for the PF, and then complain about how hard it is to create a device and claim that the delays were OK. You personally said these things in another article. If we had waited like you told us to, then people would not have a computer today because of these delays. I know that something like this is a big undertaking, I have been involved many times in bringing products to the marketplace (not hardware, but software). But you are now asking us to be patient when you were not as forgiving of other products that shipped days after being announced, not months later.

That particular device was and is rubbish. Confirmed by reviews too. And then I wanted to warn potential buyers. I can't tell someone what to do but advise in good faith. And since then, many really good devices have came out. I had nothing to say about those. And our device, I know it will be GOOD =D I will make a review and post it. And trust me, it will be honest. You have my word.

"That particular device was and is rubbish." So it is fine for you to bash othe products, but dont you dare guestion things like why no USB 3.1 Gen? That device, when you made your comments, was announced and nobody had one to review it. On Amazon and Microsoft Store it has a 4/5 rating. Engadget, which will criticize anything that doesn't have an Apple logo, said the only problems was the screen was average (at $600 I wouldn't expect the screen of the SP or Eve) and the keyboard is sold separately.The Verge said the screen was not as good as higher priced devices, but it was bright and crisp. Another anti-MS site, techcrunch only said the speakers were not the best. No the Huawei does not have Gen 2 USB 3.1. But, according to you, that is not an issue, right? And no need to post your review. I will do it for you: Wow! :) 11 out of 10 =D Absolutely perfect in every way ;) Throw everything away and buy this now =D You won't need to have this device to know that you will claim it is perfect.

Dude, shut up already! If you don't want the product, don't get it.

Why do people so greatly hate disagreement? He has to shut up because he questions the product and company? I haven't followed this thing at all, but the Eve person in here doesn't seem to dispute the complaints as things that actually happened. If they are real matters, they are legitimate things to question and call the team out for. Yeah, there might be legitimate reasons for delays, and other products might fall short as well, but if a hardware maker is attacking the competition in the open and then has its own failures, it seems both fair and excited to expect that entity to stand up to reasonable criticism.

In my honest opinion having gen 1 instead of gen 2 won't be a deal breaker for anyone - besides many peripherals (like mice) won't gain anything from the increased speed, if you do need a high speed port you have the thunderbolt 3 to suit your needs ;)

I have SSDs connected to USB 3.1 Type C Gen 2 devices, and the increased speeds make a very big difference. I have 4 of them and use them for software development. While SSDs don't rate at the 5Gbps that Gen 1 get (even though SATAIII is 6Gbs), when you run four of them the Gen 2 bandwith is needed since they would saturate the data path. So while you say it "wont be a deal breaker for anyone" it would be for me. TB3 devices are way overpriced, looking at Amazon a 2 bay TB3 enclosure is $355. I bought 4 Type-C Gen 2 enclosures just a few weeks ago and paid $20 each. $710 vs. $80, that is a big difference. No, mice would not see any benefits, but there is more than just mice.

Then obviously, this device isn't suited for your needs... I know that in your case, I definitely wouldn't get it... It lacks what I would need the most heh :\

I have to concede that your use case is a very niche one. But why do you need to have all 4 ssd running at the same time? You can have them all plugged in but do you really need to use all at once? And wouldn't have it been cheaper (and probably would even give you better speeds) to buy one or two larger ones?

I will admit that developers do things very differently than the normal person, so my use cases are different. But yes, I do need them. The internal drive for the OS, one external for sources and building, one for databases, one for data files which are around 20GB each, and one for holding the final output. The external drives are 1TB each and two 2TB drives would not be cheaper. The issue is to spread the use among multiple drives so that when one is using a data file, it is not blocked getting another file. Depending on the computer I am using (the 20 core big machine or my laptop) there are issues with the internal hardware not being able to handle all the data, but there are definate needs to have this setup.

There is the possibility of building a dock (basically with many ports). I would advise you to post your needs in terms of ports (in the community there should be a post for that) and we can try to make it fit perfectly for you! ;)

Don't bother, we have nothing to offer him. He needs a workstation. That he owns.

I don't need help from "the community", I know what I am doing. A dock doesn't help either since it would be defeating the purpose of what I do and how it has to work for speed. I really don't have a problem with this device, it looks pretty good, in fact. The problem I have is with the community, and desertfox's comments show that perfectly. From what I remember you have been quite level-headed, but many of the collective, when they show up here, are far from it.

Nohone but what device do you need? Tell us in the community and we'll help you the best way we can.
And please let's stop with the hate you have with some people from the community who posted here (and vice versa too). We need to be collaborative. Don't start wars. Solve them. If one stops saying the other person is bad, hate will disappear and then we can work things out much better ;) All it takes is a little forgiveness and patience. P.S. I was one of the community members who commented on that Huawei article. I recognise it wasn't the best action to take and I believe we've learnt our lesson ;) if you see, no more articles about other products have you seen people commenting about the Eve V. We all make mistakes. The key part is what we learn from them. Take this as an invitation, look at the community website and pose what are your needs for a device ;) and then let's discuss!

Then what is it? I have never been dishonest or in denial of anything. I did apologize too. This is the first community developed device, of course that we feel enthusiastic about it! And we mean well. What do you want from me, for example? How can I help?

Thank You for advice that I had learned the hard way unfortunately... I wish I knew You before heh Thanks again!

Im curious... Which company do you work for? Or do you own one? And if you have the time, I invite you to visit the community to talk more ;) experience is very valuable - it helps you avoid making mistakes and even to do things better and faster.

What Artur said Mr. kojackjku :) Welcome to join at any time!

@Nohone - Are you actually planning on doing your development work on a 12.3" 2-in-1? It's cool that we can, but that would drive me nuts!

Hi nohone, you asked why we didn't go for USB 3.1 G2. Basically - we have a 3.1 G2 port in there. TB3 basically automatically support 3.1 G2 (as far as I know). You can still connect your SSDs over the TB3 port and have the full speed of 3.1 G2. As far as I know we don't have the USB-C port be 3.1 G2, since there was something with the controller and if we wanted the USB-C port to be 3.1 G2 we'd have to downgrade one of the USB-A ports to USB 2.0.

Stop saying 'we' as if your silly comments are reflective of the community. Are you collecting downvotes again?

At least it has those full sized USB and USB-C.... that's definitely the right move. So many people are leaving users with a lot of hardware behind. And the Thunderbird is full spec so you can do all the multi-display etc. via that. No HDMI is a drag though. Anyone who travels and has to plug into projectors and the likes will need at least one dongle... but I guess that's better than many options these days!

Unfortunately, as much as we wanted, we couldn't get the full HDMI. Structural integrity would be too compromised. So we went to adapter solution...

Well glad to see full USB. Stuctural integrity.... sounds like Star Trek ;) But I understand. It is a larger connector and would enfore design constraints. At least you squeezed in the other connectors. And other neat stuff like GPS. Will follow you guys on twitter and see how the project goes. Curious about the $.

BTW, the thunderbolt will be fully compatible for eGPU. The community wanted that, many gamers in there ;)

You know, I ain't sure... We have the gyroscope, g-sensor will tell the device it's location in space/time... But good question! I will ask :)

Why would you need an accelerometer in a 2 in 1 device with 12.3" display?

Tablets have them, the SB/SP4 (which are also Tablets) do too... The EveV matches or surpasses just about everything, but seems to omit this, so was curious.

We saw no reason to put it - no use cases. In a phone for example you can use it to do fitness tracking but that's unlikely to be done with such a big device.
If you do need to see the acceleration of something like when you are on a car and pushing the throttle (just a example that came now to my mind) you'll have your phone, fitness tracker or even dedicated device ;)

You're one of the project coordinators? I've no doubt there's some excellent use-cases, but I can't think of anything compelling OTTOMH. There'll be someone out there lamenting, not being able to use x app/sw on it. Seems like a missed opportunity, I doubt it'd add much to the difficulty of the overall build. But it's not a "biggy" that it's been omitted. :)

I'm not part of Eve ;q) I am just an insider - someone who once was a ol' regular community member. I (and others) was 'promoted' because of my feedback to the project. Insiders are people who Eve give more trust, giving some of the1 details otherwise not known (or just tell earlier). I don't gain anything from being an insiders/community member besides learning with other people things about tech ;)

I think we have it by default but I ain't sure. It does ring a bell but didn't remember properly to tell with certainty...

It doesn't have an accelerometer ;) checked with the CTO.

Really? Wasn't that a part of the SOC? I mean, already implemented by default?

Hi Jedi! :) Quick info - we don't have a dedicated accelerometer, but we have a gravity sensor which is basically an accelerometer that also measures the gravity (and shows the rotation of the device). Hope I could help! :)

Gravity sensor? Never heard of them...
I don't suppose you can point to more info. about such devices?

In an ideal world there are adapters available with each projector. That's smarter then each user needing to buy one.
The problem is we all know that those things always mysteriously disappear.
This thing looks cool though, i find the keyboard of the surface rather flimsy and it flexes way too much. Looks like this EVE V thing looks a bit more rugged.

Yes, we feel the same way about the Surface keyboard. So we made it more rugged :)

Well, you either need a cable out a wireless receiver for the display, so something has to be carried regardless.

Any ballpark figure on the price range?

Not yet but very very soon :)

Cool if this can compete with my Surface pro 4 I will be switching to EVE, screen bleed on the Surface is ridiculous with 0% empathy from Microsoft support!

It will be better and cheaper ;)

Weird. My experience with Microsoft Surface Support has been top notch.

Actually me too (I own a Surface as well). I think its because many manufacturers limit out light bleeding of the LCD panel from the "limited hardware warranty" (its because of these things its called "limited"). This is strange though, since I know Surface displays have really high quality standards. Perhaps it is in fact a manufacturing flaw. I do think the Vincent should be eligible of exchange though. (Btw my Surface also has display issues, but MS support didn't avoid their responsibility; I'm eligible for exhange. The issues are "per pixel" green/blue bleeding - dark content has this strange dandruff looking pixels around, additionally I'm experiencing severe yellow bleeding around the lower right part of the display. Suspecting this is caused by the charging overheating the panel locally in that area since it gets worse over the course of a working day)

the base model will be usd 900 or less without tax and the highest end model will be usd 1800 or less without tax.

That`s a fair estimation....

Ummm, no. The price will be revealed really really soon. Nobody knows exactly how much yet :) But it will be a pleasant surprise ;)

So they will be cheaper than Sri Yogesh`s estimation?

Vincent, the price was revealed in a reddit ama and it might be cheaper than that and they are still deciding on whether or not to include the pen. Hope it helps to clear the confusion!

I honestly don't know. I assume, but don't know :\

Thanks for the info guys, I was just reading up on that in forums as ur message came through.. I would be very interested in the EVE V.. hopefully will be able to get one here in Ireland..

Why does it have two "fn" buttons, but no context menu button on keyboard?
Otherwise it looks like great tablet but still want to see reviews on manufacture quality and performance

For easier one hand operation... But... Great comment! I will proceed your inquiry, thanks :)

Since jump list are hidden in App list and there are no easy way to trigger context menu under cursor (not mouse pointer) (in text/code editor or selected file/folder in explorer) context menu button on TypeCover 4 was huge improvement to my workflow (in comparison with TypeCover 3)

Thank You very much! I have proceeded Your question. Also, you could join the eve.community and state your proposal! ;)

OK, I have the answer from the CEO... Quote: "People will be able to order the keyboard layout the way they want, no problem. Also you can use a software way to make that other Fn to do what you want." End quote :)

Wharton Brooks when you guys get off the ground (ok if) take note of Eve and the way they are doing customer engagement.

Thanks! And trust me, it's when. Uhhh... I'm really sorry, the NDA contract doesn't allow me to say or share more :(

Greetings from the Eve Community :)

Real highlight here seems to be the use of USB 3

Yup, and many ;) The community decided so ;)

Are there any full featured videos of the device online?

Yes but I ain't in ability to share due to NDA contract, sorry :(

Wow this is going to be an amazing device, hope to get broader distribution soon

It will be, don't worry. Also, the LTE model should be available as well.

Where is going to be located the fingerprint reader? In the keyboard or in the tablet itself...where?

In the tablet itself, embedded in power button.

Yeah, we saw no point if it's at the keyboard... This way, it's way more pragmatic...

Huh! Funny, they mention with proud the finger print scanner in the sensor section but don't mention the more secure Windows Hello feature scanners. OF COURSE IS A HONEST MISTAKE! Right?!

I'm sorry, what do you mean? BTW, fingerprint sensor is imbedded in power button.

Thank you for your comment. I think you might mean that it has not been stated that the fingerprint reader (built-in to the power button) supports Windows Hello biometric authentication. It seems it was left out since the team behind the PR thought it was self evident for such a device. Sorry for the confusion! But Windows Hello compatibility was confirmed earlier in the second round of final specs. :) Take care!

So, nobody noticed that the Backspace button looks weird? Good, good ;P

We noticed, but in the past you and your friends would go on the attack if we called out something that was stupid about this device.

Like every parent, we feel very protective about our child ;) But also, sir, I dont think that you could throw a stone too ;P

Your group (and you specifically) went into an article about a completely different product, started attacking it, telling us to hold off buying that product and getting the then called Pyramid Flipper instead. Nearly 5 months later, this still has not shipped. And equating this to a child, a real human being and how you need to protect it just shows how messed up you people really are. Apple fanboys have nothing on you.

Wow, so much hate... Dude, relax :) No conspiracy here ;P And me, a father of two, can call this a child of our efforts and time spent to CREATE something that we love and like. Did you ever make something and then felt proud?

can you also prop up the keyboard like you can on the surface pro series using magnets?

Yes, exactly the same way.

One the Eve V side of the chart it says the pad is Synaptics, not a precision pad.

Synaptics is the manufacturer, their latest model :)

Precision touchpad is a Windows 10 certificate that a hardware manufacturer can obtain various ways.
That means that the touchpad used can be qualified being compatible with the Gestures introduced in windows 10 :)

Good to know, the term is not clearly defined when used around these kind of sites and I was under the impression that it was a description of a certain hardware from a certain manufacturer.

I'm not part of the eve community and I went on the website to try to find the answer to my question and was not able to, but is the kickstand design finalized? Will it be the same/different from surface pro 4?

The same but slightly different ;) 135 degrees, any position :)

great thank you! Is there an estimated price range yet?

Really really really soon :) Can't tell more but that it will be good news ;)

Some question about the keyboard: Why chiclet keycaps? Why is the touchpad not properly centred (to the home row)? No caps lock indicator? Are some of those key labels (backspace, V) a joke, or part of the final design? Any plans for non-US keyboard layouts? Any way to monitor the battery charge level? Will the keyboard still charge when folded behind the tablet (which presumably disables the keyboard and touchpad)?

Yes, non US keyboard layouts are being planned, the keyboard will be included with the device but for non US layouts there will be an extremely small not for profit fee. Also other colors and materials like alcantara will be offered for a small fee presumably for a fee around 20 but it is still being decided.

Any information on exactly which layouts are planned?

Hi, @iKirin here, Community Manager of Eve-Tech! :) Sri Yogesh already answered some stuff and I'll get to the rest :) Chiclet: Why not? They're pretty decent for gaming and delivering a nice typing experience if the switches themselves aren't too bad. The touchpad is in the middle of the keyboard - it's not in the middle of the home-row due to our keyboard not having a nice 6u or similar spacebar but rather a 5,25u and as you might see as mech enthusiast the keyboard is 4,25u wide on the left and 5u on the right due to the form factor. Also, as far as my info goes there will be a way to monitor it. And you'll be able to put it behind the tablet which disables keyboard & touchpad to my knowledge :)

Thanks for the response! I'm not sure what chiclet keycaps are supposed to have to do with gaming. I was curious why you chose them over traditional keycaps. Generally you see manufacturers switching to chiclets for seemingly only cosmetic reasons, and it's rare that someone's actually willing to explain the thought process behind it, hence my question. Although I have to disagree with you about the "nice typing experience" part - the general trend on laptop keyboards seems to be towards thinner, lighter, quieter and with more non-standard keys, all of which are IMHO detrimental to the typing experience. By the way, are the keycaps flat or concave on top? What's the audible and tactile feedback like? Regarding the touchpad, the spacebar is not always a reliable indicator, especially on laptop/tablet keyboards. Its centre line should run between the G and H keys, but on your keyboard it seems offset to the right by almost a full key width. So here also I'm curious as to your thought process behind the decision to centre the touchpad with respect to the keyboard itself, rather than the home row. Any information about the caps lock indicator and key labels?

Or just walk into a store and buy the Surface Pro 4, rather than gamble on Indiegogo for something that probably won't be delivered.

you can do that or gamble with this device, which has a 2 year warranty with accidental protection included. This device has a more than 25 percent of the battery capacity of the surface pro 4, a 4 watt quad speakers that are amazing, a thunderbolt 3 port so that you can dock an external gpu for gaming and creative productivity. All of that for a lesser price than the surface pro 4, btw the keyboard (which can also be used when undocked) is also included for the price.

What about the thickness and the weight? The battery is dope for a 2 in 1 class leading is the word!

Thickness should be ~9mm, weight ~850g in tablet mode :)

There is a major, major omission in the article: the Core i5/i7 chips that EVE has picked for these devices a are not the same as the Core i5/i7 that Microsoft use in the Surface Pro 4. Intel has re-branded the Core M5 and M7 chips to i5 and i7 respectively and they can only be identified by looking at the full model number (i5-7Y54 and i7-7Y75). Eve makes that clear in here (http://eve.community/t/eve-v-confirmed-specs/1780) and other posts but for people reading only this article and assuming that the comparison between the Pyramid and the Surface Pro chips is like-for-like will be very misled. I believe you must make it clear in the article.

Agreed. This philosophy from Intel naming is making it cumbersome :\

First. This looks great. Second. Where are the Page Up And Down buttons?

The layout and keys are customisable. If you want those, simply order it the way you want ;)

Another machine without a great gpu.

That is why we added Thunderbolt 3. So we can add eGPU ;)

Other than the Razer tablet that came out a while back, I don't think there are any tablets that has a discrete gpu.

You do have the Surface Book

Neat. I'm hoping this to be the cost effective Surface Pro 4 alternative.

OH YEAH! Most definitely ;)

LTE and the dream is complete... provided the built quality is same or greater than surface vapor-Mag

To me too, LTE is a must! As for the build, yes and then some improvements over Surface... Even in display, I live by the sea with a lot of sunny days. I need to be able to look at display without my face on it ;) We managed te get almost 95% of the reflection out of the way :)

We're using CNC'd aluminium to get the pretty much highest build quality that is reasonable - as far as I know Apple is also CNC'ing their housings to achieve their exceptionally high build quality.

Are the cameras/sensors capable of Windows Hello Facial Recognition? I know the fingerprint scanner is Windows Hello compatible but facial works so well on my SP4

No. We did had a poll about iris scanner. I voted for it but I was in minority heh :\

Sorry I missed that vote! The IR Camera (Infra-Red NOT Iris) is a joy to use on SP4 and will have much more integration with websites and apps in the future.

Unfortunately it was deemed too expensive to have. It does, however, have a fingerprint scanner which enables you to have Windows Hello at your fingertips (this tech is also faster and more reliable than IR/Iris scanning).

No videos, no price and no release date. Sounds like that WhartonBooks phone. And someone said it uses the new i5/i7 chips that are really rebranded m5/m7 chips? If so, then it's not even in the same class as the real i5/i7 that's in the SP4. Not to mention, that the SP5/SB2 will be released early next year, and who knows what they'll have. Meh. Nothing too compelling here.

There are many fish in the sea ;)

Thunderbot 3 that's all I need :) This + razer core =only device you need

Exactly what we were thinking ;)

I like it, if the Surface Pro 5 has similar specs I'd be very interested. USB-C with Thunderbolt 3 is really the only thing that kept me from getting a Pro 4.

Wireless keyboard is really awesome, being able to control my device while connected via hdmi is great

Yup. We wanted flexibility and possibility to be connected to more devices with the same keyboard. Not to be bound by the device...

Hi dudes! My name is Konstantinos and I am Eve's co-founder. Feel free to ask me any questions :)

What is the the answer to the meaning of life and everything else? ;)

It's like a pyramid depending on perspective. Whether you are looking at it from the top or bottom it will appear to you as flipped or not Figure that out:)

42 indeed. Now we need a proper question, right? ;P

Nice looking device any chance of a ultra mobile computing device aka a smartphone?

There will be a poll after this device is up and running on what we at the community think that Eve-tech should do next. Join eve.community and cast your vote too. If you are interested and want to join, I welcome You :)

M3/i5/i7 Which i5/i7 are those? Intel's renamed the m5/m7 as far as I know.

Most important question gets ignored. Fail.

It is not an Eve 5, it's an Eve V. Big difference, please fix!

It's Eve V. Roman V is written differently with lines on top and bottom of the V and that would mean number 5. Don't know how to find it on keyboard, sorry. So its simply V. The letter :)

I'm not sure who you are but I've never seen you at the Eve Community. Since they announced the V naming, it was ever intended to be a 5, it's only intended to be a V. I would have ASBSOLUTELY argued against V if they wanted it to stand for 5 since there was never a 4, 3, 2, or 1. The V is an upside down 2 - 1, or pyramid. Not a 5. So whoever wrote this article needs to fix it to the correct name omg which isn't 5, but is V.

I share your opinion totally! But we dont always get what we want heh... BTW, in the community I'm Ervin.

You don't get it. This is about opinion. The fact is that the name of the device is Eve V not Eve 5. So someone from windows Central messed up while writing the article by either thinking the V represented 5 which it doesn't or just messing up in which all I was doing was saying they need to fix that in the article they wrote. Idk what you are commenting on my thread about because there was no reason for you too.

This isn't about getting what we want it's about fixing a clerical error lol.

Yeah, I misunderstood what you meant, sorry :(

Then I'm sorry, as I thought you were saying that it's also meant to be a 5. Now I understand what you were saying as well.

? You said that you ain't sure who am I and that you never saw me in the community. So I told you who I am. Also, again, I agree totally on what you said. Sorry, I'm confused a bit :\

It looks very nice and choice is always good, so when I update next time there's more to check I look forward to hearing more especially price. Tbh there are a lot of good surface pro type devices out there but more is better. On another point I own a surface Pro 4 its beautiful and the customer service is excellent easily the best I've encountered. I did have to return my first surface and id slapped on a screen protector, after returning the item 2 days later a screen protector for the pro turned up. Id not asked but someone in the customer service dept noted and sent a replacement. That is good service.

Wow, respect! We aim to be even better :)

LTE modem would be a differentiator over the competition ... what s the GPS good for without data connection?

On Windows, you can download maps on the device and use, for example, navigation in off-line mode. Or simply browse maps...

We're planning to launch an LTE model after the IndieGoGo campaign :) But since it'd require extra certifications (that would cost time & money) we decided to offer the LTE model at a later point.
Windows Central Newsletter
Get the best of Windows Central in in your inbox, every day!
Thank you for signing up to Windows Central. You will receive a verification email shortly.
There was a problem. Please refresh the page and try again.