These gamers are pigs. Literally, someone taught pigs to game.
Could pigs be the next pro gamers? No, but it's still impressive they managed to play a game at all.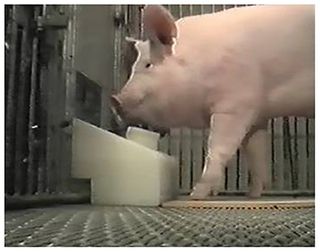 (Image credit: Frontiers in Psychology)
What you need to know
A research project tested the ability of pigs to play video games.
In the study, four pigs were taught how to use joysticks.
The pigs continued to play the game even after a food dispenser broke.
"All animals are equal, but some animals are more equal than others," said the pigs in George Orwell's Animal Farm. It's unlikely that those pigs were referring to their video game prowess, but maybe they should have been. Scientists taught four pigs how to play video games in a recent study (via the BBC). The results of the study suggest that even though they had to use their noses to play, the pigs are capable of playing joystick-operated games.
The pigs, named Hamlet, Omelette, Ebony, and Ivory, were trained to operate a joystick. The game involved the pigs doing the SIDE task, which involves using a joystick to move a cursor to a target wall.
During the experiment, a food dispenser broke at one point. As a result, the pigs couldn't be rewarded with food for completing a task. Despite this, they continued to play while being encouraged by researchers.
While most gaming devices are designed to be used with people's hands, the pigs had to use their noses. The study suggests that animals may benefit from touchscreens.
The results show that the pigs performed "significantly above chance," which suggests that they weren't just randomly moving the joystick around.
You don't have to worry about pigs beating your high score in your favorite game any time soon. The study notes that "despite performing above chance on the SIDE task, even the pig that performed best did not approach the level attained by non–human primates that acquired the task after a comparable number of trials."
In fact, none of the pigs met the criteria of the SIDE task. But to be fair to the pigs, the task was designed for animals with more dexterity. In addition to having to use a joystick without hands, some of the pigs were also restricted by mobility.
Since the pigs already learned how to use a joystick, maybe scientists could teach them to play Angry Birds.
Windows Central Newsletter
Get the best of Windows Central in your inbox, every day!
News Writer and apps editor
Sean Endicott brings nearly a decade of experience covering Microsoft and Windows news to Windows Central. He joined our team in 2017 as an app reviewer and now heads up our day-to-day news coverage. If you have a news tip or an app to review, hit him up at sean.endicott@futurenet.com (opens in new tab).
Personally I think the areas of science dedicated to farm animal gaming deserve more attention. In all seriousness... these guys are so smart, yet we eat them! That's kind of disturbing. I tried vegan bacon recently and it was pretty good. On the other hand, if we stopped farming pigs, their population would crash, so...

Some of us don't eat bacon lol. Joking aside, a chef once did a cooking documentary of farm to plate and it was the entire process... it was pretty inhumane for the pigs. With science in cooking sphere getting more traction hopefully we will see scientifically create bacon just like beef. The actual process does not use any beef cells but chemical process that mimic the taste, smell, texture and entire cooking process of beef mince (simplified process for the impossible burger).

Have you tried Beyond Italian sausages? They are ... let's just say really impressive. As a person who in a way grew up on Italian sausages I can tell you they are excellent. Not quite the same but just as delicious as the spiciest, richest, crumbliest Italian sausage you can find.

To be fair any animal can be taught things as every animal can learn to adapt where food is involved lol. I hopefully, none of those scientists start poking around with the idea of increased brain function. Otherwise all you bacon eaters out there will be in trouble lol. Joking aside, hopefully this would mean people eating less bacon. As the aggressive pig farming is a pretty destructive form of agriculture. Not to mention the amount of methane produced. Using science to chemically engineer bacon and other meat products like steak completely is one faucet to reducing global warming.