Do Microsoft's Xbox 'Project Scorpio' E3 teasers contain hidden messages?
Microsoft's "Project Scorpio" teasers are leaving some cryptic messages. But what do they mean?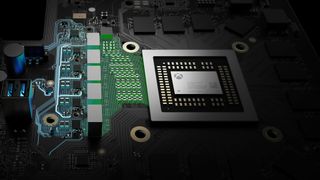 In the build up to its E3 2017 press conference, Microsoft has released a series of videos teasing its upcoming "Project Scorpio" Xbox console. Sporting the tagline "Feel True Power," the videos continue to drive the narrative that the console will be the most powerful console on the market. These short teasers cycle through a foray of artistic images, but Microsoft also seems to be leaving some mysterious messages.
So far, three Project Scorpio E3 teasers have dropped across the various Xbox social network pages. As spotted by XboxIngame on Twitter, there's more to the teasers than meets the eye.
In a video recently posted to the Xbox UK Facebook page, the message"6>4" can be seen plastered on the side of a tent around five seconds in. This could be a taunt at Sony's PlayStation 4 (PS4) Pro console, which sports 4.12 teraflops (TFLOPS) of computing power, compared to the heavily-marketed 6 TFLOPS touted in Project Scorpio's prerelease marketing.
In another video on the Facebook page, a cheering crowd is shown roughly five seconds into the teaser. With a sharp eye, you can see a hidden message disguised on a far-right wall, reading "X10S101-317."
While these numbers could have endless possibilities, there's a chance we may be seeing the first teaser of Project Scorpio's release date. With "X10S" potentially referring to the Project Scorpio console and "101317" representing a date of October 13, 2017, this could be the day the upcoming console hits shelves. The date would also fall on a Friday, which was the same weekday the original Xbox One console debuted in 2013.
Obviously, you should take this information with a pinch of salt, due to the obscurity of the message. It's easy to pull various speculation from this but it's really just a simple string of numbers. Still, given the circumstances, we can't rule this out.
It's easy to roll your eyes at these hidden messages, but they appear to be almost too obvious to be mere coincidence. Microsoft and Sony hasn't been afraid to throw cheeky jibes out in recent years, and this could be another example of the trend.
What do you think of these messages hidden with the Project Scorpio teasers? Let us know in the comments.
Related reading
Matt Brown is Windows Central's Senior Editor, Xbox & PC, at Future. Following over seven years of professional consumer technology and gaming coverage, he's focused on the world of Microsoft's gaming efforts. You can follow him on Twitter @mattjbrown.
Cooooooooooooooooooooooooooool!

This is some seriously cool stuff. Can't wait for Sunday!

Would they really release on Friday the 13th? 😲

How is this related to Surface Phone? :D

After the "S", there are three ones. There is also a three. There are also three groups of numbers in the sequence. Half Life 3 confirmed.

So Half Life 3 will be released exclusively as a Surface Phone game. Whoa. That would definitely be a way for Microsoft to get their mobile strategy adopted by consumers.

in think the S is a Number 5 !

If the release a phone, its make me happy if ms build a xbox portable xbox windows10 running on a snapdragon 835 or 845, the snap dragon is based on ARM. xbox scorpio is running on ARM apu.now with the new snap dragon 835 and later the 845 it could be real ms could be release a phone or xbox portable. Ms could be teasing it at e3, and i think ms is calling the xbox one OS to rename the OS to windows10s

They should have dropped the Xbox One brand back when they launched the X1 S now they are saddled with it. Xbox Scorpio is a better name than anything they can come up with as an official title, but now they feel the need to have to squeeze X1 or X10 in their somehow.

I think they should just call it Doug. The Microsoft Doug.

Surface Pro2 > SP3 > SP4 > Surface Pro.
Xbox > XB360 > XB1 > Xbox.

They should just call it Xbox Scorpio

Scorpio is not a appropriated name, just saying

Surface Pro2 > SP3 > SP4 > Surface Pro.
Xbox > XB360 > XB1 > Doug

"X10S"
X1 - Xbox One
0S - ?????????

6>4. Xbox does what Nintendon't.... err i mean Sony. 😁

6>4. Xbox is so yes, where others are So-nay. BTW, you're welcome to that Microsoft... For the small price of a Surface Phone. 😂

I would prefer they'd call it Xbox Scorpio instead of Xbox 10. By now everyone interested is already associating 'scorpio' with powerful high end machine and so MS would be wise to leverage that instead of introducing a new name at this point

Agree. And they will continue to make the One S, and presumably future variants of that, so they need to be able to differentiate the two consoles clearly.

i would prefer MS Scorpio, XBox Scorpio doesn't flow to me its in a different league. just like they have MS Xbox, make it MS Scorpio

Scorpio is the name of the Card that any manufacture can buy and put into a box and make their own game machine. You can even put it into an existing PC that is running Windows 10. You will have Asus Xbox, Acer Xbox, Dell and HP Xbox. Every OEM that partners with Microsoft will have a game box or PC that can play Xbox games. That's why all the pictures are of a chip set.

I really don't like were this is going. Looks like "Scorpio" will be the main focus for MS not "new MS games".

I still aven't sold my XBOX ONE (2014) although I didn't booted it a lot in recent months, for there is not much stuff to play on it that would not run on my PS4. So here is a question (and forgive me my ignorance): With almost all XBOX ONE exclusive titles being released for PC and with Microsoft communicating they'd want to unite both platforms, shouldn't the XBOX hardware get some PC games, too? Shouldn't Microsoft offer developers a kind of 'XBOX adaption toolkit' in order to facilitate transforming PC games into XBOX versions? My hope is to play games like TW:Warhammer on XBOX ONE someday. Currently only PC is gaining from XBOX, not vice versa.
Windows Central Newsletter
Thank you for signing up to Windows Central. You will receive a verification email shortly.
There was a problem. Please refresh the page and try again.