All the E3 2017 Xbox news we expect to see from EA, Ubisoft, Bethesda, and Activision
The "Project Scorpio" Xbox may prove to be the star of E3 2017 next week, but gamers should keep an eye on third-party publishers at the show.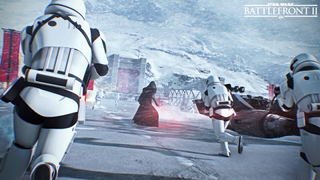 E3 2017, the biggest video game showcase of the year, is only a few days away from kicking off in Los Angeles. Between the 4K-driven Project Scorpio Xbox console and several exclusive titles set to launch this fall, this year's show could prove to be something quite special for Microsoft.
While the focus is on Microsoft's efforts, third-party offerings are still a huge pillar of what the Xbox One and Project Scorpio have to offer. Many companies may be holding back their big surprises for the show, but we still have a substantial idea of what to expect from the biggest publishers on the Xbox platform.
Here's what to expect from third parties at E3.
Everything we expect from Xbox at E3: Rumors, Project Scorpio, and a whole heap of 4K games
Electronic Arts: Battlefront 2, Need for Speed, and FIFA
Electronic Arts remains a large publisher for Xbox One and provides one of the most varied libraries of titles among major third parties. As in previous years, Electronic Arts won't technically have a huge E3 2017 presence, having opted for its own independent event known as "EA Play." While EA Play takes place during the same week as E3, even in the same city, the publisher still prefers to host its own separate show for its press conferences and hands-on sessions.
Electronic Arts' press conference for 2017 takes place on Saturday, June 10 at 3 pm ET/8 pm UK time. The conference will be hosted at its EA Play event in Los Angeles and streamed live to its Twitch and YouTube channels. This year the company will display several previously announced blockbuster titles, with some surprises assumedly up its sleeves.
Headlining Electronic Arts' E3 lineup is the sequel to its multiplayer-focused sci-fi shooter, Star Wars Battlefront 2. Responding to the criticisms of the first game, Battlefront 2 promises a narrative-driven single-player experience, a deeper multiplayer sandbox, and highly sought after support for space battles.
So far, the majority information on Star Wars Battlefront 2 comes from a short trailer released alongside the game's reveal. As a part of the press conference, we can expect a peak at the single-player and multiplayer modes, and how the new canonical story fits into the Star Wars universe. Based on information from trusted sources, we also expect Star Wars Battlefront 2 to be native 4K, running at 60 frames per second (FPS) on Project Scorpio. Whether this will be used to showcase Microsoft's upcoming console at E3 is currently unknown.
Many of Electronic Arts' primary studios also continue to cook up their own Star Wars projects. Visceral Games is working on its own story-driven action adventure game set for release in 2018, and Titanfall's Respawn Entertainment is working on a third-person action adventure title. We hope to hear new information on both of these projects, as the studios continue to leverage the Star Wars game license acquired by EA back in 2013.
Need for Speed Payback, the latest entry in EA's long-established racing franchise will also be seeing a full unveiling at EA Play 2017. Despite being recently announced with a cinematic trailer, we can expect some actual gameplay as a part of the publisher's E3 presence. From the teasers, we know Payback spins the franchise around with an action-heavy plot based around revenge, drawing similarities to the "Fast and Furious" movie series.
We'll also be seeing a huge range of sports games. EA has a sound reputation for yearly sports releases, with FIFA, Madden, NHL, and NBA Live likely making appearances during this year's press conference. From leaked documents, we also expect FIFA 18 to be 4K on Project Scorpio.
Post-launch content for existing EA games will be making an appearance at EA Play. With Battlefield 1, Mass Effect: Andromeda and Titanfall 2 all having released in the past year, each of these is expected to receive new expansions in months ahead. Battlefield players will be gaining a Russian map pack titled, "In The Name Of The Tsar," while a Quarian-themed DLC is looking likely for Mass Effect: Andromeda.
As for surprise announcements, we're not sure. No major leaks have emerged from Electronic Arts in recent months and we've had no indications of new IP or unannounced titles. While it would be nice to see the revival of classic franchises such as Dead Space and Burnout, there's no reason to keep your hopes up with the information we have.
Ubisoft: Far Cry 5, Assassin's Creed, and The Crew 2
Ubisoft is another prominent player at E3 2017, with an extensive list of new titles and expansions set to debut this month. The publisher has a growing list of active franchises and upcoming projects on its plate, so it'll be interesting to see which games are given the spotlight.
The company set its press briefing for Monday, June 12, starting at 4 pm ET/9 pm UK time. While the actual event will take place at the Orpheum Theatre in downtown Los Angeles, those at home can tune in through the Twitch and YouTube streams. This time around, the conference will be hosted by executives and developers, instead of the customary host, Aisha Tyler.
Far Cry 5 is one of Ubisoft's heavy hitters this year, refreshing the franchise with a new location and approach to its narrative. While previous games took place in overseas locations and remote civilizations hidden from society, Far Cry 5 debuts in the U.S. with a modern-day Montana setting. Up until now, we've only received a batch of cinematic trailers, but they have set the tone for the militaristic doomsday cult. As a part of the conference, we can expect to see a gameplay debut and details of new features coming to the franchise.
Ubisoft is bringing back one of its most recognized series at E3 this year, with a new Assassin's Creed game. While the publisher previously confirmed the game's existence in a recent earnings call, any other information up until this point is based solely on leaks. "Assassin's Creed: Empire" is looking to be the title for the next franchise entry, taking the series to the previously unexplored period of ancient Egyptian times. Following a one-year hiatus and after many felt the franchise formula was getting stale, Empire could introduce some attractive additions to spice up the core formula.
A sequel to Ubisoft's open-world racer, The Crew has been announced for release in this fiscal year (before March 31, 2018). However, next to nothing has been shared about the game, aside from the publisher confirming its existence during an earnings call. We can likely expect some improvements beyond the original, with a greater focus on post-launch content through a "games-as-a-service" model.
South Park: The Fractured but Whole is also set for release later this year, following numerous delays since its reveal in 2015. The comedic role-playing game follows up on The Stick of Truth, telling a story set within the universe of the renowned South Park TV series. We can expect to see new gameplay as a part of Ubisoft's E3 showcase and improvements made after multiple delays.
Ubisoft additionally has a number of existing games on store shelves – many which will see new content in the coming months. Tom Clancy's Ghost Recon Wildlands will be moving into its second season of DLC, while Rainbow Six: Siege is close to securing a new Hong Kong themed update. Other recent releases, such as Watch Dogs 2, For Honor, and The Division may also see new content during the conference.
Finally, we can expect to see a new Ubisoft IP unveiled, as announced in a breakdown of the company's E3 lineup. Many expect this to be the previously teased project "Pioneer," which appeared as an easter egg in Watch Dogs 2. The teaser focused on the game's sci-fi setting and vibrant color palette, but no information on the project has surfaced since.
Oh, and we'll likely be tortured with another on-stage "Just Dance" demonstration...
Bethesda: Fallout 4 VR, Elder Scrolls, and new DLC
Bethesda is hosting one of the smaller press conferences at E3 this year but is still expected to present a strong lineup of games. The company has already provided a pretty major hint of what to expect with a theme park-style teaser, which breaks down the franchises to expect at this year's show. While Prey, Dishonored 2, Fallout 4, Elder Scrolls Online, Quake and Doom are all confirmed, this also secured two unannounced projects for the show. Although Quake Champions and Elder Scrolls Legends are both restricted to PC, there's still games in store Xbox One gamers.
The Bethesda press conference will begin relatively late, on Sunday, June 11, at 12 pm ET/5 am UK time. The conference is expected to be roughly an hour long and will be live streamed on both Twitch and YouTube.
One of the unexpected announcements from Bethesda's E3 showcase last year was the company's investment in VR technologies. Both Fallout 4 and Doom had VR adaptations announced, as a part of the publisher's effort to bring full-fledged titles to tethered headsets. Now, with more VR headsets in the hands of consumers than ever before, we can expect this to be a key part of this year's show from Bethesda.
One of the most interesting aspects of Fallout 4 VR will be its support for Project Scorpio's VR offerings. With Bethesda Games Studios Director Todd Howard having previously discussed Fallout 4 VR in Project Scorpio's reveal trailer, Fallout 4 could be a great way to showcase the console's capabilities.
We're also expecting DLC for existing Bethesda releases, as with previous Bethesda single-player titles. While Fallout 4 and Doom's DLC production has come to a halt, both Prey and Dishonored 2 are expected to see their first major drops of post-launch content.
While the Elder Scrolls Online's latest expansion, Morrowind, is available ahead of Bethesda's E3 conference, we can still expect to hear future plans for the title. Although the game hasn't garnered a dedicated following like the core Elder Scrolls games, Bethesda is keen to continue pushing the title as it enters its third year.
As previously mentioned, we're also expecting two new games to be announced as a part of Bethesda's E3 2017 conference. While Wolfenstein and The Evil Within look like likely candidates for sequels, it's possible Bethesda will debut a new IP or unexpected title. A new entry to the main Elder Scrolls line is long overdue, but even if a teaser is shown, we shouldn't expect actual gameplay.
Activision: Destiny 2, and Call of Duty: WW2
Despite holding the reins for some of today's biggest Xbox One franchises, Activision won't be hosting a press conference at E3 this year. If it's like previous shows, the company will debut footage and content for its upcoming titles through Sony's and Microsoft's conferences. However, partnerships between Activision and Sony keep "Destiny 2" and "Call of Duty: WW2" marketing firmly locked down, making these more likely appearances at the PlayStation showcase.
Destiny 2 is one of Activision's big blockbusters in 2017, introducing some welcome changes to storytelling, core mechanics, and the overarching world of Destiny. While a huge dose of information came with Destiny 2's gameplay premiere back in May, we can expect to see more details surrounding these changes at E3 2017.
Call of Duty is making the jump back in time to the Second World War this year, signaling one of the biggest shifts for the franchise in years. After a reveal event showcased the new time period, we can expect to finally see some raw Call of Duty: WW2 footage at E3. Although Activision has previously announced its plans to showcase multiplayer as a part of the expo, another glimpse at the campaign or cooperative mode is likely too. Call of Duty: WW2 will also run at 4K on Project Scorpio, based on previously leaked documents.
Closing thoughts
Overall, Xbox owners have a lot to anticipate from third-party publishers this year. Some of 2017's biggest games will come from outside Microsoft but still sport the benefits of Project Scorpio's new hardware.
Let us know in the comments what you want to see from Electronic Arts, Ubisoft, Bethesda, and Activision at this year's E3 conferences.
Everything we expect from Xbox at E3: Rumors, Project Scorpio, and a whole heap of 4K games
Get the Windows Central Newsletter
All the latest news, reviews, and guides for Windows and Xbox diehards.
Matt Brown was formerly a Windows Central's Senior Editor, Xbox & PC, at Future. Following over seven years of professional consumer technology and gaming coverage, he's focused on the world of Microsoft's gaming efforts. You can follow him on Twitter @mattjbrown.