Everything we expect from Xbox E3 2017: Rumors, Project Scorpio, and a whole heap of 4K games
E3 2017 is almost upon us, and Microsoft's is going to be extra special.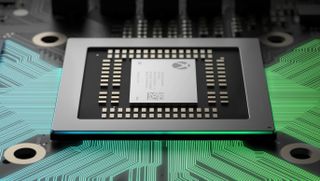 The headline act for E3, at least Microsoft hopes, will be Project Scorpio — the company's beastly 6 TF 4K video game console. Strangely, though, we practically know everything there is to know about it already.
Microsoft showed off Scorpio's internals a few weeks ago, touting native 4K gaming (and, with plenty of overhead for other visual enhancements). Scorpio has plenty of other exciting features, but many will be (rightly) wondering what the heck they're going to be playing on it, and just how much it's going to cost.
Here's what we expect from Microsoft's E3 2017 conference.
Microsoft's E3 2017 conference will be broadcast live on Mixer.com on Sunday, June 11th, at 2 PM PDT.
Project Scorpio: name, price, design, and launch date
As noted, Microsoft has already demonstrated the meat of Scorpio, but huge questions remain. Doubtless, Microsoft is going to give us pricing information, a hard launch date, and the console's real name during their E3 presentation.
Everything we know about Project Scorpio
How much will Project Scorpio cost?
A huge debate has raged online about Scorpio's price, sparked by some of Xbox head Phil Spencer's previous comments about it being a "premium" console. Microsoft has gone on record to state that they expect the Xbox One S to lead sales, even after Scorpio launches, which is a sales picture in-line with Sony's PlayStation 4 Pro situation.
Project Scorpio will cost more than the Xbox One S, which currently retails from anywhere around $250 to $350, depending on hard drive size and game bundle. Notorious industry analyst Michael Pachter famously stated that Scorpio would be dead on arrival if it costs anything more than $399, especially considering Scorpio's closest competition, the PS4 Pro, will likely get aggressive price cuts in attempts to derail Project Scorpio's launch this holiday season.
The original Xbox One hit retail at $499 in the US, compared to the PS4's $399. The inflated price was due to the forced bundling of the Kinect camera. The misstep with Kinect arguably cost Microsoft the generation, as the price point and slow roll-out due to voice localization issues gave Sony's PlayStation 4 a global headstart. I think it's unlikely Microsoft will make the same mistake with Project Scorpio, but the game has changed a little.
Unlike previous console generations, nothing will be lost in the jump between Project Scorpio and Xbox One. All current and future Xbox One games and accessories will just work. This also means that the Xbox One S won't "replace" Project Scorpio or fragment the player base. Microsoft measures Xbox success in monthly active users, and rightly so. With Game Pass, Xbox Live subscriptions, and digital sales, Xbox has become a revenue powerhouse, generating tons of guaranteed income for Redmond. As such, Microsoft's positioning on Scorpio's price differs somewhat from that of 2013, when the original Xbox One launched.
Here are some possible pricing scenarios to consider.
Microsoft considers Project Scorpio to be truly premium, demonstrates its graphical superiority to PlayStation extremely well, and sells it at $499 for hardcore gamers with 4K TV setups.
Microsoft seeks to bolster the Xbox Live user base by offering Project Scorpio at an aggressive price point, $399 or perhaps even lower, showcasing how the console will benefit users who don't have 4K TVs.
Perhaps it's the Xbox One S that gets the aggressive price point, down to $199 or lower, serving as the gateway to the ecosystem while Scorpio remains futureproofed for the proliferation of 4K TVs.
Personally, I think Microsoft will aim for that $399 price point for Scorpio, but I think an aggressive move to $349 would put the ecosystem back on a playing field where PlayStation has been so thoroughly dominant. Microsoft also has to consider competition from the Nintendo Switch at the casual/younger end of consumer spectrum, particularly as we move into the Holiday season.
I think $349 or lower would be highly unlikely, given Project Scorpio's custom parts, engineering processes, and compact design, but Xbox could always surprise us.
When will Project Scorpio launch?
Microsoft has only offered a "Holiday 2017" advisory for the console's launch date, placing it anywhere between October and December. Given Microsoft's partnership with Shadow of War, the first third-party game formally announced at 4K for Scorpio; there have been some strange rumors flying around that Project Scorpio would launch much earlier specifically for that game, somewhere around August. I'm fairly confident these rumors are false.
Thanks to Windows 10 roadmap documents we have received, it seems that Project Scorpio needs Redstone 3 before its fully ready for launch, something our senior editor Zac Bowden expects to ship in September. Additionally, we know that Project Scorpio's video game certification process doesn't open until October, 2017. Therefore, I'm going to suggest a mid-October, to a late-November launch window for Project Scorpio. And hey, that also lines up with the "Scorpio" zodiac symbol, between October 24 and November 22, convenient huh?
Microsoft Studios Showcase
Microsoft will undoubtedly showcase gameplay for Crackdown 3, Sea of Thieves, State of Decay 2, and possible updates to Minecraft at E3. As flagship titles for the company in 2017 and beyond, you can expect to learn more about the meat of these games, which, so far, haven't really seen a huge amount of marketing.
Crackdown 3 is a cloud-powered open-world shooter which aims to ensorcell gamers with next-level building destruction physics. Sea of Thieves is an always-online connected pirate adventure game, focusing on co-operation, treasure hunting, and naval combat. State of Decay 2 is a 4-player co-operative zombie apocalypse survival simulator, complete with scavenging, base building and management, and visceral combat. And, well, Minecraft needs no introduction, but the company is always expanding its services and systems, most recently to include a curated add-ons store.
We exclusively revealed (the painfully obvious) that Forza Motorsport 7 will make an appearance at E3 2017, and will be utilized to "showcase" the power of Project Scorpio. So you can firmly expect that.
Microsoft has been criticized for its slim and often under-performing exclusives. Including the whimsical, but ultimately lacking ReCore, the excellent, but aggressively niche Halo Wars 2, and of course, the canceled Scalebound. Hopefully, Microsoft will offer a glimpse at what exclusives consumers can expect to see in 4K on Project Scorpio in 2018 and beyond, but it's not certain.
In light of Scalebound's damaging cancellation, it stands to reason that Microsoft might wait a little longer before announcing future titles.
343i confirmed that it wouldn't be showing show off Halo 6, and it's fairly obvious that it's too early for The Coalition, who is doubtlessly working on the next Gears of War. With that in mind, it doesn't look like there's much room in Microsoft's internal studios for games we aren't already aware of.
It might be too early for Microsoft to show off or even tease any second-party efforts too, to prevent yet another instance of raised hopes and broken promises to go along with the Phantom Dust reboot, Scalebound, and Fable Legends. It's fair to expect we'll see new Xbox exclusives at E3, but I'm personally not getting my hopes up too high at this point. I expect the focus will revolve around exclusives we're already aware of and quality ID@Xbox titles such as Cuphead and Ashen, or perhaps a sequel to Moon Studios' incredible Ori and the Blind Forest.
Third-party in 4K
Microsoft will be extremely keen to showcase the power of Scorpio, and to do this; Redmond will enlist the help of both first and third-party titles for the job. Existing games will see upgrades to 4K, including (most likely) games like Gears of War 4 and Forza Horizon 3, which have already been developed with 4K assets for the Windows 10 Store. It's possible that third-party UWP efforts such as Resident Evil 7 and Rise of the Tomb Raider could also see resolution bumps to 4K since it's comparatively easy to do vs. other types of ports. Hopefully, other developers will be keen to bring their existing games to Project Scorpio in 4K, helping Microsoft to ensure buyers have an extensive library of UHD games ready for launch day.
We know from leaked documents that FIFA 2017, Madden 2017, Call of Duty: WW2, Red Dead Redemption 2, and Battlefront 2 will be "4K" on Scorpio. Whether that's native or utilizing "sparse" rendering techniques, I'm unsure, but considering these are titles Microsoft hoped to showcase, it seems to be a reasonable assumption. I can, however, confirm through separate trusted sources and leaked docs that at least Star Wars Battlefront 2 will be True 4K native, running at 60 FPS on Project Scorpio, which should make it a stand-out stellar title to exude the system's power.
It's within third-party publisher's interests to ensure that Project Scorpio does well at retail. If developers are building games for 4K for PC and PlayStation 4 Pro already, it's only going to boost their return on investment if there are more 4K platforms out there.
It's widely rumored that the next Assassin's Creed will have some form of partnership with Xbox, and I have also heard that another unannounced game from EA will be showcased on Microsoft's stage. Whether these rumors pan out remains to be seen, but these third-party marketing deals would certainly help aid Scorpio's visibility.
The original Destiny famously had a pervasive marketing deal with Sony, preventing Microsoft from even mentioning the fact the game existed for Xbox One. That marketing deal no longer seems to be as aggressive, considering Bungie has been talking about the Scorpio version and jumped onto the Xbox YouTube channel to speak of the game with Major Nelson. Destiny 2 will get exclusive content on PlayStation platforms, but if it looks better on Project Scorpio, that could help Xbox to gain an edge.
Surprises, VR, and new features
Xbox under Phil Spencer usually puts the emphasis on games at E3, but there's probably a little room for services and features as well this year. With Mixer.com taking on Twitch in the streaming arena, various improvements to the Universal Windows Platform, the promise of AR and VR gaming, and other OS improvements, it's fair to expect some form of platform showcase at E3 this year as well. It could include new Club features I recently posted about.
VR on Xbox Scorpio will be powered by Windows Mixed Reality, utilizing cheaper third-party headsets from PC vendors like HP and Acer. I doubt Microsoft will place a huge amount of emphasis on VR during their showcase, but they will probably acknowledge that it is on the way for Scorpio.
E3 has become known for its huge surprises. Xbox bought thunder and lightning when it announced Xbox 360 backward compatibility for the Xbox One, and they could have something similarly huge in the works, who knows?
Wrapping Up: A question of games
Xbox lags behind PlayStation in console units sold due to Sony's stunning headstart in 2013. Even as Xbox ditched its controversial policies, forced bundling of Kinect, and began an onslaught of goodwill-seeking efforts such as Games with Gold and ID@Xbox, Microsoft has struggled to make up for ground lost.
It could be argued that Sony is beating Microsoft in terms of consumer visibility, and it looks as though it could only get worse for Xbox in 2017. Sony has marketing rights to Call of Duty, Battlefront, and Destiny, all of which are going to thoroughly dominate the landscape towards the holiday season. Perhaps these third-party marketing deals aren't as powerful as they seem, but clearly, Sony thinks so, as they are spending the big bucks to prevent Microsoft attach "Project Scorpio" to this holiday season's heavy hitters.
Speaking of Sony, the company has really bolstered confidence in its efforts in both first-party and second-party exclusivity deals, shipping titles like Nioh, Nier Automata, Horizon Zero Dawn, and Persona 5 to wild sales success and critical praise.
Xbox, on the other hand, has suffered an array of underperforming exclusives, with the dark clouds of canceled titles like Scalebound hanging over its image. Standout franchises like Halo 5, Forza, and Minecraft continue to dominate, but with almost every single one of Microsoft's attempts at new IP failing to resonate, there's a real concern that Xbox could be losing out on opportunities to entice new gamers into its ecosystem.
Microsoft's current strategy seems to hinge on the idea that Project Scorpio will be the best place to experience multi-platform exclusives. The true issue there will revolve around just how they showcase the differences between the "enhanced" 4K versions of their games. Will they do side-by-side comparisons of the PS4 Pro versions and the Xbox Scorpio versions of games? And even if they do, most viewers will be watching the show or any future advertising on an HD display at best.
For console war aficionados, I'd say it's far too early to call Project Scorpio a win for Microsoft, but the market can react in surprising ways. Despite uncertainty from veteran commentators and analysts, the Xbox One S became the best-selling console for the second half of 2016, proving that good features and value will always win over consumers. There's every chance Microsoft will bundle its new Game Pass with upcoming Xbox SKUs as well to entice Xbox 360 players who have yet to upgrade.
For core gamers, I'm pretty confident to presume that Project Scorpio will be an amazing system. However, if Microsoft doesn't showcase strong, compelling exclusives to make the ecosystem attractive, I think Sony could gain even more ground throughout 2017 and beyond as long-term holdouts begin making their final decisions about whether to go Pro or Scorpio.
Let us know in the comments what you want to see from Xbox at this year's E3.
Jez Corden is a Senior Editor for Windows Central, focusing primarily on all things Xbox and gaming. Jez is known for breaking exclusive news and analysis as relates to the Microsoft ecosystem while being powered by caffeine. Follow on Twitter @JezCorden and listen to his Xbox Two podcast, all about, you guessed it, Xbox!
Good thing is, XB family has BC / FC. Average gamers can wait for another 2, 3 years but still can enjoy their games on xb1s. Their purchase won't go in vain. * I'm ok with 500usd tho. edit: I hope win10.arm come out soon to eliminate win10 mobile. Devs then just need to focus on xbox and win10, 2 profiles. And I can give up Nexus and dock a win10 portable on my Bluetooth gamepad to continue my xbox game progresses when I'm out. edit2: Hope AR/MR api will be included. Driving in FH3 (esp Hot Wheels expansion) with those headset... will be fun!

You are mad if you think the Scorpio will retail for $499 or less. This is their Porsche. Their Tesla. Their Ferrari. Hell, it's their Surface. Phil made it clear on a podcast episode over at IGN a few months back that this is a Premium device, which will come with a Premium price tag. It's not meant to sell lots. It's not meant for your general gamer. It's not meant for the dad casually browsing for Christmas gifts to his kids. This device is a love letter to the Xbox community, and a middle finger to PlayStation. It's Microsoft saying "we're the King in Consoleland". What they want most people to do, however, is look at the Scorpio in awe and then go buy a One S, feeling like it's kind of the next-best thing.

I'm with you Jez. I'm not wishing much : $399 with 500GB (will never be enough for 4K titles though) will be a strategic SKU for lower the starting price. People, if they know a thing or two about 4K game size, will be more likely to get at least 1 TB I think.

1TB is base model, based on the DF article on their time with MS

I'd rather get the cheaper model and use my 2tb external USB hdd. Cheaper all round to buy that way than pay extra for it built in.

Same here, i play maybe 3 have a year. It's easy for me to uninstall and move to the next thing.

Actually if you paid attention and compared 4k games on PC vs 1080p version on consoles you would notice that the size is about same within 4GB

Spencer has already stated it'd be a console priced system. So, I've been in your camp ever since he made that statement.

I've said this before - it's a $499 box... the real question is, how much do MS want to sell that $499 box for?

Surfaces are all marketed as aspirational, luxurious devices and priced as such because Microsoft isn't the only seller of Windows devices, they have a plenthora of OEMs bunding Windows as the OS for their desktops, tablets and laptops; pricing Surface devices competitively would, thus, kill sales for Microsoft's hardware partners. No such thing with consoles, Xbox competes with rival ecosystems, not OEMs, so they can price them as agressively as possible if they so wish.

agressively? But what if it fails? One thing is to have a powerful console the other thing is to have good games which will sell the console itself. The first one is OK but lets face the truth Xbox games are not as exclusive as PS titles so.... pricing the new X "agressively" wont happen... the will set the price as high as they can and label it as "the fastest console on the market" and wait for Sony´s reaction. Will they release a PS5 or fight with PS PRO?

First, there's evidently a difference between "can" and "will", never claimed otherwise. Second, whatever price Microsoft sets for Scorpio it'll certainly still be a cheaper alternative to building a gaming PC from scratch. Finally, Sony won't be releasing a PS5 before 2019, any schedule shorter than that and they won't be able to recoup the costs of researching and engineering the PS4 PRO. Remember, while the Playstation division is very profitable, the Sony conglomerate as a whole hasn't been exactly healthy financially for a while.

There wont be a new Playstation in 2019. People need to get over that. Sony is going to milk the PS4 even longer thanks to the PS4 Pro. A new gen of Consoles wont happen until 2020 or 2021. Current AMD tech has to evolve to bring better power for future consoles.

Ps4 has sold 50 million +. Top selling exclusive has 7 million sales. You could argue that sales of Sonys exclusives aren't the reason everyone buys the console. Less than 20% of people who buy a PS4 buy its exclusives. Based on some maths of console sales and games sales. That leaves 80% that buy it because its the most powerful. Or price point. So there's a huge market who might decide they want the most powerful console for their 3rd party games. I believe this is further proved by Sony spending big money to get marketing rights to 3rd party games such as COD which will undoubtedly look better on Scorpio.

That's a point I've also made - if you add the sales of the last three Sony Exclusive 'hits' (Horizon Zero Dawn, Nier,:Automata and Nioh) together, their sales account for less than 15% of the userbase. Plus PS4 was already selling double what the XB1 was when the only exclusives it had were Knack and Killzone Shadowfall, and they hardly set the world on fire to put it mildly. If it were all about exclusives, Sony wouldn't be throwing marketing money at every multiplatform game launching this year...

1) The first point made no sense. Exclusives help in selling consoles. History has already showed it. 2) The inital console sales was probably mostly the fanbase going and buy the console. There were a lot more upcoming exclusives and ofc the PS3 was coming off strongly with 3-4 years where they killed the 360 in terms of number of exclusives. At the time, XB1 was more expensive and forced kinect on people. The MS team was pathetic in their comunication. I can't believe one of them said XB1 was made with With Advertising In Mind. Yes, it was also more powerful but it was a combination of all those point that help sell.

Wrong. Microsoft has its own range of devices under the Xbox brand. While there are no OEMs making consoles which run the Xbox OS, there are other devices below the Scorpio that they want you to buy. Revenue on console comes from store purchases and subscriptions, not hardware sales. So I'd say the Scorpio is meant to do exactly what the Surface does in some regard: make people love the product and then have them settle for the next best thing. What matters is that people use Microsoft services.

The more consoles they sell the more revenue they make via games and services so they want all the console versions to sell as much as possible. The only argument is which demographic is going to buy which console and within what price point. The S is already out and despite a strong start is stil being out sold by the PS by a large margin, therefore it is not MS saviour in getting back sales from Sony, this will impact the price point for the Scorpio. I really don't see MS settling for second place, in the past they either give up or keep on fighting rather than saying "it is what it is, may as well make the most of it". Unless the corporate culture has changed dramatically in the last 10 years I don't see that happening and I am expecting a agressive price point for the Scorpio.

dont think its a "surface" like device, surface is meant to create category so that OEMs follow the suit, selling many is second. There are no OEMs here for console. Its got to sell in huge numbers so I don't think they'll price it premium. But yeah I do think itll be little expensive than any other console

Anything above 449$ will be overpriced and it won't sell well.
By the time the Scorpio releases the PS4 Pro will have a price drop to 349$ this means that if the Scorpio releases for 499$ it will be 150$ more for a small gain in performance and that is not a good idea.

I think this small gain in performance statement isn't as simple as that. We know Forza 6 has been seen running in full 4K wit