Thinking about the new 'Windows + Devices' team under Panos Panay at Microsoft
Is this the beginning of a new era for Windows and Surface?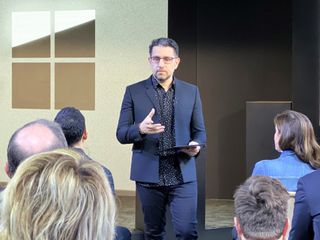 (Image credit: Windows Central)
Many have argued that Windows has been severely underrepresented at Microsoft over the last couple of years. However, with Microsoft's Chief Product Officer, Panos Panay, now taking charge of the Windows client, that may soon begin to change.
Microsoft is now combining the Windows UX (user experience) and Surface teams under one large team lead by Panay, a formalization of the teamwork that has been ongoing between Windows and Surface since as far back as Windows 8.
This new Windows + Devices team will hopefully enable collaboration between software and hardware on a level similar to that found at Apple. Historically, Microsoft's hardware teams have built its hardware around Windows, and not the other way around. That means Surface devices have been under the mercy of Windows when it comes to new device experiences, as Microsoft's hardware teams can only build devices that match the capabilities of the Windows user experience.
With Windows and Surface now under the same roof, Microsoft can begin to innovate in both directions. Instead of hardware ideas being stifled by what Windows is doing, Microsoft can build new Windows experiences and features around new hardware ideas it may have. You can already see the results of this kind of collaboration by looking no further than Windows 10X and the Surface Neo. Now that Panay is in charge, innovation in this area can be turned up to 11.
Better for the PC market?
I've always found it rather ironic that Microsoft's best selling Surface is a tablet, which happens to run an OS that doesn't have a very good tablet experience. Now that Panay is in charge of the Windows UX, perhaps we'll see Microsoft take another stab at building a better experience for Windows tablets, something that can compete with the iPad and its fluid tablet OS.
I think that putting Panay in charge of Windows client is nothing but a good thing. It allows for control from the top down when it comes to building hardware and software, which is how it should've always been since the beginning. I do wonder if OEMs will raise an eyebrow at this news, however. I assume any new changes and features that are made to Windows as a result of hardware innovation will be applicable to OEMs as well.
It would be fascinating to see Microsoft take Windows down a path where Surface hardware has access to exclusive Windows features and capabilities. This would be terrible for Microsoft's partner relationships, which is why I don't think it will ever happen, but it'd be interesting nonetheless. Just like how phone makers can adopt Android, but Google reserves some of the best bits of Android for its own Pixel devices. It works for them.
I don't expect Panay's reign over Windows client to result in a renewed interest in building consumer features like Paint 3D. I do hope, however, that it results in a more clear and consistent Windows UI and experience that knows what it's here to do; enable productivity no matter the person. A consistent Windows UI that's modern, fluid, and minimalist would be a significant first step towards that goal.
It's worth noting that even with Panay taking the lead on Windows client, Windows itself still isn't represented on the senior leadership team. I don't see this as a problem, as Windows is a mature product that doesn't need to be kept an eye on at the very top. Windows as a product is still represented under Azure here, which I don't expect will change anytime soon.
What are your thoughts on this new Windows + Devices team lead by Panos Panay? Let us know in the comments.
Windows Central Newsletter
Get the best of Windows Central in in your inbox, every day!
Zac Bowden is a Senior Editor at Windows Central. Bringing you exclusive coverage into the world of Windows on PCs, tablets, phones, and more. Also an avid collector of rare Microsoft prototype devices! Keep in touch on Twitter: @zacbowden.
Tighter integration, particularly with tablet use, would be great. Zac is correct, this move will NOT change the company focus on productivity as the major use case for its devices. This is nice recognition of Panos' talent. He's come a long way. I remember at the first Surface event, all he got to do was display the keyboard covers.

For sure, he will bring a new enthusiasm to the OS development, which has been undoubtedly slowing down over the last year. I mean, someone even claimed that Microsoft was abandoning Windows ... To me, it's also another step along the path Microsoft has taken towards the selection of merit.
Finally, this news gives us some hope about Windows trying again in the future to expand in other form factors.
By the way ... does anybody know when is WhatsApp (UWP/win32/whatever) supposed to come?

If I'm not wrong Whatsapp is a phone app. It's not even available for ipad. Web Whatsapp works well in most cases.

I love Panay's enthusiasm. Clearly he has done well with the Surface devices. I am sure he has been frustrated by the OS holding back his devices. Good for him. Apple is not doing much interesting in this space anymore, so hope that Panay's new Windows UX team + Surface will fill in the gap as everyone else is just putting their energy into phones.

Good move I think. I wonder does this also include Xbox UI? It is a Windows varient I believe. I've griped about that interface frequently here. I hope Panos does get a crack at it since it's still a hot mess even as an Xbox insider. The new update is better, but it needs to be exponentially better and simpler to be as good as PlayStation and Nintendo

I have come to cherish Panos' presentations because he brings so much passion to explaining the massive achievements of seemingly small details, revealing that Microsoft is capable of magic. Can he bring that rigor, discipline and creativity to Windows while maintaining his track record with hardware and not alienating hardware partners? Zac truly asks a great question here and I'm looking forward to his coverage. It's a tall order, for sure. There is so much that needs to be done just to keep the ship afloat. But, if this is a moment to speak to Panos, as an owner of a Band, an Invoke and a Kinect, my greatest wish would be for you to revive and perfect these categories that initialized, but never got a chance to get to their "Surface Pro 3" moment. If Windows teeters towards becoming Azure Edge, then I think there is a real case to be made that it needs to keep expanding. The wearable, voice, and air gesture space (Kinect?) has room for innovation and I hope he contemplates reviving them.

These products were killed and if the board of directors decided this way it will be very difficult to turn over those decisions. You would have to show some really game changing products as Microsoft is not interested in another niche small market share.

Because only a niche of users ever use it as a tablet. For most it's an ultra portable laptop. I do and especially since Edge Chromium (thanks to the work Google did for ChromeOS) has breathed new life into the tablet experience. Many Web Apps work well in their own window and Chromium as really good touch support: Pinch to Zoom and Refresh/Back/Forward gestures.

you could argue that only a niche uses it as a tablet because the tablet experience is not good. I get frustrated when I set up my Surface Pro 7 (also own SP4 and SP2017) as a drawing tablet for my niece. And she's always accidentally swiping from the side so it switches out of the drawing app. Or she's accidentally pressing this or that. Or she wants to load another picture or do something but she's expected to navigate an interface that's meant for a mouse/trackpad/trackball. So I kind of have to micromanage her drawing experience. Chromium has really good touch support? You really haven't experienced Android (which is better) or the older Edge which had much smoother scrolling and better pinch to zoom and much better swiping to advance or go back to the previous page. Scrolling in Chromium has only recently gotten better and I suspect Microsoft's additions to the code base has helped (even though it's nowhere near where old Edge was at).

I'm not sure I want Windows to compete with iPad. We've fallen into a rather stringent outlook on what a tablet can be. If it doesn't run much like iPad OS it's a poor experience. When it should be possible to have a good tablet experience that's more powerful than iPad OS can manage..

@bradavon iPad OS??? man get out here lol. iPad OS is functionally useless, if you want to an example of a decent tablet experience take a look at Windows 8.x. Sure, the desktop aspect of the os for mouse and keyboard users without touch screens was as functional as upturn embrella in a storm - altough it got marginally better with Windows 8.1 but it still was a subpar experience without touch. The tablet experience on the otherhand was pretty darn good.

Idk if you read the comment wrong but according to what you said, that was the point

I think this is not good news for window and surface. Recently window team leaders were changed too many, like left company or took other team. So this mean Panas leave MS or other might take window team soon

You can already see two apps at the same time on iPad...
Open first app...swip up to view tool bar... drag icon of second app to side of screen

Panos is all about customer focus product R&D... having Windows OS delivering what hardware products need working as one instead of TWO teams is key to future for us to stop complaining about WTF with Microsoft

When they make Windows + Surface + Xbox under one management it will lead to some big leaps. Gaming is the biggest consumer market and leaving it in another division is like asking a modern army to go to war with artillery and marines only. You need the airforce too.

I thought Xbox was going to Azure? It also sounds like MSFT is putting less emphasis on the hardware. MSFT wants to stream games to the billions of people connected to the internet via a smartphone or connected device. Let Azure run all the graphic intensive computations.

That's all well and good, but starting out by putting Android on your most groundbreaking device in pretty much forever, is not exactly getting Windows back in the limelight...

Polishing the Axon M is groundbreaking?

I'm not sure I catch your meaning? The Axon M is a (bad) Android device. I'm pointing out that Microsoft putting Android on the Duo isn't doing Windows any favours...

Bleached is claiming that Microsoft is making that bad device better with the duo.
Microsoft has no other choice of os of it wants to put out a good mobile device.

I disagree, and the Neo proves my point. Microsoft is marketing the Neo as what the Duo should have been; a small, portable Windows pc. Only the Neo is too big to be portable, so it fails too...
Who needs an Android device like the Duo? Noone, really; it's a productivity device, which makes Android an awful choice as an OS. What they need is a device that runs Windows AND is small enough to be portable. Don't agree with me? Let's see how either of them sells, and continue this discussion in a years time...

I don't think either of them will sell that well. One of them might even be cancelled before release. "What they need is a device that runs Windows AND is small enough to be portable." Which is impossible. Windows means Win32, and none of the apps are designed for small screens OR touch screens. Forget about small touch screens. The future of small, portable devices is not Windows. That should be obvious by now. Small portable touch screen means either Android or iOS. One of those is impossible for MS to use, so the choice is obvious. Frankly, as a business traveler, I would much rather have a 17" laptop and a phone when I travel. The phone in my pocket for when I am traveling (airports/boarding passes, uber rides to the hotel, emails on the road, and yes phone calls, etc.) and the laptop in my luggage for when I get to the client site and hotel. Pulling out an Android tablet is going to be clumsy in the first case and not at all useful in the second. One size never fits all. Whether t-shirts, cars or computers. We have XXXL and XS t-shirts, 1 ton 4WD Ford pickup trucks and VW beetles, IBM z15 mainframes and Apple watches. And everything in between, in all 3 cases.

I feel Panos said something like this, "God damn it, let me run it so more of my stuff doesn't have to end up runnig on Android."

You all got it ALL wrong!!!! He will say something like this... Let me introduce the world most sexy OS for professionals who want to be in the flow .. in every click, swipe, slide u make....

Finally! This should have happened ages ago, maybe then we wouldn't have gotten so many missteps with the windows ecosystem. I'm excited to see what comes next and it better not be android apps on windows lol.

Definitely will be android apps on windows containerized

Apps without Google play services are useless. Google play services and Google play (store) are not available for non-android devices. So, having android apps containerized on Windows is not possible without Google's consent.

How many people use a PC (laptop, desktop, all in one, 2 in 1) and use cloud based productivity apps through a web browser? How many use dedicated aplications? How many people us files stored in the cloud? My point is that accessing and processing data involves multiple devices in different locations and increasingly with a team of individuals. Is Windows as an operating system a good solution? What is Windows 10, Core OS etc.? I am more and more confused with Windows. Is it one OS or are there many versions for specific hardware configurations? In general, Microsoft needs a more cohesive leadership structure to move Windows out of the PC Desktop dedicated application structure to a cloud based mobile team based subscription structure. Does this require the unification of Surface and Windows under one leadership structure?

Look whats happened to kodak, xerox, and HP. Where does Windows fit going forward? Obviously, the more devices using windows to process information the better long term prognosis. How many people use film to preserve pictures? How many make copies and distribute briefing material? What is HP doing? Dell? ASUS? Lenovo? The hope is that Windows will keep evolving so developers will continue to make applications that help with information services. If Xerox buys HP, what does that say about the Windows Hardware HP is making. But in the back of my mind I think maybe HP has broken into two pieces? One with hardware and one with services? What does Xerox do? Do they still make printers? Or do they run billing departments and mail out bills? Maybe this will help the Windows ecosystem provide a clear direction and give more confidence in the long term viability of Windows as an important ecosystem.

Xerox makes large printers and copy machines. Think of the enterprise and kinkos. HP makes small printers and PCs. I think both companies have service related operations. If Xerox buys HP, where would the leader of the computer business in HP fall in the leadership structure of the combined company? OEMs are a low margin business. They dont have resources to be innovative. They can provide services to companies to integrate newer devices into a better information process. Maybe Microsoft recognizes they need to lead the hardware development effort in the Windows ecosystem and to do this, they need a closer integration of the Windows OS team with the hardware designers.

The OEMs will not be happy.

I'm not a fan of the Panos delivery of information. He's an @$$ really. But I do appreciate that he gives a damn about design. Where most Windows users inexplicably resent it. Where I want Panos to focus is in a version of Windows OS that requires next to zero user maintenance. As a lifelong Mac user (29 years) I saw Tim Cook's Apple going too greedy and to crap. I jumped ship to Android and Windows 10. Android was a walk in the park but Windows 10 is a bumpy affair. It's MAJOR weakness is that you have to do a shirtload of stuff to maintain the PC. Significantly more than Mac. People do not want that. Your PC should do it's own SFC'ing after every update. Restore points should be automatically offered instead of an option to turn on. Your PC should do FULL virus scans automatically, not 'Quick Scans' that often miss stuff the Full Scan catches. Adware, Malware -- we shouldn't need Malwarebytes and the like. Microsoft should buy them and absorb them. Or create a new OS that dances around all legacy issues of this nature. The entire culture at Redmond is wrong. It's not the customer's job to figure out Windows. It's Windows job to make it easy enough for a dog with one eye. I actually like my PC and countless hardware options. I turned my TV into another home PC for under $200. But I'm the type of fool with the time and inclination to learn how to actually run a PC. Most people are not me.

Greater integration is always good, but...
I've been a Windows user from the beginning and for me it has just gotten better and better. It wasn't easy getting here, but Windows 10 and its UX is perfect for me. I'm fully into TILES - Active Tiles and small and medium tiles on the full screen Start Screen. Everything that could and can be done on the Desktop is done better on full Start Screen on my laptops, Surfaces, other tablets and my 950 XL Dual SIM Card (I'm not giving that up until MS comes out with a replacement or it turns to dust!!).
In business a single UX across all hardware is the best way to go and I have no desire to go back to the Android days. Android is nothing more than another Desktop. Win10 is IT!!!
Windows Central Newsletter
Thank you for signing up to Windows Central. You will receive a verification email shortly.
There was a problem. Please refresh the page and try again.