4 things we're hoping to see in Windows 10's next major update '19H1'
"19H1" is Microsoft's next major update for Windows 10. Here are some of the things we're hoping to see make an appearance.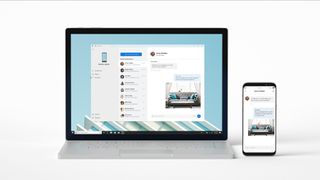 Windows 10 19H1 development is now a-go internally at Microsoft, which means it's time to start thinking around about what we want to see in Microsoft's next update for Windows 10, scheduled for release in the spring of next year.
Microsoft already stated that it plans to release two feature updates to Windows 10 each year, one in March or April and the other in September or October. We're expecting 19H1 to be finalized in the March or April 2019 time-frame.
Here are some new features we're hoping to see.
Windows 'Sets'
Microsoft hasn't publicly committed to a specific Windows 10 release for Windows Sets, as the company only wants to ship the feature when it's good and ready. Insiders were able to test an early version of Sets during the development of Redstone 4 and Redstone 5, and the same should happen throughout the development of 19H1. So, here's hoping it will be ready in time for the RTM of 19H1 next year.
Sets allows users to group apps and websites under the same window, just like how tabs work in a web browser. It extends that same tabbing experience to more than just websites, allowing apps like Word, PowerPoint or Slack to be grouped together under one Set that can then be shared across devices with Timeline. It's a productivity enabler and is a significant change to how we use our PCs.
Control Center
Back in 2017, I revealed that Microsoft is working on a new Control Center for Windows 10 with the goal to bring all of the quick actions and system toggles under one pop-out menu available in the System Tray on the taskbar. Microsoft has had many chances to release this feature over the last couple of Windows 10 updates, but decided not to.
I've been told that Control Center has been significantly redesigned a couple times since I first wrote about it in 2017, which is likely part of the reason why we don't have it yet. 19H1 is as good a time as any to see it show up for Insiders to start testing, so here's to hoping we'll see it soon.
Your Phone
Microsoft announced Your Phone at its Build developer conference earlier this year, which allows users to sync their phone and PC together and send texts, photos, and more directly from your PC. Windows 10 already has phone integration in some capacity, but Your Phone is a dedicated app experience that gives you an overview of your phone without needing to look at it.
It'd also be nice if Microsoft figured out a way to allow us to make phone calls on our PCs powered by our phones, but Microsoft hasn't announced this as being a feature in the works. For now, Your Phone will be able to send and receive texts, view notifications, and share photos across devices.
A better looking My People
When My People was first announced, it was showcased as this beautiful new UI element that just looked great. In Windows 10 today, it looks nothing like what it did when it was first announced, and that's a real shame. It'd be great if Microsoft finally got around to finishing My People in 19H1.
I'd also love to see Your Phone integration with My People, allowing me to pin phone contacts to my taskbar so that I can easily send text messages or photos to them without needing to pick up my phone. This would easily make My People a useful OS feature, as currently, it's kind of unneeded since not many apps use it.
And more
I'm sure there are plenty more features planned for 19H1 that we just don't know about yet, including more updates for Edge, Start and Action Center, and more. What are you hoping to see in the next Windows 10 update? Let us know in the comments.
Windows Central Newsletter
Get the best of Windows Central in your inbox, every day!
Zac Bowden is a Senior Editor at Windows Central. Bringing you exclusive coverage into the world of Windows on PCs, tablets, phones, and more. Also an avid collector of rare Microsoft prototype devices! Keep in touch on Twitter: @zacbowden.
Cortana. I'd like to see her get a home

I'd like to see a lot more progress in transitioning the Control Panel to Settings. Its time for Sundown for the CP.

Thank the stars that the settings area has a search function because I can't find anything without it.
The CP is a Windows GUI with standard windows controls and look.
The new settings (app?) is a list on the left with random organization of text blurbs and weird controls on the right. When did a standard check box become an oval slider switch?
Make Windows use actual 'windows' again.

You're one of those who 'keep everything the same' right into irrelevancy lol

Keeping everything the same is still better than settling for a thoughtless Perpetual Alpha™ design.

No one is forcing you to use Windows 10, go use Windows 7, Vista, XP or even MacOS if you want to hang on to the past.

Hanging onto the past? macOS does that in spades. It's like using ms dos.

I agree, there are times i want to find stuff and i can't or there are two versions, that are different.

May be it is better to keep MS-DOS shell? It was so great, and now you have some **** of Control Panel to deal with???

I'm with you on that one! 100%

I'd like to see an improvement in the Windows release naming scheme. 19H1 sounds like some epidemic you could catch off a passing bird.

Who cares how its called. I just wish they'd care about quality of their releases to the wide audience.

Well, personally I found the various spring/fall variants to be confusing and the new flu labelling is not much better.

This has nothing to do with what it's publicly called. This new name only replaces the Redstone naming which was never meant for the general public.

"flu labelling" hahaha, you made my day

19H1 is just the internal name. Like Redstone 5. It's not the public name like "Creators Update". That said, there should be a pattern for the public name. I thought that Minecraft material names would have been a cool theme. Any thing else would be cool, just something consistent and easy to remember, like Android does with the alphabetical candy theme.

Personally I liked the 7/8/10 system (should be a 9 in there though...). Much better than XP, Creator's Seasons, coloured stones or flu classifications.

19H1 is just the code name
(2019 half 1 / 2)

Maybe a new FDS element ?

The Andromeda bits that did not ship with RS5...

Consistency across all FDS elements?

I am not looking forward to Sets. The title bar space is part of the app window. I feel like cascaded Windows was a better option. This reminds me that they are taking the back button out of the title bar for a reason. I think the functions of the Center Center, namely toggles, should be part of the Home Screen/Start Menu. The "My People" user interface looks like it is just another tacked on element that doesn't match everything else. The people icons should be integrated to move between the application icons on the taskbar. The phone app looks alright. It seems like another intermediary app between system functions though. It reminds me of having to use Cortana to use the messaging app on an Android phone.

"It'd also be nice if Microsoft figured out a way to allow us to make phone calls on our PCs powered by our phones"
Yes, this would definitely increase adoption of LTE always connected PC's as people can purchase a Pre-Paid LTE service for 1 month and use their Windows 2 in 1/tablet LTE modem, bridge the voice call to the Phone through a Personal Area Voice Network and then you can use your phone's voice capability and at same time the Windows LTE modem to make the phone call.
That means you won't need 2 LTE subscriptions, since you just need 1 (from your PC) to make phone + Windows integration.

A performance update, maybe? Seriously, Windows 10 was getting one unnesessary feature after another, yet it seems nobody's even looking at system speed. We almost forgot that both Windows 7 and 8 were actually faster than their predecessors. Maybe it's time to stop messing with transparency effects, at least for one update, and do a bit of optimisation?

Both W8.1 and W10 are faster than W7. Though at this point, I'd say W8.1 is the fastest OS, faster than W10.

What I want to see.
If Microsoft intends to push UWP apps, make them the best UWP apps they can possibly create, to create an example for other to follow.
Have Skype not be complete garbage performance or design wise.
Have People be worth something. Implement proper tablet mode. Decouple Edge from OS updates.

That is a perfect list to me. I concur with you.

File History that actually works properly and reliably, including on secondary internal hard disks.

I'd like to see a major investment into refining the tablet experience, especially with consistent touch-friendly UI elements and much much much better gesture controls.

It would be nice if my Surface didn't lock up for a few minutes if I turn it on while on a new network. Or if I switch networks. Why are you still trying to access a file not on this network? Windows isn't smart enough to see it is on a new network and will not be able to access network specific files?

Damn it Jim, put the freaking star button in the notification button. I want to stop using the task bar in tablet mode.. Power button as well. he'll give us the option to customize the notification window

revamped tablet experience...with the Surface Go hitting stores, you better believe that'll impact sales

Get an actual good search again, Windows 8.1 Search was amazing, in Windows 10 it's arse. I type a folder name in the search bar with the intention of being able to open that folder and it doesn't come up in the list of options. So instead I have to just open file explorer and navigate to it, I never had these issues on the previous version of Windows. The only thing I can think of is because it's in my OneDrive, but I have it shared so I don't understand why it doesn't show up.

Me being a surface user, I'd like if Microsoft improved the touching mechanism and interface. For instance, improving gestures and including simpler ways to go home. The flow of moving between apps also needs some TLC a swipe from the edge of screen or something to go back to a previous app or five finger swipe it like Apple does 🤷🏾‍♂️. Task view and timeline are great starts, but getting to them needs to be easier once you abandon the keyboard and use it as a tablet. Oh, and quick access to things like camera and other apps from the lock screen would be greatly appreciated, like add a swipe to the right and left to get to an app of your choice or a preset one whatever. Also, while we're on the subject: can we please get a better tablet UI/X...please?

I'm a keyboard power user. I other words, I've programmed myself to use keyboard shortcuts in lieu of the mouse when advantageous. I'm hoping Sets interaction design has not forgotten about keyboard shortcuts. I've seen a lot of UI design slowly forget about the keyboard and expect you to pick things with the mouse or touch. The mouse, especially a touch pad, is actually quite slow compared to keyboard shortcuts. Microsoft has always been good about putting in keyboard shortcuts, so hopefully they maintain this design philosophy going forward with Sets.

Nothing there i would be waiting for. Be nice if there was a simple way to get rid of cortana and the My phone thing, I have never felt the need to sync my phone to my computer.

I wish they would add something worthy of discussion with people who aren't in IT. I can't really name any new features since Windows 10 was released in 3 years. I think most of the changes are in Edge and pen interface which I don't use. If someone has trouble with Windows 10, its often Edge so I tell them to install Chrome. The only thing I can talk about with non technical people is the "play anywhere" feature and some of the related game pass titles. That is more of a store policy then a real upgrade.

I tend to agree, though dark mode for file explorer should be nice.. It's long over due,

The return of a significantly overhauled Gesture based tablet mode. How can Microsoft's Surface Go succeed with the worst tablet experience in any mobile device. Microsoft appears to still be doing the bare minimum while hoping to keep the billion dollar surface line gravy train rolling. We know soon this will fail. A mobile device needs to excel at the mobile user experience.

1. Windows 10 poor tablet experience fixed and finished. There's an abundance of specific and constructive feedback. Its up for grabs on MSFT part. 2. Fix slow Edge. Chrome is more stable and faster. And support for folder management solution for reading list. My list is getting longer and longer. 3. PWA app support for deeper offline caching of consumable content. Valuable! 4. Fix windows maps. Search is awful. Algorithms with more smater and intuitive tags need ti come. Searching by house number needs to come back ASAP. Filter options for favorites. Its now one homogenous dcatterplot on the map. Difficult for visual search, no color coding options etc.

I would love if they made each of the desktops could completely be customized individually. Like different backgrounds, icons etc, one desktop used for work, one for personal use, one for my hobby, one for my wife, etc..