Three UK HTC 8X Windows Phone pricing leaked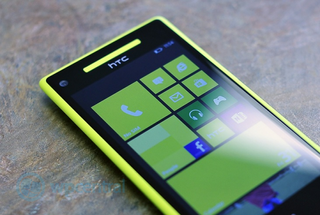 Three UK's sensible pricing for the HTC 8X is revealed
Three UK has what it will charge customers for the HTC 8X Windows Phone leaked. According to images published by GSMArena, the carrier will be setting a price point of £349 should it be purchased on PAYG (Pay As You Go - locked to the network). If you're up for a new contract, the soon-to-be-released smartphone can be yours from £34/mo with an up-front fee of £29.
The carrier is stocking not only HTC's flagship Windows Phone at launch, but the HTC 8S will as well. While no pricing was revealed for the latter in GSMArena's report, it'll be interesting to see how Three prices the younger sibling with its slightly less advanced specifications. As the HTC 8X is relatively affordable for what's on offer, the 8S should appeal to many smartphone newcomers once pricing is officially announced.
Three recently announced plans to support Windows Phone 8 by taking both HTC smartphones on-board. The HTC 8X is the manufacturer's offering to those who seek a mid-to-high range Windows Phone. It sports a 4.3" Super LCD2 display with Gorilla Glass2 at 720P resolution, 1.5GHz dual-core Qualcomm S4 CPU, 1GB of RAM and 16GB of non-expandable storage. O2 UK has also revealed it plans to stock both HTC Windows Phones.
PAYG and contract pricing for the HTC 8X
Amazon UK dropped its HTC 8X pricing down to £399, which closely reflects what retailer Unlocked Mobiles has the Windows Phone listed as. While it may appear slightly more expensive than what Three has to offer, do note that the HTC 8X listed at the two retailers is unlocked.
It's also worth noting that Three is looking to venture into 4G at some point in the future, once the green light is given Spring 2013. An investment made at launch in the HTC 8X will pay off with a potential upgrade to LTE speeds, a process that EE has kicked off in time for Christmas, which will be releasing both the Nokia Lumia 920 and Lumia 820 to take advantage of faster connectivity.
Source: GSMArena
Windows Central Newsletter
Get the best of Windows Central in in your inbox, every day!
Rich Edmonds was formerly a Senior Editor of PC hardware at Windows Central, covering everything related to PC components and NAS. He's been involved in technology for more than a decade and knows a thing or two about the magic inside a PC chassis. You can follow him on Twitter at @RichEdmonds.
Feels good. We're getting close.

this phone is such a blatant lumia rip off....

No, it's not. If you turn off the both black versions, would they look similar to you? Of course not. It's just because of the colors (and I like HTC's tones better) that you think it's a rip-off.

The Windows phone look invites this kind of design. Nokia understood this first though.

I hope three gets the 920. Three is the best network when it comes to truely unlimited data. Even if they do I still buy the phone out right.

Its a great price point too for the HTC.

It's worth calling your network provider and seeing what they can will offer as In previous years I've purchased a non contract phone from O2 (so I can stay on the tariff I've been on) for significantly less than the sim free prices they sell for online.

Definitely. It's always worth calling carriers. Lightly threatening them to leave the network for better deals generally brings them back down to your level in terms of pricing.

Just a small anecdote to share here - o2 recently phoned me to tell me my contract was due to finish and I was eligible for an upgrade. I told him I wanted to switch to another network as my current contract was too expensive... He asked how much my current contract was per month, and then immediately quoted me a contract £5 *more* expensive! Admittedly it was a good deal, but still...was he even listening to me?!
Either way I told him I was waiting for the new Lumia range, so that was that! Hopefully the next guy I phone when I want to leave o2 gets it the right way round.

Unfortunately, o2 ceased customer retention deals about 3 years ago. I used to get allsorts of stupid deals, like 2000 mins/unlim text/500mb data for like £15 per month 18 month contract with £150 cashback for not taking a handset... Now however, they'd rather lose a customer than discount their tariff. Screw them, I moved to three, 600mins, 3000 text and (truly, 100%) unlimited data for £8.15 per month, 12 month contract. I bought my 710 for £129 unlocked/sim-free. Pretty unbelievable deal if you ask me. The 8X will be free on contracts, I suspect above £31 per month to begin with, with it being free on £25 per month contracts shortly afterwards.

I'm getting the 920, but damn that 8X is looking better by the day.

To be honest, at this price it's worth buying outright, I think my bill on 3 is about £10 month with 2.5G data, more text than I can ever use, and enough voice to last easily a month. If I went back on "contract" ie a phone + contract plan for 2 years, There's no way it would be financially worth while. Plus the freedom to change whenever I want is great too.
But to be honest. The perfect WP8 phone isn't there for me yet. Something the size of th L800 with something nearer the specs (but not exactly) of the L920, and then I'd wet my pants.

I don't know if that era will ever come back because even low end phones now tend to be in the 4.0" size range. All mid-range WP8 will probably be 4.0" and above, including mid-range Androids and the mid-range (oh yes!) iPhone 5. All superphones, like the Lumia 920, will all sport size 4.3" and larger.

Not buying any phone till I see the improvements on the windows phone 8...

Any one price I will looking in india

Going by what we have seen till now, I expect this to be near INR 30k. The specs are comparative to the One X so i suspect they will price it similarly. But they may come down soon. They always do. :)
Though , this is pure speculation on my part.

I spoke with AT&T yesterday because I was inquiring about the cost for 2 Nokia 920's on a shared data plan. The representative that I talked to told me that the Nokia 920's will be $199 with a 2-year contract. I'm sure this is correct because the representative was trying hard to get my business and may be on commission. By now they all must know how much the 920 will cost so it's no surprise they were willing to share the information. $199 is right where I think the phone should be. Perhaps the reason the Lumia 900 failed is because it was perceived as a lower end smartphone because of its price of $99. The average customer thinks that the quality of a phone is based on price and having the 920 at a lower price than iphone5 will only push more people to buy the iphone5. WIse choice to come in at the same price point and with better features than the iphone5 in my opinion. Nokia has to convince the general public that the 920 is equal and better than the iphone5 and if $199 is true than we may see people think twice about iphone5. At this point, all of the Apple fanboys have gotten their "precious" and what's left are people just looking for a great smartphone. It's now up to the AT&T staff and all of us Windows Phone fans to help recruit people to buy into Windows Phone 8. No better advertising than from word of mouth and showing people what your phone can do. Worst case scenario we all work hard enough to knock blackberry down to #4 and move Windows Phone up to #3. I for one have already convinced a few people to buy 920's and I convinced another friend to buy a Nokia 710 and he loves it. If we all work hard to spread the word than WP8 has a fighting chance!!!....Viva la WP8 resistance!!!!!!!!!!!!!!!!!!!

Are you sure it's network locked? I've bought phones on PAYG from Three before and they've been totally unlocked.

I'm not buying a new phone until someone releases a bloody QWERTY. I don't care what other features it has.
I really hope it's Nokia, and in the E7 form factor, but if it's someone else so be it.

I was set on getting a lumia 920 but I've really come around to the idea of getting a Cali blue 8x. I'm currently on orange UK contract but I'm going to switch to three payugo. Over the term of a 2year contract it works out marginally cheaper with the added benefit of not being tied in. In threes offering at £350 isn't sim locked I'll definitely be going for that otherwise I'll consider purchasing from amazon.

I'm the same, the blue 8x is one nice looking phone. Looks like 3 is getting my money.

I just want to say I am very envious of how carriers separate phone subsidiary repayment charges from the price of phone service in Europe.

You mean in the way of most offering Pay as You Go and Sim Only contracts?
I love Sim Only. £89 for a 710 unlocked and new from CPW and then £12 to Vodafone for 300 mins, unlimited texts and 500mb. Will get a better deal soon too as my roaming puts me in the high value customer band.

I'm on GiffGaff it's £10 a month you get;
250 minutes
Unlimited texts
Unlimited internet

The ultimate deal until it turns to £12 a month if you want unlimited data if not it 1GB but you can tether until your hearts content. :3

Um...Im far far away from these plans and schemes and of course I know this is UK pricing, but any guesses (from these prices) how much will be an unlocked version...?

thanx!
Windows Central Newsletter
Thank you for signing up to Windows Central. You will receive a verification email shortly.
There was a problem. Please refresh the page and try again.