Tile Me! adds more phones and ability to save backgrounds in latest update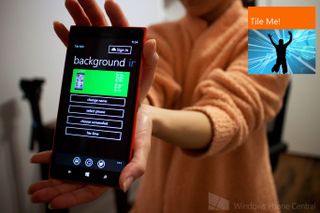 Tile Me! has received an update that makes its Twitter background creator even better. Version 2.7.1.0 responds to a couple of suggestions we had in theprevious version. The latest update adds more Windows Phone devices to display in the background and you are now asked for permission to post a tweet whenever you change your background. You can also now save the background to your phone or even share it from your device.
Here are the new features listed in the change log for Tile Me!:
Added Lumia 521, HTC 8X, HTC 8S and Samsung ATIV S Neo to Twitter background creator
Added ability to save Twitter background to phone
Added 'Share' option to Twitter background
You are now asked for permission to post a promo tweet
Most of the experience is still the same. Enter your name, gender, phone, and then choose a screenshot to display for the phone. You can also change the background color surrounding the phone. What's great about the color selection is that it includes colors from other carriers and manufacturers. You can see 'htc lime' or 'orange uk' in the list.
The right side of the Twitter background also remains unchanged. It shows off some of the specifications for the phone you selected with some general features of Windows Phone like Office, HERE maps, and Skydrive.
Click the Twitter upload button when you're satisfied with the final image. You get a message afterwards that your new background has been uploaded and then asks you if it's okay for the app to post a promo tweet. It looks like this:
Just click the cancel button if you don't want to tweet that. Take a look at a sample Twitter background below created by Tile Me!
We're quite happy with the update and we think you should definitely try this app if you haven't yet. Tile Me! is available at the Windows Phone Store for 99 cents. There's also a free trial available.
Do you use this app? How do you like it so far? Let us know in the comments!
Windows Central Newsletter
Get the best of Windows Central in in your inbox, every day!
It's an awesome app.
Though perhaps where it reads "memory" it should read "RAM" so no one would confuse memory with storage as both words are often used as synonyms.

It creates avatars for social networks, and also backgrounds for your Twitter profile. GIFs are animated avatars for services that support gif avatars.

Great app and great windows phone personalization Microsoft should get up in this and promote it

Thanks for adding HTC 8X. Made a background for Twitter.

Who's this woman with the 1520 who keeps appearing in all these articles? She was playing Reindeer Round-up yesterday.

Haha. I wonder the same thing.

Lol me too! She is modeling for all of Mark's articles. (not complaining, i am just stating)

I think, she is Mark's wife.

That would make sense. It's funny that I can instantly tell what article is his by the picture.

That's good have been waiting for that feature

You are simply amazing. I am very happy you took my suggestion and implemented it so quickly. This app is solid gold and you'll always have my support. Thank you!

Twitter seems to be having problems with backgrounds at the moment. When you change position to Center (under Settings -> Design in twitter.com) it removes backgrounds. So when you do that, just reupload the background and everything should be fine.

Very attractive :) My account is @carjasssso

Looks great Carlos! Thanks!

I can't see the update button for my Samsung Omnia W in India :(
Windows Central Newsletter
Thank you for signing up to Windows Central. You will receive a verification email shortly.
There was a problem. Please refresh the page and try again.