Time Warner Cable's TWC TV app launches for Xbox One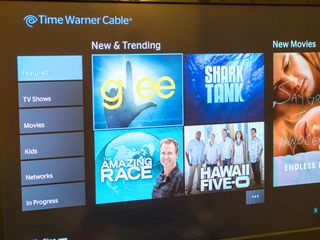 Time Warner Cable has launched their TWC TV app for the Xbox One. The app lets you access on-demand movies and TV shows when signed in with your Time Warner Cable account. Unlike Time Warner Cable's app for Xbox 360, this app does not let you view live TV, at least not yet.
The app's Featured section shows you what's popular, what's new and more. You can find shows to catch up on, as well as free movies. Programming is divided into TV shows and movies, with a specific section available for content for children. There's also the In Progress tab that shows you what shows or movies you haven't finished watching.
You can download the Time Warner Cable TWC TV app now from the Xbox One Store.
Windows Central Newsletter
Get the best of Windows Central in in your inbox, every day!
Why this blog is named as windows central instead of microsoft

Xbox One will run Windows, so. It's a matter of time.

Xbox One runs a Windows 8 kernel already. Xbox One will of course be updated to Win 10 later this year.

I'm not sure how this app is helpful. I can perform all these functions with the Xbox One app on either my phone or Surface. Maybe if you don't have the cable box set up as a pass through its helpful. Oh well...

Trust me it's very helpful. I would love to is Bing you search for a movie and have the tv listing and the VOD library searched with Netflix, Xbox video, Amazon prime and so on. It would be even amazing if, once you find a title available on demand, to start the on demand service via cable box and watch that movie. I can't wait to have that option with Comcast X1 box.

Hopefully these Xbox One universal Apps work on phones, shen it all happens. The XBox One is gonna be a savior for media streaming Apps.

Maybe they are working on one guide integration like sling tv before launching. One can hope. onelol. +1520 (though it really should be called 1530.)

Nice, although I don't have an Xbox

I know that feel bruh
(That moment when you realize you don't have anything decent for gaming) Posted via the Windows Central App for Android

But, as usual, nothing for WP.

I cant wait to see these xbox apps running on phones, pcs, and tablets. It will help fill the must need apps fast

Universal app? So that it can be on windows phone as well?

Make an app for windows phone

App doesn't even work for me, doesn't even let me login. Unfortunate. Vote for the TWC/Comcast merger so their apps can actually work when they are released! /s

"Unlike Time Warner Cable's app for Xbox 360, this app does not let you view live TV..." Oh TWC how you continue to move backward. What's the point of a TV app not streaming Live TV? Pretty predictable unfortunately.

Doesn't the Xbox already do that anyway without the app??

Would be nice if WC staff could reach out to learn if there are any plans to drive this to a universal app. Feels like such a missed opportunity.

I thought it sounded pretty cool, until I downloaded it and tried it. Wouldn't let me login. You would think they would test this stuff.

But not for Windows phone
Windows Central Newsletter
Thank you for signing up to Windows Central. You will receive a verification email shortly.
There was a problem. Please refresh the page and try again.