Timeline Support Firefox add-on brings Windows Timeline to Mozilla's browser
Timeline Support brings Windows Timeline to Firefox and potentially more browsers in the future.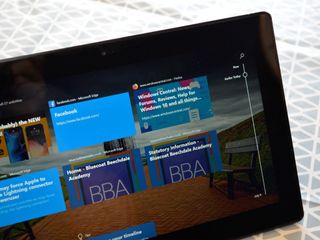 Windows 10's Timeline feature lets you jump back to previous sessions of apps. It's a great way to jump back to a website or document you worked on before. Unfortunately, not many developers support it. Thankfully, developer Dominic Maas has made an add-on for Mozilla Firefox that adds Timeline support to the browser.
The add-on is free and available for Firefox on both desktop and mobile. There is also a version of Timeline Support for Google Chrome, though we did not test it for this review because it was available during the time of writing.
Download Timeline Support for Firefox
Time travel
The add-on does exactly what the title says: it brings Timeline support to Firefox. When you've browsed a webpage, you can then jump back to it by opening your task view button and scrolling down to your Timeline. Timeline shows a preview of the webpage, so you can easily identify any instance of browsing. You can select how many seconds you need to be on a page before it's added to your Timeline, which helps keep your Timeline clean when you quickly bounce between websites.
Timeline Support is also available on the mobile version of Firefox. I used it on my Galaxy S8+ and it worked very similarly to the desktop version. Unfortunately, my mobile browsing didn't show up on my PC's Timeline. You can use the add-on to continue browsing a website from your phone on your PC's default browser.
Sadly, not that common
There really isn't much else to say about the add-on, but it's a great chance to highlight the fact that this feature isn't used by many developers to its potential. Some normal big names among the Windows community support it, such as myTube! But overall, it's mostly just Microsoft apps that support the feature.
I'm not surprised Google wouldn't support it, because it has very few apps available on anything running Windows. But the fact that opening Timeline on my device shows basically just my Edge history with a few other apps thrown in is disappointing. If Timeline doesn't want to become the next My People, a great feature that basically no one uses, more developers need to get on board.
Overall thoughts on Timeline Support for Firefox
It's great to see this add-on for a big-named browser like Firefox. Too few developers utilize Timeline and adding it to one (soon to be two) of the world's most popular browsers is great.
The ability to push a website from one device to another is nice, but I'd also like my histories from multiple devices to show up on my Timeline, like they do for Microsoft Edge. Overall, it's a great add-on that's free and brings a lot of functionality.
Pros
Works seamlessly
Available across multiple platforms
Customizable
Free
Cons
Sites from mobile and desktop don't show up on each other's timelines
Download Timeline Support for Firefox
Updated August 13, 2018: We updated this post to add availability information and a link to the Google Chrome version of Timeline Support.
News Writer and apps editor
Sean Endicott brings nearly a decade of experience covering Microsoft and Windows news to Windows Central. He joined our team in 2017 as an app reviewer and now heads up our day-to-day news coverage. If you have a news tip or an app to review, hit him up at sean.endicott@futurenet.com (opens in new tab).
Does anyone actually use Timeline? I played with it when it arrived, but since then I can't say I've ever bothered with it. Maybe that's just me, and specific to my circumstances, ie what use I make of my computers. But when I took a look at it in the first few days after it arrived, it seemed fatally cluttered, too many items, mostly no longer of interest, most of the items being from the web, and the good ones I had already bookmarked in Pocket.

I actually did. Then I forgot about the feature. The next time I tried to use it, it did not work. Did not bring up anything from the past. Since then I did not use it. Tried, but it's once again an unreliable feature. I will maybe if Microsoft will let me get used to it.

I had a peak, but now it is disabled on my machine. I doubt i would find a use for it,

Article mentions My People. I found that so useless that I just turned it off. And if they would fix the darn People app back to how it USED TO BE then they wouldn't need it. Right now, People has a strip down each side that is useful and a wasteland of phone numbers and email addresses randomly listed in between (as often as not, not the ones I actually want, eg showing work email when I wanted personal one). Whoever bestowed that misery on us needs an education in usability. There's no point in displaying the email and phone info in the middle of the People app when the whole idea is that I can select people by name when I write an email or make a phone call. Whatever happened to usability testing? So My People? Hardly a surprise that it goes unused.

Imo the features available in My People are great but almost no developers use it so it's almost useless. I use Unigram which support My People well and it's pretty cool.

I also played a little with Timeline at its beginnings and I also abandoned it. For the same reasons as those already mentioned, but in addition, I do not find this "healthy". I'm not even talking about the personal data that circulates on MS servers, but I don't like that you can see everything I've done in the last 2 or 5 days on my PC (even if few people get close) just by doing Windows+tab and a mouse wheel roll.
Windows Central Newsletter
Thank you for signing up to Windows Central. You will receive a verification email shortly.
There was a problem. Please refresh the page and try again.