Tiny Death Star updated on Windows Phone and Windows 8 with some holiday magic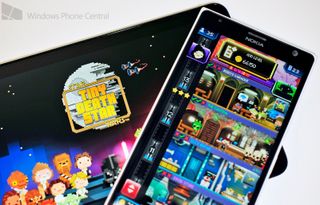 There's a guilty pleasure surrounding the crew at here at Windows Phone Central. We're addicted to Star Wars: Tiny Death Star for Windows Phone and Windows 8. The game combines Star Wars with time management gameplay. That's the perfect recipe for addictive gameplay. Both the Windows Phone and Windows 8 version of Tiny Death Star also just picked up an update that throws in some holiday fun. Let's check it out.
Head to the Windows Phone Store and you'll see Tiny Death Star sitting pretty at version 1.0.1.4. While Windows 8 is hanging out at version 1.0.1.5. Update either on Windows Phone or Windows 8 and you'll get the two following changes for the holidays:
NEW, LIMITED-TIME VIP! Keep a lookout for the festive Imperial Decorator Droid, who will spread holiday cheer throughout the floors of your Death Star. Decorate enough levels to earn exclusive, limited-edition rewards!
SPECIAL CHARACTER SURPRISES! Now you can deliver special characters with a question mark to any level you desire! Discover which levels will trigger special story moments for each character, and encounter other surprises along the way!
Various bug fixes including an update to the BUX issue.(Windows Phone)

It also adds some other nice touches. For example, check out your Live tile on Windows Phone after updating to the holiday version and you'll see some snow hanging out.
Want to get either game? They're both free and include optional in-app purchases for you as you take over the Galaxy. Grab it in the Windows Phone Store or Windows Store (opens in new tab). QR code below is for Windows Phone. Enjoy and happy holidays!
Thanks for the tip Coan!
Windows Central Newsletter
Get the best of Windows Central in your inbox, every day!
Deleted it a week ago because it became too monotonous,ever mission was like "build 2 ....... Levels etc."I became bored after creating 29 floors.

Same. Not fun at all in my opinion - just a monotonous yawn fest lol.

Agreed! Idk what all the hype was about.

I thought Tiny Tower was basically a lack of gameplay - push button, get reward. But I still managed something like 100 floors. I had nothing to do for about 20 minutes a day, so I just managed. There was no skill involved, at all, just tasks. I tried this game, to see if it could be the same brainless time sink. Holy crap, it's so much worse. It's so stingy with bucks. In Tiny Tower you could get enough bucksto upgrade everything you needed to. In Tiny Death Star you basically need to pay for them, meaning you're stuck with awful elevators far too long. Missions aren't fun, things load too slow, the bottom floor of your screen blacks out before it's off-screen, and the stinginess with bucks takes the teeny, tiny bit of strategy from Tiny Tower away. You make absolutely no decisions that matter. Everything is just black-or-white. Put the best guy in the role. Put people in dream jobs. Build what you have employees for. That's it. It would have been great had they built some kind of economic minigame to require some skill, but instead it's just doing mundane things that it literally tells you to do.
It's solely designed for microtransactions, not fun. The developers should be ashamed. It's not a game, it's a chore. Drug Wars on my TI-82 took more thought.

Ditto. Even the updates above wouldn't convince me to go back and play it. I had around 35 floors + 60 Bitizens and upgraded the elevator twice. I really tried to stay with it, then just decided it was absolutely pointless. I'd go DAYS without getting a VIP and the game would 'stall' at that point. Then suddenly I'd get 3 VIPs in a row. The story moments never happened enough because it relied on A> you building the right levels that would trigger a story moment + B> geting the right characters for those levels + C> hoping that the character needed to be delivered to that exact level. It happened almost never... except for Empire levels when you could deliver anyone to any floor. So boring.

Daaayum. That's OCD level dedication.

Yeah, crazy, I know! Lost my job, wife & kids....but man has it been fun! :P


90 bitizens, 61 floors The update has issues though. If you use the back button to exit the game you will no longer accumulate credits which kinda defeats the purpose of it. if you use the Windows key to exit the app it will continue to run in the background but if another app needs the memory it will force it closed and you no longer accumulate credits.

I've stopped playing the game over this bug. No way I want to kill my phone's battery over this game. And I was playing it hardcore until the update.

Too buggy. Missions would never complete. It would randomly eat all your saved coins or throw you into negative.

I never had any of that happen but a fix for the "BUX issues" is listed for Windows Phone.

With me, with this update, it doesn't collect money anymore when the app is closed

Won't open on Surface 2 anymore.

Also frustrating Disney games have no cloud syncing. Have gone through 4 Surface devices in the past few months and I have to start over every time. Disney really needs to learn that people swap devices and want to carry forward their progress.

Actually, Frozen Free Fall made me sign in with my Microsoft id the first time on my phone. When I installed it later on my surface it synced my progress. So maybe they're starting to do this?

Updated it on my Surface 2 and it now crashes once it hits the loading screen. Already emailed Disney support about it, still damn annoying though!

Have that e-mail address? Can't find any way to get a hold of them. But I have the exact same problem, will no longer load on my Surface 2.

Sure do: disneymobilegames@mailwc.custhelp.com Can be found under the Learn More section of the Store page for the app.

Me too, super disappointed right now.

Same problem. Reinstalled it and it still won't load. Anyone fix it yet? Not sure if I'll keep playing, I'm a bit miffed that I deleted all my progress to reinstall it.

It's very buggy on my brother's surface and one of the bugs I've experienced on my phone as well, it gives you negative of the bucks or whatever the currency is called but yea hope this update fixed that.

It's listed as a bug fix, so hopefully.

Thanks Daniel, hope so too.

74 bitizens 52 floors i was plauged with a loss of bux bug. bought a specific level for 1, but it took me to -389. I powered through, expecting they'd fix soon, and worked my way up to -333. Installed the update today and it gave me 10. Bleh. Also, it doesn't progress when its shut down anymore which makes making any progress impossible. so about to scrap it all. the missions get boring, too. you earn like 500 credits for the stupid things. it earns that amount for me when its shut down for 50 seconds.

Thank god the disappearing bux bug is fixed...

They also seemed to have fixed the elevator sound bug. I had the negative bux problem. Worked my way back from -300 by building only residental levels and then assigning newcomers to their dream job, then immediately evicting them. Also evict anyone without an 8 or higher in a dream job you need. This no progress after quitting "feature" is a killer though.

After the update when I click on the first Imperial level (the one that tells you the items for next mission requirements) it crashes the game.


same deal here. and as others have said, doesn't progress while the app is closed. makes me want to uninstall.

Oh man...wanted to test this bug, and not only does it crash, but it took away 250,000 coins.

81 levels, 0 citizens. (Now that I have every level, I assign new arrivals to their favorite store for the BUX and then shoot them airlock haha.) New bugs include: Clicking on the supply quest mission level (the one with Vader) will cause my game to crash. Not sure if this is because I have finished every quest. The back button issue someone mentioned before. They added a new Service Level, but they did not add another Residential Level, so you cannot fill all your shops. And the chance of having a "?" citizen show up is annoyingly high.

Terrible port...lots of bugs, didn't scale right on 8" devices, etc

46 Bitzens, 35 levels
Bugs still in game:
Sound FX setting not saved between sessions
Using recruiter VIP doesn't count towards Moved In Bitizens Emperor task
Switching to another app/phone call while VIP in the elevator looses VIP I still seem to accumulate sales while the program if off but I always start it from within the Games hub. Maybe that makes a difference.

I think it's time for me to also become addicted ...

Hopefully they update the update to fix the new bugs soon.

Sadly, its one of the most pointless "games" I have ever played. You just click on stuff when it tells you to click on it. No other user input whatsoever is required.

The graphics on this are appalling compared to something like Asphalt 8. They should really fix them. Reminds of the Atari.

Yeah, and that Minecraft game is really blocky. Why can't it look more like Battlefield 4?

These comments made my day. XD

65 levels and 95 Bitizens. I rather like grinding away at this and trying to assign all my guys to their dream jobs. I just wish the game would stop sending me Supply Officers when I completed all of the Imperial levels ages ago.

Whats the deal with the imperial levels and what are the items for? I keep building items and never use them for anything. This game needs better missions.
I love reading the Holonet. =)

Step 1 - Click on the level below level 1.
Step 2 - Profit

Been able to do that once, 35 lvls 45 bitizens. And I never get missions from Vader, not once.

Does it still drain your battery fast if you exit the game with the windows button?

Windows 8 version keeps crashing on startup

I'm still stuck on version 1.0.0.18. My phone says an update is available but when I try to apply it it just disappears from the update screen. Anyone else seeing this now? Did they pull the update because of the new background bug?