Tip: Search for Windows 8 apps in your web browser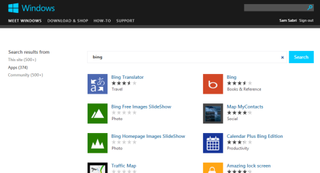 Windows 8 and Windows Phone 8 are both great platforms. While they're made by Microsoft, there are times you might feel like two different companies built them. They might look the same, but there are features from each you wish the other had. Case in point, you can search for apps on Windows Phone using your web browser, but you can't do that for Windows 8 apps. At least you couldn't do that yesterday, now you can.
Why would you want to use the browser to search for Windows 8 apps when you're most likely on Windows 8? You might not be a fan of the search results page for either Windows 8 or even the newly designed version in Windows 8.1. Who are we to judge? But either way, you can now find apps when searching on the Windows website.
Navigate yourself to windows.microsoft.com (opens in new tab) and use the search box in the upper right hand corner of your screen. When you type in something like "Netflix" or "Halo: Spartan Assault" you can filter your results by "Apps". When you click on apps you'll see results as you would in the Windows Store app on Windows 8.
Pretty nifty. Now get searching.
I have to say I don't use my win 8 pro as much now that WP8 is getting bigger and much better!!!!

Thank God. 'Cause even in Windows 8.1 the search within the store is just sucks.

The cool thing about browsing a store in a web browser is that you can open apps that seem interesting in separate tabs instead of having to go back each time and reload the previous page(s)

Personally, I'd like to see the Windows 8 store on the web like WP.

Wow, its about time. There have been a lot of times where I've wanted to search W8 apps through the web, usually because I'm on my W7 work laptop and just need to check to see if a certain app exists on W8. Every single time, I find myself re-discovering that for some incomprehensible reason, W8 store is not available through a browser like WP8 store is. I know this comes off as complaining, but MS makes the best developer tools, API's, and frameworks. You would think copying the WP8 browser store implementation and applying it to their W8 store apps database would be a trivial matter.

Sad story: I don't need W8 App-Search via browser because I like my browser or the presentation of the map or so. I need it because the in-app-search just doesn't work at all. For example if I search the Plex app by typing in "plex" it only finds a xmbc remote. Had many occasions where I knew the exact name of the app and searched for it but didn't get any result. MS needs to fix this ASAP.

That's odd because when I type Plex in the Windows 8 Store it has Plex as the first entry.
It is true though that search leaves a lot to be desired, and certainly the results are not well organized. I understand at first not to have a web version since there we few apps, but now it should be there, and not this clunky way to find them.
Microsoft clearly hasn't learned from WP8 or other app stores on how to create one that works well for finding new and interesting apps instead of showing the same crap over and over again.
Not that there are a lot of high quality apps still.

Lol. Just re-tried because of your comment. Had the same results again. Then I unchecked "find results in your language faster"... now it shows me the plex app. So it seems that this option doesn't make the store search for apps in your language first but it makes the store search for apps in your language ONLY. So now that I'm aware of this, results are way better... but that doesn't change the fact this option is totally broken.
Thanks for your help :D
Windows Central Newsletter
Get the best of Windows Central in in your inbox, every day!
Thank you for signing up to Windows Central. You will receive a verification email shortly.
There was a problem. Please refresh the page and try again.