HTC Titan II coming to AT&T on March 18 for $200?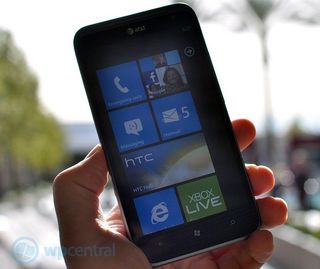 It looks like BGR isn't quite done with the leaks just yet. After reporting that the Nokia Lumia 900 would be coming to AT&T on March 18 at a price of $99, the tech site now sharing that HTC's Titan II will also be arriving the same day. However, don't expect the same alluring $99 price tag as the Lumia 900. Rumor has it that the mammoth HTC handset will run you double that, $200, with a 2-year contract. There's no mention of where this info came from, so as always, treat it as a rumor, and not set in stone.
The Titan II, which recently made an appearance in Entertainment Weekly, has the same 4.7" screen as its predecessor, but comes along with a whopping 16MP camera. It also packs a 1.5GHz CPU, 16GB of storage, and of course 4G LTE.
Source: BGR
If da lumia is 99$ then the titan2 might have some problems selling unless someone goes in there and loves giant phones ot says o look 16mega pixel camera OMG

First thing I thought about. It won't sell unless it's at least $150.

BGR didn't allegedly reveal the information on the 900 they in fact revealed that Nokia was allegedly releasing the 900 on March 18 for 99.00.

Nice to know that the titan II is coming out the same date but unless the titan II is way better than the Nokia I'll go with the Nokia for 99.00. If ATT prices the HTC device closer to the Nokia it might be ahorse race but if not. Likely I will pre order the 900!

Many would probably agree with you. Personally, if both came out at the same price point, be it $199/$149/$99 each, I would still choose the Nokia :) Especially given that Nokia Drive is a value add (at least $50).

Well, I have two Titans and I love them. But the Lumia 900 is really catching my attention.

Wish T-Mobile would get the Titan II. Would buy first day to replace the HD7.

Same issue here my friend.

I agree as well. I love my HD7, but it is starting to feel a little dated. I wish T Mobile would get some of the high end phones. A titan II would be perfect. Or maybe a new HD# phone. Possibly HD8 with wp8 and upgraded hardware?????

Elaborate? Otherwise its trolling

Um... AT&T is giving the 900 a larger subsidy because it's a hero device, thus it will sell a lot better than the Titan II. The phones will likely be the same price unlocked.

I wouldn't say they were screwed, but it sucks for them that the same day they are releasing their 4G LTE WP on ATT, Nokia is also releasing one, at half the price.

Oh, I agree. HTC got Nokia'd.

Bet the titan2 will be a huge deal with the camera (people won't know any better, and therefore will go for it). The Lumia 900 will sell better with that price point, and the original Titan would drop to $99 (or less). They'd be better of selling the titan 2 for $149.99, at least the camera would justify the price bump from the Lumia 900. all still rumor however.

I know there is cloud integration, but is a 16MP camera sensible with only 16GB of storage? Why don't these phones have 32GB?

WP doesn't support right now. Apollo should.

No matter which sells more, its all good for WP7!

I have the Titan (the first one), It's amazing! I love it, and with the new one with 4G and 16MP camera, just more sweet!

Would be nice if Verizon got in on some Titan action.
Windows Central Newsletter
Get the best of Windows Central in in your inbox, every day!
Thank you for signing up to Windows Central. You will receive a verification email shortly.
There was a problem. Please refresh the page and try again.