Top 5 Microsoft announcements from Ignite 2017
Here are the biggest announcements from Microsoft's Ignite 2017 conference this week.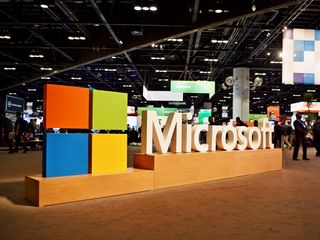 (Image credit: Windows Central)
Microsoft's Ignite conference may not be the most interesting event for general consumers, but the company still had a few flashy announcements in store this week. From quantum computing to the next generation of Office, here's a look at some of the top announcements to come out of Ignite 2017.
Windows 10 S is coming to the enterprise
When Windows 10 S first hit the scene in May, it was aimed squarely at the education market. At Ignite, Microsoft announced that new commercial Windows 10 S devices are on the way from HP, Lenovo, and Fujitsu later this year. And next year, a special enterprise version of Windows 10 S will be available as well.
Office 2019 breaks cover
The next big Office release is on the horizon, as Microsoft has revealed Office 2019. As the followup to Office 2016, Office 2019 will debut in the second half of 2018, but preview versions of Office 2019 apps will begin rolling out in mid-2018. As for what to expect, Microsoft is playing its cards fairly close to its chest, but it did confirm you can expect new inking effects, new animation features in PowerPoint, and enhancements for IT managers.
Tracking Insider feedback is getting easier
If you provide a lot of feedback to Microsoft through the Windows Insider program, it's currently a bit of a hassle to keep track of what's been addressed and what hasn't. Microsoft is moving to make things a little easier with a change that will proactively alert Insiders when their feedback has been addressed or merged with another issue. Release notes for Insider builds on all rings will also soon be easier to track with an upcoming dedicated Universal Windows App and website.
Microsoft 365 heads to the classroom
Microsoft 365 is spreading its wings to the classroom with its latest iteration. Microsoft 365 for education bundles together Windows 10, Office 365 for Education, Enterprise Mobility and Security, and Minecraft: Education Edition. Educational institutions will be able to get all four in a subscription bundle that educators and students to take advantage of.
Microsoft prepares for a Quantum Computing future
Quantum computing is seen as the next big frontier in computing, and Microsoft is laying the groundwork for its own long-term play. The company announced its own quantum computing programming language that will be available for developers to preview in Visual Studio by the end of the year. It may be quite a while before we see instructions carried out on an actual quantum computer, but Microsoft is hoping developers will seize the opportunity to try programming for a quantum simulator.
Your thoughts?
What was your favorite announcement from Ignite 2017? Let us know in the comments below!
Windows Central Newsletter
Get the best of Windows Central in in your inbox, every day!
Dan Thorp-Lancaster is the former Editor-in-Chief of Windows Central. He began working with Windows Central, Android Central, and iMore as a news writer in 2014 and is obsessed with tech of all sorts. You can follow Dan on Twitter @DthorpL and Instagram @heyitsdtl.
No surprise... No mention of a mobile phone hardware presence at all. Either they have nothing, or they are getting something big ready. Here's hoping!!

They have nothing, haven't you been reading the news? MS mobile is dead, has been for months

What are you hoping for exactly? And why would they mention something that's dead?

Whatever happened to Windows on ARM? Delayed? Coming soon?

Dude, you should know by now; that if microsoft anounces something it will be released after mostly 10 years! (After all COMING TOMORROW! is MICROSOFT TRADEMARK)

These types of comments are always fun to read. Microsoft announces a product, says it will be available in X months, and the "SOON" comments are out. Microsoft announces a product, says it will be available tomorrow and those same exact people then go on to complain about it being shipped before it was ready, complain about it taking too long to fix bugs, and when bugs are fixed within a week or two then complains about needing to download updates so soon after release is unacceptable. Meanwhile, one of Microsoft's biggest competitors announce a device and ship it a week later. It is full of bugs, but fans of that company claim that it is OK to have bugs in a new product, that a week between ship and first point release does not signify it is rushed in fact it means that the company cares about their customers. Said company is very private about their products, but currently have 3 products they announced but not yet put on sale. One 6 months before release, one announced a year ahead of time, and the third having no release date - and that company has said that they delayed at least 3 years because the product they are updating was done poorly. And the fans don't complain about "SOON" or "COMING TOMORROW", no, their fans praise such actions. So either Microsoft fans are expecting unrealistic goals, they are posing as Microsoft fans and are just trolling, or the fans of that other company just accept anything that they are told and march along without thinking for themselves. Which is it?

I agree wholeheartedly with everything you mentioned above.

What was released full of bugs?

@bleached - I know you were the up and coming troll around here and like to disctract from the original topic, but I will bite. Are you asking what from that "other" company (trying to not use that company's name because it is a trigger word for you and your friends) was released full of bugs? There are claims of battery life being drastically shortened (some claim it is because it is reindexing for search, but not sure why or what it needs to index), there were claims of excessive static when talking on the phone, there was the problem where the phone could not sync mail with Microsoft's services (and it was not Microsoft's fault because older phones from the same company worked fine, and they actually released an OS update), and many more. Read the fan web sites of that other company, and even their own support foums. There were a lot more problems, ignoring them doesn't mean they magically go away.

Not sure what you are talking about. Haven't heard about any buggy devices being released lately. Every product will have issues and forums posts about them. They don't seem to be very widespread as I am not even sure what product you are talking about.

@bleached, you praise what you don't know but when we know you are trolling you downplay it. what gives?

What? I see, he is talking about the iPhone. An article about the static in the mic came in my feed. I wonder if it is hardware or just a software update.

We accept nothing but the best. For a reasonable pricetag. Delivered today.
(Actually i really do for the Surface Phone. Android drives me crazy with its inconsistencies.

Never ok to have bugs, but as most people know there is no such thing as bug free software, that is why software is updated, But with Windows 10 it was not just the bugs it was inconsistences, like the context menus an d the setting v control panel/ It did not feel and still do not feel like it is ready for the public, I feel like we are the beta testers for MS software. I prefer to wait a bit longer for software to be launched and for as many problems as possible to be eliminated. There was a time when I did run beta software, but these days I just want a machine that is stable and works, I do not see why we should be MS beta testers. .

Then simple, don't test for Microsoft. Why are you wasting your time on something you don't want to do?

We are all testing for Microsoft, but in different ways, we the consumer are still testing beta software even when the software is released to the general public. Windows 10 is still a beta, sure MS calls it a service, load of cobblers, it is just their way of saying we want to get it out to the puiblic and will fix problems after.

Intel threatened a lawsuit emulating x86 on ARM. Thats probably what happened.

Dood, this has NOTHING to do with consumer hardware....Jesus fanboys...give it a rest!

Businesses use mobile devices as well. No? I didn't expect an annoucement...just something that hinted at a hope.

Its nothing to do with business either....READ please...and figure out what it's all about...it's about programming. NOTHING to do with devices!

nothing to do with you. simply go away and stop making your self illiterate.

WHAT? emma0 you make ZERO SENSE....THIS HAS NOTHING TO DO WITH DEVICES>.....jesus you fanboys/girls/gender nutral are CRAZY!

Quantum computing sound amazing!

Quantum computing sound amazing! like Zune, Windows Phone=Kaput

Yep. but in usual MS fashion, I am betting dollars that they are Late to the party.

How do you figure? They have had researchers and computer scientists on this for years, if you did not know.

Oh, I DO KNOW......but like everything else that MS has done since Nadella has been in charge, they will be LATE for releasing and making it work correctly. Going by previous track record of MS.

Exciting for business... Boring for th end user....

trust me, the business doesn't give a damn

Sure, that's why businesses are throwing tens of billions to Microsoft every year, cause they don't give a damn.

Absolutely nothing about that list excited me. I mean, seriously does anyone really think there's something earth-shattering or innovative about that list?

Nopers
At this point only a few things MS could announce would excite me.
A new Surface product that I would be interested in owning, and a modular W10 utilizing Cshell, showing at least one screenshot of it being used on a smaller screen........

Well, quantum computing might be; certainly more interesting than Office 2019. Personally I thought the Bing for Business and the Cortana stuff that Li Chen Miller showed off were more interesting than this list. Then again, I'm not the target audience for Ignite.

If they can move the Cortana algorithms to Quantum computing language then that would surely be able to more naturally understand questions on gives better answers right?

Keep releasing with full of bugs

Not really excited, but the education part is important. The last thing I want to see is Chromebooks being popular at schools and end up dominating like Android on phones.

I would say some awesome things that were featured that weren't mentioned are all the enhancements in exploit guard, credential guard, and windows atp. There were also lots of cool stuff with windows 10 deployments you guys didn't mention. I know this is a consumer/enthusiast mostly site but it would be cool if you had an enterprise section.

I remember the days when Microsoft wasn't boring.

I just find it interesting that Microsoft can't work on the corporate side and the consumer side at the same time. It's not like they don't have the staff or money. Even if there are dependencies needed on the corporate side first before the consumer side can be built, the design work could at least be accomplished.

Yawn. Oh wait!... new PowerPoint animations and transitions!

No news about project Andromeda 😒

Don't know why people are wanting windows news or hints of mobile hope from Microsoft. Most of ignite is there for the software (yes the OS is software but it's not the focus of ignite). New ways for people to be more productive and such including different ways to improve programming. Ignite will be very boring to the average consumer, to me, this is exciting news.

cool beans. Quantum computing stuff, I like.
Windows Central Newsletter
Thank you for signing up to Windows Central. You will receive a verification email shortly.
There was a problem. Please refresh the page and try again.