Top 7 announcements from Microsoft's E3 Xbox One X event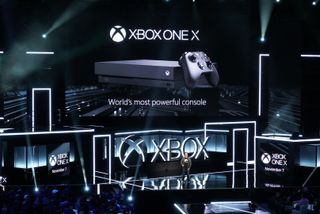 Microsoft kicked off E3 2017 in style today with a briefing packed full of exciting game and console news. Not only did we get our first look at the new Xbox One X, but there was an absolute load of new games and console exclusive news to boot. Here's a look at the top six announcements from Microsoft's Xbox One X E3 briefing.
Xbox One X
It goes without saying that the reveal of Microsoft's newest entry in the Xbox lineup, the Xbox One X, was at the top of everyone's minds going into today. With true 4K gaming, and plenty of horsepower to back it up, the former "Project Scorpio" is already looking pretty hot. If you can stomach the $499 price tag, Xbox One X is looking like a must-have when it launches on November 7.
Original Xbox Games on Backward Compatibility
That's right: original Xbox games are coming to Xbox One backward compatibility. Combined with the already-available Xbox 360 backward compatible titles, that means all games from the entirety of Xbox's storied history will be playable on the newest hardware. This is a manual process, so it will be a slow drip of additions, to be sure. But fans of games past and present should be stoked.
22 Console Exclusives
Even before the stream of game trailers and announcements started coming, Microsoft addressed one of the biggest complaints about the Xbox One: console exclusives. In total, Microsoft showed off 42 games on stage. The kicker, however, is that a full 22 new games were announced as exclusives for the Xbox One platform. If you've found yourself a little green with jealousy over exclusives on a certain other platform, then take heart.
Forza Motorsport 7
That we would get a look at the next Forza was basically a foregone conclusion going into the conference. Still, seeing the gorgeous visuals of Forza Motorsport 7 running on Xbox One X was quite the treat. The game will include 700 cars, 30 circuits, dynamic weather, and more. But let's be honest: the real draw is the 4K resolution running at 60 frames per second.
Playerunknown's Battlegrounds is a console launch exclusive for Xbox
Playerunknown's Battlegrounds, the battle royale that is tearing up the gaming world at the moment, is coming to Xbox One later this year as a console exclusive. It'll arrive later in 2017, and a later patch will add support for 4K and better visuals on Xbox One X. We can't say for sure whether it will always be exclusive to Xbox, but it's a good catch for sure.
Metro Exodus
Another big reveal was the next entry in the popular Metro series, Metro Exodus. Set in the remains of Russia after a nuclear war, the survival shooter looks like a pretty spooky romp. The game will hit Xbox One and Windows 10 in 2018 with, of course, 4K visuals at 60 frames per second on Xbox One X.
Minecraft is killing fragmentation
Lastly, Minecraft is finally addressing one of its biggest issues: fragmentation. Thanks to a new bedrock engine, Microsoft is uniting players from all modern versions of Minecraft Realms, letting them play together across Windows 10, Xbox One, Nintendo Switch, and mobile version. Only the PlayStation 4, Xbox 360, and PlayStation 3 versions are left out, but most players should still be covered. There's no word on when this is set to roll out, but the game is also getting the 4K treatment this fall on Windows 10 and Xbox One X.
Your thoughts?
What were your favorite parts of Microsoft's E3 2017 briefing? Did we skip anything you're looking forward to? Let us know below, and be sure to keep it locked to Windows Central for more from E3.
Get the Windows Central Newsletter
All the latest news, reviews, and guides for Windows and Xbox diehards.
Dan Thorp-Lancaster is the former Editor-in-Chief of Windows Central. He began working with Windows Central, Android Central, and iMore as a news writer in 2014 and is obsessed with tech of all sorts. You can follow Dan on Twitter @DthorpL and Instagram @heyitsdtl.
The most intriguing game to me was Anthem. As long as there is some type of system to organize players, maybe something like the Spartan Companies in Halo. One of my biggest problems with multiplayer games is not being able to control who your playing with. At 50+ I really hate playing with teenagers or kids.

i feel you on that. i only play w/ the homies when i play, but we're all 30+ with full time jobs and kids and what not.

Same thing play with my son sometimes but just not the same.

They already built that system, and even better it's generic and can be used with any game. It's called Looking for Groups.

For me, the XB conference was really bad. I learned a few things, though. I learned the term "Xbox One Console Launch Exclusive" which sounds like another way of saying timed exclusive or "First on console".
This also showed me that MS aren't really committed into making games and gaming. We knew about the yearly Forza, so that's hardly a surprise, but besides that the 2 actual console exclusive they announced are Super lucky's tale and the next Ori game. That's it.
I gave Spencer the benefit of the doubt all these years. I was ready to listen XB fans who were saying "wait for E3" but coming up with a new term to mislead gamers and not really showing a lot of major exclusives is really pathetic. I just wish MS stop listening to their "fans" who will keep cheering no matter what. Listen to the majority. Those who didn't buy your XB1 console. Listen to the criticism. Invest in making games. Take risks in making new games, new IPs. Spencer said cancelling Scalebound was a good thing for XB gamers. How is it a good thing? Is investing in time deals with indie studios a good thing?

Listen to the majority?
Are you the majority?
I thought cod, bf, nfl, fifa, etc were the ps4 top sellers? Are you ps4 owner? Do you own gaming pc our gaming notebooks? If xb1x's not good enough, what else is good?
Can you leave your old ps4 in the office and do your cloud sync with ps5 at home?
Can you do cross play between ps4 and ps5 with your not-gamer-anymore girlfriend / wife?
Can ps4 games run on / sync between pc so that I can continue my progress outside? Will ps4 games run on 6" win10.arm?
What's the point investing into PS family after XBox's bc/fc/xpa announcements (plus free-unlimited-cloud-sync and region-hot-swap)? * Although Spider-Man loo interesting butt currently I only have one exclusive on ps4, Horizon - Zero Dawn. Will I get ps5 for Horizon2? That's one exclusive vs all other games (plus the benefits)

Wow so many question.
Majority of gamers didn't buy the XB1 because it sold around 30m.
Most people I saw excited about XB1x are XB/MS fans or already own the weaker XB1. I personally don't see the point in all those question though.

And what demographic of gamers bought a ps4 pro?

@Jombib Isn't only 1 in 5 PS4 selling a pro? Most people I saw excited about the pro were Sony/PS fans. What's you're point?

I'm pretty sure Microsoft would be thrilled if they could get 20% of their console sales into the XB1X. You say "only," but I think it's actually a really good adoption rate. I haven't been a PS person since the PS2. I owned a PS3 for a bit, but only played it for about an hour. Then, the PS4P came out, and I went for it. In fact, most people I know who had no interest were people who already had the standard PS4 because they didn't see it as a worthwhile upgrade. Same goes for the XB1X, not worth it for the pixels or frames at $500.

I'm seeeing an PS fanboy here... oh man, and thinking that Twitch and Youtube was enough....

@J0rg32012 PS fanboy? lol and the childish insults starts. I guess that's happen when company "fans" can't argue with proper arguments. :)

Because of power. It has zero to do with exclusives. People just wanted the best version of COD it Battlefield. Not because of Nioh ninja borris 2 from Japan.

Right because Power has always been more important than a bigger library. The NES (bigger library) beat the Master System (more powerful)
The GB (bigger library) beat the Game gear (more powerful)
The SNES (bigger library) beat the Genesis
The PS1 (bigger library) beat the N64 (more powerful)
The PS2 (bigger library) beat the Gamecube (more powerful) and XBox (more powerful)
The DS (bigger library) beat the PSP (more powerful)
The Wii (bigger library) beat the PS3 (more powerful) and XBox360 (more powerful)
The 3DS (bigger library) beat PS Vita (more powerful)

For me this conference was basically: Oh look at this cool third party games that I will have to wait to play on my PS4!
The only big game that is coming this year exclusively for the Xbox One is crackdown and that game hot a big downgrade in destruction that it was its big selling point, I think that PS VR even has more big exclusives coming for this year, and that is embarrassing. And that 500$ for the Xbox One X is a mistake, I think that they didn't learned that 500$ isn't a good price.

All ps4 games are out already? 499 is cheap for me. Majority household can wait a year or two (xb1s is the standard model). Game runs on both systems and you have the cloud sync that's unlimited and free of charge.
Both system can cross play.
Don't forget, there's something called GamePass. Invest into ps4 3rd party games now is... unwise... ps4 was the better choice because xb1 is more expensive and a lilo under powered but now you have fc/bc, free unlimited cloud sync, etc on XBox family's side.

To be honest, it's too early to talk about "downgrade in destruction" since what was shown during this E3 was the SP campaign and it should be a known fact that the kind of total "cloud-powered" destruction is supposed to be available for the multiplayer campaign only.

It was confirmed by Shannon Loftis that the single player component was shown. The MP, with the destruction, is still there. People talkin outta their collective a**es.

You are straight ignorant, those two, crackdown state of decay, Tacoma, Cuphead all exclusive to MS that's all they care about their gaming isn't just locked in on Xbox, there is plenty more as well

I'm talking about annoucnement of NEW GAMES!! Crackdown was announced 2015, State of decay 2016 Cuphead 2014. Cuphead is on steam. Tacoma is also on steam and is timed on console. Do your research before calling others ignorant. LOL

I'm a Xbox and Playstation fan and I feel MS is dropping the ball when it comes to console exclusives unless the have some hidden away to show later this week. I want games on launch day not next year.

Hmm Crackdown 3 and State of Decay 2 they might not of caught your eye but they are exclusive and if your going to whine that they will come to Windows 10 Store Ori will be there and Luckys Tale is actually a VR by Oculus Studios but this is a larger version. I was hoping He would say they lied about Scalebound and announce its release but it didnt happen. That was going to be a great game but we dont know how far along they really were in the 3 or 4 years ago when they announced it.

Scalebound... they prob asked for another 3 or 4 million for extra 1 or 2 years development (like the Phantom Dust dev) and MS refused. It look terrible last year (2017/2018 game from a major dev with no basic foot IK) imo. Wine that games coming to PC... tbh, it's not like those 2 market are heavily overlapped. They don't much affect each other's sales tho.

Depends on the person. Normally, I'd agree on the market overlap. Play anywhere has really checnged that, along with the way they're bringing XB1 and XB1S forward. I was going to upgrade my PC to Ryzen and Vega already. So, there isn't a whole lot of incentive to get the XB1X when I have an XB1S to play Shadow of War on console and a PC to do it in 4K, for example. Play Anywhere hurts in that regard, because people who used to mix console and PC aren't as likely to upgrade when they have the XB1 or XB1S already. Our PCs can do the high-res heavy lifting and the upscaling of XB1S will be good enough for couch play, at least for me.

Lol so it's DOA I don't think it's gonna sell as much and for games it's pitiful.

Crackdown 3 was announced in 2014 and State of Decay 2 last E3.

Wait do things stop being exclusive if they take too long to be released? What was that bird-dog game again?

Isn't E3 about announcements? The yearly Forza, and 2 indies that's the console exclusives they announced.

I actually shouted "No Way" when they announced original Xbox compatibility, which want the best as my wife was trying to get to sleep. I've recently dusted off my old Xbox and played a few games. Starting with outrun 2 and Street Fighter 3

Is it really a good thing when you consider the best thing to be going 15 years back in time? Kinda says a lot about the quality of the new games, eh?

Just want to chime in here: Outrun! I am still hoping to see it launch for XBox One, but I am still happy to see that any Outrun will show up at all. I know there was an Ourun Arcade version or whatever, on Xbox 360, but it was a digital download and I can apparently not find it in the Windows Store on Xbox One. If Outrun 2 was a disc game, then it is very nice to see that at least one of the Outrun games will eventually arrive in the Store as a backwards compatible game :). It is probably more feature packed than an Arcade version, as well.

It's really sad. Recently they had an old 2012 COD game getting in the top 10 of NPD just because it was BC on XB1. That was the only "current gen" console exclusives for XB1. Nintendo and Sony had their recent games..

I don't know... I would have actually been happier with a batch of ten 360 bc games than original compatibility. I guess depending on the ten, which is always the trick. I just have a feeling most of the good original games won't be able to be licensed... too far out. As for the real One games, they didn't knock me over. Many of them have that cartoony look that does nothing for me. Metro, Anthem, and the new Assassin's Creed looked great. The price was ok, but certainly the top end of what would be expected. So not too exciting. I'm in, but I wished they could have done better.

Amazing conference. Loved like 80% of the games. The visual fidelity of One X is absolutely unbelieveable. Forza 7, the water in Sea Of Thieves. Anthem, Metro were all so far over anything we have seen before. A total different level. And not just the resolution. The level of crisp detail, effects and draw distance was staggering. Not to mention all 3rd party games will clearly look significantly better on Xbox is great. So many amazing games.

lol I could have predicted your response to the conference.

Hey look someone that was complaining before conference is complaining after the conference. The shock.

Really? Are you making things up? I didn't complain before. I said what I hoped for. Almost nothing that I hope for came true. ofc I'll complain! I'm not a company fan who'll cheer the company no matter what they show. I'm not an hypocrite. ;)

Just like all at VGC the Sony site you can predict before E3 what people will say. Even if they had all of Sonys games and Sony had MS. They would still claim Sony wins. Haha haha. MS had an awesome conference.

ROFL sony's "conference" was GARBAGE. Look, they remastered their show from last year HAHAH It wasn't even an HOUR!

Honestly it wasn't upto the high standards set by Sony in the last 2 E3s. But for me it was still better than what MS showed. It wasn't packed with PR & Marketing bs that was meant to mislead gamers so yeah it was shorter.

They didn't really mention VR. Wasn't Project Scorpio's first peek video quite heavy on how it would be able to handle VR?

Maybe people start realising that your only control scheme is locked to cockpit-mode-control-scheme (if you sit on a sofa, your head can only turn this much, we are not owls). VR's and home entertainment don't go well imo. VR and amusement park will go well. Arcade... hygiene problem... MR and AR is more suitable than VR. I do with Forza Horizon 3 can have VR/MR support tho.

I think it can totally work. Funny, you mentioned amusement parks. Imagine if they'd have done Screamride in VR--could have been awesome. Well, or any kind of amusement park game! Forza in VR would be killer fun, just going to the cockpit with turning your head as the means of checking blind spots (I really hate the cockpit camera in Forza when looking around). I think VR can do a lot of interesting stuff in the house, but you're right that the home is also limiting--furniture and peers can be big obstacles to immersion and open-world play.

They are looking to do VR in 2018. Right now, MS's big push is on VR and mixed reality head sets for PC later this year with the Fall 2017 Creators Update to Windows 10.

My guess is that MS has been blasted time and again for confusing launches with too many mixed messages. They decided to stick with launching new console, games and hype cross compatibly. Announcing VR now would result in the media latching onto 'If you want VR you need an XB1X' and MS would spend the entire conference defending that stance, especially in light of the PSVR.

I guessing the lack of VR was a nod to their PC partners. Most of them are releasing a VR device this fall and Microsoft is letting the PC sided gain some traction before dropping a console device into the mix.
It seems many folks seem to forget how many pots Microsoft has their fingers in. They have to consider how one product is going to impact another or their partners. Sony, on the other hand, is kind of a one trick pony. The PlayStation is their major money maker.

Metro and Ori are pretty exciting, but other than that what I have taken away from the reveal is pretty, meh.

Considering that Minecraft is a block game that looks like games from the 70s, giving it the 4k treatment seems a bit ironic...hi-def pixelated blocks? Yeah, sign me up...

I think Microsoft played their cards conservative all is good. Xbox one...all in one!

Am I the only one in the world who bought a 50 inch tv just before the big switch to 4k? I have an x1 and an x1s and 2 360s and am still waiting for a compelling reason to invest in x one x

Wow I bet you feel silly now. Get a 4K Roku or Chromecast Ultra in the mean time to utilize your 4K TV more.

I got a 65in 4k a little over a year ago and I love it. Hdr 10 and Dolby Vision included. Netflix, hulu, Amazon, dtv, dish network..... Worth it!! It will Definitely give you perspective when watching another screen.

Don't worry about it, Rusty. There's no reason to not appreciate what you currently have. Xbox needed a premium device to jolt some sales. If you don't need that then focus on the games. Plenty to look forward to.

They did say though that even if you don't have a 4K TV that the OneX will do a great job of making existing games look and play even better.

Just pretend you 50 is stolen and get a new one

I know going in that we were not going to see anything major Halo related, but not even getting a 4K patch for Halo 5 (cmon really....Halo Wars 2 gets it but not Halo 5?) is extremely disappointing,. I am super happy about Crackdown 3 and the new Dragonball (and State of Decay 2...which sadly is now 2018), but I was not wowed so much by the presser that I am going to run out and get an XBox One X just yet. Gonna wait for price to drop and get it when there is a game that truly benefits from the higher hardware that I want.

I'm in love with pretty much everything. Even though I'm not a hardcore gamer, I'll be probably tempted to replace my current Xbox One S with that new sexy black beast. And as a big fan of Forza 6, I can't wait till the 7 is released. And Anthem looks quite intriguing to me. What I haven't liked much isn't necessarily about the E3, it's actually about Microsoft's poor choices for product names. Xbox One S and Xbox One X? Will we be having Xbox Two S and Xbox Two X in the future? Why not making it simple like other companies do? Why not just Xbox (current One S) and Xbox Something? Xbox X maybe. Xbox Elite would be golden. Yeah I know there's already a Xbox Elite SKU out there but, wasn't there a Surface (table) when Microsoft rebranded it and release the Surface tablet? Better naming schemes would also make marketing way easier :)

I think the reason is they want people to know that the games will be working on the old Xbox one too, and this is an upgrade of it if you want them to look better. Giving it another name can give the impression that it's a new device that is separate from the old ones,with separate games, etc., which it's not.

Unifying Minecraft is incredibly impressive. Think about what that means: that means the same code is running across six different operating systems: Windows 10, Windows 10 Mobile, iOS, Android, Xbox One, and Switch. Wow. The article says that this is via Realms, but I don't think it is. It's not something we users have to pay extra for. The most exciting game announcements for me were Ori and the Will of the Wisps and The Last Night. Most exciting news for a known game is that Cuphead is only 3.5 months away! The most disappointing parts of the conference were 1. the lack of Play Anywhere titles (I really thought this was going to get a big push because of the similar architecture for developing for Xbox One X and Windows 10, but it seems as if hardly any developers are doing it); 2. the lack of Crackdown 3 gameplay; and 3. the dire state of Microsoft's first-party offerings (Sea of Thieves is pretty much the only first-party game we saw, and we've known about it for two years now).

You know, I never did get around to playing Ori. Since there's a sequel coming, I'll have to think on it again. IDK why I never bothered, just didn't get my attention, I guess. Maybe it'll hit GWG soon? But yeah, first-party's a mess right now. They cut way a large chunk of their dev talent, then launcched a console on off years for their two biggest franchises. That was a big mistake, IMO. Sea of Thieves won't even make launch, though you didn't mention Forza--which disappointed in its lack of a VR demo as well. At least they seem to be trying to get some attention from the JRPG fans now, there's definitely a better aim for diversity in big-game content like that.

Now would be a good time to buy it: Ori and the Blind Forest (Definitive Edition) is currently on sale for half off, at $10. It could go GWG later on, but it's a pretty good deal at $10. If you like 2D action puzzle platformers, it's a great one. Yeah, I should've mentioned Forza 7, but since that franchise is on a yearly release cycle, it slipped my mind as being a new game. I wish they hadn't canned Press Play or Team Dakota. Even they're second-party lineup is looking slimmer than in years past.

Yeah, I'm expecting it to happen via GWG, so I'll probably just wait on it that way...we'll see. As for Forza, it's been 15 years. It's hard to get excited for a seventh circuit racer because there's just only so many times you can hit those same tracks before fatigue sets in. It's different with Forza Horizon, where you get new events and environments and experiences each time, where as Forza Motorsport just tends to tape a little more onto the same content you played last time around.

Xbox is just a mid tier gaming PC! (Which I love!!) I think that's the whole point, why have exclusives when you have Millions of games... this imho is the way this is going. Lets just say ps4 has 5 or 10 exclusives.... Is 5 or 10 games worth giving up on all the other games. And of course I'm talking about BC games cause all pc games are not available but this is the future!! And I may be in the minority but I like playing all sorts of games...AAA, AA, Indie, A, BBB, DDD, and sometimes F games. My point is the future is PC games and Xbox games available on pc and xbox. No disrespect to anyone that has their own opinion and love ps4! Holla!!!!

The problem is that with the PS4 you have AAA, AA, Indies, etc. AND EXCLUSIVES, why would you go for a Xbox if you can have the same third party games and exclusives. This year we already got 2 amazing games exclusively for the PS4 (and PS3), and those were Horizon Zero Dawn and Persona 5 (this one is also on the PS3).
With the PS4 you get those 5 or 10 exclusives (it is actually more though) but you aren't giving up on anything, you are giving up in games if you choose a Xbox because you aren't getting those 5 or 10 exclusives.

Meh, just another PC with a bastardized OS, nothing innovative...

Really weak showing, IMO. The big exclusives just aren't there. No VR present either, so the content just isn't exciting. Forza's great, but also repetitive. Sea of Thieves isn't making it to the launcch. Just not a whole lot that's a thrilling, exclusive release. Not that indie stuff can't thrive or be great, but it's hard to sell futureproofing with this stable .I'll personally hold off until I either see a compelling VR experience, some other exclusive makes its way to the console, or there's a price drop. Maybe they'll have a great trade-up program, that would also get me looking at it harder. I'm also still watching though, so there's a lot I could still be surprised by. This Black Desert game looks neat, but I admittedly don't have time for MMOs anymore, which is a problem for me, not Microsoft. Shadow of War has me excited, but not enough to upgrade consoles when I can get it on Play Anywhere with my soon-to-be-upgraded PC.

I feel a tad ambivalent in regards to this E3. Ups: - Anthem was amazing, and IF it will look like that on Scorpio, then kudos to Dice and their Frostbite engine and to the engineers who worked on Scorpio, too; - Finally SoT had a proper presentation, it looked funny and engaging, the sea seemed real and the changing weather was a big surprise; - Metro, most pleasant and unexpected game, I'm really, really happy to see that we will get a third chapter of this great franchise; - Ashen, personally my most anticipated game. Nothing more to add, I can't wait to play it on November 7th; - Ori and the Will of the Wisps, well, words are useless at this point. Ori and the Blind Forest is one of my favourite 3 games of this gen, so far; - The Last Night seems a pretty solid game; - Original Xbox BC, I really appreciate the effort and dedication MS is putting on that, I really do; Downs: - let me start with this: I was expecting to see a new exclusive (Xbox - pc) IP, something that can draw people's attention the same way that Halo and Gears did in the past. Something that makes you salivating in anticipation. That kind of game, unfortunately was nowhere to be seen; - concreteness is great, but MS seems completely lost and incapable of surprising us gamers, incapable of making people dream... it's sad considering how great Halo and Gears were, how their iconic status literally built the Xbox brand; - what's up with that "Xbox One console exclusive launch"? What does it mean? It's an Xbox console exclusive (we won't see "game X" on PS4/Switch, ever) and it will launch first on One then on Pc...? What does that mean? If it's another way to say "timed exclusives", then honestly it's a bit sad.

I'll spend the money on a graphics card...

And a ~$140 Blu-ray player.

To get a graphics card on PC that beats One X will cost you more than the One X. Lol. Haha.

I've seen 1070 and 1080 for 500 bucks or much less. And we're 5 months away from XB1x. Price will most probably be a lot less by then.

Guys whats the name of the last game revealed?

I feel sorry for those who don't understand what MS have just done .... they have addressed the exclusivity issue .... do you honestly think they were going to reveal all of their cards? They haven't even touched on VR yet ..... the Xbox One X hype train will keep rolling into Gamescon and beyond .... MS have previously stated E3 will only show games releasing E3 to E3, but other confrences the shackles are off. Mark my words peeops .... the new IPs are coming at Gamescon

You fell sorry for what? History has shown us that E3 is the main stage for MS when it comes to new games announcements. E3 2014
Crackdown 3
Forza Horizon 2
Scalebound (cancelled)
Phantum dust (cancelled)
Cuphead Gamescom 2014
Screamride E3 2015
ReCore
Rare Replay
Sea of Thieves
Gears of War 4 Gamescom 2015
Halo Wars 2 E3 2016
Forza Horizon 3
State of Decay 2 Gamescom 2016
-

Xbox team really did an amazing job, I'm amazed!!!

Can someone explain why exclusives are such a sticking point? From a business perspective they don't seem to make any sense except from Sony Entertainment or Microsoft Studios. Why would a major dev not want to sell as many copies as possible regardless of platform. AAA games are getting stupid expensive to make.
My decision is based on platform, I like how my XBOX, phone, PC all sync via my Microsoft Account, I vastly prefer the Xbox controller, Xbox Live Gold is way better than Playstation Network imo, Xbox has better parental controls, and I like Cortana. All these lead me to Xbox and there are more games I enjoy than I have time for and there are probably others I would enjoy but just haven't got time to try.

Why, WHY does Microsoft have the coolest code names, but worst official name? The only good code name they kept was Cortana. Windows Cloud became Windows 10 S. BORING!! Project Scorpio became Xbox One X. BORING BORING!! Why not Xbox Scorpio? Now THAT'S cool!!

All round a poor E3 from MS and Sony. Apart from Anthem, nothing wowed me. Nothing was a surprise. Hope Nintendo do something memorable.