Top five Windows Phone apps for music fans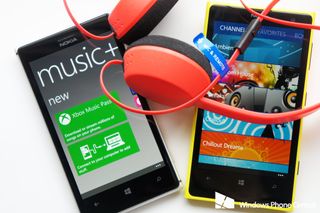 If there's one form of media smartphone owners enjoy access to it has to be music. Windows Phones and music go hand in hand with numerous solutions available on the store, whether it be local library management, cloud services and music stores. From Xbox Music to Nokia MixRadio, we take a look at five popular music apps for Windows Phone.
Xbox Music
Microsoft has a cloud-based streaming music service for consumers with Microsoft Accounts. For a small monthly fee ($9.99), it's possible to enjoy millions of songs unlimited number of times when on the move. That's on top of functionality in place to enjoy your own tracks (legally acquired, of course).
What makes Xbox Music an interesting pick for Windows Phone is the cross-platform friendliness. Not only is there an app for the mobile platform, but Xbox and Windows 8 too. That and Microsoft also released a web version for competitor platforms.
Up to four devices can be connected to a single Microsoft Account subscription, which can include a combination of multiple products – an example setup: Xbox One console, 2 Windows Phones and a Windows 8 PC. Two devices can be removed each month.
As well as streaming music between devices, Xbox Music also enables users to download and store tracks offline for access without an Internet connection. This feature is perfect for tablet owners on tight data plans or Windows Phones in use underground/in the air.
Microsoft has been updating its array of Xbox Music apps and while the Windows Phone version is no longer native alongside the videos portal, it's an affordable option for unlimited access to millions of songs, spanning across all the popular genres.
You can download Xbox Music from the Windows Phone Store. Be sure to check out the Xbox Music website for a free 30 day trial to see if this option is for you. Free streaming is available through the web client with advertisements.
Beem
If you're more into curated stations and mixes, as opposed to forming your own collection of music, Digital Imported may well be the choice for you. The service – better known as DI.FM (www.di.fm) – is a popular destination for those who enjoy trance, dance, dubstep and general electronic music.
DI.FM has an official app for Windows Phone, but the third-party alternative called Beem is a favourite of ours. The app has been frequently updated for those who are massive followers of electronic music, which is exactly what DI.FM specialises in.
An array of stations are available for tuning in and the service itself is accessible for no fee at all. Guests and basic account holders have to put up with infrequent advertising, but this isn't a negative considering just how high the quality is when it comes to mixes and music available.
For a small fee ($7/mo or $60/yr), users can enjoy Digital Imported Premium, opening up even more stations to enjoy, not to mention the absence of advertising and higher quality streaming. As noted above, we're huge fans of this app and the radio service as a whole.
There are a few highlight features of the unofficial DI.FM client, which include Last.fm and OneDrive support. Here's some other bonus functionality:
NFC sharing of tracks between apps
Bookmark specific tracks
Find tracks on Nokia Music & Xbox Music
Live Tile support
While the radio stations on DI.FM may not appeal to everyone, there's no denying Beem is a sweet app and the music service is a superb free way to enjoy the beat. You can also enjoy DI.FM straight through your web browser, just in case you're interested in carrying on the rave while at your PC.
Ready to jam to some banging tunes? Download Beem from the Windows Phone Store for free.
Nokia MixRadio
Nokia has its own music service, separate of Microsoft's Xbox Music. There are stark differences between the two options, however. While Microsoft's service opts to provide users with a large collection of tracks for personalised mixes, playlists and catalogues to be formed (think Spotify), Nokia MixRadio heads down a similar path to DI.FM.
The service brings free, personalised music with zero advertising to Lumia Windows Phones. That's the beauty of what Nokia has to offer consumers. Lumia Windows Phone owners can simply download, install and launch the app to enjoy a constant stream of music created just for them. Utilising a thumbs up and down system, the curated service adapts to what listeners enjoy.
Think of MixRadio as your very own radio station. The only issue with Nokia's service, much like DI.FM, is there's no way to listen to songs again. If you come across a song you just have to purchase, there is the option to go through to supported stores to download. An added bonus for MixRadio is the ability to store mixes for offline playback, though this is limited unless you upgrade your account.
And if you're really enjoying the service, Music+ can be purchased for a small fee per month ($3.99), opening up some extra features:
Unlimited song skipping
Unlimited downloads (free account only allows four at a time
Higher quality streaming and mix downloads
Lyrics for those who enjoy singing along
Another slight problem with MixRadio is that it's a Nokia Lumia exclusive. Sorry, Samsung fans. You can download Nokia MixRadio from the Nokia Collection on the Windows Phone Store.
Audiocloud
SoundCloud (www.soundcloud.com) is a popular destination for music fans and artists to show off their own creative work. Audiocloud is a third-party app for Windows Phone, enabling consumers to explore, search and enjoy tracks available on the web service. Both SoundCloud and Audiocloud are free to use.
If you're a major fan of the service, Audiocloud is a must-have on your Windows Phone(s). The app has access to all music available, depending on how artists have their uploads configured. Since SoundCloud is social focused (much like MySpace), users, groups, playlists, comments and more is supported by the app.
It's a really neat way of search through new music and discovering talent you may have missed previously. The unofficial app for Windows Phone allows users to follow other SoundCloud members in the community and get latest track stream of people followed. Notifications can then be set up to be alerted as to when new material is uploaded.
Unlike services covered so far, SoundCloud emphasizes on freely available media. It's possible to upgrade to "pro" status, but this is only requires should you actively upload music to the web service. If you're simply looking to keep up-to-date with the latest content published online, you can do so at no cost.
Grab Audiocloud from the Windows Phone Store for free.
Podcast Lounge
Our fifth and final app is Podcast Lounge, one of the more popular apps for podcast streaming. The app has been in development since the days of Windows Phone 7, originally formed as an unofficial BBC podcast client. Igneous Software has broadened the appeal of Podcast Lounge by adding in a new catalogue of podcasts, bringing with it international support.
If you're not familiar with the name, the app enables users to stream and enjoy a variety of podcasts covering multiple genres. There's not only offline playback included, but an incredible library of content available to satisfy diverse tastes. Back-ups, sync options and even smart playlists are just some of the highlights from Podcast Lounge.
It's the perfect solution for those who enjoy tuning into the thousands of podcasts available. You can download Podcast Lounge from the Windows Phone Store for $1.99. A limited trial is available, which sports the following restrictions:
Downloads (user-initiated and automatic sync downloads) are disabled.
Smart Playlists are limited to a maximum of 3 (those three can be renamed/edited to suit the user's needs)
Other kick-ass music apps
There are apps we've missed on this round-up, but since we've limited our feature to just five, it's a tough one to populate. Here are some other first party Windows Phone apps worth downloading:
Agree with our collection, or do you feel an app you use should have made the list? Sound off in the comments as we're interested to hear what you all use on a daily basis.
Windows Central Newsletter
Get the best of Windows Central in in your inbox, every day!
Rich Edmonds was formerly a Senior Editor of PC hardware at Windows Central, covering everything related to PC components and NAS. He's been involved in technology for more than a decade and knows a thing or two about the magic inside a PC chassis. You can follow him on Twitter at @RichEdmonds.
Where's: Spotify, Soundhound?

Last paragraph. Check it out.

You Obviously Missed Extreme Music!! http://www.windowsphone.com/en-us/store/app/extreme-music/030135a2-8ad5-...

Hey I love extreme music, but with one caveat. None of my 5 bluetooth devices(speakers, headphones, car, etc...) allow me to use track forward except on the device itself. Everytime i hit to go to the next track on any of my bluetooth devices it just starts the song currently playing over again. The back track button does the same and the play/pause buttons all work fine. Other music/audio apps do not have this problem for me. I'm on a Nokia 1020 Running the latest available WP 8.1 Dev Preview build.

Oh, yeah! Completely misread that!

Slackers app, high quality audio.

You missed the app MUSIC. Its an alternative for audiocloud and the ui is amazing.

Audiocloud's UI is better.

They can have a proper paragraph when they release a proper app

Anyone heard of Listen? I like the UI. Its simple. Also automatically downloads and syncs lyrics.

When are we going to receive something useful like Windows Media Player. I seriously do not understand why there is no descent music player provided or created on the Windows Phone.

Exactly! Why not a simple app that comes with WP to play your own MP3 files? I don't want an app that mixes in cloud services. I just want an app to play my music, manage playlists, etc. As I experiment with the move from Symbian to WP, I have to say that Symbian remains miles more advanced than WP in offering a simple mp3 player app. On another note, I hope that WP 8.1 fixes the attrocious bug that duplicates file entries from SD cards in the Xbox music app.

I actually think ive found the cause of that issue, and its not related to the SD card at all basically, when you add an mp3, it creates a meta file that links to that mp3.. now what causes the duplication bug, is when you delete the music using a computer, since you delete the mp3 files, but cant delete the meta files that xbox music actually uses to populate the list, it gets stuck, and once you re add an mp3, it makes a new meta file without overwriting the previous.. hence whey you get duplicates, so the way to avoid it is to delete the songs from inside the phone, that deletes both the mp3 and the meta file.. hope that helps.. that bug used to drive me nuts.. and so far that method has kept it from duplicating (i'm 99% sure that is the actual issue)

I'll give that a try! Thanks! I'm still experimenting with WP with a Lumia 521. My main phone is a Symbian Nokia 808. I'm hoping that WP 8.1 brings WP close the functionality of the final iteration of Symbian. So far, I like the design language of WP, but I miss how the Symbian OS worked so reliably and used screen real estate so efficiently. And the Symbian stock music player was wonderful. (At least in the final iterations of the OS. Up to 2012 or so, the Symbian music player lacked some basic features.)

It's definitely not related (only) to deleting files. I've been trying for two days now to get my ~30GB collection onto my Lumia 822's SD card. I've tried both the Windows Phone app on Windows 8(.1) and Windows Media Player. Both have failed spectacularly on multiple attempts, and both are extremely slow. Each time I have tried to sync my collection, the process has, for some reason, skipped files/albums/artists seemingly at random. Both methods have also yielded large numbes of duplicate file references (I don't think the files themselves are duplicated). In some cases, there may be 3 or more references to a single file that all show up in my library. It's extremely disappointing, especially coming from the Zune. Media library management on Windows Phone 8 is shamefully poor.

Exactly. I've been surprised by the lack of user control over files in WP. I would have thought that Microsoft, whose desktop OS allows for complete user control over files, would bring the same ease of use to their phone OS. It's as if a completely different design mentatlity exists for their phone OS than for their desktop OS. I know that proponents will argue that the restricted access is good to maintain simplicity and security, but that would only be the case if the OS processed the files well. As it stands, you might have simplicity and security, but the system doesn't work. I hope it gets fixed in 8.1. This duplication of music entries has been a known and acknowledged problem for well over a year, and MS hasn't addressed it in their GDR updates.

Never ever use the app to transfer files.. Its horribad, just use file explorer.. Format your phone and place the files in the music folder using windows explorer

I have had songs duplicating 28 times when on my SD card but when I copy the first duplicate to Phone memory & delete all other copies, (leaving 1 copy on SD & 1 copy on Phone) the duplicating behavior stops. I'm reasoning that maybe songs need to be originally downloaded to Phone memory before they are copied to SD card. Can anyone explain how this seems to 'stabilize' the meta data & stop duplicates? I'm now able to delete the Phone memory copies (after a few weeks & many plays) & just leave the SD copies, & so far I'm not seeing any unwanted duplicates! And definitely DON'T use the ridiculously crappy app to transfer from PC to phone!

I have the same thoughts. I love my Lumia 1020 but I'm missing usable music player like Poweramp on Android. I just wanted to listen my collection of flac lossless audio. Not directly possible. Not OK for me but I converted files to WMA Lossless. Navigation and interface is awful. Just try to make your own playlist. It's not showing proper artwork when playing my singles compilation. I just want to use it not searching for workarounds! Microsoft should give direct access to music library to 3rd party apps at least. I bought Lumia 1020 for it's imaging capabilities but I'm also music fan and I guess I'm not the only one. I was so frustrated about music player app so I bought designated portable music player. Default music player needs serious attention and improvements because it's a weak part of otherwise nice OS. It would be also nice if Nokia use Wolfson or other high quality DAC in order to have superior sound quality output. Then it could be ultimate device...

+1520 Cirrus Logic DACs are fine with me too. ;D Nokia should do like an Ibasso DAPs or FiiO X5 Dap etc.

Totally agree. Many people have a nice MP3 (or FLAC or other) collection, and just want a good app to read that. I'm pretty sure MS will make one along with Windows 10, because many people have asked for it, and because the current situation is a mess: old confusing Windows Media Player, new ultra-limited XBox Video and XBox Music apps... They should just make a single clean universal app for all Windows/Windows Phone devices, that can read all your media, allow you to make playlists, rate music... and replace all the current mess.

I have exactly same question...
My opinion is that Top 5 Music apps should look like more like this: Xbox Music
Deezer
Spotify
Pandora
Tune In

Right you are. And moreover Deezer is one of few that actually works in my country (Czech. Rep.). And this fact kind of turns this article upside down. It would be great, if WPCentral would become even less USA-centric (not that they are not trying very hard) and bring fewer news just for an American user. I accept, that it is still a basic goal for most smartphone companies to have a success on the american market, yet there are more users of WP in other parts of the world.

Well - lets see WP8.1 for that. Hopefully they manage to get it right

Did you notice the pictures for Xbox music were 8.1 pics... Exciting. Hopefully we get ability to loaf album art instead of artist stuff and if not the artist. Pictures hey some better quality. Maybe even better controls to skip and pause and play.

Am I the only one who feels like I'm missing something with Xbox Music? I just feel like its not helping me explore new music or similar music very well. DJ feels weak and not being able to easily offline the premade playlists to WP seems silly. No easy way to find playlists on the RT client. Hates half of my collect. I do love being able to download almost any new album and such but I have to basically just stream some and see if I like it instead of suggestions based on stuff I do.

Mixtapes/Flatbeats are pretty nice apps for 8tracks usage. 8tracks has an official Windows 8/RT app too, which I use a lot. Edit: Oh, and I use the built-in podcasts in Xbox Music+Video for podcasting. It doesn't do fancy stuff like playing at 2x speed or stuff, but it at least saves the files to SD card, which is all someone with only 8 gigs of internal storage really wants.

Sleeve Music should be included on the list: it fetches music directly from your FB and Twitter feeds.
Also, BringCast is a much better podcast app than Podcast Lounge!

Yet, none of them have the slide function on the Seek Bar like Moliplayer, but Moliplayer doesn't play music in my phone storage. Shame that this is the only feature that I don't have on WP, yet it's one of the features I was hoping for.

The Xbox music app was released in December before Christmas but never updated since. It's laggy and slow, and doesn't sport a live tile.

You can stil use the old Music hub tile. Still works together somehow and shows artist info and everything

Heh, that's all I had been using. Didn't even know they had a stand alone app :p

What about Music by Soundcloud, isn't that the official Soundcloud app?

yes. it's awesome. even allows to download and save songs to Music+Videos library directly!

Audiocloud also has that functionality.

Nope. Soundcloud has their own branding and would never use something like a headphone logo nor a blue colour scheme.

MixRadio is awesome. I love how you can put in three artists so you get some good variety. And the fact that you can listen offline is most excellent.

I love MixRadio for the same reason. However since some weeks the player no longer works.

Have you uninstalled and reinstalled it?

Here's to hoping that with the Nokia acquistion they incorporate some of this to xbox music.

Strange why Grooveshark removed the 3rd party app.

Extreme music is much better

Until I can sync the playlists of my collection, the state of music on WP sucks.

Does any one knows any good player? Streaming music is not very popular in Brazil and it kind of sucks actually, specialy when handling our not-even-close-state-of-shit 3G network. I'm actually looking for a simple music player like djay 2 for iOS This music player has really simple features like two music playing at the same time which enables soft music change and some other features. Nowadays I can't even find a song among my +12GB of song cuz Xbox Stupid Music App doesn't even have a search engine. Won't start on playlist making, song transferring, artist pics......... Any suggestion?

I second this. All the options listed here are just streaming services, and odds are if you use any of those services you have the app already =/ What alternative local music players are there for Windows Phones?

You should try 'Listen'. Its a very nice player. Also syncs lyrics automatically. Give it a try. It doesnt have all the features you listed above but it is good enough.

Cara, o Deezer tu baixa pra ouvir depois offline. Acho barato o que cobram pela quantidade de músicas que existem. É um dos maiores acervos... Eu não uso streaming tb, só baixando por WiFi.

Deezer is nice, but i'm not looking for a streming service, as I told. I've around 15GB of music and I just want to play then in a worthful app. Not on the Xbox Sh** Music app.

Mas não é só streaming...dá pra baixar vários álbuns inteiros ou playlists...

Xbox music not available in India. :(

And other bing sevices too...

It would be actually great if Xbox and Bing services work where Wp8 has a majority share.

You missed
Mixtapes
Slacker
Last fm
Soundtracker
WPRadioNet

Btw, there is Mixtapes by 8tracks. It's also good. I guess that app is not official. http://www.windowsphone.com/en-in/store/app/mixtapes/a059e6b8-c3c8-4131-...

Mixtapes is awesome. It's pinned to both my WP and Win8 start screens.

Some of the apps not working in India even xbox music not working -_-||

A unique music app is under development (with Nokia mixradio api)

Sorry but iHeart needs to be in the top 3. Entirely too many features to leave it out of the top 3. Live radio (some popular shows have looped records of their morning show or talk show), curated stations, alarm features, sleep timer, etc. It can be argued as the best all around music streaming service.

+1 for podcast lounge. Just finished listening to an ear biscuits episode. Its an amazing app, just with it had a live tile with more than a counter (not even sure what the counter is for.)

Live Music Access is a good one: http://www.windowsphone.com/s?appid=411b8788-27a3-409a-a584-f381f4865e21

"Mixtapes" by 8tracks.. Put it on your favorite Dubstep and let it play all day long.

Streaming to Xbox One does not count against the device limit for Xbox Music (and neither does web streaming). Now, if only streaming to Windows Phone didn't count either...

What I like about Xbox Music is that if you buy and download a song, you can email the song to a friend from your phone. Very cool.

I was having a lot of issues streaming music thru Xbox music over data connection, and MS didn't seem to interested in helping. Still, it's my best option till something better comes along.

I really love MixRadio. It's pretty cool. But it has little buggies like offline mix not working when offline (WTF!?) and it requires me to connect the internet.

It always whines to connect to the internet, but if you cancel it, it will still work.

I use nokia mixradio the most because it allows for the download and playback of offline mixes. Once in a while I will use xbox music. Are there any other apps that allow you to download and play music offline like mixradio does? If so I would really like to check them out. I'm not a fan of streaming music because I usually only listen to it when I'm driving and don't want to eat up all the data.

The Hype!!!!!!! http://www.windowsphone.com/s?appid=3d299cde-5093-e011-986b-78e7d1fa76f8

I second this. The hype has been a great app for hypem.com

You Obviously missed Extreme Music!! http://www.windowsphone.com/en-us/store/app/extreme-music/030135a2-8ad5-...

Agree, its a wonderful app.

THE IHEARTRADIO LINK LEADS TO THE OLD VERSION OF THE APP! THAT'S NOT SUPPORTED...

XBOX Music and Nokia Mix Radio fit the bill for me. Nokia has some good playlists across a lot of different genres.

Slacker has great music but the app is really in need of an overhaul. Nokia music+ is good, but I don't like the curated channels nearly as much as I like the ones on Slacker. If only Xbox music had great curated channels...!

Where's Mixtapes? It's pretty good app too and free

Nokia MixRadio is not available for all WP, so maybe you should change the title to 5 best music apps on NOKIA WP. Just sayin'

I still wish edjing or Djay was on Windows Phone..

Their top five list SUX, all cool apps are in the last paragraph :-)

Too bad last.fm can't get their act together to make the list. It was one of the first music streaming apps all the way back with WP7 and a great way to listen to ad free radio. Great variety, rarely hear the same song twice. Hopefully they can fix the app from crashing in the background, I'm assuming that's why it was pulled.

Flat beats???common how can you leave out the only awesome 8tracks client :-/

I agree..I like Flatbeats...it deserves a mention at least..

If someone could just suggest me a decent (better then Xbox music)music player for my local 3000+ songs that would be great

Style Jukebox Cloud Player

Xbox Music is good for me, even with its shortcomings. I have an Xbox music pass for now, so you can't beat a la carte, buffet-style pick what you want music. Maybe the object of Pandora is also to thumbs down and dislike songs, which I don't do, yet I do hit the thumbs up liking.... but to me Pandora is highly overrated. TuneIn has supported Windows Phone from the beginning, and it is very, very reliable, so I give much credit to them. The four Audioaddict apps are all good, espcially if you need a straight genre of music. Beats Music is dead out of the water for me, since there is no free option. At. All. =/ Lastly, Calm Radio for classical music needs a mention! It has gotten a bit buggy lately, but the concept is great, and should be a classical music lover's go to.

The problem with TuneIn is that although reliable on both WP and Win8, it works reliably well on WP and fails reliably every time on Win8. If they get their act together I'll vote for them. Until then they get a frowny face :-(

I really love Nokia Mix Radio, its what i use.

Zune has been provided with a blindfold and a cigarette already. The good always die young.

Deezer needs to be on the list, especially as they have recently added extra high bitrate streaming which is great for 4G connections (or wifi). If only Pure Connect was available on WP8. Love the ability to download high quality DRM free mp3s of tracks I've bought and the fact I can access it through my bedside radio. Shame it's a victim of the WP 'app gap'.

All of these are really good streaming options, but the platform really needs a couple of apps equal to DoubleTwist on Android, that can play and manage a local stored music collection on your phone, and manage music on your computer's drive or an external drive. Also, gapless playback ability anytime soon.....at some point? My old iPod 30gb click wheel could play gapless concert albums, what, six or seven years ago? Because Xbox Music, for managing a local music library is frickin' dire. I basically have to use a combination of iTunes and Windows Media Player (4-5 year old software) on the new Windows 8. (On that note, isn't about time that Microsoft updated WMP, maybe folding in the Zune software capabilities and look into it?)

Great idea. WP sucks for local music collections. This should be a high priority for Microsoft. A smartphone should offer iPod-like easy playing of local files, the ability to use sync playlists from a PC and easily make playlists on the phone. The WP sync experience is a buggy nightmare. Streaming services should not be mixed into the app. I just want an app to play my music library easily.

Yup. When I'm out and about, and don't want to burn through my data plan allotment, I use my smartphone to play music files stored on my phone, a GS3 (the Lumias I help manage, are my retired parents'). On Android, it's dead simple. Even Google's Play music app scans locally stored files and plays them. As far as I know, on WP8, Xbox Music won't do that; you have to go to the Music app, which looks like it was designed four years ago, and even then, half the time, the tags are all messed up and the album art is missing. Just a hot mess.

First and foremost I want a decent music app that will manage adequately my local music. The native WP music app is diabolic my colleague has a shitty low end 3 year old android variant and her music app knocks spots off my 920. I have stopped using my phone as a media player cos its crap and have dug out my old 5 year old n85 and put all my media files on it.Forgot how nice it was to create and edit playlists on the go

Older Nokia Symbian phones make some of the best media players. Stick a high capacity microSD card into an old Nokia, and you have a great little music player.

This is a key reason why I have only experimented with WP. I use my Nokia 808 as my main phone about 75% of the time because it handles music so well.

I don't know, I like MusicXmatch, at least shows me song's lyrics, that as an English language learner, I find really usefull, also I like tunein radio, for new music

I had been using Beats on my 8X but with insanely terrible performance from the app I finally gave up and removed it from my phone then went back to XBOX Music. Such a better platform and better app (being integrated with WP8 doesn't hurt either!) that this will be my primary platform going forward. Similarly I'm a big podcast fan and had been using PODCASTS! for a long time but found it similarly horrible especially with bluetooth integration. Almost every single time I'd leave the car and comeback to my care and reconnect I'd have to fire up a different audio app then go back to PODCASTS! to get the audio to resume. There where even occasions where it stopped while playing and I had to do this even after getting it running again. I'm now on Podcast Lounge and none of those problems have been apparent since switching. It also seems to have a decidely better catalog of podcasts. Some of my favorite podcasts where only available as video under PODCASTS! but Podcast Lounge has the audio feed as well.

I am from India .
As far me is concerned , the built in music player is not looking good as the background is a simple grey thing and kinda bored with that. I beleive this concern is there for every user who doesn't have xbox in their country. Indian customers are addicted to music and it will be good if there is better player to play their local music storage . Hope MS will fix it by the ability to add custom background or even display album art itself . Also is there any better player to play local files other than moliplayer . ? Please suggest some.

Exactly. And why does the default music app only show a tiny postage stamp of the album cover, when there is a lot of extra unused space on the screen? My Symbian phone used to use the entire width of the screen to display album art.

I totally second this! The native Music + Videos hub is very ugly.

Same problem here. But you can try Listen player for now Hope MS will make Xbox Music available for India soon.

I like musictube and sound hound. Musictube=free music.

Cloudoh is missing. Surely?! :D

Sorry, but Xbox Music is a fail, at least for me. I was not interested in a subscription, content to play music that I already own. So I fired up Xbox Music on my Xbox, and guess what? It would only play 30-second samples of music I own unless I had a subscription. I'm sticking with Apple TV for streaming musing to my home theater until Microsoft gets a clue about music, which they currently do not have.

Is that so, about xbox music on the xbox??? You can't stream the music you already own, unless you have a *subscription*? Blergh. Oh, Microsoft (eye roll).


For some unknown reason...after updating to lumia black...i cant install Songza....used it before that though...sucks bcoz i really liked the mixes

Finally someone mentions Rhapsody. Every time a fancy new subscription service hits the market (Xbox Music, Beats) I give it a try and I always come back to Rhapsody. They have WP8 app, Xbox 360 app, Windows 8 app, Desktop Client, and web. You can download playlists for offline listening. And it is the easiest to explore new music. They are certaintly not the "cool" music service, but everything just works.

Deezer rulezz. Btw. Is there any way how to get eq into ativ S?

Nokia MixRadio, knows what you want to listen. :)

I like Flatbeats as 8 tracks client...Mixedtapes is good too...Hot Music for free downloads with good quality....

Hungama & Gaana is far better than Nokia MixRadio as it is free and all songs old,new languages

Cloudoh! Cloudoh! Cloudoh!

MIXTAPES!! Also, I badly need a good google play music app. I pay for the subscription and love it, but both GoRoovster and Cloudmuzik don't work..thoughts?

Tune In is an excellent overall music app, also have windows 8 and is great as well.

can you tell us which of these work outside the US? as i'm pretty sure more than 70% of these do not. xbox music, nokia mix, and beats music for starters are exclusive US services.

Songza and Mixtapes all day

Sadly no xbox music pass in my region (indonesia) :(

I have been using MetroRadio for a while now. It's a Pandora 3rd party app, you only pay for it once and you get to listen to all your stations on Pandora with no commercials. Works great no subcricptions.

So this is new - http://www.windowsphone.com/en-us/store/app/mixradio-magnet/4489aac1-76a... - Obviously designed for Nokia MixRadio ...though no mention of 'Nokia' – used it to transfer all my Pandora data across and really like MixRadio now. The service is similar to Pandora and remains ad-free. You should check it out dude.

nokia mixradio is not free, you will have to pay after 6 months of free service to download songs.

Audiocloud is my most used music app. I love it!

There's an app names audiotica...it is great too...

Changing region will let you download all these apps, but once you open the apps, surprise motherfucker! NOT available in your country/region!

audiocloud has the best UI out of all of these so far. Most polish, most attention to detail, most consistency. Content is up and centre, any chrome that isn't content is nowhere to be found.

Playlist would be Nice. Hate the one song, one album format.

Where is Deezer?
And Spotify is sucks!

I feel sad coz' most of the apps are not available in the Philippines. The only apps in this article I was able to download on my Lumia 1520 are Beem, Soundhound and Audiocloud :( no news yet on when they will be able to release other music apps here in the Philippines. how come other countries have the apps and others don't?

I'd say Deezer's one of the best apps for streaming.

you should have mentioned MPATool though

Try Metroziki, its awesome

Im so pissed of that there is not a single Player that have Playback scrool so i can tap into the middle of a Audio file i listen to a lot of audio books - and some of the production they made each chapter 1,5 hour long - and most players even taps out if i set it on pause so ihave to start all over - a pain in the B...

How about Go Music. Here Go Music for Windows Phone
Windows Central Newsletter
Thank you for signing up to Windows Central. You will receive a verification email shortly.
There was a problem. Please refresh the page and try again.