These are the top announcements Microsoft made during their E3 2015 press conference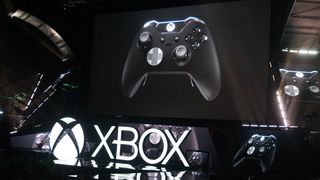 Unlike the past couple of years, Microsoft's E3 press conference wasn't the official kick-off of the event. That being said Microsoft still came out swinging with tons of announcements from upcoming features, new games, as well as betas. So if you missed the event and don't want to read through every single post from yesterday, just think of this article as the ICYMI for the Xbox Press Conference. Here are the top announcements from the Xbox Press Conference.
Xbox 360 backward compatibility
Perhaps Microsoft's biggest bomb from yesterday, is that the Xbox One will now be available to play some of your favorite Xbox 360 titles. This feature has already started for most Xbox One preview members and will launch for all later this fall.
There's good news and bad news though. The bad news is that today, only 21 titles are available for backward compatibility with up to 100 titles being available by the end of the year. Also, it seems as if the games have to be downloaded to the HDD, even if you're playing the game from a disc. This will easily take up some of the already limited amounts of space that you have (good thing Microsoft just announced that 1TB console).
As for the good news, like I mentioned above, the compatible library will be expanding in the near future. Any game that has been previously bought on the 360 that is compatible on the Xbox One will be automatically added to you game library once the game is made available. If you're worried about having to start a game completely over don't fret. One of the neat features of the new service is that your achievements and game saves will be synced if you used the cloud save feature that was available on the Xbox 360.
And the biggest news to come out of this particular announcement is that you can of course still play against your Xbox 360 friends even if you're playing the game on your Xbox One.
Xbox One Game Preview
As many of you know, Early Access games are the new "Indies". The so-called genre has taken the PC world by storm. Games like DayZ, The Long Dark, Elite Dangerous, and The Forest have generated millions of dollars in sales even though they all still consider themselves to be alpha builds.
Well, now Xbox is taking its swing at early access games by allowing them to come to the console just like they would for Steam. Now take note, this isn't a program that needs to be signed up for. Think of it as an initiative like ID@Xbox. The games will show up like normal in the Xbox One Store but instead of making you just outright by the game like Steam does, each game will offer a trial that allows you to make an educated decision on your purchase without having buyer's remorse.
All the games I mentioned above, excluding The Forest, have announced that they're joining the initiative with The Long Dark and Elite Dangerous already being made available!
Xbox One – Windows 10 UI
With Windows 10 around the corner, we all know that the experience will make its way to the Xbox One. Yesterday, Microsoft finally let the world take a look at the new UI for the Xbox One and boy is she a beaut. The layout reminds me a bit of the PlayStation's Ribbon UI mashed together with Microsoft's Metro UI. Now, instead of having the snap menu when you double press the Xbox button we now have a "taskbar" of sorts that pops up on the left-hand side of the screen. This new menu gives you access to your party and friends, as well as notifications.
Although the new "taskbar" and visual refresh are sure to please, Cortana has definitely stolen the show. You can access Cortana at any time using just your voice. Cortana can be used to check to see if friends are online, record videos for you, as well as post your videos to your timeline. We haven't been able to see Cortana in action just yet so no one knows exactly all that she can do.
Wouldn't it be awesome if it gave you a roundup of your daily events like it does on Windows Phone that way you won't forget when you've been sucked into a multiplayer match in Halo? That being said, even if it can't, the stuff that we've seen already shows promise. We can only hope and assume that it will continually be updated like it has on its other homes.
Xbox One Elite Wireless Controller
It was rumored long ago that the Xbox team was developing an 'elite' controller with pro players in mind. Last week a new controller was announced that featured refined bumpers as well as a new 3.5mm headphone jack. This new controller allows for users to use any existing headset with the controller without having to buy that wireless headset adapter. Many assumed this was that new controller, but boy were they wrong.
The new Xbox One Elite Wireless controller is every professional gamer's dream. It allows users to fully customize the button layout as well as transform their controller to their liking with the interchangeable parts. The controller uses magnets that allow you to move parts around without using any special tools.
Some of these parts include new concave and convex thumbsticks, a faceted D-pad, and paddles. The controller also features a diamond patterned grip that makes sure this controller doesn't easily slip. Build wise, the controller is more durable and heavier to make you feel like you have more control.
The only con this controller has is its price. Well for regular consumers it is. Competitive gamers will pay $100-$180 for a SCUF controller that has the features that this controller does. That being said, those controller's parts aren't interchangeable. Which is why the Xbox Elite Controller can get away with its $150 price tag. You won't need two controllers for two different types of games instead, just swap the parts out for it to be exactly how you want it to be.
Microsoft HoloLens and the Oculus and Valve VR partnership
Virtual Reality is the gaming industries next big thing. Unlike the gimmick that 3D gaming or motion-controls brought to the console, VR has substance and a wide range of possibilities. One can easily pit their arguments against it, but once you've experienced it you can just see its possibilities.
Well earlier this year, Microsoft decided to side-step everyone and go the mixed reality route instead with the Microsoft HoloLens. Instead of putting you in a virtual world, the technology brings the virtual world to our real world. Although the technology has been admired by most, gamers began to wonder how the headset would bring substance to the Xbox One. We do know that you can steam Xbox One games to the headset, but will it have games of its own, has been the question.
Well I think Microsoft managed to answer that question for everyone yesterday during their press conference. They showed us a build of Minecraft that was made specifically for HoloLens. In short, it is basically a god game that allows you to manipulate the world and those in it while viewing the hologram of the game on a flat surface. Although, the game shows promise no other gaming projects have been shown of with the device. This proves worrisome since PlayStation has Project Morpheus which already has a launch window.
Well this is where Oculus and Valve VR step in. What's that saying, "The enemy of my enemy is my friend"? Well that's exactly what Microsoft took into consideration. Instead of wasting valuable funds on research and development of their own VR device which will go against its HoloLens device, it has decided to partner with the guys that are already doing it.
Games from your Xbox One will be able to stream to the Oculus Rift and most of us can assume that the same will be done with Valve VR. From what's been shown off so far, the game streaming to VR devices won't be an immersive experience, but I guarantee you that for the games in the future, it will be.
Wrap-up
Microsoft has already hit it out of the park, and E3 has just begun. Although the press conference did feature games, the crowd favorites were definitely the new features and hardware announcements. They're definitely on the right track to win back its fans and possibly steal some form PlayStation too.
We'll be on the show floor for the next few days with more news in store. We'll get a look at all the games that we can so that we can fill you in on which ones you should all be excited for. Hit the comments below and let us know which of the announcements above have you stoked for the future?
Get the Windows Central Newsletter
All the latest news, reviews, and guides for Windows and Xbox diehards.