Top Rated Windows Phone apps and games for Halloween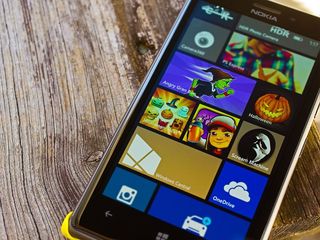 Windows Central App Roundup: Windows Phone Halloween apps and games
'Tis the season where pumpkins are carved up, kids and adults alike begin hunting for the perfect costume and bags of candy begin to fly off store shelves. In the spirit of the Halloween season, this week's roundup will focus on apps and game that give our Windows Phone a ghostly flavor.
We did a keyword search in the Windows Phone Store for Halloween and grabbed a few of the higher rated apps and games from the search results. We aren't including Zombie games because they are more of a year round genre. We do have a few games that have been recently updated with a Halloween theme as well as a few apps that can help your Windows Phone get into the holiday spirit.
Just in case you were wondering, all the titles in this week's roundup are available for low-memory Windows Phones.
Subway Surfers and Angry Gran Run
While Subway Surfers and Angry Gran Run aren't your traditional Halloween games, both Windows Phone endless runner titles recently received updates that delivered a spooky atmosphere to things. Available for low-memory devices, both Windows Phone games offer an entertaining and challenging way to pass the time.
Angry Gran Run is an endless runner game where Granny has escaped the Angry Asylum and it's your job to guide her through the city streets of Grannywood.
Granny has a vast assortment of objects to avoid and punks to bash. The Halloween update adds pumpkin patches to jump over, flying monkeys to avoid and other spooky creatures to dodge. Angry Gran Run has several characters and costumes to unlock with game earnings that include a Thriller costume for Granny (reference Michael Jackson) and a Skeleton to race through the streets.
Subway Surfers isn't a stranger to updates that send the game to new parts of the world. We have seen updates that send the game to Paris, Cairo, Tokyo, and the most recent update sends your subway runners to New Orleans, which adds a haunted flavor to the game.
The Grumpy Inspector who is chasing your surfer now resembles Frankenstein and the subway is filled with bats, haunted mansions, jack-o-lanterns and the trolley cars. You even have a board with a jack-o-lantern design available in the game's store.
Scary Scream Machine Horror Prank
Scary Scream Machine Horror Prank is a mouthful of a name for a Windows Phone app. This Halloween turns your Windows Phone into a booby-trap that hopes to frightfully prank any curious souls who dare to touch your phone.
In a nutshell, you configure the app to be triggered by movement, sound or a timer. Then you choose one of eighteen scary sounds to launch when the trigger is activated. Sounds include death screams, monster grunts, shrieks, and other Halloweenish sounds.
You can also enable a lure to attract your victim such as a busy signal and calibrate the microphone to avoid accidentally launching the sounds.
Scary Scream Machine Horror Pranks also includes a fake eye test that will lure your victims into a false sense of security then toss up a scary image with sound effects to startle them.
The Windows Phone novelty app pulls down a 4.5 Star rating in the Windows Phone Store, which isn't too far from the mark. The eye test prank could use a little polishing but the scary sounds and alarm feature isn't too shabby. Just be careful that the person you scare doesn't throw your Windows Phone across the room in their moment of fright.
Halloween Heat
Halloween Heat is a match-three puzzle game that uses a nice assortment of Halloween icons. You have ghosts, witches, bats, skulls, jack-o-lanterns and more that you have to build matches of three or more of the same icons.
Halloween Heat has three gaming modes to help keep things interesting. They include:
Normal Mode: At the top of the gaming screen you have a listing of your Halloween icons and a quota of each that you have to remove from the game board. You have to meet all the quotas before the red timer bar runs down.
Quick Mode: See how many matches you can find in sixty seconds.
Infinite Mode: Play as long as you can, creating as many matches as you can. You have no timer or quotas to meet with this game mode and can play until no more matches are possible.
Spooky music plays in the background and werewolf howl sounds with every match. Overall, it may not be the most glamorous of match three games in the Windows Phone Store but Halloween Heat isn't without challenge. After over 100 reviews, the game pulls in a 4.5 Star rating, which may be slightly on the high side but not by much.
Halloween
If you are looking for a one-stop app to give your Windows Phone that Halloween feel, take a gander at the Windows Phone app Halloween.
Halloween has over thirty ringtones, fifty icons and shortcuts, and a handful of lockscreen images. The custom icons can be applied to popular apps such as Facebook, WhatsApp and YouTube. You also have icons for settings such as Bluetooth, Wi-Fi and Airplane mode.
Ringtones and message tones include tunes such as the theme from the Addams Family and the Exorcist along with wolf howls, ghost moans and other spooky sounds.
The main pages for the Halloween app will display but a snippet of the ringtones and wallpapers available. To view them all, tap the "view all" button at the bottom of the screen. The trial version of Halloween will let you view and listen to the full library of ringtones, wallpapers and icons but you won't be able to save them locally for use.
Overall, Halloween isn't a bad collection of seasonal decorations for your Windows Phone. The app takes home a 4 Star rating in the Windows Phone Store, which is spot on.
So what is your favorite Halloween App or Game?
Each app in this week's roundup offers a wide range of options to get your Windows Phone into the Halloween spirit. They may not appeal to everyone but they all do a nice job of things.
Subway Surfers and Angry Gran Run possess a level of appeal that goes beyond Halloween and it is nice to see the games getting updates to pay homage to Halloween. I wouldn't mind seeing Halloween Heat get a better main menu layout but it is a fun, casual Halloween game to pass the time with while you're waiting for the kids to go through a haunted house or while they bob for apples.
Scary Scream Machine Horror Prank and Halloween can come in handy when you are trying to set the mood for the Halloween season. It would be nice to use the alarm sounds as ringtones though.
But what say you? Let us know in the comments below what your favorite Halloween app or game for Windows Phone is. And if you cannot avoid the Zombies in your recommendation, that's all right.
Get the Windows Central Newsletter
All the latest news, reviews, and guides for Windows and Xbox diehards.
George is the Reviews Editor at Windows Central, concentrating on Windows 10 PC and Mobile apps. He's been a supporter of the platform since the days of Windows CE and uses his current Windows 10 Mobile phone daily to keep up with life and enjoy a game during down time.
I dont celebrate Halloween as I am a Jehovah's Witness but thanks anyway :). I appreciate your guys news!

I'm Buddhist but I celebrate everything

I respect that my friend :)

Tell your people to stop knocking at my door ;)
Thx

Well, I am not sure of which area you are in but if you are not interested in our news, I can contact the brothers and sisters in your area. Thanks for being honest.

That's what I like about Buddhism. They don't try to convert people. They just mind their own business and respect others.

We wouldn't like to convert either, we just encourage the reading of the bible my friend :). I dont have anything against anyone else. I can believe what I want to believe and not call myself a Jehovah's Witness as well, but I choose too. Thanks for your opinion :)

Yes, I truly believe in this organization, otherwise I wouldn't be in a religion, tbh its more than just a religion, its unity :). I appreciate you asking my friend.

What's it like knowing that Jehovah is a mistranslation and isn't actually grammatically possible for the Hebrew language it's translated from? Or do you guys just ignore that glaring fact?

Actually, Jehovah was taken out of the King James version replaced with GOD and LORD (capitalized). If you look in one scripture, Psalms 83:18 that's the only in most bibles that state Gods real name. However, think of it like this my friend: If you have a friend, would you not want to call him by his name and not just "Hey friend#4674"? There's reasons we believe what we believe and if there's anything else you'd like to know, please ask me or visit http://www.jw.org :) thank you for asking my friend

https://www.youtube.com/watch?v=6RT6rL2UroE Enough said .... (This goes to all religions) and stop talking religion here, this is tech site, talk about the apps in the article. :)))

Hey if those people are living Stateside they have their rights to...then again just private message each other.
I was a Christian.

What is there to talk about? These games are garbage. Not sure if this article is clickbait, advertising, or both. You must feel offended considering you are a highly intelligent, fedora wearing, chubby, athesist plantkin.

Don't celebrate either I am a Christian

Nothing wrong with that :). Some people dont because its a waste of money as well haha

My birthday is in Halloween, my mother is Jehovah's witness, i never was allowed to celebrate it Halloween style. LAME. FML. She recently started studying on groups again, i heard the old lady who goes door to door say that when they are asked not to knock anymore, they wouldn't knock anymore... So i guess you just have to ask instead of hiding and not opening the door. Lol.

Thumbs up for the great tip. Lol

Yeh that would be nice, so no offence but we dont wanna waste our time if people aren't interested haha. That's very cool that your mom is JW though! :)

I don't celebrate Halloween because I'm not from the US. It's the biggest non-event World-wide!

Rail rush is the best and perfectly optimized. Kiloo is a dead company still changing themes.

Even Minion Rush got a Halloween update.

Well,buy the Artifex Mundi games as well while you're at it.A-mazing games! :D

Hm not a great selection. what about Dead on Delivery? or Plight of the Zombie

If you are looking for a horror try Acedia : Indie Horror from maxpirat it is free on the store
It will pumped up your adrenaline

If you're looking for horror, try Instagram beta.

Angels and Demons, Halloween frame photo and Halloween Photo Effects are about the only Halloween centric apps I have. These are all photo apps, and pretty good ones at that. Enjoy.

There is Halloween event in terraria

I've already downloaded the Scream Prank app.

Halloween Radio for Windows Phone... for sure! http://www.windowsphone.com/en-us/store/app/halloween-radio/6d8c051c-666... - yeah, that's my own app... Whoehahahaha

Just got a spooky battery live tile from Juicy http://www.windowsphone.com/en-us/store/app/juicy/51a477e8-65f6-4812-8e1.... Booooooo! :)

This Halloween themed game, suitable for all ages, just came out on Windows Phone. Spooky Planet P.S. Made by my wife using GameMaker Stuido, her first game. Windows 8 version is also coming in a day or two.

Ummm where's Candy crush?????????????????