Top Rated Windows 8 Games
Windows Phone Central Gaming Roundup: Top Rated Windows 8 Games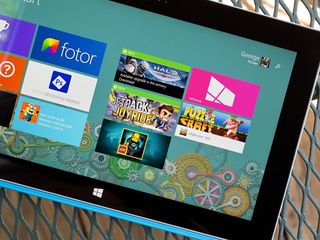 Some may argue but there are plenty of entertaining, challenging, and downright fun games available in the Windows Phone Store. However, should you prefer to do your gaming from a larger screen, there are just as many quality gaming titles available in the Windows Store.
With this week's Windows Phone Central roundup, we are going to take a break from the small screen and take a peek at the top games for Windows 8. The titles in this week's roundup come from the Windows Store's top rated lists (Trending, Top Paid, and Top Free). We have two Sci-Fi games, a puzzle game, and an endless runner game in this week's mix. We also touch on a few additional games we think you would like.
As always, if we've overlooked your favorite Windows 8 gaming title let us know in the comments below.
Puzzle Craft (free)
Puzzle Craft is a town building simulator that incorporates a match-three puzzle into the mix. The game is very similar to Another Case Solved, which shouldn't be a big surprise seeing that Puzzle Craft is from the same group of developers.
The game's premise has you leading a group of villagers that want to start a new settlement. You begin building a base camp and then establish a farm to generate crops. From there you can build houses, markets and other buildings. You also have the ability to hire villagers to help around the settlement, buy tools to help you with your tasks and sell products to raise capital.
The puzzle aspect comes into play with harvesting your crops and gathering natural resources from your mine. Farming is required to feed your settlers and stock your market. Mining allows you to gather dirt, stones and silver that can be used in building up your settlement.
Mining and farming is accomplished from a match-3 style puzzle. You will have to collect as much food and raw materials as possible before the harvest season expires or before your miners run out of food supplies. Your move limits will be noted at the top of the gaming screen and with the farm, your crops will start to turn as the seasons change. To harvest or collect an item, just tap and trace a connecting line to similar items that are adjacent to one another. For example, tTo harvest wheat, you tap/trace adjacent (horizontal, vertical or diagonally) wheat stalks until you have connect at least three. Naturally, the more you connect in one move the better.
Puzzle Craft support both portrait and landscape orientations but you get more bang for your buck by playing in portrait orientation. Not sure how well that would work on a laptop though.
Game play with Puzzle Craft was entertaining and somewhat challenging in that you have to manage your settlement's growth and make sure your supplies are sufficient to support the settlement. The game has plenty of villagers who pop-up on the screen to walk you through game play and overall, Puzzle Craft is a fun game to help you pass the time with on your Windows 8 device. The game receives 4.25 Stars in the Windows Store and we can see why.
Puzzle Craft is a free game that you can find here in the Windows Store (opens in new tab). For those who prefer a more mobile version of the game, you can also find Puzzle Craft here in the Windows Phone Store (free).
Halo: Spartan Assault ($4.99)
It should be no surprise that Halo: Spartan Assault is among the top rated games in both the Windows Phone Store and Windows Store. It is a Universal App that delivers all the excitement of the Halo gaming series to your Windows 8 device. While the Windows Phone version is no lightweight, some may prefer to Halo: Spartan Assault on a larger screen to fully appreciate the graphic quality and challenging game play.
Halo: Spartan Assault has thirty missions to tackle, plenty Covenant enemies to blast and tons of weapons and vehicles to master. Controls with the Windows 8 version of the game are identical to those found on the Windows Phone version. Movement controls are covered in the lower left corner with fire controls and special weapons controls in the lower right corner.
Halo: Spartan Assault is an Xbox Game so you'll have Xbox Achievements to earn and will require you to log into your Xbox Account. Along with the thirty missions, Halo: Spartan also includes weekly challenges that will earn you bonus experience points.
Graphics are outstanding, game play intense and overall, Halo: Spartan Assault is a fantastic Window 8 game. The only downside may be that there is not trial version available to let you try things out before buying. The full version is currently running $4.99 and you can find Halo: Spartan Assault here in the Windows Store (opens in new tab). The Windows Phone version is also running $4.99 and you can find it here in the Windows Phone Store.
Lego Hero Factory Invasion From Below (free)
Ranking up there as having one of the lengthier titles, Lego Hero Factory Invasion From Below has you controlling an assortment of Lego Battle Machines who need to defend the Lego Factory from an invading army.
The game plays much like a platformer but has RPG qualities and has two gaming modes. The Mission Mode has over forty-five levels of play with plenty of evil Lego creatures and bosses to battle and follows the game's story line. You also have a Battle Mode that you play that has you battling enemy Lego bosses and their minions to earn badges and collect experience.
On-screen gaming controls are laid out across the bottom of the gaming screen to control movements, weapons control and jumping. The battle areas typically consist of a series of platforms that you jump around, wiping out your enemy and collecting gears along the way.
The RPG elements come into play with the ability to upgrade your Lego Battle Machines with the Hero Points you earn during combat. You can upgrade weapons, speed, armor, and other attributes of your Lego Battle Machine.
Graphics are nice, game play plenty challenging and while I can see the appeal of Lego Hero Factory Invasion From Below, I couldn't help but think something was missing. While there are levels of play with the Mission Mode, they aren't as clearly defined and you often find yourself having to start from the beginning of the story should your Lego warrior fall.
I also found some slight stability issues with Lego Hero Factory Invasion From Below that caused the game to freeze up. This issue wasn't consistent enough to ruin the gaming experience but was noticeable.
Lego Hero Factory Invasion From Below earns four stars in the Windows Store and we can see it being a fun game to pass the time with. It is a free game and you can find your copy of Lego Hero Factory Invasion From Below here in the Windows Store. (opens in new tab)
Jetpack Joyride (Free)
Jetpack Joyride is an endless runner styled game for Windows 8 that has you playing the role of Barry Steakfries. Barry has broken into a secret laboratory to steal experimental jetpacks from evil scientists.Barry has to run and jetpack his way through electrical fields, laser beams, rockets and other dangers to escape the lab.
Along the way Barry can collect coins, vehicles, power-ups and more to help him get a little further through this deadly obstacle course. You can use the coins to upgrade your Jetpack Joyride stash or unlock costumes for the game's characters.
Jetpack Joyride is an Xbox Game so you will have achievements to earn that will be reflected in your Microsoft Profile.
The game plays rather nicely on the larger screen of my Microsoft Surface and overall, Jetpack Joyride is a fun, somewhat addictive Windows 8 game. Jetpack Joyride is a free game for your Windows 8 device and you can find your copy here in the Windows Store (opens in new tab).
For those looking for a mobile version of Jetpack Joyride, there is a Windows Phone version of the game (free as well) that you can pick up here in the Windows Phone Store.
Any standouts?
All four gaming titles come across as entertaining games to help you pass the time with and play rather nicely from the larger screens, especially tablet devices such as the Microsoft Surface.
Of the four, I would have to give the nod to Halo: Spartan Assault standing out from the pack. Halo: Spartan Assault is a strong gaming title for Windows Phone 8 but steps it up rather nicely when played on a Windows 8 device. The graphics have a little more gusto and the larger screens pulls out the details really nice.
I liked Lego Hero Factory Invasion From Below but felt the game needed a little better organization. Game play was challenging and entertaining but the game's overall layout seemed off.
Jetpack Joyride is a fun game to pick up when you have a few minutes to waste or want to spend a little longer with a game.
The more I played Puzzle Craft, the more the game grew on me. While Halo is the strongest of the four, Puzzle Craft might sneak in at the number two spot. The blending of puzzle games with community building keeps the game interesting. It can easily hold up to short gaming spurts or longer sessions.
Along with the four gaming titles highlighted in this week's roundup, here are a few more gaming titles worth checking out from the Windows Store.
Samurai vs. Zombies Defense (free): This combat game has you defending your village from hordes of attacking Zombies. You can recruit allies to help defend your position and if playing the good guy isn't your cup of tea, you can turn the tables and play the game as a Zombie. (Windows Store Link (opens in new tab))
Despicable Me: Minions Rush (free): This endless runner game features the Minions from the popular movie Despicable Me. You race them through neighborhoods, labs and El Macho's Lair dodging all sorts of obstacles. Along the way you collect bananas that can be used to buy power-ups and you get to battle bosses from the movie as well. (Windows Store Link (opens in new tab) / Windows Phone Store Link)
Reaper (free): Reaper is a marvelously drawn up fantasy game that has you playing the role of the Black Swordsman. You travel the lands battling various monsters, soldiers and assorted creatures. As you battle, your character can be upgraded and new weapons become available. The game is free for the first ten character levels, after which you'll need to upgrade via in-app purchase. (Windows Store Link (opens in new tab) / Windows Phone Store Link)
Shark Dash (trial/$1.99): Shark Dash is just a fun puzzle game that has you guiding the game's main character, Sharky, across the tub to collect coins and gobble up rubber ducks before tub stopper gives way and sends Sharky down the drain. Shark Dash has 96 levels that span four different environments. (Windows Store Link (opens in new tab) / Windows Phone Store Link (free))
While the Windows Phone Store has plenty of quality games available to meet your mobile gaming needs, the Windows Store does a nice job of offering some nice gaming titles for those times you are around your Windows 8 device. I spend so much time looking at titles for my Windows Phone, it's easy to forget how much fun it is to spend time gaming on my Microsoft Surface.
We'll get back to the small screen next week but if we have overlooked your favorite Windows 8 game blame Rich and let us know your recommendation below in the comments.
Windows Central Newsletter
Get the best of Windows Central in your inbox, every day!
George is the Reviews Editor at Windows Central, concentrating on Windows 10 PC and Mobile apps. He's been a supporter of the platform since the days of Windows CE and uses his current Windows 10 Mobile phone daily to keep up with life and enjoy a game during down time.
It's a shame Halo: SA isn't a universal app. I'd love to play it on a larger screen but I can't spend another $5 for the same game.

halo spartan assault IS a universal app. (check details in the WP8.1 store or the website)
i chatted to a MS support person and got to know that universal app availability will roll out around mid of may, though i'm not sure how.

I do see it is universal. I guess I should've stated that if we bought it for WP a while ago, it should be available to download on W8 for free.

I thought we COULD download on the other, if purchased on one? I remember posting that it was too bad that I've already purchased both.

I bought it on windows 8 when it first came out. Downloaded it for free on windows phone 8 recently. So I would imagine it would work the other way.

It actually is available for download on a secondary device without re-purchase. Initially I too thought that the Universal app system wasn't working, (as when I checked 2 weeks ago it was still requesting purchase), but when I checked recently it showed as already purchased and ready to install. If it is still showing a charge give it time. It just may not have rolled out to your sector yet.

This is good to know as I just checked it a couple of days ago and it still was stating it would charge me again. I'll keep an eye out for the update. Your comment has been REPPED!!!

I sometimes have to start the purchasing process before the store will show me that I already "own" the app. Try that. Just cancel if it actually wants to bill you.

The current Windows 8 store doesn't recognize Universal Apps yet,,, My guess is that a Store update will add that ability.

Not really a die hard Halo fan but always buy them when they out...dunno why?

there's Halo: Spartan Assault Lite as a trial version of the game, available separately, as many other MS Studio games.
on a side note, any clue why universal apps purchased on phones are still paid on PC?
for eg. i got Halo and Skull of Shogun on phone. but they're still paid for my Win8.1 tab and pc. :|

I'm wondering the same thing about Halo. Bought it on my phone but it still shows I have to purchase it on PC.

Because the store app needs to be updated to take universal purchases into account.

No asphalt 8??
It is number 1 in the top free category

But its not a good game on all operating system its little bit buggy than asphalt 7

I dont found it laggy i have windows 8.1 pro the strange thing is that i cant play kingdoms and lords,six guns on my pc whereas asphalt 8 runs smoothly dont know why i have this issue.
Today i will download lego and see if i can play it.

I know! And there's this Mini Motor Racing, which they talked about here a few days ago, and is really nice, too!

The only complaint I have with asphalt 8 is that the game is not optimised for WP. We don't get the cool graphic effects as opposed to iOS and Android. Not even on Windows 8!

No buddy after latest update windows 8 version is better.

Haven't played it on my Surface 2 for a while now. Gonna check it out

That game always would just crash on me. Got tired of trying to playing and uninstalled

On my pc six guns crash during startup. I am not able to play it on my pc hope the issue will be solve.

It works just fine on my 925. In fact, it's the app that takes up the most space (6+GB) in my phone, still I'm reluctant to delete it.

I guess you waiting for some good update for your lumia 925 right to solve storage issue.

I seriously have no hopes for this issue to be fixed any time soon anymore. What I'm waiting, though, is for the 930 to come to Brazil soon. I'll pay whatever is needed.

What do you mean?
A:8 looks up to par on my 1520.

Maybe it's a glitch? Idk. My friend bought it on his WP and he didn't have to pay for Windows 8 version.... On a side note there is a new video editing app on Windows Phone 8.1 store called Video Editor 8.1. It have Video Effects

there are some good games not mentioned here, but still this is a good list. I always liked BlazBlue sadly it never got all the features from "original" pc and console version.
Also Six-Guns wasn't too bad either... and Fifa14 while not amazing it wasn't too bad, until you tried to play it in a non-touch screen. hmmm but one I think is really missing it's Project Spark is still the best! while not being able for ARM processors, this is really the best thing in store. the graphics, gameplay, what it allows you to do, you don't even need to pay anything to play and have fun.

You can't include Six Guns. It was a great idea but as usual with GameLoft it's bug ridden, full of seriously overpriced IAPs and no support whatsoever.

And then there's all the awesome games on steam that are leagues ahead. Unless your computer is too wimpy to handle that.

I got back into playing reckless driving on RT. Forgot how much I loved this game

I am a big big fan of Skuls of the Shogun

I really love Adera. Posted via the WPC App for Android!

I really enjoyed Adera. The graphics were awesome and the gameplay difficulty was just right. Waiting for a new series??

remove anything by Gameloft. Freemium rubbish and they never fix their games when broken. never playing their games again.

Yes, yes, and yes! Gameloft games are as you say *rubbish*.

Puzzle Craft is terribly optimized for widescreen. Go get Another Case Solved instead.

I'm digging that game on my phone at the moment, the cases are getting pretty tough now though.

Call me when I can download the games I paid for on my phone to my SP2. Universal my ass.

The problem with Jetpack Joyride is that it's way behind the iOS version and there seem to be no indications it will ever be updated. Reaper is a great game, but it does get tedious after a while. The final boss is also incredibly tough. You might be able to breeze through swarms of enemies, but you'll still have a hard time defeating that guy. Which means that to level up you have to trudge through a lot of repetitive gameplay. I'll have to try some of the ot her games... But I'm surprised Skulls of the Shogun isn't on the list.

The Harvest and Skulls of the Shogun to name two you missed. I would also add Zombies.

Final fantasy 3 is one of best games in the market smh +925

Where are the Royal Revolt games? They're awesome!

Can't believe you didn't add Skulls of the Shogun. That game is awsome. Rayman deserves a spot too.

WSOP....having fun with that.

What about Asphalt Airborne..?? The game is a gem

If I have time to kill, I'm a big fan of Fairway Solitaire and King Oddball on my tablet. I've gone through all levels of King twice already. Still a challenge and still fun.

Never played any of them. I would top rate wordament, snap attack and Armed! as top ratable games.

Does Halo:SA support Moga Pro controller on the Lumia 1520?
Feel free to mention others as well!

Reaper, yes that game is amazing. Would add to this list (probably remove a couple too) Skelly Ride, which is actually better than Jetpack Joyride and doesn't have that annoying habit of erasing its data randomly, its only on windows phone atm so doesn't count on this list, hell I'd just change the list entirely lol.

I'd probably add the half life series, starcraft 2, elder scrolls skyrim, and my number one game ever, Planescape: Torment.

It wasn't hard or beautiful. But Civilization Revolution gave me the best value. Spartan Assault was gorgeous but I think the Xbox one would play it better.

Jetpack Joyride is horribly broken on Windows and hasn't been updated in forever.

Your are missing some games: Six Guns is really good, Asphalt 8: Airborne also is terrific and Dragon's Blade I or II are perfect for those who, like me, love playing classics RPGs...