Top Windows Phone apps for the Microsoft Band (Part Two)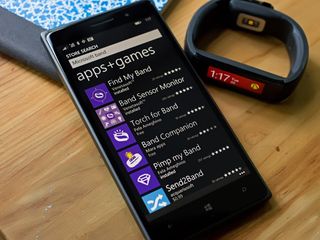 As the Microsoft Band becomes more popular and available, the number of apps designed for this multi-function device continues to grow in the Windows Phone Store. The full SDK for the Band was released late last month and we don't see this growth slowing down anytime soon.
A few weeks ago we spotlighted a handful of Windows Phone apps for the Microsoft Band and with the growth spurt this genre of Windows Phone apps is experiencing, we figured another roundup featuring Band apps might be helpful for those looking for such apps.
We've plucked four Band apps from the Windows Phone Store that help you customize your Band's appearance, that may help you in your travels, that will help you find your Band and one that still has some room for growth but conceptually could let you have a little fun with your Band.
As with all of our roundups, we cannot highlight all the fantastic apps and games available in the Windows Phone Store or Windows Store. We offer up a small collection of these titles and if we've overlooked your favorite, there's nothing nefarious afoot. Feel free to toss out your app recommendation below in the comments should your favorite not be listed.
Find My Band
We've all done it. Left our car keys, wallet, Windows Phone or other key item lying around the house only to forget where we left them. It's only a matter of time before the Microsoft Band joins this fraternity of lost or misplaced items. Enter the Windows Phone app Find My Band.
Find My Band is a simple Windows Phone app that pairs with your Microsoft Band and when activated will feverishly vibrate your Band and flash the Heart Sensor to alert you of its location. To add to the alert, "Find Me. I'm here!!!" will flash on the display.
When you launch Find My Band it will seek out and connect with your Microsoft Band. If the connection fails, you know to move to another room of the house. When connected, just tap the center button and listen for the vibration sound of your Microsoft Band.
Find My Band is from Venetasoft, a Windows Phone developer with a host of quality apps such as Movie Maker 8.1, Turbo Camera and Band Sensor Monitor. Find My Band is a free Windows Phone app and a must have for anyone who owns a Band.
Download Find My Band for Windows Phone (Free)
Sound Band
Sound Band is a neat Band app that allows you to use the sensors in the Microsoft Band to trigger sound effects through motion. The app has potential but in its current state, Sound Band is more conceptual than practical.
The interface is simply drawn up with options to connect the app to your Band and choose the sound effect you want to use. There is the option to automatically connect to your Band on start-up available.
Once connected and you choose your sound effect, as you wave your Band around the sound effect sounds off from your Windows Phone. While we think this app has great potential, there are two downsides. Sound Band currently has only one sound effect available, a whip sound, and the app doesn't run in the background.
Hopefully we will see Sound Band updated soon with more sound effects and possibly the ability to run in the background or from behind the lockscreen. For some reason I see a fart sound in this app's future.
Sound Band is currently running $.99 for the ad-free version or you can opt for a fully-functioning trial version that has ad-support.
Download Sound Band for Windows Phone (Trial / $.99)
Band Translate
Band Translate is another Microsoft Band app with great potential that lets you ask for translations directly from the Band.
You will need to install a Band Translate tile to your Microsoft Band then you will be able to trigger the app through Cortana by saying "Translate" then the phrase or word you need translated followed by "to" and the language you need translated.
For example, to translate the word hamburger to Italian you would tell Cortana to "Translate hamburger to Italian". Band Translate will then launch on your Windows Phone, do its thing and send the translation to your Band.
Band Translate supports over thirty languages and you must have Cortana activated on your Band for this app to work. The app could use a little polishing but the developer is definitely on the right track with this Microsoft Band app.
Band Translate is a free, ad-supported Windows Phone app.
Download Band Translate for Windows Phone (Free)
Awesome Band Backgrounds
One of the many nice features with the Microsoft Band is the ability to customize the wallpaper and color themes on the Band. It helps you make the Band your own through custom wallpapers and colors that match your personality or style.
There are a host of wallpaper/customization apps in the Windows Phone Store for the Band and truth be told, fanband is my current favorite. However, there is a relatively new offering in the Store that is running a close second – Awesome Band Backgrounds.
Awesome Band Backgrounds not only offers you gobs of photos to use as a wallpaper but it will also let you customize the tile colors. The layout has a nice flow to it with tabbed main pages that cover your images and theme colors.
The image tab will display your current wallpaper along with any images you have tagged as favorite. You can browse the image library for random pictures or search the library by keyword. When you find an image to use, Awesome Band Backgrounds will offer a preview sampling with the ability to crop the image and add effects filters to the photo before sending it to your Band.
Theme color options include setting the base, highlight, secondary, lowlight, high contrast and muted colors for your Band. A preview of the colors will be illustrated at the top of the color selection page and recently used themes will be displayed at the very bottom of this page. Awesome Band Backgrounds does have support for theme linking that will let you use groupings of similar colors to set the theme quicker.
Awesome Band Backgrounds is a feature rich customization app for the Microsoft Band and a nice addition to this genre of Windows Phone apps. You will need an internet connection to search for images and you can set the app to automatically connect with your Band on start-up. It is a free, ad-free Windows Phone app.
Download Awesome Band Backgrounds for Windows Phone (Free)
Windows Central Newsletter
Get the best of Windows Central in in your inbox, every day!
George is the Reviews Editor at Windows Central, concentrating on Windows 10 PC and Mobile apps. He's been a supporter of the platform since the days of Windows CE and uses his current Windows 10 Mobile phone daily to keep up with life and enjoy a game during down time.
I'm really excited to see what third party developers come up with for this.

Has anyone used Band Sports Tile yet? http://www.windowsphone.com/en-us/store/app/band-sports-tile/da2ef4ea-0775-44e0-a48a-80c2a638fd5d

Why does this app require you to enter your Microsoft account credentials?

That's what I was wondering?

Hey good question - I'm actually the developer of Band Sports Tile. I'm using Azure Mobile Service as the processing back-end to push the right scores to the bands. I'm leveraging the Microsoft Account authentication to authenticate to my Azure service for user accounts. I don't actually access any account information, just using it to authorize calls. Let me know if you have any issues with the app - just released this week.

UPDATE: since I've had a few inquiries I figured out how to change the scope via Azure Mobile Services. It no longer asks for permissions for contacts.

So disappointed that no indications of it coming to India yet.

It's available in Microsoft's store in Amazon for 30000₹.

It may be but it won't run with its full features since its not officially released here .

It's not Microsoft store.
Someone else has listed it.

I've thought about ways to make this work, but since we can't actually "run" apps on the band, only the phone would be able to alert you went the band is too far away. Since it is unlikely that someone is going to steal the band off your wrist, I didn't pursue the idea further

I meant: Check this app http://www.windowsphone.com/en-us/store/app/anti-theft-band-alarm/5c8b62...

Ah, makes sense. I noticed everyone in the comments for "Find my Band" wants the reverse app to "Find my Phone" and I agree, but may not be possible if the band can't trigger the phone. At least we have the "Find my Phone" from the Microsoft website.

There are apps for Band that already do this too.

I've dropped enough hints for Father's day.

"Find Music Controls in my Band" App: that's the one I need.

I am actually working on this one, have published something should be in the store in the next 24 hours or so. It's called Music Band and allows you to play music from your library ( unfortunately I can't get it to control the native music app).
( I had published previously but there was a significant bug that pretty much rendered it useless, lot to learn on my first app!)

What about making the band controls app able to pause music like a Bluetooth stereo clip would. I don't think it would be to hard....just tricky. Finding the correct api? What does a bluetooth stereoclip use that the band does not have access to?

That's a really good point, I'll do some hunting. I suspect the actions ( music controls) are defined in the Bluetooth profile and not the Windows Phone API. Ie the phone is responding to a standard Bluetooth protocol rather than the Bluetooth device using some part of the phone sdk.
I'd love to unlock that functionality because I could use it for deezer client. I'll keep trying

Ah, I downloaded your app last night. I noticed that it, yeah... doesn't seem to work. Hope you get it running properly. :)

Nice to hear :D i will download it as soon as its on

I wish there was an app for my band to let me dismiss notifications from phone to band or band to phone. It's so stupid to put my band on and it has 10 plus notifications each for emails phone calls and texts that I already have taken care of on my phone.

IMO, that needs to become part of the Band software, not a 3rd party. Every notification needs a dismiss and clear option as part of the OS.

Try "Clear My Band". Not perfect, but a start.

Hopefully MS add this ability soon.

Yes, "Fan Band" is my current favorite as they add themes as fast as I think to request them. I've asked for "Breaking Bad" and other shows and then just last week I saw the "Fraternities and Organizations" and immediately thought "Boy Scouts of America". Turns out one of the developers at Liquid Daffodil is an Eagle Scout. He had the BSA theme added in a few hours and it is great for those of us Assistant Scoutmasters and such to show off our band at meetings and campouts.

Aren't they great? I've had 4 themes added and it was done in under 30 minutes

Why oh why would you do anything to lessen the life of it batteries. Mind blowing.

I've wished for the opposite of find my band. I walk around looking for my phone and wish I could hit a button on the band that would ring my phone.

What about battery consumption? With these new apps

The "Awesome" one is now called Bandpaper.

Still can't use the band with the last Windows 10 update

DEVELOPERS!!!!!
Please use the new Insteon API for the Band to make some awesome hone automation apps!!!!!

You can do this already. Tap and hold the Band's action button and say "insteon, turn on x".

I need to get one of these.
Windows Central Newsletter
Thank you for signing up to Windows Central. You will receive a verification email shortly.
There was a problem. Please refresh the page and try again.