Torrex Pro adds a media player and streaming to let you watch and listen while you download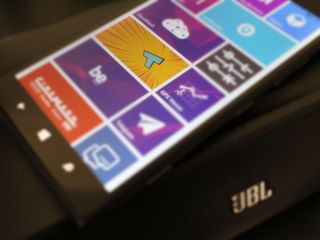 Windows Phone BitTorrent Client Torrex Pro has been updated to version 1.1.0.23. This update adds the ability to start streaming media, without having to wait for your download to finish.
The update also adds a built-in media player to Torrex, letting your watch or listen to content right in the app. Check out the full changelog below:
Built-in player: you can watch the downloaded media content without switching to another application
Streaming: you can immediately start to watch a movie or listen to music without waiting for download completion
Recent updates to Torrex Pro have added new languages, quick access to settings, and more. Torrex Pro is also available for Windows 8.1.
Thanks to Valery for the tip!
Windows Central Newsletter
Get the best of Windows Central in in your inbox, every day!
Got it for free, thanks to myappfree! Love the app

Same here but can't really use it. My phone is full. Need a high end device with SD slot.

Ditto, feels great to save $$

What is the difference between torrex pro and torrex lite.? O,o ..

no background downloading on pc and no downloading under lockscreen on phones.

I may be wrong but i also think adds and no mkv playback for the free version.

I still find it insanely hilarious that Windows Phone can't do background downloads when an app isn't under the lockscreen, even in 2015.

I find the android battery life hilarious but hey, that's just me.

Yup, that is just you. Android battery life hilarious? Android isn't one phone, or even a phone, Android powers millions of devices out there. Sure there will be devices with terrible battery life, there are Windows Phones with battery issues as well, but that doesn't mean the few bad ones reflect the rest of the bunch. My comment reflected all of Windows Phone, I have seen some background downloading on Windows Phone as well using the UC browser, however the system is nowhere near as robust as it needs to be because once you open a few more apps the app that was doing the background downloading will get terminated. You find Android battery life hilarious? The joke is on you then...

Background downloads are possible. This app doesn't implement that due to some reason...

Windows Phone can do background downloads.

Hold on, mine doesn's work under lockscreen and it is not the lite version. When the functionality was added?

Yeah. I just realised there is no difference. Just the ads. Both don't download under the lock screen.. unless the screen is locked on the same page which appears after you hit the start download button. :)

Try WPTORRENT it downloads under the lock screen

So far I know wptorrent is the best torrent app, does downloads under lockscreen, no speed limitations and I've happily been with it since its day one:)

Best torrent client on windows platform. It's universal app! Support the developer!!!

WC promoting TORRENTS!
Hashtag where's your no piracy policy now
Hashtag sarcasm

Promoting.? Do you know that not all torrents are illegal.? In fact downloading a torrent downloader and downloading licensed torrents is perfectly legal. It is the copyrighted illegal stuff which shouldn't be downloaded.

I think you missed second hashtag

There is no Update in my region :(

Background download for phone?

Yep but only under lock screen...not when switching apps..

Only under locked screen, like wptorrent. I tried torrex pro once but it heats up my phone. I use wp torrent until now

Everyone should buy this app, it's great.

Sorry to sound dumb but why to buy the metro app when you have got alternative free tranditional desktop apps for windows 8??
As long as windows phones are considered then its absolutely fine..

Works for RT. Now that RT is becoming obsolete, you can use it in tablet mode in Windows 10. For a phone, it's a great app.

I am sorry but you didnt sound bright either. Thw future of windows it is windows 10 and store universal apps will be good for windows future. Why is it bad if you will eventually use it as you use utorrent or tixati? Windowed and all. The only difference its it would use winrt apis and not win32. But eventually full applications will use store apps and will be safer and nicer to get. So while you can get many alternatives. Using this app will be universal. .. even xbox will eventually be able to run it. And it will make development and features better. Yeah it costs money but many torrents use a "pro" pay features. I use tixati which is fully free but still. With the bright future of Windows 10. I hope these apps become eventually superior or similar to desktop apps Posted via the Windows Central App for Android

Very good torrent client. It's simple to use but doesn't compromise on features either. I would like the developer to add an advanced mode like utorrent.

It's a shame windows phone does not allow background downloading..

Torrex Pro! Best torrent app in my opinion.

Review Paddle for Band. It's a new game made by the creator(s) of Bounce for Band.

This app absolutely sucks lately. I had to uninstall it because of how slow and laggy it is. It also started crashing when adding a torrent so I would have to do it twice. Then in the app it was so slow, then crashed and my phone went slow too! I use wpTorrent now and it is A LOT better.

Hehehehehehehehehehehehehehehehehe free software n movies (͡• ͜ʖ ͡•)(͡• ͜ʖ ͡•)(͡• ͜ʖ ͡•)(͡• ͜ʖ ͡•)(͡• ͜ʖ ͡•)(͡• ͜ʖ ͡•)(͡• ͜ʖ ͡•)(͡• ͜ʖ ͡•)(͡• ͜ʖ ͡•)(͡• ͜ʖ ͡•)(͡• ͜ʖ ͡•)(͡• ͜ʖ ͡•)(͡• ͜ʖ ͡•)(͡• ͜ʖ ͡•)

we just need background downloading..nothing else

This app is just great
Thank you developer

It always had this on desktop. Glad to see it on phone now too.

I have it, but don't use it. Add RSS support and I may switch to it..

Wait wich app of the ones u name lets u download with lock screen. I use torrexpro and i have to set the screen to never go off.

I just don't understand how torrents work

Finally this update.....Now we are talking..

I highly recommend Allavsoft which can directly download youwatch
Windows Central Newsletter
Thank you for signing up to Windows Central. You will receive a verification email shortly.
There was a problem. Please refresh the page and try again.