Track Runner picks up live tracking and more in impressive update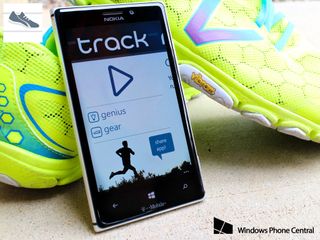 In December we looked at Track Runner for Windows Phone. It's a fitness app and activity tracker from Boston-based developer App Cauldron. Version 2.0 of the app is now available in the Windows Phone Store. If you just glance you might think you're only getting an updated logo and a few aesthetic changes. Nope. Tracker Runner v2 also introduces a handful of new features we think you'll like. Let's check it out.
Track Runner isn't as widely known in the Windows Phone fitness crowd. Runtastic or Endomondo come to most people first when they think outdoor activity tracker. But to skip over Track Runner would be disservice to yourself. It's an excellent app with a very supportive community of users. Track Runner claims to have super accurate GPS, which you'll find a lot of users agreeing with. For example, Windows Phone reader Joel Jackson (@alaskanjackson) has used a handful of fitness trackers in rural Alaska, but has found Track Runner to be the most accurate.
Here's what's new in version 2.0 of Track Runner:
Live track your run and let your friends and family cheer you on
Allows you to track your shoe (or other gear) mileage
Elevation and weather data
New design and live tile
Bug fixes and improvements
You'll notice a new logo and redesign of Track Runner in this update, but live tracking is by far the biggest addition to the update. You can have friends and family track you in real-time using Track Runner. They can also cheer you on virtually to keep you going. This isn't just a vain feature to show off to your friends that you're working on. Live tracking is a great way to make sure someone you care about is safe while going on long runs. Plus you can drop them encouragement, which we're sure they appreciate on those really hard workout sessions.
Other additions are a littler smaller, but useful nonetheless. You now have access to elevation and weather data through Track Runner. You can also track the mileage you accumulate for your gear in Track Runner. How's this useful? Buy a new pair of Nike's and now you compare the longevity of them against your old New Balance shows. Find out which pair held up better over a few hundred miles.
Version 2.0 of Track Runner looks like a winner. We're happy to see smaller development studios give larger companies a run for their money. And that's exactly what Track Runner does. It's a free app for Windows Phone users that has no ads or in-app purchases. That's right, completely free. Bonus: It won a Nokia Create contest.
Why go free? Here's Sarah Fegert from App Cauldron on the change:
We can definitely get behind that. Good move App Cauldron.
Anyone using Track Runner? Sound off with your experience using the app and how you like v2.0 so far!
Download Track Runner for free from the Windows Phone Store. Now excuse while we go stop being lazy and go for run.
Thanks for the tip everyone and congrats to App Cauldron on a nice update!
Windows Central Newsletter
Get the best of Windows Central in in your inbox, every day!
Awesome! I love this app! Thanks, WP Central!

So how this one compared to sports tracker?

How can one apps GPS data be different from another? They're just pulling coordinates from sandboxed hardware are they not?

this one definatly seems faster

I tested the TrackRunner app vs Endomondo and Runtastic over the same route multiple times, streaming music and not. In every instance TrackRunner was able to hold signal longer with more accurate results. This was not scientific but real world testing in Southeast Alaska. Just my experience.

Can it publish my workouts to fb or twitter just like endomondo does?

Yes, you can share a standard message or you can alter what's posted.

You can share a live tracking tweet in the same manner when starting a run.

Looks great, will check it out. Anyone know of a good app for interval running/training? I want something I can program my own custom interval times into that will then give me audio cues for when i need to walk/jog or run/sprint.

Runtastic does intervals and allows you to program your own.

I think that interval support may be coming in the next update for Trackrunner. Not sure if would include custom intervals?

Does it have integration with myfitnesspal? I like that when I get through with a run using Runtastic it syncs with my myfitnesspal account and updates the live tile with the calorie goal progress.

That's one of my prerequisites. I won't even consider it if there is no MFP integration. Also, how is the elevation tracking? All over the map (so to speak) like Endomondo, or more stable like Runtastic?

You'll find that the elevation data is very accurate. We use one of the highest quality third party services for elevation data. Our data is superior to RunKeeper's, for example. We do not offer integration with myfitnesspal at this time but we might look into it for future updates. Meanwhile, you can certainly use the convenient GPX export feature to transfer your runs.

Does this app also work for cycling?

It seems to work somewhat for cycling - it will track gps location, record speed and elevation. However, if you're going much faster than typical running speed, it will flag that and fire off alarms that say someting to the effect of "you're moving too fast to be running". It will not record top speeds and other metrics in your statistics as a result. I can live with that for now. I use it to provide live location information to my wife so she know where to search for me, just in case.
Windows Central Newsletter
Thank you for signing up to Windows Central. You will receive a verification email shortly.
There was a problem. Please refresh the page and try again.