Track Runner picks up live tracking and more in impressive update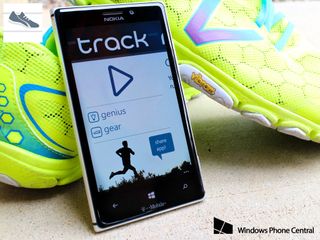 In December we looked at Track Runner for Windows Phone. It's a fitness app and activity tracker from Boston-based developer App Cauldron. Version 2.0 of the app is now available in the Windows Phone Store. If you just glance you might think you're only getting an updated logo and a few aesthetic changes. Nope. Tracker Runner v2 also introduces a handful of new features we think you'll like. Let's check it out.
Track Runner isn't as widely known in the Windows Phone fitness crowd. Runtastic or Endomondo come to most people first when they think outdoor activity tracker. But to skip over Track Runner would be disservice to yourself. It's an excellent app with a very supportive community of users. Track Runner claims to have super accurate GPS, which you'll find a lot of users agreeing with. For example, Windows Phone reader Joel Jackson (@alaskanjackson) has used a handful of fitness trackers in rural Alaska, but has found Track Runner to be the most accurate.
Here's what's new in version 2.0 of Track Runner:
Live track your run and let your friends and family cheer you on
Allows you to track your shoe (or other gear) mileage
Elevation and weather data
New design and live tile
Bug fixes and improvements
You'll notice a new logo and redesign of Track Runner in this update, but live tracking is by far the biggest addition to the update. You can have friends and family track you in real-time using Track Runner. They can also cheer you on virtually to keep you going. This isn't just a vain feature to show off to your friends that you're working on. Live tracking is a great way to make sure someone you care about is safe while going on long runs. Plus you can drop them encouragement, which we're sure they appreciate on those really hard workout sessions.
Other additions are a littler smaller, but useful nonetheless. You now have access to elevation and weather data through Track Runner. You can also track the mileage you accumulate for your gear in Track Runner. How's this useful? Buy a new pair of Nike's and now you compare the longevity of them against your old New Balance shows. Find out which pair held up better over a few hundred miles.
Version 2.0 of Track Runner looks like a winner. We're happy to see smaller development studios give larger companies a run for their money. And that's exactly what Track Runner does. It's a free app for Windows Phone users that has no ads or in-app purchases. That's right, completely free. Bonus: It won a Nokia Create contest.
Why go free? Here's Sarah Fegert from App Cauldron on the change:
We can definitely get behind that. Good move App Cauldron.
Anyone using Track Runner? Sound off with your experience using the app and how you like v2.0 so far!
Download Track Runner for free from the Windows Phone Store. Now excuse while we go stop being lazy and go for run.
Thanks for the tip everyone and congrats to App Cauldron on a nice update!
Get the Windows Central Newsletter
All the latest news, reviews, and guides for Windows and Xbox diehards.