Transitioning to Windows Phones: Device Roundup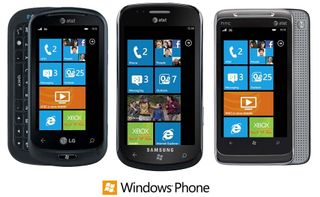 With the future of webOS still being anyone's guess, transitioning to a Windows Phone might be an attractive alternative for the webOS crowd to consider. We've touched on transitioning from webOS to a Windows Phone and now we thought we would toss together a quick round-up of the Windows Phones that are currently available.
Mango is set to be released later this Fall and will bring a handful of new phones to the market. Understandably some may decide to hold off and wait a few months for the second generation of Windows Phones to become available. However, without official specifications available, we'll keep this roundup focused on Windows Phones you can get your hands.
We've got them broken down by carrier and to see what's available, slide on past the break.
While there are some differences to make each Windows Phone unique, there are also several standard features that all Windows Phones have.
Standard features such as a 1ghz processors, wifi, bluetooth, 480x800 screen resolution, capacitive touch screens, 3.5mm headphone jack, and a micro-USB connection. We'll touch on what makes each Windows Phone a little different from the others but in my opinion, there isn't a bad Windows Phone in the bunch. The trick is finding which phone meets your needs the best. Granted if your tied to a certain carrier, the choices may be limited but even then, you won't find yourself with a bad Windows Phone.
Software
Just a quick note on the software that comes with these phones.
While the old Windows Mobile phones were severely infected by carrier bloatware, Windows Phone 7 also has some carrier specific software but unlike the older Windows Mobile phone, you can delete these apps with Windows Phone.
Carriers are tossing in video, navigation and account accessing apps and device manufacturers also include sound enhancing, compass, gaming and other applications. Some are pretty decent and some you won't need. Again, all can be deleted and re-installed through the Marketplace.
The one downside to these apps are restricted to the device manufacturer or carrier. It would have been nice to see some of the better of these apps available universally but you can always find alternatives on the Marketplace. The key about these apps is that while some are nice, I don't think any of these apps would elevate one phone over the other.
And now the phones...
T-Mobile
HTC HD7
The HTC HD7 sports a 4.3" VGA screen and measures 4.8 x 2.7 x .44 inches and weighs in at 5.71 ounces. The phone has a 5mp camera, dual LED lights, 16gb of storage and a 1230mAh battery. The HD7 is fitted with a rear kick stand that many have confused with a bottle opener but it is designed to prop the phone up for easier video viewing.
AT&T
AT&T hit the ground running when Windows Phone 7 launched and has the largest stable of Windows Phones of the U.S. Carriers.
Samsung Focus
The center piece of the Samsung Focus is the 4" Super AMOLED screen. Image quality is extremely good and helps the Focus stand out a little. The Focus measures 4.8 x 2.5 x .4 inches, weighs in at a paultry 3.88 ounces and has a 1500mAh battery. The Focus feels exceptionally well in the hand due to the thin form factor and curved edges. Along with the 8gb of storage the Focus has an expansion slot for micro-SD cards.
LG Quantum
The LG Quantum is fitted with a side sliding QWERTY keyboard, has DLNA compatibility and is fitted with 16gb of storage. The Quantum measures in at 4.7 x 2.34 x .6 inches, weighs in at 6.21 ounces and is fitted with a 1500mAh battery. The matte black finish looks good and while the Quantum has a little heft, it still feels good in the hand.
HTC Surround
Measuring 4.71 x 2.42 x .51 and weighing in at 5.82 ounces, the HTC Surround's main feature is the slide out speaker and kick stand. The kick stand props the Surround up for easier video viewing but the slide out speaker was a little disappointing. It does sound better than the standard speaker but not by leaps and bounds. The Surround has a 3.8" WVGA screen that looks good, a 5mp camera, 16gb of storage and a 1230mAh battery that performed surprisingly well.
HTC HD7S
The newest addition to the AT&T Windows Phone lineup, the HTC HD7S, is identical to the HTC HD7 from T-Mobile with one exception. The T-Mobile HD7 is fitted with a 4.3" WVGA Screen while the AT&T HD7S is fitted with a 4.3" Super WVGA screen. There is a difference in the two screens but not as noticeable as you would expect.
Sprint
HTC Arrive
The HTC Arrive comes in at 4.63 x 2.32 x .61 inches, weighs 6.49 ounces and has a very nice side-sliding keyboard. You have a 3.6" Super LCD screen, 1500mAh battery, and 16gb of storage. If you're a Sprint Customer, this is your only Windows Phone option for the time being. As an AT&T Customer, I'm a little jealous because the HTC Arrive is a solid Windows Phone.
Verizon
HTC Trophy
The HTC Trophy hasn't been on the market long and when we had the chance to review this Windows Phone, we found it to be a solid performer. Measuring 4.67 x 2.42 x .47 inches, the Trophy weighs 4.9 ounces. The matte black finish looks good and the phone feels good in the hand. The Trophy sports a 3.8" WVGA screen, 1300mAh battery, 16gb of storage and a 5mp camera. If you need more power, there is an optional 2150mAh battery you can purchase separately. As with Sprint, this is Verizon's only Windows Phone and another solid performer from HTC.
Unlocked (AT&T and T-Mobile compatible)
Dell Venue Pro
For those looking for an unbranded Windows Phone, Dell has an option for you. The Dell Venue Pro is available for either the AT&T or T-Mobile Networks. Dell offers the Venue Pro price with contractual discounts for both carriers that brings the cost as low as $.99 and out of contract, the phones are running $299, which is a very good price.
The key feature on the Venue Pro is the bottom sliding QWERTY keyboard. The DVP measures in at 2.5 x 4.8 x .6 inches and weighs 6.8 ounces. Fitted with a 4.1" AMOLED Screen, 1400mAh battery and comes with either 8, 16, or 32gb storage. The Dell Venue Pro has some drawbacks that takes some getting used to but given time, the Venue Pro will grow on you. For example, the screen looks great indoors but it is slightly curved. This makes it difficult to view outdoors in brighter light. Another example is the Venue Pro lacks haptic feedback which takes some getting used to with capacitive buttons. All in all, the Dell Venue Pro is a good choice if your looking for an unbranded phone.
So there you have it. A full listing of the Windows Phones currently available on the U.S. Market. Most will have counterparts on the over seas markets that won't vary much from these models. Prices may vary based on how you purchase and where you purchase from. Microsoft has a nice listing at their Windows Phone site that breaks down some of the pricing and retailer information.
We are expecting a group of "second generation" devices to hit the market with the introduction of the Mango update so this line-up will definitely change in the coming months. We expect the HTC Eternity and Omega to be introduced on September 1st and we've already seen a leaked AT&T Roadmap that shows the Samsung SGH-i937 and the HTC Bunynip coming this Fall. And we shouldn't forget about the Nokia Windows Phone, the Sea Ray, that has attracted a lot of attention.
As these devices become available, keep an eye on the site and well get reviews on the new phones as quickly as we can get our hands on them.
Get the Windows Central Newsletter
All the latest news, reviews, and guides for Windows and Xbox diehards.
George is the Reviews Editor at Windows Central, concentrating on Windows 10 PC and Mobile apps. He's been a supporter of the platform since the days of Windows CE and uses his current Windows 10 Mobile phone daily to keep up with life and enjoy a game during down time.