Trials Fusion lands on Xbox One and 360, Garden Warfare gets another free update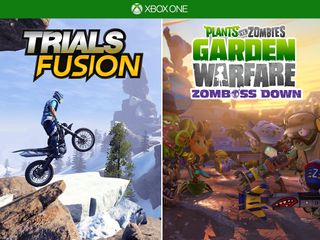 It's a light week for Xbox console game releases, with the only new retail title being FIFA 14 World Cup Brazil on Xbox 360. Not too exciting unless you're a diehard football/soccer fan and buy more than one FIFA per year. But that doesn't mean Xbox One and 360 gamers don't have other new stuff to play…
The highly anticipated latest entry in Ubisoft and RedLynx's Trials series, Trials Fusion has just arrived on both Xbox consoles as a downloadable title. Fans of Trials' obstacle courses and super hard gameplay will lose many hours to Fusion. Meanwhile, PopCap and EA's Plants vs. Zombies: Garden Warfare has just received another free update and new Achievements on both consoles! Details after the break.
Trials Fusion
Trials combines motorcycle racing with platforming. Ostensibly you're driving down a series of obstacle courses, but those courses also happen to have insane leaps and all manner of pitfalls to test players' skills. The Trials series is all about trial-and-error, repeating super difficult courses until you finally survive them.
New to Trials Fusion are tricks that riders can perform in order to give their runs more flair. No longer do you need to just soar through the air after jumping off a ramp – liven it up with some moves! Tricks don't provide any rewards during normal courses, but special trick courses encourage players to experiment with tricks to their hearts' content.
Besides the usual array of dozens of courses (each with three optional goals now), Fusion also includes an all-new track editor. I hear the editor isn't very user-friendly. Hopefully a knowledge base will build up over time that players can use to learn its intricacies.
Trials Fusion runs at 900p resolution and 60 frames per second on Xbox One. Slightly below the Playstation 4 version's 1080 resolution, but at least it maintains a perfectly smooth frame rate.
Plants vs. Zombies: Garden Warfare
PopCap has committed to providing a steady stream of free content for Garden Warfare, and so far they've really delivered. Last month we got a new game type and map in the "Garden Variety Pack." This week, the "Zomboss Down" DLC brings even more new content to the game. The update clocks in at a whopping 2.8 GB on 360, where it's a separate download. The Xbox One version should simply update automatically.
New features:
Added new map Cactus Canyon (Gardens & Graveyards) – w/ cool Golf Bomb minigame at the end.
New card pack added to sticker shop "Zomboss Down" – This is the only place to collect the new Zomboss Down characters and customization.
8 new playable characters to collect.
200+ new customization items added.
3 new consumable plants (Bamboo Shoot, Fire Peashooter, and Ice Peashooter).
Now able to view party member locations during gameplay via a different colored Gamertag being shown over their character.
Added 10 new Achievements worth 250 GamerScore.
Character level cap increased from 20 to 30, with new star challenges to complete.
Players can now communicate with all other players in End of Round Screens
Added a 'Mute All' button to leaderboard on Xbox One – This function appears when you enter the leaderboard and highlight another user.
Numerous balance changes and optimizations
Garden Warfare is one of the best team-based shooters around. Seriously, a lot of gamers prefer it to Titanfall. With bright and colorful graphics, the trademark Plants vs. Zombies sense of humor, tons of unique character classes, 12-versus-12 online battles, and the promise of more free DLC to come, shooter fans can't lose with Garden Warfare.
Plants vs. Zombies: Garden Warfare – Xbox One – 10.1 GB - $39.99 – Amazon Link

(opens in new tab)

– Xbox.com Link

(opens in new tab)

Plants vs. Zombies: Garden Warfare – Xbox 360 – 2.43 GB - $29.99 – Amazon Link

(opens in new tab)

– Xbox.com Link

(opens in new tab)
Windows Central Newsletter
Get the best of Windows Central in your inbox, every day!
Paul Acevedo is the Games Editor at Windows Central. A lifelong gamer, he has written about videogames for over 15 years and reviewed over 350 games for our site. Follow him on Twitter @PaulRAcevedo. Don't hate. Appreciate!
I'm so getting Trials Fusion right now....awesome series.

Sir.. I tried to update my lumia 520 using a 3g connection ..
Everyrhing went ok till the 4th step that was mograting your data after that i was on my phones lockscreen and the phone had not taken any update and i was left with the lumia black..
Could you please help me out

There are two updates. The first only prepares your phone for the seconds. Look back in the updates settings section.

If anyone wants to compare times, feel free to add me. Gamertag is same as my name here.Xbox One players only though.

Hope trail fusion can come on WP for 1 GB ram devices

Woah! Can't wait to try out the new PvZ update! And I have always loved the Trials series... Looks like I will have to try out Fusion PS: What is with the huge difference in Trials Fusion file size between 360 and One? Much better graphics models I presume?

Most likely the graphics, but possibly sound too. I haven't heard about the 360 version lacking any modes or whatever.

any word on the mobile Trials game for windows phone?

When will PvZ 2 come for wp?

Loved Trials on 360 before. Evolution had one major flaw, the multiplayer needed a major fix. It should always have the local player in the foreground. Sometimes I would be the bike at the back, and at times, when we were neck and neck, it was often very difficult to see the bike. Glaring error in my book. It is critical that a player is able to see his bike, especially on such a physics critical game. I posted that to the Trials forums, with little joy.

I will be updating PvZ when I get home later! Good job PopCap

I guess developers are too lazy. Forza 5 1080p 60fps - trials 900p. Didnt know forza is less demanding game or they'll just keep using same excuse about Xbox one having more complicated structure than ps4 and it takes more time and costs to max it out. Especially when trials can easily run on high end phones. SMH

I don't disagree with you. But I would take the frame rate over resolution. Evolution had a couple of frame rate drops, I found. That really long one, can't recall the name, was the worst map for it.

True, but if you look at 30fps vs 60fps you wont see the difference, I understand that Turn 10 had more time to play with Xbox and tweak it to maximum, but common...comparing this games with huge difference in performance and visual effects, I just don't see how you can't do 1080p with only 2 things moving (bike and a guy) and simple damage and explosion physics.

Not saying I disagree, it is a devil that they didn't manage to get it up to the 1080 spot. If I'm honest, I would have assumed Tha 60fps and 1080p would be achieved by most games on this generation. I appreciate that things will improve over time, but the One launch was 8 months too early if you ask me. I wish they had spent a little more time on the hardware, got the specs up a touch. But, hey ho, this is where we are. Luckily the updates are more frequent. The fact that they are fixing stuff monthly is good. Better than waiting for biannual releases. And the sales have been very good so far. Credit to them for that.

Exactly. Sales are good especially if you look at how many markets Xbox one is selling on. 3 times less than ps4 and they just 2to1 behind. And of course support with updates and promised features. So far Sony just talks. Exclusives are better. Im so happy for Sony that they are so into supporting indie developers but that's not the reason I paid for next Gen console, Ryse, Forza 5, BF4, Titanfall, NBA 2k14 and upcoming Halo, UFC, The Division etc. That's the games I paid money for to have stunning graphics storyline multiplayer. And with DirectX 12 and upcoming improvements to MS ecosystem, PS4 will have to catch up in a long run.

I can tell the difference between 30 and 60fps. Just move the camera quickly and see how smoothly the screen updates. Also, I disagree about the laziness thing. That's a very naive way to look at things. Games have a specific schedule and budget and they have to stick to those things. The Xbox One development tools are way behind the Playstation 4's (especially up until the last month or so), which has hindered performance that developers could get from it. Forza 5 has had a much longer development schedule and higher budget being a AAA first-party game. Apples to oranges.

After 30fps human eye cannot recognize the difference, as long as it doesn't drop below 30, maybe you are superhuman. Move the camera quickly? We are talking about Trials here, static camera attached to 1 moving object. We are not talking about assassins creed or BF. And yes I understand its just an arcade game and AAA, but just at it like this, what if you take WPC app and make it different quality on all 3 platforms, how would it make you look in the eyes of your fans or fans of work you guys do? That's my point

I have to agree Paul. When I see people say That developers are lazy, I actually tend to think the comment is lazier. Roll on improved dev tools!

Just bought the game..... It most definitely does not maintain a smooth 60fps. Damned shame. It looks good, but 100% smooth, it isn't. And the text on the mini leaderboards is difficult to read, and my tv is not a small one.

"FIFA 14 World Cup Brazil on Xbox 360". I cried a little bit when they announced this wasn't coming to Xbox One. Now I have to wait till 2018 just to play a World Cup game. Super lame. I was going to take Trinidad and Tobago all the way too. And who knows how I'll feel about them in 2018. This may have been their only chance to win it all.

Surprised it is not a dlc to FIFA 14.

They will be bringing a World Cup DLC to FIFA 14 on Xbox One later on, they said, but I prefer the full World Cup video games (they really go all out on them, with a team for every country and so forth) they make instead, as I much prefer World Cup soccer to the professional league focus in regular FIFA. So, the FIFA 14 DLC will not satiate me, plus I'm still mad they didn't include tournament mode in FIFA 14 on X1, so I'll stick to the Windows 8/RT and Windows Phone versions for now.