Game Insight delivers The Tribez and Flower House for Windows 8 and RT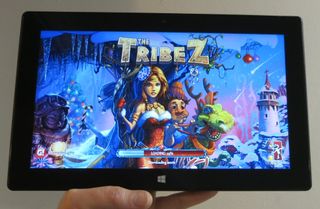 Game Insight, the king of city building games, has just released two new titles for Windows 8 and RT. First up, The Tribez (which already launched on Windows Phone awhile back) is now playable on tablets and PCs. The Tribez is a city builder set in a prehistoric fantasy world.
Secondly, Flower House (which we exclusively announced in December) has just launched on Windows 8 and RT as well. While Flower House plays a bit like a city builder, the focus is actually on growing, breeding, and collecting a huge variety of flowers and other flora. Both games are free to play. Read on for our impressions!
The Tribez
This game is tied with the upcoming Transport Empire as my favorite Game Insight city builder to date. The Tribez stands out with its appealing fantasy theme and bright, colorful prehistoric world. Give me that over plain old cities any day of the week!
The story involves players discovering a miles-deep portal to a previously undiscovered region populated by simple tribesmen and ancient creatures. You know, like Journey to the Center of the Earth but less dangerous.
The Tribesmen you meet in the subterranean wonderland will happily cooperate with your research. In fact, you'll use your advanced technology and know-how to help expand their village and make it a safer place to live. Players must help grow food for the tribe, earn gold to spend on buildings and upgrades, and harvest a wide variety of resources and building materials.
Unlike some city builders, The Tribez doesn't limit progress with an energy mechanic. Instead, you'll have to manage individual tribesmen and their tasks. If all of your workers are busy, you can't start a new task until one of them finishes what he or she is doing. Players will also have to fend off attacks from less civilized tribes by rapidly tapping the invaders, lest your buildings burn and stop producing resources.
As your village grows, you'll discover new mysteries and artifacts such as downed airplanes and new portals. If you enjoy checking in throughout the day to collect resources and direct your workers, you'll love The Tribez's sense of wonder and whimsy.
Unfortunately, The Tribez does not appear to support cloud saves at this time. Maybe that feature will come in the sequel, which hopefully will make its way to Windows someday,
Flower House
As you might guess from the name, this one is a casual simulation game about raising and selling flowers. I don't think it lets you eat the flowers, which you also probably could have guessed.
Although Flower House is not technically a city builder, it shares most of the same mechanics. You start out by buying a flower pot and seeds. After watering the seeds, the plant will take a certain amount of real time to grow. Then you get to cut the flowers and sell them.
As the game progresses, you'll not only buy new plants, you'll also get to create plant hybrids. For instance, mixing a lily and a calla will produce a lily calla. It's nothing too complex, but if you enjoy flowers and plants, you'll get to play around and collect a variety of them in Flower House.
Naturally the game has social elements too, so flower eaters, I mean lovers, will get to visit their friends' flower houses and see what's a-growing. Who will create the loveliest floral arrangements?
Flower House is also due to arrive on Windows Phone within the next month or two. In the meantime, you can grab the Windows 8 version and start your garden growing on tablet or PC.
Get the Windows Central Newsletter
All the latest news, reviews, and guides for Windows and Xbox diehards.
Paul Acevedo is the Games Editor at Windows Central. A lifelong gamer, he has written about videogames for over 15 years and reviewed over 350 games for our site. Follow him on Twitter @PaulRAcevedo. Don't hate. Appreciate!