Trine's Hangman goes Mango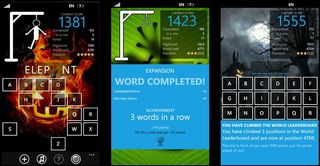 The popular Windows Phone word game Trine's Hangman has gone mango. Version 1.13 brings fast resume, deep tile links to take you straight to your game screen, and ringtones. Yes, ringtones. If you like the songs used in the game you can save them to your Windows Phone as custom ringtones.
The deep link tiles are a nice feature to allow you to skip the intro screens and menus to get right to the heart of the game. It's also a nice feature if multiple players are using the same Windows Phone. Just create a tile for each player to give everyone quick access to Trine's. Along with all the mango features, the update includes the following changes to Trines.
Added functionality so you can report misspelled words to me with one click
Improved the WikiPedia-look-up, it will give results more often
Now you can look-up words with Bing and Google in addition to WikiPedia
Adjusted space for scores and highscores in the game page and high scores page
Added option to share your player-page by Facebook/Twitter/LinkedIn
Added option to share info about the game to friends by SMS/e-mail/Facebook/Twitter/LinkedIn
You also have various spelling corrections and bug fixes with the update including fixing the problem of listening to Zune while playing Trine's Hangman. Gydar Industries, Trine's developers, are already working on the next update to the game as well as another hangman game based on everything they learned and that has been suggested from the Trine's Hangman game.
The update went live this morning so expect to see the update notification soon for those who are already enjoying Trine's Hangman. For those who haven't given Trine's a try, it is offered in two versions. There is an ad-supported, free version of Trine's Hangman here (opens in new tab) at the Marketplace. You also have Trine's Hangman Pro which is an ad-free version that runs $1.99 and you can find it here (opens in new tab) at the Windows Phone Marketplace.
Oh... the trailer is from an earlier version of Trine's but it's such a good trailer we couldn't resist sharing it again.
Windows Central Newsletter
Get the best of Windows Central in in your inbox, every day!
George is the Reviews Editor at Windows Central, concentrating on Windows 10 PC and Mobile apps. He's been a supporter of the platform since the days of Windows CE and uses his current Windows 10 Mobile phone daily to keep up with life and enjoy a game during down time.
This is my second favorite game and I'm so happy they finally Mangoized it. Now if only SpellIt would get updated. Get your head in the game Code From Home!

I'm happy that this game is now Mango, however it didn't fix my one complant about this game. When I play this game, afterwards, other programs and games on my phone will fail to load (Fable Coin Golf is an example). I've very sure that Trines Hangman is the cause, because I can run the work game beforehand, but then after I play Trines Hangman, the problem will occur until I reboot the phone.

What other apps show this problem? I have not seen nor heard of this happening before.

I have never heard of this issue before, not seen anyone report it before. So I was not aware of this.

It should not be technically possible for any app to tamper with any others apps, since all the apps run in their own storage/memory. And I do not do anything "special" in the game, just plain old C#.Net code.

Could you try to uninstall the game, and install again, and see if it still occurs. And also check if this only occur when you have started Trine's hangman?

The reson I ask that, is that I have experienced myself that sometimes "something weird happens" when I install an app from Marketplace (have not experienced it with mine yet, but it seems to be a Marketplace thing, and not app thing though). After installing the app, something look weird, but after reinstall, all is fine.
I have also experienced this when deploying apps from Visual Studio to my phone. When this happens it seems that the weirdest things can happen, I have seen icons that look messed up, screens that behave strange and so forth. Since I deploy to my phone many times every day, I have seen this a handfull of times. A reinstall have always fixed it. ...not an upgrade, that behaves differently, but a full uninstall, and then install.

Can of course be something completely different that you experinece. Any info you can give me would be usefull.

I agree it is weird. I just uninstalled Trine's Hangman and reinstalled again just to make sure my install wasn't bad. But it didn't change anything. For more detail here is the process. 1. I can start of the 'effected' apps (Angry Bird, Fable Coin Golf, Full House Poker, ilomilo, Orbital, Shuffle Party are all apps that seem to be effected, where as iBlast Moki and Fruit Ninja have no problems). At this time the apps will run correctly. 2. Open Trine's Hangman and play a few boards (sometime problem doesn't occur if you only play a single board), but it doesn't take much, usually if I play about 5 boards will be enough. 3. Now try to open one of the above listed apps. Most will crash while loading, a few (like Angry Birds and Full House Poker will load, but then crash when you try to play). A reboot of the phone will fix the problem. XBOX Live games seem to be most effected, I think GoVoice was also effected as well (but I use 'GV for WP' now, so I'm not 100% sure on that). I would like to know if other have this problem, as I can make it happen on my Samsung Focus everytime if I do what I have listed above. Just released you are the developer! Just to add, I do love the game and this is also with Trine's Hangman Pro (not the free version, so I don't know if that makes a difference).

Thanks for lots of good info, that will be very usefull to me!

I will test out those games in the weekend, and see if I get same problem. If I can reproduce the issue, then it should be easy to find out...I hope at least :)

The free and pro versions are the exact same code, it just hides the ads in PRO, so not strange that you get same behavior with both.

After approx 5 completed words, the game uses internet connection to check your position on the leader board. But that is just plain internet-stuff, so its weird that that would affect any other games. The game is also closed when put to background as any app. But that might be an clue here, since you said it seem to occur when you have played approx 5 rounds.

Will investigate in the weekend, and see if I get same problem. I have a HTC Titan, but I can get a friend of mine to test with Samsung Omnia 7 too. I will post back here when I have tested a bit.

Thanks again for the tip!



I love Trine's Hangman. Happy to see the new features!

Hi again Trib,
Even though it should not be technically possible for one app to affect another app on WP7, I have spent a few hours testing...since one can never really be 100% certain of anything :)

I have tested this quite extensively on my phone, with Angry Birds and Fable: Coin Golf, and I have not had any issues. Each time I have completed more than 5 words, in one test I completed over 40 words, to be sure.

I have even tried a lot of different approaches, exiting Trine's Hangman with windows button or back-button, with or without internet (and even both WiFi only and 3G only).

Every time I am able to start Angry Birds and Fable: Coin Golf without any problems.

I even have done a couple of tests on a friends Samsung Omnia 7 without experiencing this.

It seems that there is something else wrong on your phone?
Or that you do something else than me.


Thanks for checking into this for me. It would sound like it is my phone. Perhaps I need to do a reset. But perhaps I'll also try a fresh reinstall of the new version you just released.

BTW
I have just completed the next version (1.14) of Trine's Hangman, will send it in tonight. Just want to spend a couple more hours testing it.

If all goes well, it should be in Marketplace in time for Christmas :)

See info about whats new in 1.14 here:
http://bit.ly/thANMw

And since it soon is Christmas I added two new backgrounds for the occation:
http://bit.ly/uinMAb
http://bit.ly/tezNFV
Windows Central Newsletter
Thank you for signing up to Windows Central. You will receive a verification email shortly.
There was a problem. Please refresh the page and try again.