Triple Turtle Beach gaming headset review: Recon 50, PX24, Stealth 450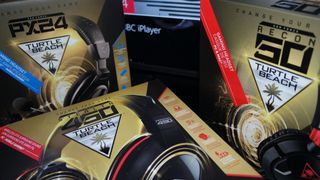 Over the holiday season, hundreds of thousands of Xbox Ones and gaming PCs will be sold to consumers. The Xbox One comes bundled with a solid, but basic mono-piece headset for Xbox Live party chat and there are hundreds, maybe thousands of headsets available for use on PC. However, any serious gamer should consider buying a dedicated gaming-focussed headset if you play more than a few times a week - particularly if you're multiplayer inclined.
In this article, I'll be detailing my experiences with three affordable Turtle Beach headsets for both Xbox One and PC - the Recon 50, PX24 and wireless Stealth 450.
Turtle Beach Ear Force Recon 50
The Recon 50 is the cheapest headset on this list, and one of the cheapest offered by Turtle Beach, clocking in at around $40. I had low expectations of the headset given the price, but I found myself pleasantly surprised.
Features:
Wired Stereo Headset
Speakers: 40mm diameter speakers with neodymium magnets
Frequency Response: 20Hz - 20kHz
Speaker Impedance: 32Ω
Headband/Earpad Material: Synthetic Leather Headband and Earpads with Foam Cushioning
Microphone Design: Removable Omni-Directional Microphone
Earcup Design: Around-Ear (Closed)
Compatible with Xbox One, mobile, PC and PS4 via 3.5mm jack
The cans themselves are cushioned with a generous amount of foam and are comfortable around the ears. They're wrapped in synthetic leather that I always find to be clammy and uncomfortable over long periods of time - but plenty of people prefer the leather feel as opposed to fabric. Synthetic leather tends to contain audio better than fabric-based cushioning if you're concerned about annoying other people in the room with leaky cans. The headband itself has an insubstantial strip of cushioning which concerned me at first, but given how incredibly light the headset is it didn't become a problem, even after several hours.
The light weight of the headset, while comfortable, made me wonder how hard-wearing it could be over several weeks and months. As a serial headset snapper, brittle plastics can be worrisome, but the Recon 50's headband felt reassuringly sturdy, even after putting a considerable amount of pressure on them. The mic boom felt a tad rigid compared to some of the highly-flexible booms seen in other Turtle Beach headsets, but it should satisfy most situations (even if you fancy detaching it completely).
The Recon 50 headset isn't going to compete with the likes of Turtle Beach's $100, $200, $300 headsets, but they're not supposed to. Despite being on the cheaper end of the spectrum, they're adequately comfortable - disregarding my preference for fabric cushioning. I was able to forget that I was wearing a $40 headset fairly quickly.
Turtle Beach seem to have made most of the savings on the Recon 50's feature set. Unlike some of Turtle Beach's other headsets, the Recon 50 has no frills like Superhuman Hearing, active noise-cancellation or native mic feedback. It has in-line controls for mic muting and volume, but when combined with the official 3.5mm
Speaking of audio, despite missing out on some of Turtle Beach's higher-end features, there's little to complain about when it comes to sound quality. The Recon 50's stereo audio won't blow you away like Turtle Beach's DTS 7.1 surround headsets, but it's a step up above my basic Samsung TV when it comes to immersion.
The Recon 50 headset is an impressive piece of kit given the price point. If you're looking for an entry level headset before jumping in at the deep end, the Recon 50 might be a solid bet.
Turtle Beach Ear Force PX24
The Turtle Beach PX24 is another low-mid range headset offering, clocking in at around $80. It's double the price over the Recon 50, but is it double the features?
Features:
Wired Headset with Turtle Beach Virtual Surround Sound
Speakers: 50mm with Neodymium Magnets
Frequency Response: 20Hz - 20kHz
Speaker Impedance: 32Ω
Headband/Earpad Material: Synthetic Leather Headband and Fabric Earpads with Foam Cushioning
In-line Amplifier
Microphone Design: Flexible Omni-Directional
Earcup Design: Around-Ear (Closed)
Compatible with Xbox One, PS4, mobile and PC via a 3.5mm jack
Perhaps the most noticeable bump in quality can be found in the PX24's materials and general construction. It's a heavier solution than the Recon 50, but that seems largely due to better quality materials and more generous cushioning. The PX24 uses synthetic leather for its headband, which feels incredibly nice and gives it a premium look. On the inside, the cushioning is thick, coated in an airy fabric that I think is better suited to long sessions as opposed to the faux-leather cushioning found on some of Turtle Beach's other sets.
The plastic around the hinges and the adjustable headband feel hard-wearing and should resist general knocks and extensive bending (although, it's not recommended that you test these aspects yourself). The mic boom is far more flexible than the Recon 50's, but sadly it's permanently attached - you'll probably not want to wear these during a commute for music (you totally could, though). The build quality is what you'd expect of a more expensive headset - reassuringly solid, premium-looking, and above all, incredibly comfortable. It's refreshing to see this sort of quality at this price point.
For twice the price of the Recon 50, you're not only receiving improved construction but vastly expanded features. The PX24 has virtual surround sound, which added an additional level of immersion while I was creeping through the ruins of Fallout 4's Boston. They also come packaged with an in-line amplifier, complete with Turtle Beach's signature Superhuman Hearing, EQ pre-sets and other standard controls. The amplifier grants the PX24 the most consistent, natural sounding mic feedback I've heard across the entire Turtle Beach range so far - which is surprising given the headset's lower price point. The microphone itself also seems to deliver solid audio for those on the receiving end.
As mentioned, the amplifier also grants Turtle Beach's Superhuman Hearing. It ramps up a game's background noise but enhances subtle sound effects that might usually go unheard, like enemy footsteps or clip reloading. Superhuman Hearing can grant an edge in multiplayer, and I've found it helpful using some of Turtle Beach's higher-end headsets, but the background noise it amplifies in the PX24s makes it a little annoying in single player games. Thankfully, you can adjust the audio at will, with more tinkering you could probably find a setting that complements your personal preferences while still enhancing play.
The in-line amp, however, requires a power source, charged via a micro-USB cable. Personally, I'm not sure the enhancements are worth the extra hassle, particularly if you have the additional controls that come with the official Turtle Beach Xbox One 3.5mm adapter. If you're on PC though, you'll likely find it worthwhile.
Overall, the PX24 offer a generous boost in quality and features over its cheaper Recon 50 cousin. These would make a solid Christmas gift to any budding gamer, but I think if you're ready to spend more to improve your Xbox One experience, you might want to consider spending a little more to get the XO Seven headset, or even one of Turtle Beach's wireless offerings - such as the 420X or 500X.
Turtle Beach Ear Force Wireless Stealth 450
Speaking of wireless headsets, we're also looking at Turtle Beach's Stealth 450, designed specifically for PC. This headset is only fully capable on PC, but its features and design are very similar to the Xbox-licensed 420X, which I reviewed over here.
Features:
Wireless PC Headset with DTS 7.1 Surround Sound
Speakers: 50mm with Neodymium Magnets
Digital Signal Processor: Digital Signal Processor for EQ Presets, Master and Mic Monitor Volume Controls
Audio mute: Audio mutes automatically when carrier signal is lost
Shut down: Automatic shut down after approx 10 minutes of carrier loss or silence to conserve battery power
Speaker Frequency Response: 20Hz - 20kHz
Battery life: >15 Hours
Digital Wireless RF wireless carrier reception.: 2.4GHz
Speaker Impedance: 32Ω
Headband/Earpad Material: Fabric(Black) with Foam Cushioning
Earcup Design: Around-Ear (Closed)
Microphone Design: Removable Omni-Directional
Battery: Rechargeable Lithium Polymer
As mentioned, the Stealth 450 shares some features and designs with the Xbox One licensed Stealth 420X headset. Both connect via a discrete USB dongle, hassle-free and are charged using a standard micro USB cable. This headset will work for audio via a 3.5mm jack on Xbox One, but the microphone only functions on PC. When you're using the Stealth 450 plugged into a 3.5mm jack on phones or Xbox One, the pairing lights on the speakers flicker, making your head look like a novel Christmas decoration. If there's a way to turn that off, I'm yet to discover it!
Despite being more expensive than the PX24, I find the Stealth 450 to feel and look a little cheaper at face value. The 450 sports the same fabric cushioning, which is generous and comfortable in all the areas it needs to be. They're nothing spectacular design wise, sporting a mismatch of matte and gloss materials, saved somewhat by some attention-grabbing red-colouring. Like the 420X, the plastic on the adjustable headband might feel a tad brittle, but I can confirm after using the 420X for several months as my go-to Xbox One headset; looks can be deceiving. The 420X has been incredibly hard wearing, and I expect the same from the similar-feeling Stealth 450.
As a wireless headset, the 450 packs most of its controls onto the cans themselves. It can be disorienting to learn the positioning of all the different controls without looking, but it doesn't take long - and of course, you'll benefit from complete wirelessness. When you press the controls, an inbuilt voice informs you what action you've just performed. It's helpful at first, but over time the voice can be annoying, particularly as it mutes all other audio when you activate it. The ability to turn the voice off via a desktop app would be pretty nice for future versions.
Speaking of the 450's controls, they feature a mic mute button, EQ presets (including Superhuman Hearing), an illuminated power button and volume controls for both the microphone and the in-game sound, giving you a decent amount of control over your experience. The 450 also features mic-monitoring, which I find to be slightly more consistent than that of its 420X Xbox sibling.
I speculated in my 420X review that Turtle Beach compromised on the build quality to cut cost due to the wireless tech inside - and frankly, if true, the trade-off is more than worthwhile. I've used other wireless headsets before, but Turtle Beach's are by far the most solid when it comes to the radio signal strength. The 450 delivers the same crystal clear audio through walls, at distances that I've found to exceed the listed 30 feet. The convenience on offer is a truly wonderful thing - simply plug the USB dongle into your PC, follow the pairing instructions in the box and you're good to go. The only time you'll need a cable is to charge its impressive 15+ hour battery (which, by the way, doesn't negatively impact the headset's weight).
Despite being slightly cheaper than the 420X (perhaps due to licensing), the Stealth 450 exceeds its Xbox One relative with DTS 7.1 surround audio - which is a notable improvement when comparing them directly to the other headsets in this article. The audio offered by the Stealth 450 is frankly addictive, and it's especially nice to see this sort of quality at a comparably lower price. To achieve this level of wireless Turtle Beach audio quality on Xbox One, you'll have to go all the way up to the $230 500X, for example.
The Stealth 450 headset seems to build on what the 420X started a few months back. At $130 (currently discounted to $100), the Stealth 450 are an absolute steal for PC gamers. I think you'd be hard pressed to find a headset that offers such great audio, wireless reliability and features at this price point.
Windows Central Newsletter
Get the best of Windows Central in in your inbox, every day!
Jez Corden a Managing Editor at Windows Central, focusing primarily on all things Xbox and gaming. Jez is known for breaking exclusive news and analysis as relates to the Microsoft ecosystem while being powered by caffeine. Follow on Twitter @JezCorden and listen to his Xbox Two podcast, all about, you guessed it, Xbox!
I've got the xo four and they are amazing for a stereo headset. The sound from them is pretty clear slight cracking at times but not often. They are also, by far, the most comfortable headset I've used Posted via the Windows Central App for Android

The XO series are really awesome.

do these work with windows 10?

Hi, I m confused between the PX24 & the XO7 pro for my xbox1, which one should i get? the PX24 has virtual surround mode which the XO7 pro doesn't have, does thta mode really make a difference? Thanks.
Windows Central Newsletter
Thank you for signing up to Windows Central. You will receive a verification email shortly.
There was a problem. Please refresh the page and try again.