Trivia Crack ends support for Windows and Windows Phone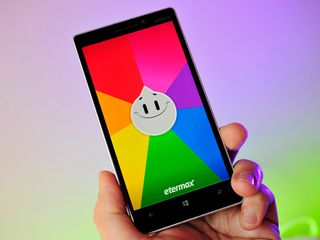 Developer Etermax has ended support for its popular game Trivia Crack for Windows and Windows Phone. The game is no longer available for download in the Windows Store.
We received a tip from a Windows Central reader who contacted Etermax about the status of Trivia Crack on the Windows platform. He received the following response:
We also confirmed that Trivia Crack can no longer be found when searching in the Windows Store, nor could it be downloaded when we used a direct web link to the app. Trivia Crack first launched for Windows Phone in September 2014, giving gamers access to over 100,000 trivia questions across six different categories, and later updates added support for new features like messaging, achievements, and online rankings. A version for Windows 8.1 and Windows 10 launched less than a year ago in November 2015.
Thanks again to Mike for the tip!
I liked the game a lot, but a bug that made the app in Spanish

Mine was in Spanish... :\

Si, a mi también me pasaba igual :/

I remember getting really into this... I also remember it being another Ruzzle/Flappy Bird that got ludicrously popular only to become ludicrously unpopular just as quickly. Used to see people all over my FB feed asking for help about this game... that has since flatlined, as did my interest in it... and if their social media is any indication, it's flatlined all across the board. Still, it'd be uncharacteristic of the Apple shills hangin' out in our community to do anything other than making this molehill into a mountain... so I'm sure this *super-relevant* game will be WP losing a championly app... and the last nail in the coffin that ends WP for good... but realistically it doesn't seem much of value was lost here.

I played it a lot at first with friends oh ios but they lost interest as did I. Heck sometimes the right answers to questions were wrong.

Typical Microsoft apologist response.

Not everyone sits around and plays games you know. Posted via the Windows Central App for Android

Some of you really need to get your act together. It doesn't matter that 'not everyone sits around and plays games...' what matters is that THEYSHOULD BE AVAILABLE for those that do and for those who might consider the Windows Platform, coming from another; it's like saying it doesn't matter to lose an app that you personally use. We simply shouldn't be losing anymore apps whether they are fun, entertaining, productive or whatever because when we start losing apps that are important to users, we are likely to even lose them too, the smaller the userbase, the less the support which eventually leads to the end of the Platform we all enjoy using for whatever reason. For example, I for one need two phones, one that I use for my business which I can turn off at anytime and the other for personal use. I used to use my Lumia 950 and 930 but due to these app issues, I recently decided to leave my 930 as a spare phone and instead purchased a Galaxy, so I get the best of both worlds. Despite my 950 being my primary phone, I often find myself using my Galaxy more because everything I need, is available on it. While I do love my WIndows Mobile devices, the 950's camera and few other things are what's keeping my primary device a Windows Mobile device ...but with rumours of what the Nokia flagships hardware are capable of, I can see myself easily replacing my 950 once they are released. I'm looking forward to what MS has in the works as well but the app issue is not something to be ignored.

Yip I was thinking that myself. Rumour of 23 mp camera so far..

Holy ****. I fell asleep in the second chapter.

Well, don't wake up. I just use my iPhone. Problem solved.

That's what I would suggest if the app/game is of such importance. I'd switch if Office wasn't available or if I couldn't connect to the enterprise or access ERP, LMS or CRM.

Hi! Can I ask what can u do more on your Galaxy than on your 950?

Well, he has this app, and the one that does that.. Oh, that app is hot, and don't forget about this one, and that one, that, that, that, and that... And, his credit union app is probably his most used one........... ****! Forgot about those three. Wait, what did I miss?

I'm on Galaxy too and with the exception of like three apps, there isn't anything these phones can do that WP can't. In my personal experience, the app gap is widely overstated. Posted via the Windows Central App for Android

In terms of hardware and device features the Galaxy doesnt do anything more than my 950. But in the app department and off the top of my head, here are what I use on my galaxy that i cant on Windows:
-My banking apps for example arent available on Windows and I use those often.
-Local Cinema theatre apps for booking and checking
-Snapchat
-LinkedIn is a night and day difference
-Local apps for governmental related things such as being able to check my speeding/parking tickets
-Insights for my social media business accounts Many times if Im on my Galaxy, I find myself just using the apps that do exist on Windows, on my Galaxy because its already in my hand. I wont even bother listing the ones I use for entertainment that aren't available on Windows. At the end of the day, its always good to know that when I need an app, I dont need to worry about availability. With all that said, my 950 remains my primary device because aside from the fact that love the OS itself and it feels so much less cluttered, Win10 is very snappy and fast on the 950, the camera amazing and I also enjoy using the Windows keyboard ALOT more, as well as Edge.

I felt like you abduz, I had the S6 edge and loaded out up with apps I couldn't get on Windows and then the same ones for comparison. Everything felt so cluttered on Android. And before anyone says it, yes I've used stock android as well and it's also aesthetically grating. It was nice to have access to the types of apps you mentioned but in nearly every case I rarely used them on Android either. The banks I need are here and I use the mobile sites for everything else. Including parking tickets...(I live in midtown of my city and man do I get parking tickets!) This is of course my personal use case and others will likely use local banks and Snapchat much more than I do. And I do miss the Poweramp application but it's old hat to me now anyways.

I'm not sure if you're serious or just being sarcastic, and I can't speak for the OP, but only for myself. I still use three Windows phones from time to time, and have been using Windows since Windows Mobile 5 on my old Qtek. (My 930, my 950 and my 550 are my 9th, 10th and 11th Windows phones respectively, and I still love the OS, even though 8.1 > 10 imho.) Here's a small list of the apps/features I use on my Android phone that are lacking from Windows: Swedbank (we have a wonderful 3rd party app for Windows named Bankappen made by andrec André Claesson, but the official Swedbank app is still missing.) Hearthstone Pokémon GO WoW Armory Studentkortet & Mecenat (student card apps for university students, to get student discounts etc) McDonald's Pressbyrån Mobile Nations apps (Android Central, CrackBerry, Connectedly, and ofc Windows Central) Chromecast! (YouTube/SVT Play/Twitch/TV4 Play/Netflix/Spotify) Spotify Connect CSN SJ Västtrafik To Go Firefox I don't use Snapchat. Doesn't even have it installed. But I do download the occasional store app when shopping, which are ALWAYS missing from the Windows Store (IKEA, Coop, Willy's, Lidl, Ica etc). And the official reddit app. And I was even able to try Apple Music (which I didn't really care for. Spotify is still light years ahead.) My Android phone can do everything my Windows phone can do.*
My Windows phone can't do everything my Android phone can do. (Except Continuum. But I don't use it and I have no use for it. If I want to use my computer screen I use my desktop gaming rig. If I want to Miracast to the TV instead I use my Surface Pro or my laptop to get a full Windows experience instead of using my phone.)

I agree that sucks big time great App! with this kind of thing happening no wonder phones are going down in sales.

So you wrote all this because I replied to someone that attacked someone because they never heard of the game... LMAO. Cool story bro. Posted via the Windows Central App for Android

When I look back and read it, I can see why it triggered that response but I also see you were simply defending them literally never hearing about it.

Agree. I used Windows phones for last 4 years. Sadly, because of MS ignorance and developers abandoning platform more and more I had to jump over to stupid Android. And I hate it! It's ugly and I miss live tiles. But, it has all I need and all I don't need. And all of that works great! S..t, even MS office apps works better than on Windows mobile! I don't have a single game on my phone, don't have Fb account, twitter nor instagram. I don't have snapchat account either. I use phone mainly for internet and simple office stuff. Still, I understand how one can be frustrated not having Snapchat and some games (someone said Pokemon?)
With that attitude, lack of any type of marketing and hate for their own products, WP division can only survive by miracle. And I don't want to be lab rat any more. Sorry, MS. Posted via the Windows Central App for Android

Soon apps will be dead, bots will be playing games on your behalf :P /s

I totally agree. Those of us who love our Windows phones are getting screwed because Microsoft keeps ******* off the developers of apps and games. Soon we won't have a reason to have a Windows phone. Personally, I don't like Android or Apple.

.....or he's never heard of it. No need whatsoever to be arrogant.

OMG someone actually understood what I said. *bows* There is intelligence here. Posted via the Windows Central App for Android

Well what you say is true. It is an apology and it's typical. They promise to continue to support their active users..... Those users that are still active are on other devices, just not on Windows Mobile. Hint hint.... Get and Android or IPhone..... Oh wait you were talking about the guy you were replying to, lol... Either way what I said was true. And how is what he said an MS Apologist comment? How is it MS's fault nobody plays the game? Secondly, I never heard of the game either and never played it, which is 100% true... Am I suddenly apologizing for MS?

End support at the end they come up with UWP app, what's the need. Am sure they are st work with windows phone 10 mobile. app

not sure at all, but it seems to be the pattern for some reason

Lol. Right. I can't believe I responded in the first place.

I call it a keyboard stroke.

I stop playing it a long ago. Bye Bye and don't come back... We don't need you

You don't...but others do.

It's amazing how EVERY time an article is written about an app retiring the fanboys appear on cue to denigrate the app in any way they can think of. It's quite a sad thing to see over and over again.

He'll probably be the same person praising them if they happen to make a UWP later on.

It's amazing how EVERY time and article is written about an app retiring the haters/trolls appear on cue to denigrate anyone that could care less in any way they can think of. It's quite a sad thing to see over and over again.

And article doesn't even have to be anything negative. It could be about w10m gaining 50% market share and they'd be ranting on about "dead platform", "Nutella" etc.
Haters gonna hate.
And that's not even amazing..

Nadella DESERVES to be insulted, fully. He carries HIS iPhone in public wo any problem. I call this stupid.

You're one to talk buddy...

We don't need apps by your logic; A phone's a phone, all y'all whippersnappers only need calls and texts (/s)

That's what I need, but my 640XL speaker is so quiet on speakerphone that I can't hear it.

Please change your profile picture.. It looks too much like mine.

I played it a few times and after that pretty much never. But sad to see any games or apps leave the store.

I forgot about this app really, but disappointing that it left though.

Played this all the time with family :(

If that's the case then you still can. It's still going to work if you are a current user. And based on your statement you either are or were, so no worries for you!

My active App has been convered to a bunch of ads. The game is gone! Sad!

And as gwgarcia67 posted below, you can download it right now if you go to the trivia crack website or search for it and link to their site. The Windows store icon links to the app https://www.windowscentral.com/e?link=https2F%2Fclick.linksynergy.co...

The app doesn't even open in one go now. It first crashes a hundred times and then it might open if you're lucky enough. Stopped playing it long ago.

You need to look at the bright side. You didn't have to launch it 101 times before it opened.

Does on Android! i play it daily.

Was a fun game, just got tired of it pretty quick.

I didn't realize that game was still being played. I stopped playing after I kept getting the same questions.

Yeah. I remember loving it for a couple months :).

Here we go again. Another one bites the dust. Any good news soon?

Just curious but do apps even leave ios and android???

That's a really good question

No. They just become unpopular Posted via the Windows Central App for Android

But probably still supported lol even if they are never played. Posted via the Windows Central App for Android

Actually there are likely thousands of apps no longer under active support or update in the competing Stores. We simply won't hear about it as it is not news. In this case, many are noting they no longer play and have lost interest. Were there millions of apps in the Microsoft Store, this would not even be reported. The interesting thing is when an app developer says they will not support Windows. Windows Phone I get. Windows?

I agree. Just apps leaving there are usually because that no one uses them, so that's the answer why no one notice that. Other than that it might be that they are widely used but have poor monetization, but that's much more rare, but it happens and then it is usually noticed.

It's available for Android. https://www.windowscentral.com/e?link=https2F2F... I don't know about iOS. Posted via my Moto X Pure Edition using the Windows Central App for Android

I don't think that's what they were asking, but the link is appreciated I'm sure. They were wondering if apps in general that are no longer popular are pulled from those stores. This link still works for the Windows store https://www.windowscentral.com/e?link=https2F%2Fclick.linksynergy.co...

So far the only thing I've ever noticed with Android apps is that some Twitter apps no longer allow new users, due to the limitations Twitter imposes. However, those apps don't get pulled and even get updates for current users. I know the Android Twitter app Fenix had that happen. Posted via my Moto X Pure Edition using the Windows Central App for Android

See that's the part I don't understand. For years companies were content to just let their apps languish without updates on Windows Phone 8. Now they just pull then when they work perfectly fine. If everyone pulled their app from the store when there was low usage, some major hits would have never become what they are today. I assume it must cost them to leave an app in the store or something. They will get the odd request for a bug fix but other than that I don't get why its so hard to let a game just sit.

Yes. Especially on android. That store feels like a digital wasteland compared to windows and iOS. 90% are abandoned or badly outdated apps and the amount of "guides" or "cheat" apps is incredible... I doubt there are more than 100.000 apps that get updated regularly.

I think I played it like 5 times almost two years ago. Shame it's gone, though. Sucks for anyone that was really interested in it.

Again? Time to see other options.

C4rlos G, you can still download it if you go to triviacrack.com and click the Windows phone link. No other options required if you have it.

There gees another one...

I really hate to see anyone leave the platform, but they do what they feel they must. Windows Central, any other options out there for anyone that may be interested in this type game? That may be helpful to some.

And FYI, I just bing searched the game and found it in a WC article from 2014 and the link did in fact take me to the game and I downloaded to see if it would and it did.

And on the Trivia Crack site it also still lists the game as being available for Windows Phone and has the Windows logo as well. That link also took me to the game that IS STILL in the store as of now.

Hey you are absolutely right. I just downloaded it just because and will use it again to see what happens going forward. I've long stopped playing it though. Get it while its hot! https://www.windowscentral.com/e?link=https2F%2Fclick.linksynergy.co...

Same thing here. I'm surprised this worked, but it actually did. Haven't played the game in a year and a half, but figured I should download it just in case.

I sent a tip to Windows Central and cited your comment/username. If anyone wants it, now's the chance for them to get it. I just downloaded and signed in just because.

This game was boring let them go

The only reason i didn't ditch my 950xl yet is that i don't have money to buy an iphone ☺

How the hell did you put an emoji in your comment? Posted via the Windows Central App for Android

Oh, it works now? The last time I tired, the comment didn't upload until I removed it. Lol Posted via the Windows Central App for Android

Save up and buy the new 7 next month or get a 6s after they get cheap. At least you know itll be supported for 3 years.

:))) seems any comment related to going by another platform results in downvotes :))) 6S would be a great option, or SE for those who like smaller phones. BTW, IOS 10 in it's beta stage has zero issues and it's fast and stable...win10mobile after a year and is still full of bugs..lol

Uh, there are plenty of bugs and known issues in iOS 10... Don't try to fool people please.

Don't forget the #1 issue that's been present since version 1: It sucks.

Buy an OnePlus 3. High-end specs for 400$. Or some other Android-phone. iPhones are not worth the money, unless u REALLY love iOS. Samsung Galaxy S7 is not more expensive than iP6S but it is more powerful and has much better screen, camera and battery.

Screen? Nope, Cheap amoled. Camera? Nope. Battery? For the first 2 weeks when lagdroid is still performing decently, maybe. Overall a really bad experience and don't get me started on data security

There is still QuizUp. I have not played it, but I remember this being another popular trivia app that came to Windows Phone soon after Trivia Crack, if anyone wants to give it a try.

Never worked that well for me anyway a notifications would never work.

Apps escaping from store these days
Maybe the box is full and no place available

At the end, everything will stop for windows mobile. Too bad, but it is Posted via the Windows Central App for Android

I contacted them as well (sent WC the tip too) and got the same response. I also emailed them back and suggested the look into the UWP. Got the following response back: Hello,
Thank you for getting in touch with us, it's great to hear from you.
We understand you and apologize because of the situation presented.
We will consider your suggestion, but by the moment the app will be not more available.
If you have any other questions, please let us know.
Don't forget to check out our FAQ and follow us on social media.
Have a great day!
Kind regards,
The Etermax team

It would play well from the XBox too if a UWP.

UWP is failing for two reasons. First, Nadella let the phone market collapse. Second, no one seems interested in releasing UWP apps on Xbox. So a UWP app is just a desktop app, and desktop sales are in decline too.

More like Nadella made sure the phone market will collapse. Only of you look at the horrible quality win10mobile is compared to 8.1 in terms of speed, reliability, stability and performance. Some have tried it, seems that many have ditched it. I've tried to use a 950, but seriously, it had bad battery life, lags everywhere, low quality or missing apps, broken L2TP VPN...I really liked the phone itself, but the software experience on it was a total mess..

https://www.microsoft.com/nl-nl/store/p/trivia-crack/9wzdncrdppzt Still showing to me!

To be fair, Amazon said the same thing and then landed a W10 app. Can't imagine they'll give away plans either. WC sadly have a habit of making a headline of these, the trolls have a habit of descending to bait you all, where it then becomes a story. I've got hundreds of unsupported apps on the iPad, difference is - Apple and the iCabal sites don't go around headlining minor events as negatives.

I had played with some family members who have Android phones.

You can't blame them, if no one is using the app then why continue supporting it. Posted via the Windows Central App for Android

Most people here who stopped playing are either due to bugs or repeatative questions. If the dev had supported it better then maybe the app would've had more users. Or atleast older users would've stayed.

Say something about Win phone users then???

In the past I blamed the developer but Microsoft's silence regarding Windows Mobile and even Windows sometimes makes me doubt they have much interest in OSes anymore. They are putting a ton of resources in to cloud services though. Gotta give them credit for that. But it would seem they treat Windows as a second class citizen so why would developers do any different.

How exactly do constant updates = silence? Both the desktop and phones just got a large update and are clearly being actively developed and it's confirmed that Redstoen 2 will have more for mobile. I don't blame MS for being silent these days, especially on mobile. The last time they told us they were going to attempt to do something big, like update as many phones to 10 as possible, they got crucified because they had to change that goal. Turns out Winmo 10 runs poorly on outdated processors and laugahbly low ram.

Constant Updates does not mean they are communicating. Besides, abandoning nearly your entire customer base says a lot without saying a word. They said nothing about it either. Updates simply mean a team is working. Besides compared to before or other platforms their updates don't do much. Most of them have been removing defining features while not fixing problems. I will say at least they finally added Panorama but there are few bright spots. Silence comes when Microsoft says nothing when developers communities scream for more transparency in direction to know if they could/should support it and yet nothing. Silence is when they have become nearly non existent in developer circles except if you want to use Visual Studio, to build apps for iOS and Android. Even Visual Studio videos or training videos for Xamarin focus on iOS and Android and if they even mention Windows or Windows Phone it's a quick statement of, "Oh and we support Windows too." I know because I have been trying to find more videos on cross-platform development from Microsoft and even their videos relate to everyone but them. Silence comes when they give a brief cryptic answer when they can Astoria after strongly encouraging developers to use it. Silence comes when they pull out of nearly every market and call it retrenching but give no further explanation. Silence comes from when people complain in Feedback Hub that Microsoft keeps pulling features from Windows Mobile with little explanation or input from the community and then doesn't address what the people have to say. Silence is when people keeping asking Microsoft why they are spending so much time on apps for other platforms while letting their own burn and yet they say nothing. Even at Store.Microsoft.com you can find they have a new Bluetooth keyboard that says it supports iPad, iPhone, Android devices, and Windows PCs and Tablets. No mention of Windows Mobile. Silence is when pressed for details about their direction in mobile after a cryptic message about nothing to report on mobile this year they still say nothing. Silence is when they keep adding new apps to competing platforms while leaving out Windows and not explaining when asked. Their actions recently have been pointing towards a lack of interest in their own platform and a keen interest in others. I really hope they have something big up their sleeve and they are just keeping quiet but for now their actions, and leaks, seem to show they have nothing going on except building for other platforms and cloud. Even my customers don't talk about Microsoft any more except for Office 365. Developers I talk to seem to have the same sentiment. It's like they are doing interesting things while "seemingly" burning their own platform. As I said, I hope this is all wrong but it doesn't seem to be.

I stopped at "abandoning nearly your entire customer base". If you start with hyperbole, there's not much hope for a logical point to be made.

For it to be hyperbole it would have to be an exaggeration. Would you consider it exaggeration when Brazil was one of their largest markets and they just completely pulled out of the country? Or where they offered up an upgrade to Windows Mobile that can be installed on less than half the types of devices? This occurs even though most types that sell are the ones ineligible. Then they only offer devices that are limited to a very small subsection of carriers which further alienates your customer base. Doesn't sound much like hyperbole to me. That said it, there is more to my statement than that.

!= "nearly your entire user base", soooo = exaggeration = hyperbole

What percentage of devices actually can install Windows 10 Mobile? Compare that to what was the user base to start with. What carriers or countries can even offer or support a Windows 10 Mobile device compared fo before. Sounds more like hard numbers. I might be a fan but I'm bot blind.

Well, cheap phones apparently couldn't run it well. I think it was a good decision to leave them behind. At first I was disappointed that my 1020 didn't make the cut, but I moved on.

I did that myself with my 900 and my 920. I keep coming back but others aren't so accommodating. I just hope whatever plan they have is good and means Windows Mobile has a solid future. For now my optimism is waning.

I think it's actual retrenching. The experience on Windows will be better than on competing platforms but in order to prevent losing users to things like Google Docs and Docs to Go, they need to have a presence where the majority of users currently are. When Windows is stronger and the software is more complete they will push the OS in all forms a bit harder.
Its currently a good experience but if I was a new user, I'd notice some flaws right away. They are working out those kinks now.
They should hurry up honestly but I think they are getting it right. Remember how good Win Phone 8 was? I think they are targeting that level of refinement but with many more features in some areas and obviously less in others. They are building an OS between iOS, Android, Windows and Windows Phone.
It will take awhile. I send feedback whenever possible because I want to see this thrive.

I hope your right. I have also considered a theory that they knew people were just hearing Windows Phone and stopped listening at that point. I had people do that to me. They "heard" it was bad and wouldn't listen after that. My theory is maybe, just maybe, they are letting the general public forget so when they come back people don't remember anyone telling them it was bad so they are more open minded.

Right, and I like his point about being where the numbers are. I used to think that having office on Windows phone would make people switch. I wasn't even half right. Lol.... I think Microsoft made a good move by making office and other services available on all platforms. At the end of the day, you have your shareholders to answer to. Posted via the Windows Central App for Android

I still think that Microsoft should always make the experience just a little better if you use their platform. I don't mean break it for others but just add a few tidbits you can only get by being fully committed. Not unlike a freemium model. You like Onedrive? Use a Windows Mobile phone and get unlimited storage free. Things like that.

You're absolutely right. How do I get more free one drive space though? They cut me down to 5gb recently. Lol Posted via the Windows Central App for Android

..and this may come, but they'll get more telemetry and feedback from the other OS userbase at this time. Eventually Office is primed to be a huge differentiator for W10M at least, just not this year.

Office on WP has always been a joke. It was light years ahead on the old WinMo.

But meanwhile they are delivering best quality apps to IOS and Android, there wil be many who like MS products and will happily use it on their Iphones and droids. and when their own apps launch on IOS and Android, skipping WPs and W10Ms, developers get a hint to steer clear of this ecosystem

You have managed to nail down every realistic aspect! Microsoft has been only about lies in the past year. They go public with release dates they cannot keep, they release updates that break up things: AU on pcs, they simply ignore obvious problems on mobile because they either totally lack an experienced QA Team (thank Nadella for this) or simply they do not give a damn about quality as it seems: VPN L2TP is still broken on mobile and they call it a business oriented platform. The design team is totally absent or it is made of people with absolutely ZERO imagination and good design vision: bold and uninspiring Action center design, People app with circles, notifications UI model poorly designed. They are using the Insider program to spare money on testing, totally ignoring quality result (not all insiders are techies)! They say that feedback from insiders is being considered, but the reality shows otherwise. Nadella made sure to kill the mobile platform, or at least ditch every engineer working on it, laid off engineers and sometimes replacing them with low cost country resources totally ignoring quality impact! Having build after build does not mean they care as long as we see that this OS continues to be plagued with severe problems and missing stuff. I have not seen any other company being so despicable in selling broken products to people. Nothing is perfect, but Microsoft has crossed the line! Customers are simply beta testers for them when they should be one of the most valuable resource. If Larry Page and Sergey Brin go in history as founders of one of the biggest and successfull companies, if Steve Jobs went in history as the visionary who changed the smartphone world, if Bill Gates goes to history as the man who lanuched the most used OS ever...Nadella will go as the CEO who managed to kill the trust, mock the customers, deliver worse quality, fire most people in one of the biggest companies in the world.

Bummed to hear! I only played for a little while, but this is the #1 app my Father in Law plays on his Windows Phone! :/

It's a game.... does anyone care?

Sad. There were enough downloads to warrant support.