Popular quiz game Trivia Crack now on Windows Phone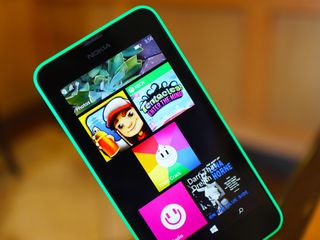 Trivia Crack has just made the jump from Android and iOS to Windows Phone! The popular mobile quiz game tests your knowledge and challenges you against your friends. You'll take a crack at over 100,000 trivia questions across six different categories: geography, history, art & literature, science and technology.
Here are some of the lights of Trivia Crack on Windows Phone:
Test your knowledge
Combines wit and strategy
Challenge your friends to a duel
Chat with your opponents during games
Share your achievements
The game is available in English, Spanish, French, Italian, German, Portuguese and Catalan. Look forward to visual questions and some awesome animations. Anyone up to see how smart they are? Grab the app for free and use it with your 512 MB device!
Thanks for the tip Wilsen H!
Windows Central Newsletter
Get the best of Windows Central in in your inbox, every day!
I so want Quiz up on windows phone. Hope it gets ported soon.

Same here! Great to have this app though!

I wonder how long it takes to make a quiz up client? Wasn't it announced that there is was one in development back in February or March?

Sadly, it is on the backburner. Development has not started yet.

Yeah I remember getting excited when wpcentral had an article that said quizup was coming. Actually I was thinking this the other day when I remembered that so long ago and it is still not out.

Not available here in Brazil. :(

Is coming soon to Brazil too.

Thanks for supporting our platform! If you need help to release your game in Brazil, we can help you :) Thanks again.

Ah meu deus. Tava louco pra jogar Perguntados cara. Você que manja dessas paradas de publicação já mandou email pra eles?

Muda a região para os EUA que dá pra baixar, inclusive funcionando em português.

'Bout time. I used the version developed by a fan and while it worked, it was like a "web port"or something like that and was pretty slow (plus some issues here and there) not his fault at all. :::: I just downloaded it and started two random sessions. It is a bit slower than the iPhone|Android version, and one thing that bugged me in the fan made version that is present here, is that when you fill answer a question right, the orange bar on the bottom starts to fill but you can see something like a square moving in order to fill that bar. Looks .... lame. I hope they fix it instead of just leave the game as is and without further updates.

We are going to fix that soon. Remember that is a beta version!!

Thanks, man! I was gonna point out the same issues on the app review. It is noticeably laggy when trying to search for an opponent, too (or when trying to ask/send lives). Hope the update comes soon. And thanks for the attention, I guess.

It managed to get a star from me. Spanish menu and requires personal data by connecting or Facebook profile or email address to enter? Xaxa! NO!

Hi are you going to include feedback details too? No place to get back to you. Lots of typos in the questions too. But enjoying it.

nice, too bad my friends don't even play it anymore... i'm downloading it anyway

I was involved on the development and Im looking forward you reviews. Remember that the app is currently on Beta version. Thanks!

The game loads infinitely in my 620. I'm staring on the splash screen for 5 minutes now.

Check you internet connection and try again!

It'd be nice to make the sound and animations for the spin be more synched. Also, the crown gauge animation to be fixed and characters to be animated. Great start anyways!

Hi. Please can you check why the game is not available here in the Brazilian WP Store?? It already has the brazilian certificate but probably Brazil was not checked in the Countries for Distribution Page in the submission process.

I think that it came a bit late.. None of my friends play this anymore

@marianosz What happened to support for Aworded? I wrote in numerous times about issues with that game, no replies or update to Android or iOS counterparts. Will this game fall by the wayside too?

I thought Trivia Crack was developed by Etermax, yet it shows 'WOP DIGITAL SL' in the Windows Phone store...?

I noticed that too. But when the game starts, you can see Etermax logo at the bottom.

No notification options :(

Notifications are coming soon!

Excellent scratch that baby of the list. Update it regularly. Thanks Dev's.

Too late, same as bbm... Almost anyone play it anymore but better late than never I suppose

Nice :))) a lot friends of my still play this. Keep updating please :)

AWESOME!!!! I've been waiting eagerly for this!!

Keep them apps coming ;-)

This is not the same company that did the Trivia Crack (Etermax). So, I guess this is not the official game! :(

No! Etermax is the producer and there is no version available for Windows Phone.

Marianosz is the developer. They maybe are making it under license from Etermax.

Won't open in my Lumia 1320. Keeps on loading. Is this normal the first time you open the app? Been 3mins already

Check your internet connection and try again!

Nice!!!! finally arrived! I love this game!!!! thanks!

Another game Quizup. When will it arrive? Some developer were making the game client for WP. But don't know where it landed.

Works well, thank @marianosz. From Tierra del Fuego

fabrizio you talk spanish?

Literally 5 minutes stuck on the splash screen and the game didn't load at all... Am I the only one?

Check your internet connection and retry!

Wi-Fi is working perfectly but the game still won't load. :P

Game is stuck in Spanish. How do I change the language?

You can change the game language clicking on the flags on the new game screen

Yes, the questions are in english, but everything else is in spanish... ?
How can the entire game be changed to english?

The interface use your language configuration. I have my phone in English so the game is in English. What is your language configuration on WP?

Waiting for long time....

No I will not sign up or register to play your game...deleted.

This isn't the original game!!!!

Your comment was read the first time. And no, it is original.

The game is stuck in Spanish even after clicking the English flag in the new game screen. Only the questions are in English, the main interface is still Spanish. Deleted

The interface use your language configuration. I have my phone in English so the game is in English. What is your language configuration on WP?

Same problem here,
my phone is set to Dutch, but the game is in Spanish, English would be no problem for me only if i could change it ...

Thanks for the feedback. I will reproduce that scenario and fix it.

I have my phone in english, yet all the questions are in some other language i don't recognize. The UI is in english though.

I got as far as launching the app before it asked for my email address or Facebook details... Uninstalled!
I'm not passing any of my personal info on for a game!

Well, I have a Gmail on which I have no personal info since I have created with fake personal info. I use it on many occasions, like hands like this and others. You should try that. I'm enjoying my games and apps that require personal info and I keep my main email address or Facebook account safe from possible"malicious"attacks from"fake"developers

Something seems wrong with this game. Requires input personal data, it has bugs, springs stuck at Spanish language, I don't like that, I'm keeping the game for some minutes and uninstalling immediately

The interface use your language configuration. I have my phone in English so the game is in English. What is your language configuration on WP? Thanks

My guess is that those having problems have their phone language configuration set to a language other than Spanish or English (mine is in English and the game interface is in English).

Are you planning on adding more features in the future? (like those in iOS and Android?)

My phone language is Greek, and the games is in Spanish!!! I don't know Spanish so no point in proceeding in the game. It also asked for personal data which not everyone would like to share with a stranger, like my fb profile or my email address. Got it?

I'm stuck in the loading screen, i have perfect wi-fi signal, is just won't load, i've been there for 10 minutes.

We are fixing that issue. Thanks for reporting it.
Windows Central Newsletter
Thank you for signing up to Windows Central. You will receive a verification email shortly.
There was a problem. Please refresh the page and try again.