TrueAchivements app available for Xbox One, brings gaming guides to Snap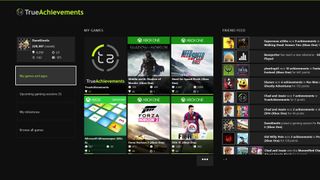 The official TrueAchievements app is now available for Xbox One. Those out there who play games and try to complete all Xbox Achievements have probably turned to TrueAchievements from time to time. It's a great website for tracking Achievements for games available on Xbox One, Xbox 360, Windows Phone, and Windows 8.
Below are the list of features available in this first release of TrueAchievements for Xbox One:
Gamer Homepage
Games List
Achievement Solutions
Gaming Sessions
Stats
Snapping and Voice Control
Official Xbox One Achievements App Integration
We're really looking forward to the Achievement solutions feature in the app. The ability to snap the app and have a guide to help you figure out an Achievement will be incredibly handy.
The app is currently available for Xbox One consoles in the United States, Canada, Australia, New Zealand, United Kingdom and Ireland. Find it and install by searching for the app on your Xbox One or by using the Xbox One SmartGlass app on your phone or tablet. And yes, the app is free!
Not a member on TrueAchievements yet? Visit their website www.trueachievements.com and join today!
Anyone else looking forward to using TrueAchievements to conquer those hard achievements?
Via: TrueAchievements
Windows Central Newsletter
Get the best of Windows Central in your inbox, every day!
Hella awesome! I've been using this website for about a year now. Hate that I'm at work now cause I wanna play with it.

Fantastic website, would highly recommend people sign up to it :)

I know this is mostly about Microsoft things. But anyone know a decent PSN app. Sorry boys, been a playstation fanboy since PS1.

A decent PlayStation app for Xbox One, Windows or Windows Phone? P.S. Go to them forums.windowscentral.com ;)

trueeeeeeee, shoulda been my first stop! Thanks Sam. And specifically for Windows Phone.

Actually not an app...but the TrueAchievements creators have a site called TrueTrophies which is a sister site if that's useful to you.

I recommend XBox one, give it a try :-) Been a PS fan myself since 97 when I got my PS1 all the way to the PS3, but I'm trying the XBox camp for this gen. May end up with both consoles anyways, but the one is really good!

I think the Xbox is amazing and the support for it is great. I'm just too loyal. I'm a bit OCD. I wanna be old and say I got every iteration of the playstation. Like I refuse to download games because I like owning the actual disc and game case for my collection (even though I wish I could also get the download because of the ease and speed).

Well, I'm 14 and still love discs. I buy every game on disc.

Well, you've owned the PS3, so how about you just trade that in for the XB1 for $250? Then, when Sony finally decides to be nice to their fans and does a price drop of their own, pick that up as well. It may seem like it's a lot of money, which it kind of is, but at least on XB1 you have things like Bing Rewards to offset Live subscription or DLC purchases. If you're anywhere near an MS Store - hell, you can order online, you can try it risk free for a month with no restocking fee. As for me, I'll eventually get the PS4. I too owned every Sony console and MS console.

But the difference is I owned and I kept them. I would never give, sell out borrow them of. I'm committed to PS unless they absolutely and royally screw people over. So as great as it is our could be nah. And besides most of the people I play with have playstation and more specially PS4, so it wouldn't make any sense. But I'm even if that wasn't the case I wouldn't get an Xbox.

TrueAchievements have another site called TrueTrophies, they may have created an app for the PS4 to use, although I don't know how the stop system on PS4 works. You can always just visit the site.

Why limit it to English speaking countries? Many other nationalities have English as a second language. Just let everyone use it if they want to.

It will eventually launch in other regions. This is the first stage in the rollout so our servers aren't destroyed. You can always switch your console's region to one of the countries, download the app, and switch back. Takes about three minutes, and since it is your console's region and not your account region being switched, you don't have to worry about losing any money you might have attached to your account.

I've been told you should follow @TrueAchievements on Twitter for more updates on when we bring it to other regions!

I'll be downloading this for sure.

It baffles my mind why TrueAchievement and XboxAchievements.com don't have an app for either Windows Phone or Windows.

We have TrueAchiever for WP: http://www.windowsphone.com/en-us/store/app/trueachiever/103ee4c3-ca47-4490-9f38-226b98915e3a I will admit it is not the best app. A third party did development. I've honestly used it once and never again. The main website is suprisingly touch friendly, especially in mobile IE.

I remember them opting for a mobile version instead of making an app. But that was some time ago

But the mobile site was just odd...you had to pay for it while everything else was free! That also release around the time they changed their stance on if you had donated, you were a prime member for life. They have been through a lot on that site, some weird/bad choices IMO plus a server crash that lost MONTHS of data.

Pro member to log in to the mobile site but anyone can use it logged out. And the server crash was many years ago now and we recovered almost all the important public data and the rest just required everyone to be scanned again which we do anyway :)

Awesome but when does it come to other countries?

Yes! TrueAchievements FTW.

Love this app. Oooohhh stats!

Oh I use Xboxachievements.com how does this compare? Equally as good?

Really depends what you use the sites for, i used to be a member of XBA but found TA a more user friendly and overal friendly community so stayed and generally speaking use the TA guides more than any guide on XBA. (And our gaming sessions... yes im staff there)

Does this only provide guides for achievements or are there mission guides/walkthroughs too?

Guides for achievements, if theres an achievement that is mission/story based one of our members might of been kind enough to contain a mission tutorial/walkthrough.

Just awesome! Gonna get this for sure :D

This is awesome, I usually have my phone or tablet sitting next to me for achievements, this will make things easier. I'll probably still use the tablet for guides (I don't have time to hunt for collectibles, but I like gamer score).

Gonna be a good day to be on my Xbox one! Got the evolve code, this TA app, and sunset overdrive to keep me busy!