Hands-on with the Twitter Progressive Web App (PWA) for Windows 10
The first progressive web app shows a lot of promise on Windows 10.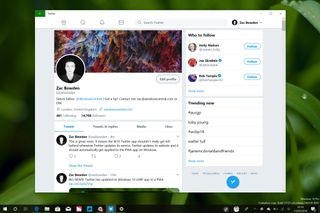 With the coming release of Windows 10 Redstone 4 in April Microsoft is also letting free progressive web apps (PWA) in the Microsoft Store.
I've already done a lot of theoretical talk about the PWA platform, why Google is behind it, and how it will level the app field across platforms, but we now have a real live example in the form of Twitter.
Twitter's PWA is live in the Microsoft Store for those on the Windows Insider Program (or build 17133) and it replaces the older Universal Windows Platform (UWP) native app.
To be clear, the current Twitter PWA is still a preview. Things like Service Workers – one of the core components of PWAs that handle offline usage, notifications, and more – won't be live until April when Microsoft enables the feature through the Store.
Other things like dark mode, video uploads, and pasting images to the new tweet field are also missing but are expected in the coming weeks.
PWAs and more specifically PWA + UWP hybrids on Windows 10 are still very new for everyone including web developers. How they evolve will be fascinating, but for now, there's a lot of promise already here including excellent scrolling, adaptive scaling, and it feels like a native app.
Microsoft and other companies are expected to push many PWAs to the Microsoft Store in the coming weeks.
Services like Starbucks, Instagram, Uber, Lyft, Pinterest, and even Google services are all already formatted for PWA making the potential jump to Windows 10 a breeze. Watch this space.
Further info about PWAs
Windows Central Newsletter
Get the best of Windows Central in in your inbox, every day!
Daniel Rubino is the Editor-in-chief of Windows Central, head reviewer, podcast co-host, and analyst. He has been covering Microsoft since 2007 when this site was called WMExperts (and later Windows Phone Central). His interests include Windows, laptops, next-gen computing, and for some reason, watches. Before all this tech stuff, he worked on a Ph.D. in linguistics, watched people sleep (for medical purposes!), and ran the projectors at movie theaters because it was fun.
Emm... No dark mode? Really? I have both dark and light theme and can easily switch between them. Maybe my Twitter isn't PWA? Is it possible that this update is available not all over the world, just in some countries? What version of Twitter do you have? I have 5.8.1.0.

You must be on the RS4 insider builds to get it

Oh, really? I thought it is already updated, but with RS4 more functions will be available... Ok, I'll wait for RS4 release. Thank you, man.

You need RS4 to get PWA apps and, AFAIK, Twitter is the only one at the moment and it works quite well.

Seemed laggy to me, but I'll reserve judgement since it's a beta.

I like to leave the twitter app pinned to the side of the screen while I do other work, and the feed will automatically refresh without having to manually do it myself. The PWA version doesn't seem to carry that functionality. I have to scroll down and up to force the feed to populate with new posts.

Microsoft doesn't understand that this constant rebooting of Apps is also annoying and a reminder that nothing is ever consistent with their platform. There's no reliability in sight.

I'm sure they understand, but they can't force developers to write for their platform. The difference this time is that PWA is a universal platform, so no reason to think it's going to do anything but grow and develop.

i feel like this will lead to Apps still not taking advantage of the native functions of the platform, much like how the converted Apps on WinPhone operated for quite some time and a lot of Desktop Apps do.

I'm sure there will be a lot of that, but that's still better than no app at all, or one that is never updated.

They can force them. Don't forget that Microsoft owns Xamarin. And Xamarin is the reason for millions off apps that exists in other platforms. There is another reason for not letting them do apps and surely we cannot find answer about it.

No they can't. They couldn't even pay them to write apps. They tried. It is simple. The Windows Store doesn't have users. Without users, developers won't support it. No hidden agenda. If Microsoft wants developers to support the store, they need to get people to actually use the store.

I have to disagree as no one is stopping developers from creating apps for the UWP, all that PWA does is give developers another, cross platform, option.

I wouldn't say its a reboot its more like a different approach. If they can get apps into the store without getting devs to write them then show how much their app is being used then they might be able to coerce them Into writing uwp apps.

Same here. I really miss that in the PWA version. I mentioned that to one of the developers on Twitter, and he responded positively, saying they'll see what they can do in the PWA version.

Why do I have to install that from the store? I should be able to pin a tile to the start screen from visiting the twitter website - it is just a web site after all. But that does not seem to work :-( Ok, If I do install it from the store. I open the 'app', log in, browse around. I switch to do something else. Later I want to check something in the app again. I hit the icon on the start screen. It doesn't simply bring the running app to the front, it restarts/reloads it! Previous status lost :-( How do I share into/out of the 'app'? copy'n paste? People hub integration - is this even technically possible? follow my windows theme setting for dark/light mode? Please build an UWP app instead

You don't need to build a UWP app to use those functions. A PWA can have People integration, etc.

Are you sure about that? Isn't pwa a little like .NET vs .NET Core? Where all functionality isn't there yet?
Asking because I would really like to know 😊
I'm following the pwa closely to see if I should invest time to convert my asp .NET site to pwa instead of going for UWP down the line..

If PWA apps are essentially web based apps that will have the power of an application that is installed on your computer, does that not create a whole bunch of security issues? Right now if I download and app and install it I have to worry about malware, adware, trojans, bundled software etc but I can check for these things. Going to a website or running a PWA means I did not even install that application and it has the authority to do things on my computer? This is a really bad idea!

A lot of apps today are already basically just wrappers for the mobile web site. This just makes it more of a cross platform standard.

This is true only for W10M. Not sure about W10. Web wrappers are really non existent on iOS and Android.

This isn't true for Android and iOS. I've only seeing them in W10M

All this talk of PWA yet no mention of Web Assembly which will bring native cross-platform apps to all platforms.

Too little, too late. Only 1 PWA app till date and that too doesn't run on majority of W10 devices. Come on Nadella, get your acts together or else you can be fired!

This isn't a Microsoft thing, it's a universal thing in it's infancy. What do you exspect?

You do realise that PWA on Windows 10 relies on a currently unreleased update and that both Google and Apple are still working on PWA support, don't you?

Does this help close the W10M app gap? I've pinned Twitter, Flipboard, and Lyft to my home screen and all seem to work fine.
I do seem to get more annoying ads on the Twitter feed.

W10M is no longer the focus.

Until there's a viable Windows alternative I suspect it'll remain a focus for users who want to have Windows in their pocket on the go. In a few more months maybe things will be different, but until then people who want Windows will still be focussing on what's actually available now.

You'll need to install 'Windows on ARM' or 'Windows Core' or whatever it's currently called to get full access to these apps. It can be done pretty well at this point on a 950XL but I would still want a second 950XL or something as my main phone. So, better to grab a small tablet?

All the negative feedback this kind of release gets is because we got used so much to having Insider releases, previews and all that, but people take things as if they were a final release. This is still a preview!!! Its not even available for us non-Insider users.

Why think logically when we can overreact and jump to conclusions?

From the video it looks kind of laggy. Doesn't update the feed automatically. 2 back buttons? This is the kind of detail that Microsoft always misses. Pretty underwhelming number of developers creating PWAs so far even for a beta. But I'll reserve judgement since it's a beta.

I can't see any way to swap between accounts in the Twitter PWA.
Moments and News is now buried in the search tab. So, it still has a bit of work needed.

I am hoping that Amazon release a Kindle and Amazon Music PWA!! I am also hoping the Safari Books release a PWA with the added feature of allowing for 3 offline books like their Android app.

What about you guys, are you going to make a PWA for WinCentral?

Important that they do not call these UWP apps. The UWP brand should be restricted to high quality native applications with the performance and memory usage you expect from those, not webapps.
Windows Central Newsletter
Thank you for signing up to Windows Central. You will receive a verification email shortly.
There was a problem. Please refresh the page and try again.