Hands-on with Twitter's latest update (version 4.1) for Windows 10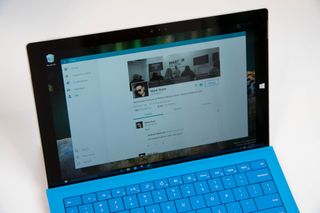 The Twitter application for Windows 10 was updated yesterday, and I'm very happy with the new features that have been added. One new feature that stands out is the ability to quote tweets. When you tap the Retweet button, you are given the choice to Retweet or Quote, which lets you add a comment to what you are Retweeting. There are other new features as well. Watch our hands-on video to see the new Twitter app in action.
What's new in Twitter 4.1
Quote Tweet Support
Happening Now for trending stories
Higher resolution photos (not confirmed)
Multiple Account support
Support for lists
Happening Now is a new section on Twitter for Windows 10 which displays trending tweets. What's also cool about this section is that you might see multiple columns depending on the width of your app window.
If you use Twitter for work or manage multiple accounts, it is now possible to use all those accounts in one app. Just go to the Me section, tap the people icon, and tap or click Add Account. Once you've added an account, you can switch by tapping or clicking the username under the people icon.
Twitter 4.1 isn't available for Windows 10 Mobile users yet, but you can get a glimpse of how it'll look by simply making the app window on the PC or tablet very narrow. I'm glad that this app is moving along nicely on Windows 10 and I can't wait to have this on my phone as well. How do you feel about the update? Let us know in the comments!
Download Twitter for Windows 10 (opens in new tab)
I'm liking it now because I'm forced to use it, tweetium still won't launch for me on my surface 3 with windows 10.

Like it a lot. The two things that still make me use Tweetium; Mobile app, and remembering where I was on my Twitterfeed

Are you really sure they are planning to release it on mobile?

I hope so. Wouldn't make sense not to

Am I the only one who's getting really fed up with all these white backgrounds on apps? Jesus Christ is like they're trying to mass-blind people

I think it's nice. Also if you notice you'll observe that the default low brightness setting for windows phone is very high. So much that I have to set the thing in auto mode when in dark

They still need to add the dark mode. Much prefer it. Would have it on every app if I could.

I agree, the Os is too white or gray or whatever shade it is

I'm looking forward to the mobile release. I don't have much use for it on my pc but on mobile it'll be my most used app.

Just happy about lists support.

Good, good, now are we ever going to get a new Facebook app? The current one is riddled with bugs, and missing most of the web features.

The tap to load more is the worst feature of this application.

It's still too lackluster to be functional. I'll keep using Tweetdeck for desktop until Twitter comes up with a decent app that matches Tweetdeck's features.

One very simple thing that I need is the tweet notification. What beats having the tweets that matters pop up when using the desktop?

I still love the color code feature of gleek mobile. Why its not used more is beyond me. You can color code a persons feed and a color line will show alongside the tweet. So if there is a feed you don't want to pass by it will be marked by a colored line.

Still some work to do, images do not scale properly when snapping to minimum size, they are cropped...

Is this update country specific ? Not getting this in India.
Windows Central Newsletter
Thank you for signing up to Windows Central. You will receive a verification email shortly.
There was a problem. Please refresh the page and try again.