Walmart now selling the Nextbook Flexx 10 and 11 2-in-1 Windows 8.1 tablets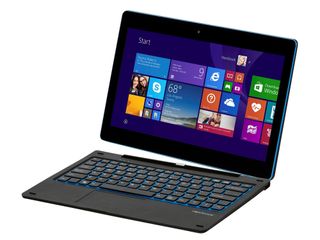 If you are looking for some budget Windows 8.1 tablets that also include a detachable hardware keyboard, you likely won't find them with a lower price than the Nextbook Flexx 10 and Flexx 11. The 2-in-1 tablets from PC maker E Fun are now on sale at Walmart's retail locations and website, with the Flexx 10 priced at $178 and the Flexx 11 at $227.
The 10.6-inch Flex 10 has a 1280×800 IPS display and 32GB of onboard storage, while the 11.6-inch Flexx 11 has a 1366×768 IPS display and 64GB of internal storage, plus its keyboard has an LED backlight. Both the Nextbook Flexx 10 and 11 have an Intel Atom Z3735F processor inside running at 1.83GHz, 2GB of RAM, 2MP cameras in the front and back and a 9,000mAh Lithium battery that lasts for up to eight hours. Both detachable keyboards have two USB 2.0 ports and the tablets have a microUSB port for charging and a microSD slot for additional storage.
Before you ask, the Nextbook Flexx 10 and 11 can both be upgraded for free to Windows 10 when the official launch of the OS goes live on July 29.
Check out the Nextbook Flexx 11 at Walmart ($227)
Check out the Nextbook Flexx 10 at Walmart ($178)
Source: Microsoft
Get the Windows Central Newsletter
All the latest news, reviews, and guides for Windows and Xbox diehards.