Walmart now selling the Nextbook Flexx 10 and 11 2-in-1 Windows 8.1 tablets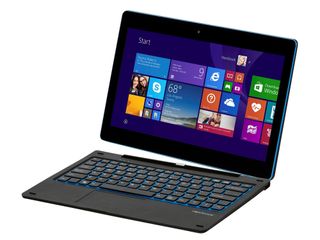 If you are looking for some budget Windows 8.1 tablets that also include a detachable hardware keyboard, you likely won't find them with a lower price than the Nextbook Flexx 10 and Flexx 11. The 2-in-1 tablets from PC maker E Fun are now on sale at Walmart's retail locations and website, with the Flexx 10 priced at $178 and the Flexx 11 at $227.
The 10.6-inch Flex 10 has a 1280×800 IPS display and 32GB of onboard storage, while the 11.6-inch Flexx 11 has a 1366×768 IPS display and 64GB of internal storage, plus its keyboard has an LED backlight. Both the Nextbook Flexx 10 and 11 have an Intel Atom Z3735F processor inside running at 1.83GHz, 2GB of RAM, 2MP cameras in the front and back and a 9,000mAh Lithium battery that lasts for up to eight hours. Both detachable keyboards have two USB 2.0 ports and the tablets have a microUSB port for charging and a microSD slot for additional storage.
Before you ask, the Nextbook Flexx 10 and 11 can both be upgraded for free to Windows 10 when the official launch of the OS goes live on July 29.
Check out the Nextbook Flexx 11 at Walmart (opens in new tab) ($227)
Check out the Nextbook Flexx 10 at Walmart (opens in new tab) ($178)
Source: Microsoft
Windows Central Newsletter
Get the best of Windows Central in your inbox, every day!
Hmm may need to reconsider the surface 3, since it has a keyboard

Actually, yeah. Sure, the Surface 3 has some better specs, but for the price of the Surface 3 and the keyboard, the price might seem that it's a little too high.

Yes, seriously. The entry level Surface 3 has 2 GB RAM and no keyboard for $500 and this has 2 GB RAM and comes with a keyboard for only $179. It's a no brainer if you're on a budget.

Surface 3 is in different league. No comparison at all.
I would strongly recommend getting a Surface ( if you can).

Physically, yes, it is ahead, by miles. But if you don't care about that and are looking at performance to money spent, it's a dog.

On this site I think there is an aversion to spending any sort of money on anything.

Oooooorrrrrr people on a budget who just want to get their foot in the door of the whole Windows "tabbook" thing, especially in light of "impending 10" might find this a fine entry-level instant gratification alternative while they either squirrel up their rubles or await next tax time for the Surface. Or maybe it's for someone's kid. Or it's for a small mom and pop business that doesn't need the extra pickles of a Surface, and could sure benefit from the lower price, especially if there's any sort of scale purchase. Or heck, maybe people who live in sketchier parts of the world (or are just clumsy people) may not want to make a target of themselves by carrying a $600 + keyboard Surface (or $1000 Surface Pro) around with them when there's a risk of loss, damage, or theft - preferring instead to have even something less jazzy because it's not only less attractive to thieves, but also a relatively easy $200 to replace if the barista klutzes your triple macchiato carmel latte with leaf foam art all over it...or you do it yourself. Point is, Theefman, that there are countless reasons why something like this just might be an acutely smart purchase. You just assume that it's people being miserly. But then again, in my time spent observing you in the comments thread, I don't believe I've observed a SINGLE positive comment about ANYTHING! I don't know whether to call you Eeyore, or Grumpy Cat, but I wonder what the heck you're even doing here on Windows Central if you think all this stuff is so horrible. If I thought things were so bad, I'd uninstall the app, and go play Turbografx16, or work on improving my German...or, I don't know, something. As for me, when it comes to this machine: I'm pretty excited about it! Of course a Surface Pro is my goal. But that's probably gonna be a tax time goodie, and in the meanwhile, this gets me a cheap approximation that I can immerse myself in and use to replace my aging (and dog-slow) Acer netbook running Ububtu. And when "Surface day" does come, I can always hand it down to the kiddo, or one of my parents, or whomever. My wife was planning on getting me an early Father's day present this weekend. I was asking for a PSVita originally, but now that's a much tougher decision. Since they're all right around $200, I could either get the Vita, or a Chromebook...or this bad boy! I think I'll hit up one of the Walmarts in town, and see if I can get a look (and feel) at this beast. If the screen isn't total garbage, or if the thing doesn't feel just totally flimsy...then I gotta tell ya, that Vita may just have to wait a bit. :-) Posted via the Windows Phone Central App for Android

Update: I got to get hands on-ish with one if the 11" versions. I say ish because I could clack the keys on the keyboard, and I could tinker with the device in tablet mode, but since everything was so bolted down, I couldn't connect the keyboard to the device and try it in full PC mode. Also, since it was not connected to internet, I could only do things that can be done off-line (which isn't a lot). However, here's what I can say: The build quality of the device felt solid. The screen, while a far cry from the retina display on my wife's iPad, or the screen on my Note 3, and even coming shy of my $180 23" 1080p desktop monitor...it is still a VERY SOLID monitor with decent colors and sharpness. Glorious? Absolutely not. Stunning? Absolutely not. Adequate? Absolutely! Perfectly Decent? Absolutely! The keyboard, what limited access I had to it felt and looked good. I just heard a rumor this evening that there may be a massive price drop on the PS Vita really soon, so I think I'm gonna wait there. And while the Chromebook is probably the safer all around bet...I'm just so much more excited about this 2-in-1... ....so, I think I'm gonna take the risk and buy one! :-D Posted via the Windows Phone Central App for Android

ANOTHER UPDATE: My wife picked me up one of these last night (11.6"). Didn't get to play with it a ton. Basically just got it all updated, installed office, and installed antivirus (I also did a quick lesson on DuoLingo - German). REVIEW: Preliminarily, I'm 99% satisfied, 60% impressed, maybe 5% blown away, and 5% worried. Computer performance is quite admirable! No complaints there at all (and it'll be even better with 10 - I know because I'm using 10 I.P. on another system). The screen is nothing more...and nothing less that okay. It's just fine, and reasonably nice - but nothing particularly impressive. Lower res and blander colors than I'm used to. But crisp, and clean. The speakers are really blah, but that's what headphones and Bluetooth speakers are for. No biggie. I think the keyboard is comfy despite having medium/medium-large hands. I do dislike the trackpad, though. It's not the most responsive, and also it's waaaaaaaaaaay too easy to accidentally switch between programs rather than move the mouse. The backlighting looks really cool, though since the keys themselves don't light, it's only eye candy, and not functional at all. In fact the letters etc on the keys are stickers (STICKERS!) Then again, these stickers are the only semblance of "cheapness" I've noticed so far, the only chink in what otherwise seems to be surprisingly good build quality. The thing feels rock solid, has nice vibrant cobalt trim, and the black areas are this certain sorta velvety rubber matte texture. There's a name for it that escapes me, but it's really nice, both visually and especially tactilely (though I fear it will wear off over time as this particular texture tends to do). Reports have warned of getting real hot while charging, and charging slowly. I have not observed either of these. However, I have noticed one pretty worrisome thing which could be an ominous foreboding: when in laptop mode, with the keyboard attached, if you move the device, you'll often hear the accessory disconnect / reconnect sounds. It all happens so fast that I haven't noticed a service interruption as it were with the mouse, but if the backlight is on, it'll go off and not come back on til turned on. It speaks of an iffy connection. This could be really bad news if it gets worse, and also with Windows 10's desktop and tablet mode being so different from each other (which I regard as a very good thing, rather than the virtually imperceptible change in 8), it could get real annoying having the system changing back and forth between them unbidden. The good news is that when you have the thing on a stable surface this doesn't seem to be a problem, and since I'll probably be mostly using it as a tablet when it's not sitting on a table anyway, this shouldn't be too much of a real problem in practice - unless, that is, it gets worse. Anyway, that's my VERY PRELIMINARY review. I think that it will be well worth the $227/tax it took to get it! Is it gonna go toe to toe with a surface? No. Surface Pro? Definitely not...BUT, the surface (with keyboard) is three times as much money and probably well short of a three times better product. Surface Pro (which is my real goal) is almost five times as much, and probably no closer to 5x better...so this definitely seems like a really good bang-for-buck proposition. I'll go ahead and recommend it to the group. Come join me in "Club Flexx"...it's nice! :-) Posted via the Windows Phone Central App for Android

If you can get everything you need in a product that costs $179, why would you spend $500+?!
I bought an Asus T100 for 130 GBP second hand 18 months ago. I STILL haven't found anything that replaces it. It plays back 4k videos flawlessly, has 10hr battery life, a very active user community, can video edit at a push & has USB recharging. I see no reason to 'upgrade' to a Surface...nice though they may be. They have shorter battery life, all the DPI scaling issues of a high resolution Windows device & require a proprietary power adapter.
In short...some of us don't need to spend $500+ to get everything we need in a computing device. I also enjoy not having to worry about whether my devices get lost or stolen

Like Geoffrey said, it's a no-brainer if you're on a budget. Surface devices are incredible, but the price is higher than cheaper made models. This looks like an impressive cheap version of the Surface models.

Agree! Yes, the Surface specs are much better, and yes there is much more prestige in whipping out a Surface in front of other people. Let's be honest however, how many people are using a 2-in-1 as a primary machine or doing heavy multitasking like video editing or hard core gaming? The efun/Asus Transformer Book and similar devices at less than half the price just make more sense all around. I get it, specs and stylus features are the end all and be all for some. I'm happy to spend the money when I need to but I'm not willing to do it just to have done it.

Well said. I'm holding out to spend money on a Surface in the next few months but this looks like a fantastic deal. I have no idea how that processor works but I wouldn't try to tax it anyway. I'd use this for web browsing, video watching and tablet gaming (mobile apps)

I was thinking on getting the hp stream 7 since i just saw it for $80 but this seems to have better specs and a keyboard for a little more

be warned ... windows on a 7" is very difficult to use

The desktop is kind of small but fine for download and playing Spotify, etc.. Windows apps will work great.

I wouldn't call it difficult, but the stream 7 is definitely a sub 100 tablet. Kind of a dog. I like it and it compliments my SP and 1520 well, but it is far from a daily driver.

Problem solved;
http://www.lovesummertrue.com/touchmousepointer/en-us/

Avoid the stream. Go for the Acer Switch 10, Asus t100 or something like this next book. 1gb of RAM is not enough to be usable day to day.

Gues what just stoped working. The subscription box on Tubecast because of issues with servers :(

Yeah, saw the error some while ago. I hope it gets a fix soon.

I saw the error, too. But this really belongs in the forums.

The walmart spec page said the Flexx 11 had "11.6" touchscreen, 1280 x 800 resolution, POGO keyboard" as well. So not sure if they are wrong or the MS source is wrong. But thought I would point it out.

Microcenters' WinBook TW801 isn't bad choice too. Same spec's minus keyboard and only 8" but for $89.. I bought is for $160. Using for college and read books http://www.microcenter.com/product/437499/TW801_Tablet_-_Black

They actually have been available at WalMart since the first week of last month. I bought my wife the 11 inches version last week, because I was tired of hearing her say how sluggish her Android tablet was. She loves it. I read somewhere that there was supposed to be a 12 inch version also, for $279. I wonder what happened.

But will it be upgraded to Windows 10? I thought devices under 10" were not being the upgrade.

Any size device is upgradable (as long as it meet the minimum specs). Going forward MS delineated what gets Win 10 and Win 10 mobile.

Any existing devices running windows 8.x will get the full version of Windows 10. Going forward, devices under 8" will be sold with the mobile version of Windows 10 because they will have been marketed and designed for it.

It's mentioned in the article

They're both above 10 inches. Read it carefully.

I only wish they had 4GB RAM.

why? what is the use case that 2GB RAM doesn't support?

Everything.
I haven't been happy with windows' performance at 2GB.

This. My computer is going on 9 years now(wow I thought it was younger than that) but it works great with 8 GB of ram. Started with just 2. Running 8.1 and 10 TP.

I only wish they had 16gb and an i7.

6gb & up thats the rule of thumb for a smooth experience. Lookup notebookreviews(nbr) a great resource for 1st time laptop/table buyers

Something has to be bad here? Those things cost almost what a windows license does. And they have IPS panels too?

Windows with Bing is free for OEMs

Remember that the Asus T100 was selling for only a little more than this more than 18 months ago...and that had the Z3740 processor. It is a v.good price - but it isn't a surprising one. It's about where these devices should be at price wise given they are using cheap chips from an older processor line.

They said will sell a 12"+ model, I guess they changed their opinion

Is there any option for a windows 8 inch tablet with stylus in India?

Shit, these look offly tempting. Might go take a look...

I took a look tonight and was actually pretty impressed. Blown away? No...but I do think I'm gonna buy one. Seemingly good build quality, perfectly decent screen (no more, no less), and a fairly comfy keyboard. Speakers supposedly suck, but I wasn't exactly "Bose'd" by the Surface speakers either...so, so what? Decently spec'd, small enough for easy portability, but big enough that it's not hard to read or do stuff in Desktop mode, poised to get Win 10, and all for a basement price? Why not?! Sign me up! :-D Posted via the Windows Phone Central App for Android

Got the next book 8.1 and it's good even Excel to the hp stream

Did you get the windows 10 app on your nextbook 8?

This is really tempting. I really want a Surface , but its too expensive. Wish this had pen support though.

This will be a great "bide your time for Surface" box...at which point it'd become a great hand-me-down to a child, parent, or sibling. This is my plan with it, anyway! :-) Posted via the Windows Phone Central App for Android

keyboard has an LED backlight... I wish more tablets came with this.

I had one of these .. the 10 inch one. For $180 I am not sure what I expected, but it came with one dead USB port (out of two, both on the keyboard) and would not stay in landscape mode (kept flipping to portrait). Gotta say the keyboard was really solid to type on tho. You will get what you pay for; I took mine back and got a SP3.

Got the Nextbook Flex 11 and literally can't get my hands off it. I have an Android Galaxy Tab Pro 10.1, 2 Acer laptops and a lenovo laptop and 2 Samsung phones and I find myself using this the most, it's just perfect and very solid. The keyboard is also very well built. If only Wimdows was as good and smooth as Android, then it would be really excelllent. Don't get fooled by the major brands like Acer, Lenovo, Dell etc... this has the same for cheaper and you won't feel guilty for having spent good money for nothing.

cg2400
Got the Nextbook Flex 11 and literally can't get my hands off it. I have an Android Galaxy Tab Pro 10.1, 2 Acer laptops and a lenovo laptop and 2 Samsung phones and I find myself using this the most, it's just perfect and very solid. The keyboard is also very well built. If only Wimdows was as good and smooth as Android, then it would be really excelllent. Don't get fooled by the major brands like Acer, Lenovo, Dell etc... this has the same for cheaper and you won't feel guilty for having spent good money for nothing.

Your article above says that you can charge the nextbook through the micro USB jack. This is incorrect. The table can only be charged through the propritary pin plug that comes with it.