Getting lost and found with Windows Phone and Nokia Drive 3.0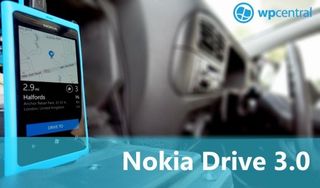 At the start of the year I took up driving with gusto, you see, being a Londoner I have really had little need of a car. For one reason or another, it had started to become a nuisance not driving so I decided to change my wicked, public transport loving ways and get a license to burn fossil fuels. I took an intensive course and recently passed. During the process of getting my license I bought a Lumia 800, of course, it is a wonderful device but wanted it for those free and extensive driving maps. So how does Nokias's mapping software get on? I have been testing it for a few weeks now, read on to see how well it works.
In Use
Nokia Drive comes with the usual features for getting about. Upon opening the app you'll be asked to set a destination, fairly standard stuff, search by postcode, street name or even name of the location (such a name of a church or landmark) and it should have no problems finding what you're after. Once you have confirmed your destination you can then opt to save it to your favourites, saving you the bother of repetition. Next stop is to hit 'Drive To' and off you go, it's as simple as that.
Whilst not a new language – Surfer Dude is enjoyable..
Whilst driving, you'll get those important audio turn-by-turn directions along with options for viewing the map in portrait, landscape, night mode and day mode. You can also set alarms to buzz you when you exceed the speed limit by a certain amount. Importantly for a navigation app you can grab offline maps in case you lose your data connection or you happen to be going somewhere where there isn't any cellular network (perish the thought!). Nokia are also kind enough to provide plenty of options for choosing the type of voice navigation you prefer. You can choose from a huge array of languages and pick a male or female voice. We even found an option to download 'Surfer Dude' which is fun although it can be distracting too.
How well does it work?
Things in London at the moment are rather confusing as we have the Olympics on. Some roads are totally closed to normal traffic and other roads are snarled up due to dedicated Olympic lanes for cars and busses. Once a route is programmed into maps, it does a great job of giving directions and coping with odd, missed turnings. We have no complaints about its ability to re-calculate quickly and move on but there are some chinks to its otherwise impeccable armour.
Nokia Drive – Night Colours
Live Traffic Information
Nokia Drive 3.0 does not seem to use any live traffic information, even though the backend platform is currently using it. If you look at the maps built into Windows Phone, Nokias mapping technology is being used power it, you will be able to see where all that snarled up traffic is. You can also see it on the separate Nokia Maps app.
Regardless of all that backend goodness, Nokia drive is blissfully ignorant of traffic and does nothing to stop you heading to blocked roads or routes so snarled up it will see you sitting still for an hour or more. As long as you know where those black spots and dead ends are, you can just steer around them and Nokia Drive will happily recalculate the route. During testing, the omission of traffic information and re-routing caused needless delays that could have been easily prevented by some intelligent course changes.
Whilst on some high-speed roads we have noticed the GPS getting rather confused, spinning the map orientation around frantically and advising of a major route change. During one incident I was certain that my route was correct and it was a glitch so continued on but the navigation voice boomed out repeatedly telling me to change my course, at times this became more than a little distracting. We'll continue testing to see if those were just random bugs or its something present that needs to be ignored from time to time.
We will need to bring up the rather light options for tailoring a route more carefully. Nokia Drive currently will not give you any options to define such basic things as avoiding motorways or toll roads. Neither will the suggested route be detailed in an itemised way so as that it's quickly possible to see the main features of the journey. You are simply presented with a route map showing your start and finish points. Its possible to zoom in and look at the route but it feels quite clumsy considering Windows Phone's built in maps offering will show you an easy to follow route list.
Conclusion
Nokia Drive is certainly a great product. That it comes free with Lumia handsets is wonderful and certainly makes it a selling point. In use, the app is for the most part solid, quick to use and logical. It is not without its issues though.
We would like to see the traffic information and re-routing built into this app as soon as possible, considering the app is now at 3.0 this would be far more useful than 3D landmarks for instance. There is no synchronizing of favourites to Nokia Maps, whilst Nokia Maps is happily synchronizing favourites up to the cloud and back, Drive will only save favourites on the device. That is a real shame and should be easy to fix.
Route planning is also in need of some extra features to put it over the top. The app should allow for avoiding motorways and toll roads. Showing the route in an itemised way rather than just a map would also allow quick reference of where it intends to go.
Overall, Nokia Maps is fantastic, its helped me take my first steps in getting around London's often confusing traffic systems and bar a few niggles it's been faultless. We certainly hope to see more features rolled into Nokia Drive over the coming months. A concerted push to get features like 'My Commute' delivered to more countries is also expected. If Nokia can keep up the pace on these updates, Drive will lead the pack by a long way indeed. We're sure word is already spreading..
We'd love to hear how you guys are finding Nokia Drive. Are you happy with how it is right now? Would you like to see any features that we didn't mention in the overview? Would you consider the app in its current state to be best in class? Please do let us know in the comments bellow.
Nokia Drive is an exclusive to the Lumia Windows Phone line and you can grab it here in the Nokia Collection.
When they will drop this for all Windows phones :(

Not everyone has the money to plunk down on a Nokia at the moment. Though I will admit they are making quite the case for why I should purchase a phone from them a year from now...

Lumia 610 is £130 and 710 is £170. That couldn't be too much!

The 710 is around £110 on PAYG in the UK right now, this includes £10 of credit :)

+1 *** Best value smartphone on the market at present. Crazy value!

I use surfer dude as Voice :)

I'd like to be able to customize my routes sometimes. Add street names to the voice. Add avoidances and traffic info. Otherwise it has served me pretty well so far.

I too would like to see the live traffic information implemented into the app. I thought I saw something that said it was coming, but I can't remember if that's true, or just me dreaming.. LoL
I use the surfer dude voice as well, although it is starting to get a bit annoying.. :-)

Get directions to a saved contact from people hub. I know that we can copy and paste the address but having the option of contacts in the drive app would do wonders.

I have real issues with it not taking me the most direct way. At one point it wanted me to turn off a road and then turn back on the same road a few blocks up

Using Nokia drive in Aus. Have had no problems using it in Sydney & Central Coast areas and find that it's very accurate. Would love to get street names in future update as opposed to "Turn left now.."

I honestly don't ever find myself using this app. It's missing too many features such as:
-Live traffic, route customization, toll avoidance, itemized route list, it doesn't dim after expended use like Bing maps does, etc.
I travel a lot for work to new areas and this app is typically not the one I reach for when I need to find my way from a new airport to a new hotel. Just something as simple as not being able to click on a hotel address in my calendar and have it bring me into Nokia Drive (I have to edit my appointment to be able to copy the address and then paste it into Drive) kills it for me. Even though Bing maps does not automatically provide voice directions (you have to tap the screen), I find it much more useful as I can quickly search for a restaurant on my route, see traffic, review the directions before driving, etc.
I HAVE been playing with the commute option lately and have found it somewhat helpful, but it doesn't properly tell me to avoid freeway traffic even when it is horrible.

Some of the stuff you mention is available on the Symbian version, so they will probably bring it to WP soon.

This weekend I've been using Nokia Drive extensively during car trip to Krakow in Poland (I am not from Poland) with my girlfriend and some friends. It worked beautifully. Even speed limits were very accurate. Great app, I recommend it :)

Best Nav app I've ever used... Still some room for improvement, but so far it has served me really well

I've used it in Philadelphia, Florida, UK, Hong Kong and China and it never fails to impress that all the maps are free. I have seen the GPS glitch though where it seems to think I'm reversing down the wrong side of the road.

Always have to complain about the fact that it's three apps. What is Nokia thinking?
Also what car cradle is that?

You have a blue Lumia... Wanna exchange?:P Nah, I personally like Nokia Drive very much! The only thing I personally miss is the option to change between shortest and fastest route...

My biggest issue is that it can't tell the difference between a normal route and an HOV route. I've had it tell me to take an HOV on ramp or exit quite a few times, which I can't when I'm by myself. If they fix this, I'd be much more inclined to use it. In addition, I'd love to see better traffic integration. For now the standalone TomTom still wins.

Needs itemized route list, live traffic, and ability to paste an address. Garmin app is expensive but better in every way.

I have British accent female voice, I love British accent!. One day I'll move there!

When you get here, call me - we'll do lunch. :)

I wish Waze would come to Windows Phone.

I love Nokia Drive, but I have to +1 this comment. My number one missing app on WP7.5

Itemized route list, traffic, HOV lanes, saying the next nav point's name (if one is available), paste an address (for crying out loud!) are all needed in the next release. Syncing favorites with Noke Maps is then needed after that.

Heck, I'd love to see a Nokia Navigation "Hub" with all of their mapping apps in one place, instead of launching different apps.

The thing I miss most is the option to point on the map to get directions to the selected point.

Wow, still don't have this. How lame!

Also bicycle and pedestrian navigation would be great, even if we allready pedestrian nav with MS-maps. I'm also missing point to point navigation, because sometimes position to point is not enough ;-)

This is a great GPS app the only problem is sometimes the GPS gets lost and leads you the wrong way.

The app would be great if it had street names. I keep comparing it to Ovi Maps on Symbian and it is lacking compared to Ovi. But I have hopes that it will be updated soon to catch up with Ovi.

Well, technically, Nokia Maps is also called Nokia Maps on Symbian as well :)

But yes, the Symbian version is the model, and it seems as though Nokia is working to bring the WP version up to par with, or as close to, the Symbian version with each update.

Personally, I hope that they at least have the street name announcements integrated in the WP version by the time I get ready to purchase a Nokia WP.

I too want the detailed turns in text and also a zoom feature to see all or part of the total route. I also want the name of the next turn announced. Currently it is only on the screen. I find all of these things major omissions. Overall it is a first class app, but it sorely needs these additions. I received an update today to "3.0.0.2978 - 0.2.46.103". No clue what was changed. I am in the US.

Welcome to driving, now, what kind of car did you get?

When I first git my hands on Nokia drive I was disappointed to not getting route summary and alternative route options and in some cases the turning after next in confusing central London. I wrote to Nokia of my points i called them and commented on many forums but never bit a reply back. I love my Lumia but because of these features i also use my Samsung galaxy mini as navigation device and believe it or not the GPS signal on my galaxy is 100 times better and it doesn't get confused in London like Lumia does.

Apologies for spelling mistakes

It went haywire for me this week. It was convinced I was driving backwards and constantly told me to make u-turns. I hope this app gets all the functionality Bing maps already has, like TTS and traffic routing. I thought this version was going to have traffic routing, but it sounds like that isn't working from the review.

Its funny about you guys having problems with Nokia drive in avoid tolls. I recenly took a trip to from Atlanta to Orlando to Miami and it wanted me to avoid tolls at ALL COST. I didn't realize it from Atl or Orl but it completely had me pass the turnpike. So there definitely needs to be an option for shortest/fastest routes with an 'avoid tolls' option to let us decide. Even with taking the turnpike from Orl to Mia, it wanted to reroute me at least a dozen times. Along with that, the commuter option could use surface street traffic...I mean come on, Bing Maps has it for pete's sake!! Voice guided under commute would be helpful also. Also, a big pete peeve is that it seems the traffic info Nokia Drive's backend has doesn't seem to update as quickly as Bing Maps does.

The speed road bug which you mentioned.. I have faced them myself a few times as well. Glad to know I am not alone. Looking for a way to submit feedback now..

As I commented in a previous article, the routing is frequently incorrect and takes you on a much longer journey then is necessary. There's very little point in using free software if the fuel savings made by purchasing a paid for application or seperate unit more than covers its cost.

No -- I was happy with it but now I just don't trust it. For local driving it has generally been fine, but I also know the major roads. But I just took it on a long road trip across several Midwestern and Eastern states, over rural and mountainous roads, and multiple times we got badly misrouted and had some of the other glitches occur as mentioned by the article author. Totally unacceptable. My co-pilot with his iPhone took great delight in telling me how we were getting lost and that his Google Maps was showing the proper routes..... albeit without turn by turn. Very embarassing. But he was right. Google Maps and Bing Maps (and even Nokia Maps!) were actually giving better, more accurate directions for the same trips and offered more than one route choice per destination. There is no reason why Nokia Drive should lack such basic features, and struggle with misrouting so badly. A person should not have to have a backup phone running Google Maps just to double check Nokia Drive's routes for accuracy. Until Nokia fixes this, I can't recommend anyone using it for travel to unfamiliar areas unless you also first double check the route with Mapquest or Bing Maps and have a backup printout/paper map in the car.

The app should allow for avoiding motorways and toll roads. Showing the route in an itemised way rather than just a map would also allow quick reference of where it intends to go.

My thoughts exactly. I was at a cottage this past weekend in Huntsville, Ontario and usually take the back roads on long weekends because the 400 series highways are a shit show, the back roads are much more relaxing. However, Surfer Dude was being his stoned self and kept trying to route me back to the spot I got off the highway (where traffic was stopped), even after travelling 15+kms in the direction I needed to go (but on the back roads). Eventually, I just had to look at a map, figure out my route and turn off the sound until it figured out that I was not going back to the highway and re-routed me on the back roads.

The 'avoiding motorways' options is an odd omission, it seems like it would be a basic GPS feature - even my POS Magellan GPS has that feature.

I like the offline aspect of nokia drive, but it gets very glitchy for me at times. Like someone else mentioned, it will take me off the road I am on, parallel it for a few blocks, then bring me right back on the same road again. Also, bing maps will play over a bluetooth headset, which my car is conveniently setup for already :) Nokia Drive doesn't do this, and its a little anoying actually.
Windows Central Newsletter
Thank you for signing up to Windows Central. You will receive a verification email shortly.
There was a problem. Please refresh the page and try again.