Getting lost and found with Windows Phone and Nokia Drive 3.0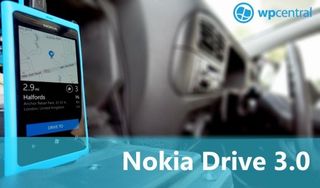 At the start of the year I took up driving with gusto, you see, being a Londoner I have really had little need of a car. For one reason or another, it had started to become a nuisance not driving so I decided to change my wicked, public transport loving ways and get a license to burn fossil fuels. I took an intensive course and recently passed. During the process of getting my license I bought a Lumia 800, of course, it is a wonderful device but wanted it for those free and extensive driving maps. So how does Nokias's mapping software get on? I have been testing it for a few weeks now, read on to see how well it works.
In Use
Nokia Drive comes with the usual features for getting about. Upon opening the app you'll be asked to set a destination, fairly standard stuff, search by postcode, street name or even name of the location (such a name of a church or landmark) and it should have no problems finding what you're after. Once you have confirmed your destination you can then opt to save it to your favourites, saving you the bother of repetition. Next stop is to hit 'Drive To' and off you go, it's as simple as that.
Whilst not a new language – Surfer Dude is enjoyable..
Whilst driving, you'll get those important audio turn-by-turn directions along with options for viewing the map in portrait, landscape, night mode and day mode. You can also set alarms to buzz you when you exceed the speed limit by a certain amount. Importantly for a navigation app you can grab offline maps in case you lose your data connection or you happen to be going somewhere where there isn't any cellular network (perish the thought!). Nokia are also kind enough to provide plenty of options for choosing the type of voice navigation you prefer. You can choose from a huge array of languages and pick a male or female voice. We even found an option to download 'Surfer Dude' which is fun although it can be distracting too.
How well does it work?
Things in London at the moment are rather confusing as we have the Olympics on. Some roads are totally closed to normal traffic and other roads are snarled up due to dedicated Olympic lanes for cars and busses. Once a route is programmed into maps, it does a great job of giving directions and coping with odd, missed turnings. We have no complaints about its ability to re-calculate quickly and move on but there are some chinks to its otherwise impeccable armour.
Nokia Drive – Night Colours
Live Traffic Information
Nokia Drive 3.0 does not seem to use any live traffic information, even though the backend platform is currently using it. If you look at the maps built into Windows Phone, Nokias mapping technology is being used power it, you will be able to see where all that snarled up traffic is. You can also see it on the separate Nokia Maps app.
Regardless of all that backend goodness, Nokia drive is blissfully ignorant of traffic and does nothing to stop you heading to blocked roads or routes so snarled up it will see you sitting still for an hour or more. As long as you know where those black spots and dead ends are, you can just steer around them and Nokia Drive will happily recalculate the route. During testing, the omission of traffic information and re-routing caused needless delays that could have been easily prevented by some intelligent course changes.
Whilst on some high-speed roads we have noticed the GPS getting rather confused, spinning the map orientation around frantically and advising of a major route change. During one incident I was certain that my route was correct and it was a glitch so continued on but the navigation voice boomed out repeatedly telling me to change my course, at times this became more than a little distracting. We'll continue testing to see if those were just random bugs or its something present that needs to be ignored from time to time.
We will need to bring up the rather light options for tailoring a route more carefully. Nokia Drive currently will not give you any options to define such basic things as avoiding motorways or toll roads. Neither will the suggested route be detailed in an itemised way so as that it's quickly possible to see the main features of the journey. You are simply presented with a route map showing your start and finish points. Its possible to zoom in and look at the route but it feels quite clumsy considering Windows Phone's built in maps offering will show you an easy to follow route list.
Conclusion
Nokia Drive is certainly a great product. That it comes free with Lumia handsets is wonderful and certainly makes it a selling point. In use, the app is for the most part solid, quick to use and logical. It is not without its issues though.
We would like to see the traffic information and re-routing built into this app as soon as possible, considering the app is now at 3.0 this would be far more useful than 3D landmarks for instance. There is no synchronizing of favourites to Nokia Maps, whilst Nokia Maps is happily synchronizing favourites up to the cloud and back, Drive will only save favourites on the device. That is a real shame and should be easy to fix.
Route planning is also in need of some extra features to put it over the top. The app should allow for avoiding motorways and toll roads. Showing the route in an itemised way rather than just a map would also allow quick reference of where it intends to go.
Overall, Nokia Maps is fantastic, its helped me take my first steps in getting around London's often confusing traffic systems and bar a few niggles it's been faultless. We certainly hope to see more features rolled into Nokia Drive over the coming months. A concerted push to get features like 'My Commute' delivered to more countries is also expected. If Nokia can keep up the pace on these updates, Drive will lead the pack by a long way indeed. We're sure word is already spreading..
We'd love to hear how you guys are finding Nokia Drive. Are you happy with how it is right now? Would you like to see any features that we didn't mention in the overview? Would you consider the app in its current state to be best in class? Please do let us know in the comments bellow.
Nokia Drive is an exclusive to the Lumia Windows Phone line and you can grab it here in the Nokia Collection.
Get the Windows Central Newsletter
All the latest news, reviews, and guides for Windows and Xbox diehards.