Uber for Windows Phone updated with performance improvements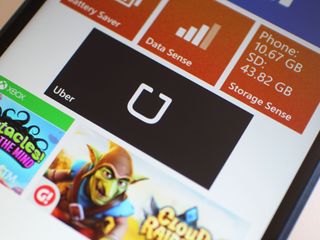 Uber for Windows Phone has a little update in the Windows Phone Store. The app that gives every user a private driver officially launched for Windows Phone this past July. A few days ago we received reports that the Uber app for Windows Phone wasn't working for some folks. It looks like today's update is to rectify those errors.
The Uber app on Windows Phone is now at version 2.2.2.5 and comes with the following changelog:
We've improved the performance of our app around the world, making it easier to get rides whenever you need them
A little vague, but we're hoping it fixes the problems a few of you seemed to have a few days ago! Now update the app and go enjoy your Saturday night.
Thanks for the tip everyone!
Windows Central Newsletter
Get the best of Windows Central in in your inbox, every day!
Works for me now! Awesome!

I really don't understand how people trust these apps where strangers show up and drive them around. I hope it all works for you, but beware of drivers bearing axes.

Strangers service me everyday. Pilots, bus drivers, taxi drivers, chefs, pizza delivery people. Gotta have a little trust in people or you'll be doing a lot for yourself.

Yes, but those strangers are at least backed by a company which at least makes it a little safer. Would you just trust some guy with an app to deliver your pizza? Really?

Actually use the papa johns app for windows phone, so yes.

These drivers are backed by a company too, called Uber.

I guarantee there will an "uber killer" one day just like the Craigslist killer

I've used Uber many times and my experiences have been phenomenal. I understand your concerns about strangers but in we need to have some faith in humanity.

They need to make it so you can give the driver your destination!!

You can. If you request a fare quote the driver has your destination when you get in the car.

It's there just not obvious. On recent business trip I learned that you have to hit arrow on the location pin and after it should ask for destination. Wish you could put in name of place (do lookup) for destination instead of just address though.

If you select set pickup location, there is a + on the right side of the box - click that and enter your destination. or select share eta from the menu and you can enter it

I don't use the service but they need to keep their apps performing well in order to be allowed to operate in more and more cities, so good on them for that.
It will be interesting to see how the the battle with the taxis go, they have been in the news in Toronto recently. Also, since I work in the insurance industry, they need to make sure that the drivers carry sufficient coverage for what they are using their vehicle for.

Still doesn't work for me. Always got the "there was a server error handling your request"...every single time. Never got to use the app, not even once. Always gets stuck at the register page. Smh.

Same here. Wonder if there's any way user could do to fix it.

Still can't get to validate my account.

Make the app for drivers t round out the package

Still waiting for Paytm wallet feature in India.

After the latest revelations, why anyone would want to use Uber is questionable.

While I agree, it's also the only popular ride-sharing service available for Windows Phone, that I know of. It's a shame, because while I'm sure many would like to avoid it, competitors like Lyft don't have Windows Phone apps at this time.

SwimSwim, make sure Lyft knows you want a WP app. I've asked, bit the demand isn't there yet for them. If more people asked for it, they might change their tune. Just email their support email account asking when they will support WP.

No, in-fact those journalist idiots have successfully pushed me in installing UBER on my phone, i will cheer for any company that has the balls to give it back to pathetic, rude, corrupt creatures known as journalists!!

Yes, because reporting and being critaical of a companies practices should never be allowed.

I hear you, but the reality is that tons of companies were do business with are scum...ie 99% of the banks (and taxi companies for that matter). They are just more grown up and know better than stupid comments to the press. They serve a purpose and ate a great service for windows phone!

Uber needs to update their attitude towards women and journalist.

According to the press a few months ago, so does satya....

Was gonna do this if I get a newer car. Nobody in my city has it but the next bigger city 15 miles away are loaded with drivers.

Love Uber. It's still missing PayPal in windows phone unlike iOS and Android.

You can now add payment methods from the windows phone app. Previously you had to go to the website

BTW--the webapp version works fine in case the official app still doesnt let you login...

Uber is not a company I would do any business with. They are completely unethical.

I am now having log in issues when it worked perfectly before. Ugh.

So they require background checks for drivers and or users. I know crazy but I would do this part time lol.

Taxi services are quite heavily regulated by local and municipal governments for a reason - citizen safety. Uber bypasses all that regulation. And if you choose to use them, you are bypassing all the controls and checks that have evolved over time to help ensure rider and driver safety. If Uber had not already shown itself to be an unethical company, one might give them the benefit of the doubt. However, they have actively engaged in unethical practices and succeeded in turning almost universal goodwill towards them into shame and disgust about what they have done towards their customers, women, their competition and people who discuss their shady business practices.

How does this work? Are the drivers just random people waiting for a request in their area? How do they get paid?

Pretty much. I drive for Uber in NYC. We basically drive around and when a passenger (you) needs a car you open the app request vehicle, and the closest driver (me) will get notified of a pickup. I accept it. Pick u up and take you where u want to go. As for payment it goes on a per minute and per mile rate. At the end of the week uber takes their percentage plus other small fees involved. We get paid weekly directly to our bank.

Btw in NYC we get screen and have to pass background checks by the city transportation agency. In this case Taxi & Limousine Commission. Also our vehicles have to be registered with the TLC also.

Interesting. Thanks. The background checks thing is reassuring. Are other cab drivers getting pissed off with it?

I can see cloud raiders :-D one of my favourite games :)

This uber service is in India?

Lyft is the better company, but they don't have a Windows app so they wont get my business.

As much as this type of service is convenient, the idea of yet another industry being taken over by a corporation, especially one that Google has invested in is hideous. For this reason I will continue to call my cabs.
Windows Central Newsletter
Thank you for signing up to Windows Central. You will receive a verification email shortly.
There was a problem. Please refresh the page and try again.