Ubisoft's Trials of the Blood Dragon heads back to the 80s for some racing action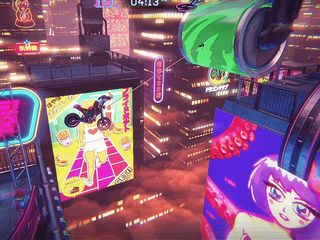 Ubisoft has released Trials of the Blood Dragon, a new and wild version of the Trials racing platformer for the PC, Xbox One and PlayStation 4 that takes players back to the 1980s B-movie action flicks.
Some of you may remember that Ubisoft released Far Cry 3: Blood Dragon in 2013, which turned the first-person shooter into an 80s action movie spoof. It earned wide acclaim and now the publisher is doing the same to the Trials franchise. In fact, this new game is a kind of sequel to Far Cry 3: Blood Dragon as you control the kids of that game's lead character Rex Power Colt.
TRIALS WITH A STORYLINE 30 missions across 7 different worlds, fully animated cut scenes, colourful characters and a self-contained story set 12 years after the events of Far Cry Blood Dragon.
OFF YER BIKE! As well as the trusty Motorbike, discover the art of the BMX, 8-wheel tank, Turbo Flip R/C, jetpack and mine cart. You might even have to go on foot, a first in the history of Trials.
USE YOUR HANDS Beyond driving, the level of action is cranked up with the addition of weapons and a grappling hook, bringing a whole new level of gameplay to the world of Trials. If you don't succeed at first, try shooting it.
The game is now available for $14.99 from the Xbox Store:
See at Xbox Store (opens in new tab)
Windows Central Newsletter
Get the best of Windows Central in your inbox, every day!