UK gets in on the selfie action with the Lumia 735, available from October 2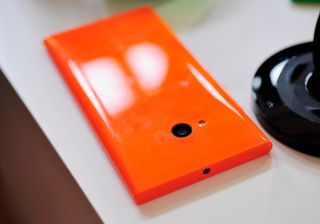 Microsoft UK has officially launched the Lumia 735 in the country, with the device set to go on sale starting October 2. The 4G-enabled Lumia 735 will be the first handset in the country that offers a beta version of Cortana out of the box.
Microsoft has mentioned that the contract price for the device would be starting at £19.99 ($32). While an unlocked price was not revealed, pre-order listings from Clove and Unlocked Mobiles suggest that the Lumia 735 will be priced at around £220 ($360) in the country.
Need to know what you're getting for £220? The Lumia 735 comes with a 4.7-inch 720p ClearBlack display, 1.4 GHz quad-core Snapdragon 400 CPU, 1 GB RAM, 8 GB internal storage, microSD slot up to 128 GB, 6.7 MP camera at the back, 5 MP shooter up front, Wi-Fi 802.11 b/g/n, LTE Category 4 connectivity, Bluetooth 4.0, NFC and a 2,220 mAh battery along with Windows Phone 8.1 and a Lumia Denim update to boot.
UK readers, how many of you are interested in picking up a Lumia 735?
Windows Central Newsletter
Get the best of Windows Central in in your inbox, every day!
Harish Jonnalagadda is a Senior Editor overseeing Asia for Android Central, Windows Central's sister site. When not reviewing phones, he's testing PC hardware, including video cards, motherboards, gaming accessories, and keyboards.
Live each day as if it were your last.

To be upset over what you don't have is to waste what you do have.

Should not be too long now, considering we're entering the festival season in the country.

Ya release it next year.then it will be 2years after no phone in that price range!!!and release L930 after 2years by then every one would have forgot what is Nokia..MS should at least make the phone available to buy,otherwise how do they expect market share to grow.there no phone 5inch display phone in market now(625 is outdated,1320 too big)no wonder people buy other brand coz ms don't sell their phone!!!"Ms don't sell their phone"

expected price in india????

Available in one to two weeks told by nokia retailer

Why do I see "____ country please" comments on every article about a new phone? O.o Not angry, but curious.

People do tend to like to know when they're going to get a device, if ever. Also, people tend to make phone buying decisions on what's available when.

Other phone makers sell to more regions faster than Microsoft does and these cats are frustrated. I'm not saying it's good or bad, just answering your question.

For an average earning guy like me 20k is too much!
I would buy for sure if priced around 15k. Posted via Windows Phone Central App

If its 220£, then it will be 18k here minimum

I might get this on ebay (if the price is right) when people take an upgrade they don't want.

Hurry up Verizon and bring it here!

Think this could be the phone for my wife to upgrade to from her 520, and my lad when he finally replaces his HTC 7.8 with very cracked screen (He will need a new phone when he gets his Xbox One). Bob

Can I be your lad as well? LOL. JK...

Woo! Hope 730 comes to India soon at a reasonable price.

Below 15000 will be much appreciated.

Surely. But knowing them they'll probably release it over 20k.

15k is never going to happen...even the 720 when it sold last was bordering 17k.
They need their margins...don't think the price will be that low at launch.

But also consider competition here in India. I don't have any problem if they price it above 20k but sales would be much affected. And also the key of success of 520 is its price. So better to sell in quantity than on higher profit.

I don't now your dollor but could you just save up longer or give it a few booths until the price drops?

I pay £12.50 a month for the 820 (and have done for 18 months) for a phone that is meant to be affordable, £19.99 is very steep - to think the 830 will cost me double what I pay for the 820...no thank you!

but even sim only deals start at about £10 per month at the lowest tariff so you are only paying £10 per month for the phone? assuming a 24 month contract you would be paying 240 for the phone which is actually about right give or take!

Price is always more when a phone is first released.. The 820 was abt 25£ p/m at launch

Why doesn't this story show up in the new filter with 'PHONES' selected?

Which colours are available at launch?

Okay
Seeing these high prices in dollars I am getting less and less hopeful that it will be less than 20k in India. Sent from somewhere. Don't worry I ain't illegal.

735 was costly from 730 when launched. i think had 735 wud hv been launched in india, it wud hv been 20k but 730 will be around 17k..

Lets hope so. But i not that optimistic regarding this.

Off topic!
I just received a software update on my 1520. Do you folks have any Idea what is new? I was running cyan before the update.
Im not a preview user, french phone, no particular carrier. I guess its the 8.1.1 update. I can finally get my time set automatically.

Hmmmm, give us more info, your carrier, are you a preview user?

You still run cyan so it's nothing new. Just a small update :-)

Some more info?
Like Os version and stuff? Sent from somewhere. Don't worry I ain't illegal.

Saudi Arabia, no news yet :/

سلام عليكم ورحمة الله وبركاته إزايك اخوي

Good news but id like to see Microsoft release a updated 925

No, 930 is different from what an updated 925 should be. That would probably be a 935.

It's not really different from what it "should be". Non-expandable: check. Highly updated camera: check. Unibody frame: check. New screen technology: check. Sounds like a 925 upgrade to me, just larger than imagined, which happened to the 830 as well.

The 930 is more an update to the 925 than to the 930. Starting with the damn ever-heating aluminium frame. I'd like the phone a lot more if it had the same unibody construction of the 920 seeing as I still think the 925 was just plain ugly. Well, at least there's no camera hump.

I will disagree that 925 is ugly. In my book this is best balanced Lumia phone to date.
Not quite as good as Samsung ATIV S. But very close indeed.
Note: I do have both phones at home

I will buy this in a heart beat if it is priced £50 cheaper than this. £220 isn't worth this phone. £150-£170 and I will pay all cash. ;)

More interested by the 830...

830 is more beautiful I think but 730 will be a good device for Asian

I hope with Christmas arriving, there is a price cut to make us buy it for sure

Getting this for my nephew for his birthday. He is gonna love it.

you offer phones as a birthday present to your nephew? damn, I want an uncle like you xd

He currently has an iphone 4 and needs a new phone so said to my sister ill get him one but it will be WP not bloody Apple. Method in my madness lol.

I do agree on that. I'm sure he will love it.

1.4ghz????? Microsoft details only 1.2ghz.....

$360... Seriously, I can't wait for it to reach Asia. Now, that's value.

Did I read that correctly? Coming with Lumia Denim installed? .. Or Denim later on as a priority update?

Lumia Denim comes on the 730, 735 and 830 out of the box.

Any news on when 830 will arrive in the UK?

It shouldnt be too far behind, really. Probably mid-end October if not sooner.

Microsoft is really moving FAST! and... That's what they should do.

Yeah exactly, and it's the least they could do after being caught napping for half a decade. They still need to move faster and smarter. Market needs an affordable Lumia (640 maybe?) with a front camera, and a 1030 too

Hope the 830 has a similar release date

Solid update to the 720 this with lots more features. Give it a couple of weeks and the price will be down to under £200. Great looking device and can't wait to get hold of one in orange!

Hope 730 come in diwali time.

I want this phone sooo bad, If the orange version is anything like the orange 635 its gonna be awesome!

Nokia 730 will be released in India in two weeks.. Nokia showroom person told its available at end of this month...so wait for one week max 2week not more than that..it's confirmed

I've been waiting for a mid-range WP for a long time, but I just ordered a Moto G with LTE last night. Now you're going to tell me it'll be available in the US starting Oct 2 for a great price!

Yeah, I can read that. More countries are getting announcements though, so wouldn't surprise me after months of waiting that the day after buying another phone, the 735 gets announced here in the US.

Sold my 925 today for 13,000₹. And yes buying 730 on 2nd October as retailer told me 2nd October is the release date for India !

Is out gonna release on 2nd October in India...?

Yeah, I'm "upgrading" from the 925 to the 735, I will miss the aluminum design and dedicated camera button, but battery life and storage are more useful to me, I'm waiting for the next big leap in design/specs from Microsoft, and sadly probably my last Nokia branded phone...

Sponge one should do a full review...

I mean some one.... Can be sponge bob also..

No dedicated camera button.

Lumia 735 should be release in India.

$360 makes sense for something like the 830 which is a bit higher spec. Not this. Anything more than $300 is too expensive imo. It's barely even a mid range phone.
Windows Central Newsletter
Thank you for signing up to Windows Central. You will receive a verification email shortly.
There was a problem. Please refresh the page and try again.