Two UK residents could score an invite to a secret Microsoft Lumia event Nov. 19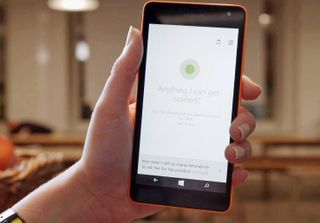 So now that we have the new Microsoft Lumia branding and the reveal of the upcoming Lumia 535 smartphone, it looks like the company wants to start their new mobile device marketing in a rather big and interesting way with a contest that's running on the Lumia UK Twitter account.
Basically, UK residents that are 18 years or older are being asked to retweet a specific post on the UK Lumia Twitter page sometime between now and 5 pm GMT on Friday, November 14. One winner will be selected and he or she will get two tickets to attend an "exclusive and top secret Microsoft event in the UK" that will be held on November 19. Hmm..
That does sound intriguing and we hope whomever is picked will post a full report on this top secret gathering when it happens. What kind of event do you believe Microsoft has in mind? Thanks to everyone who tipped us!
Source: Lumia UK (Twitter)
Windows Central Newsletter
Get the best of Windows Central in your inbox, every day!
Deadmau5. It's always Deadmau5

Nah, I dont believe in lame bands lol kidding, I respect your likes of genre of music

Deadmau5 is certainly not a band.

What would you consider than to be my friend? I consider it a cliche... In which i don't want anything to do with.

And I suppose you think Taylor Swift and Mackelmore are the best artists to ever walk the earth.

No.... Its Metallica my friend.

LOL the user name kinda hinted at that

New Cortana features for UK.

DAMMIT! Finally a UK event... But you have to be over 18... Almost there.

Get a bro/father to retweet.

THE FIRST VERSION OF WIN10!!1

Yes, house it's a 540! :D

Lumia 540 and Lumia 545 lol

Future plans of Lumia in Microsoft branding. And .....

LUMIA 1330 WITH 8MP BACK 1 MP FRONT CAM 16 GB STORAGE S400 1,7 ghz 4 CORE. 1GB RAM 3400 MAH BATTERY AVAIBLE ON 5 OR 6 COLORA SUCH AS ORANGE WHITE BLACK GREEN DARK BLUE ETC ETC, 6INCH 720P OR BETTER SCREEN !!! ALSO I HOPE THIS AND 1530 COMES WITH A STYLUS LIKE GALAXY NOTE SERİES!!

WOW! That sounds completely underwhelming!

Yeh... Why 8MP? That's so low-end

You mean iPhones are low-end? :P

No... An 8MP camera in general is low-end, however, I would agree that n iPhone is very cliche and low-end on all fields of the device, not just camera

Guess you may have never used an iPhone Camera. There are many points in which an iPhone 6 camera is better than the one in my lumia 930. Speed, Dynamic Range, White Balance, Low Light, Sharpness, Video, 240FPS Slow Motion, Focus Quality and Speed, maybe in every single point except of Resolution. But even there the difference between 8MP iPhone and 19MP Lumia is barely visible. It's really funny how windows fanboys repeat those stupid low budget iphone cliques, without having a single comparable camera experience. Even the Lumia 1020 Camera is in real live outdated hard and software (have never seen such a slow camera on any smartphone before). Lumia Cameras are good, but far away from being as as good as any flagship smartphone cam released this year on other platforms (except of One M8, maybe)

I'd reply this comment explaining why Lumia cameras (specially 1020's camera and all Pure View cameras) are the better cameras around the market, but you consider iPhone's rear camera great, so... as much as I can explain how excellent are Pure View cameras, it wouldn't mean anything because if you really consider iPhone 6 a decent camera, you can't even see and understand a reasonable argument.

Honestly the iPhone 6 or any iPhone at that has absolutely 0 bragging rights to any WP/Android users

The iPhone actually does take quality pics and has for years. I'd say since iPhone 4. I prefer the Lumia Pureview of course but come on... You can't just say that only one is great and if you like the other that person can't recognize a decent argument. The iPhone cameras are great. Just not the best.

"I'd reply this comment explaining why Lumia cameras are the better cameras around the market" come on, give it i try. i do my best to understand your arguments. But unless you don't show me a lumia camera, which you take out of your pocket and is almost instandly ready to take shots, focuses in less than a half second, is ready for the next shot within a blink, selects HDR automatically when it needs to, and makes impressively detailed and stable videos (stable focus too), it definetely won't be the best all around smartphone camera. Have you ever seen a Smartphone Video with 60fps, or HDR? Very impressive. 4k Videos look awesome even on 1080p Screens. We have almost 2015. It simply does not make sense to just compare the visible resolution, like we did in 2010. People expect more, much more than that. Do you know how many excellent shots i missed with my 19mp Pure View Camera because of it 2010 speed? Do you know how many shots were ruind only because this glorified pure view camera is still not able to take hdr pictures (why the hell are they taking so long to release the Lumia Camera they announced months ago? They ruind the launch of Lumia830 here in europe, because it has denim but not a single new camera feature and is as slow as lumia 630. What the fuck were they thinking? We have a fan base and as long as we tell them it's pure view they will take it for granted that it is one of the best cameras. Not every reviewer here is a fan, they review what they get and not what they could have gotten) Do you know how many videos are useless now to me, because when i saw them on a bigger screen i noticed that constantly focus pumping every few seconds? Here a list of other phones i compared my lumia 930s camera with: LG G3, Note 3, Note 4, Galaxy S5, Galaxy S4, Lumia 1020, Z2 ... If you just compare the quality of some pictures in certain situations, the 930 was somewhere between Galaxy S4 and Note 3. Compared to Note4, S5 or G3 it didn't stand a chance in any single aspect, not only the picture quality. The Lumia 1020 has a very impressive resolution, which is better than 930 and others, not only on paper. But all around it offers a user experience which is good for some geeks, but bad to everyone else. If you find a camera which is even slower (starting, focusing, saving), let me know.

Sorry for my english, but do you know what HDR means? It's not "magic", it's not some SW ruined picture. It's picture made by 3 pictures with different EV and you can do it yourself. Do you need "magic automatic function" to do everything? EDIT: But I agree with your opinions about focus pumping, that's really horrible thing. Currently I need new phone, but I am so unsure about L930 or L1520... They are not as perfect as flagship should be.

I guess he means an iPhone does HDR automatically. To do HDR on a Lumia, you would first need a tripod (since the interval between the 3 images is so long, handheld bracketing is not possible) then you would need a software (on your phone or your PC) to combine those images. What rich capture brings to the 930/1520 is really amazing. That's how Lumias could finally compete with iPhones in terms of speed (with Lumia Camera v5).

And it compares how to my 41MP camera? Yes maybe its omown for its pixels but that isn't all my friend. Also how does ot stack up to the HTC One M8 dual camera?

Couldn't agree with you more the iPhone camera is the best I've seen in a smartphone and i have a 1520

WELL BECAUSE ITS A MIDRANGE PHABLET AND ALSO LUMIAS 8MP IS WAY FOKIN BETTER THAN iShit AND GALAXYS 16MP CRAP

WHY SHOUTING ALL OVER THE PLACE?

This is true but can it be a 32MP and still be the Nokia PureView lens like on all Lumias?

Hello, Lumia 920 and the pictures are still great.

I Hope show one Lumia with the hight parameters

Height parameters? Are you worried about how tall the phone is?...strange.

I would be, think of a 1m phone...

No flagship is approaching "seems faster" status by the minute.

It is a Microsoft Lumia event , not an event for os updates

Will definitely enter this comp.

But not to worry though. Already ordered my gears, a WP device, MSFT band and cortana-controlled spy glasses included. I'm going in the Ethan Hunt (Tom Cruise) way. I'll apprise WPC team on what goes on there.

Daniel already said there are no flagships until WP 10 is live.

Do you have a source for that info? Who and when did they say no flagship until W10?

Wow,I didn't realize Daniel works for Microsoft and knows everything that's being released by them

Also any phones set be be announced in the near future would turn up on the US FCC website. well anyone that will go to a US carrier anyway. also nop other leaks besides the 1330.

It's a secret event, not a device launch... They can show what is to come.

What is this event? I think they have already provided some clues. The picture on the twitter page shows Cortana with the suggestion: "remind me to go for a bike ride this weekend", with #makeithappen. Yesterday, they put up 3 riddles. The answers were London, Cortana, and bike, also accompanied by #makeithappen. Seems too much of a coincidence to me. To me, London=destination, Cortana=reveal of cortana in uk (ie release of Denim/8.1 update worldwide), Bike=? - something to do with exercise, getting on bike, maybe MS Band lauch in UK? Only think I can think of for bike. Discuss

Promo event. Nothing more. It is not a new phone announcement. You people need to get out more, lol

"You people need to get out more, lol" meh, can't deny it.

How about: "You people need to speculate way less"?
It has really been hilarious what people tried to read into Nokias "Optical image stabilization"-commercial.

sorry to be off topic but is there any conference of Microsoft for devs on 12th November?

Yes the "connect" event. It is online only...

And the twitter UK image has a Nokia logo phone

X10, running Windows 10 of course.

Lumia 535 for UK with 4G lte. Lol

Or or... Comes to US with 4G XLTE on Verizon.

Nah, comes 5G ready just cus even though its only experimental atm

Yes, it is being expirememted, although XLTE is still late and very minimum, I think 4G is best

Verizon will retire it before they launch it lol

4G XLTE is already here, but yes, most likely layer on they'll abandon the idea once 5G is official, but from what im aware of, they've been working on 5G since 2009

That would defeat the 635.

Glad UK gets a chance to do stuff. Hope all goes well with you my friends of that country :)

Wow. Microsoft is operating/marketing in Stealth mode lately. The Band, 535 now this clandestine invite. Pretty cool. Sure piques folks interest. Hope whatever it is is made immediately available, if its a device/service. If so that would be great execution like with the Band. Hmmm...actually maybe it IS the Band for the UK. It's not over there yet correct?

It'll be the annoncement of the Lumia 536 which has an extra megapixel added to the rear facing camera and and extra gb of ram to fill in the gap between the Lumia 535 and Lumia 630... Sorry, I am being bitterly sarcastic. I'm just a bit dissapointedly underwhelmed by Microsoft at the moment.

Why is that? Now I can easily recommend a low-end Lumia to anyone without any compromise (FFC, RAM, 8GB, flash). The Lumia 535 is a great phone for that price.

The Nokia 630 has 512mb memory while the Nokia 535 has 1 GB no need to add any extra.

I was expecting Lumia Denim for today, what a big BIG disappointment! Thanks Microsoft

I was expecting GDR2 today

Yeah, shame on them for releasing a new phone!!

I hope it's the band. Really want one for christmas :)

Microsoft could announce that they're just having another event.

The winners will probably sign an NDA before entering it. Making the leak very hard for them to post.

It'll be tickets for an event that isn't really an event, just a dry run!!

It's likely going to be yet ANOTHER low or mid-range device, but one that will not be available in the US. Bring on the new FLAGSHIP!!!!!!!!

Cool a 1 in 583 chance. As long as no one else RTs. Stop reading now everyone.

It's the global reveal that Joe Belfiore and Victoria Beckham are the same person.
http://mynokiablog.com/wp-content/uploads/2014/09/Screen-Shot-2014-09-30...

Ha, its always Deadmau5. Microsoft has given him great things over the years. And its a shame that I am only 17 and I don't have Twitter.

Can't wait to hear about the launch of the 535 for the UK... And maybe a 640! /s

Top Secret? Might be the true FLAGSHIP LUMIA!!!!! 1030 OR SOME OTHER CRAZY MCLUMIA

Nokia 335 announcemnt. ..oh wait, is that already a thing?

Tour of the Wonka factory. I remember it being in the UK right?

Im off that day. My birthday too.

To witness the launch of another budget phone, No Thanks.

Maybe MS will announce Lumia 1330....

Secret huh? Pfrrrrr. I don't need that re-tweet shyte. I already ordered my gears - a L940 with WP10 and 128GIG memory on board, MSFT band and Cortana-Controlled spy glasses included. I'm going in the Ethan Hunt (Tom Cruise') way, piece of cake. I'll apprise the WPC team on what goes on there live.

Let me get this straight.... They ANNOUNCED a "TOP SECRET" event?

Remember to buy your new Lumia on Black Friday (28th of nov)

Here's my guess. The first Microsoft Store. It would make sense.