Xbox 360 owners: check out the Ultimate Game Sale. Plus get Defense Grid for free!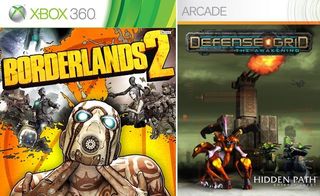 Remember the Xbox 360 Ultimate Game Sale from back in February? Microsoft slashed the prices on more than 20 Games on Demand (downloadable versions of full retail titles) throughout the week, with a different selection of games on sale every day. And now that sale is back again just 4-5 months later. Could it have something to do with Microsoft wanting to sell as many Xbox 360 games as possible before the Xbox One shows up later this year? Does a frog bump its butt when it hops?
On top of that, today happens to be the first day of the month. And that means Xbox Live Gold members get a new free game! Last month it was Fable III, and this month everyone expected Assassin's Creed II or Halo 3 (both Games on Demand titles) to go free. But life would be boring if everything went to plan, and so Microsoft has made an XBLA game called Defense Grid: The Awakening from Hidden Path Entertainment free instead.
Quick impressions and a full list of sale games after the break!
Ultimate Game Sale: Persistent Offers July 1-8
Mass Effect
These games will be discounted for the duration of the sale, which lasts through Monday the 8th. Remember that Games on Demand prices (including sale prices) vary by region, so your country's prices will likely differ from the US prices listed here. Also, you CAN purchase Games on Demand titles with Microsoft Points if you like. Just press the X button on the first checkout screen to switch between real currency and Microsoft Points.
Ultimate Game Sale: Daily Offers Tuesday, July 2
Borderlands 2
Every day from Tuesday the 1st through Friday, July 5th, a new selection of games will go on sale for 24 hours only.
Can anyone possibly resist Borderlands 2's first-person shooter/RPG awesomeness at that price? Not me!
Future Daily Deals (July 3-5)
The Witcher 2
We don't know how much these will cost when they become daily deals, but Major Nelson did at least announce the remaining games that will go on sale between now and Friday.
Bioshock Infinite – Download Size: 6.49 GB – Regular price: $60
Crysis 3 – Download Size: 4.97 GB – Regular price: $60
Forza Horizon – Download Size: 6.76 GB – Regular price: $40
Gears of War: Judgment – Download Size: ? GB – Regular price: $40
Hasbro Family Game Night 3 – Download Size: 1.36 GB – Regular price: $30 – Contains The Game of Life, Clue, Twister, Mouse Trap, and Yahtzee Hands Down. None are very accurate to the actual board games.
Hitman Absolution – Download Size: 7.01 GB – Regular price: $30
Kinect Sports Season 2 – Download Size: 5.61 GB – Regular price: $30
Left 4 Dead 2 – Download Size: 4.36 GB – Regular price: $30
LEGO Batman 2: DC Superheroes – Download Size: 4.11 GB – Regular price: $20
LEGO Lord of the Rings – Download Size: 5.87 GB – Regular price: $30
Metal Gear Rising: Revengeance – Download Size: 7.34 GB – Regular price: $50
Monopoly Streets – Download Size: 1.22 GB – Regular price: $30
Rockstar Table Tennis – Download Size: 3.28 GB – Regular price: $15
The Orange Box – Download Size: 3.92 GB – Regular price: $20 – Contains Half Life 2, Portal, and Team Fortress 2
Tomb Raider – Download Size: 6.57 GB – Regular price: $30
The Witcher 2 – Download Size: 7.04 GB – Regular price: $40
XCOM: Enemy Unknown – Download Size: 7.08 GB – Regular price: $40
Deal of the Week for July 2-8: Borderlands 2 DLC
If you picked up Borderlands 2 for cheap, you might as well get some of its impressive DLC on sale too. Unlike the Games on Demand sale, the Deal of the Week is restricted to Xbox Live Gold members.
'Mr. Torque's Campaign of Carnage' – Regular price: 800 MS Points – Sale price: 400 MS Points ($5)
'Sir Hammerlock's Big Game Hunt' – Regular price: 800 MS Points – Sale price: 400 MS Points ($5)
'Ultimate Vault Hunter Upgrade Pack' – Regular price: 400 MS Points – Sale price: 240 MS Points ($3)
Free Game: Defense Grid (July 1-15)
As of June this year, Xbox Live Gold members get two free games every month; one during the month's first half and another during the latter half. These games are yours to keep forever, even if your Gold subscription lapses.
Defense Grid takes place on a ruined world where an alien invasion causes an AI defense program to reawaken and attempt to protect the remnants of his homeland. The invaders strive to steal pieces of each level's power core. As long as you can stop them from leaving the map with a core piece, the piece will slowly return to the power station.
Other than being able to recover lost cores, Defense Grid hews closely to genre traditions. Levels generally contain just one or two paths to defend, which you'll do with a small arsenal of upgradable towers. Some levels do allow players to construct paths which to divert the invaders however, giving players a greater degree of freedom in formulating a defense.
If you like the genre, download Defense Grid without hesitation. And even if you haven't enjoyed previous tower defense games, this could be the one to change your mind. Defense Grid is a much longer, deeper, and overall superior game to the popular geoDefense tower defense games for Windows Phone, though it can't compete with Plants vs. Zombies for sheer variety and casual appeal.
Defense Grid – Xbox 360 – 297 MB – Regular Price: 800 Microsoft Points ($10) – Sale Price: Free (Gold membership required) – Xbox.com Store Link (opens in new tab)
Shopping time
What do you think of the new Ultimate Game Sale selection and free Defense Grid, super cool readers? Leave a comment and let us know what games you'll be buying.
Thanks to EasyPeasyJD for the tip!
Windows Central Newsletter
Get the best of Windows Central in your inbox, every day!
Paul Acevedo is the Games Editor at Windows Central. A lifelong gamer, he has written about videogames for over 15 years and reviewed over 350 games for our site. Follow him on Twitter @PaulRAcevedo. Don't hate. Appreciate!
May be time to finally get Forza Horizon when it goes on sale

I really really enjoy that game!

I've got the demo, and it seems very well done. I might pick it up as well.

Yea, great game... No question. A lot different from the race after race like Forza was before. Open world now and even cool challanges just for driving the road as fast as possable :)

they should give Forza Horizon away for free...that is about what it's worth.

What an unusually harsh opinion of a game that has been generally very well received... But I haven't played it myself.

no surprise most people like it since it isn't for real racers anyways....just tools who think street racing is cool.

I totally understand why you prefer sim racing games, but dude! It's not nice to speak so derisively about arcade style racers. Horizon is a spin-off; it was never trying to be Forza 5. We have that one to look forward to later this year.

That's one of the great things about games. You can do stuff you can't do in real life, in this case race around on roads occupied by regular cars. Just because it's not your style doesn't mean that those who like it are tools.

Its not like Forza 4 is for real racers either.

I have not played it. I also don't think it makes a lot of sense to classify a group of people a "tool" for enjoying something I did not. Just imagine if everyone ran around stating someone is a tool for enjoying [insert anything here]. SMH

There is a genreal distaste for Horizon among those who are series purest and prefer the simulation approach to racing as opposed to Horizon ,which feels rather "arcadey".

Seriously? Forza Horizon was the best racer of last year, and probably my favourite arcade racer to date. It never attempted to be Forza 5, just a means to bridge the gap between the main iterations. I thought it was a pretty refreshing take on a series that had barely deviated from the safe confines of familiarity

Metacritic score of 85. Your comment is invalid.

Hey, dude is a "real racer", serious business...

He was talking to Inteller.

Besides, it looks like there are some elements from Horizon that will be carried over to add some extra life to Forza 5.

I guess I'm finally getting that Dragon Age then... =P

Truth be told, with the amount of DLC Dragon Age Origins has, you'd be better off finding The Ultimate Edition that comes with EVERYTHING.... shop around a bit and you can grab it for $15 - $20. Ultimate edition is both Origins + Awakenings plus ALL DLC.
Let's say you bought the $5 Origins download, and then decided you wanted to buy the DLC, including the expanison Awakenings... looking it up on Xbox.com, every single bit of DLC comes to whopping total of $63 (5,040 MS points).
However, if you don't give a crud about Awakenings or any DLC... then $5 is great for the core Origins game.

I'll take the Hasbro. Not much else interests me.

I wonder how much Crysis 3 will cost.

Defense Grid seems disappointing... I though the free games were going to be full retail games? Was actually looking forward to Halo 3.

Microsoft pulled a fast one by announcing Halo 3 and Assassin's Creed 2 but not explicitly stating when they will become free. Still, I'm sure we'll get them free eventually. Personally, I don't mind them mixing in XBLA games because XBLA games need more exposure, and Playstation+ gives out equivalent PSN games as well.

That last sentence is completely false.

Rubios, you should try to be more polite and productive when commenting. Looking over your comment history, your comments veer dangerously close to trolling. Consider this a friendly warning.

How is the sentence false?
PS+ offers arcade titles, and is a large portion of what is given. For example this month has Jet Set Radio, Oddword, and Battlefield 3 for the PS3. In addition a vita and psp game. PS+ is sweet and my only very small gripe is when I don't renew ps+ I cannot play the games that were free. The MS promotion is nice because they are free regardless if you keep Gold or not. Essentially you can purchase a cheap month of gold just for the two free games during a given month.
Major Nelson's comment that marketing may continue this promotion if it is successful is promising.

I agree with the part of your reasoning that says that it's OK the free games are sometimes XBLA and that they need exposure.

I completely disagree with the part that just because PSN does something Microsoft should do it as well.

Where do you think the "free games for Gold" program came from? it's Microsoft's strategy to battle against Playstation Plus. However, I did not say that Microsoft SHOULD follow Sony in any particular way. It's just the strategy they've chosen to do, and I approve of it.

OK, way to nitpick. I will rephrase then. Microsoft doing something should not be justified because Sony does it as well.

Sure, if it's a negative thing. But something positive like giving games away for free - what's your objection?

You were replying to someone who took an XBLA game offering as a negative... That's why I stated that just saying "PSN does it as well" should not be used as a reason in this case. And that's also why I said your other reason is indeed a good one.

I dont like how MS is putting their foot in their month since E3.

Make it seem halo3 and ac2 will be the july releases and get people excited for actual full on demand games being completely free and pulls the rug. Then major nelson states when did a date every been said, then somebody posted a picture of xbox suport saying it (yes, its xbox support).

MS should be more clear and not use a semi- bait and switch tactic.

I am looking forward to Assassins Creed 2 myself. Its alright, they'll be here eventually. I was under the impression they would all be retail as well, but we did get Fable III. And we do have many more free games to go. I'm optimistic (and I'll be checking out to see if Defense Grid is any good)

If you haven't tried Defense Grid, I highly recommend doing so. Its very good... In fact, its better than many major titles. I was addicted to it for a least a year and no other tower defense games compare to it in my opinion. In ok with MS giving any title out if the idea is that they are giving out great games.

The internet is never happy. Xbox announces they're giving away free games, including Halo 3 and Assassin's Creed 2. Commenters complain that everyone's played those games. So they push out Defense Grid, a well reviewed but low selling game first. The internet still complains.

Agreed. I totally approve of this promotion and I hope they continue it and allow it to grow.

My understanding is split down the middle here.

Yes, I was under the imprerssion that AC2 and Halo 3 where going to be this month.

But NO, I was NOT under the impression that every single 'free' game were 'full games' (For lack of a better term). I always knew that we'd be getting a mixed bag of 'full games' and Arcade titles, just like PSN+

Will the Borderlands 2 season pass as a whole go on sale?

It MIGHT show up on sale later today. I'd wait until Major Nelson makes his official DOTW post before picking up any individual DLCs.

Thanks Paul, I read the article twice through to make sure I wasn't asking something already explained there. I hope so, I need all the main DLC but right now the price is too high for me.

Some of the DLC will be priced 50% off and some of it is already showing up discounted.

OMGoodness, I'm gonna be a lot poorer after this sale...arrrrrgh!

Lots to want, very little disk space to store it...ugh!

Time to scan Amazon for a replacement upgraded storage drive...sigh...

Techiedude

So many great games I wanted to buy and I don`t have a credit card... Lucky me!

The article states that you can buy these games with Microsoft Points, which you can find in any store that sells Xbox 360 products. And PayPal is also a valid payment option.

I'm thinking of trying brothers in arms for now. Never played it. For $5 don't seem like a risk.

If you like semi-authenticity, the games for you. It really enables you to use genuine tactics and strategy, without it feeling like you could have just ran around in a circle spraying bullets wildly, which is what most shooters these days present as a solution. It has depth in other words, and it'll have your heart racing at moments.

That sounds cool. I'm gonna watch some gameplay. I'm not a huge fan of cod so this is up my alley.

Guess imma see what the hype about bioshock is lol

Defense Grid is awesome, including all the additional DLC.
But the XBox Live free games need more value.

I don't really play video games anymore(State of Decay is the only one I've actively played in many, many months), but I'm sorely tempted to get a few of these, even though I know they'll be condemned to sit forever untouched on my HDD

I'm in the same boat, but how can I honestly resist some of these prices.

I really hope mirrors edge shows up during this sale...

So many great games for CHEAP. I own most of them and would recommend Perfect dark for $3! Bulletstorm, Prey, Brothers are games I enjoyed.
The only game I did not own was Borderlands 2 because I was waiting for price to go down and $10 is the sweet spot.
I am curious to see how Bioshock will be priced. I bet it will be priced at $20. Witcher 2 is another I would love to buy if it is priced right, $10. ;)

Or £11.99 in the uk for perfect dark which is quite shocking

FFXIII-2 is $19.99, im hoping it will part of the sale to maybe $5 or $10.

Waiting on Tomb Raider as well, currently $29.99 so i can see this being put on sale for $14.99 as well which is still a relatively new game.

With this sale, the last big sale, and the two free games per month... there's no way I'll be done with any of my games on Xbox 360 any time soon, even if I pretended that I wouldn't touch any of my already played games (that won't happen).

I have at least 3 untouched games as it is, several I've just barely begun, and several I have eyeing for pricing on July 3rd. Debating Borderlands 2, as well. I have a huge stockpile of points, I guess Microsoft is trying to get me to use them :P

Is this for UK as well???

Yes all items on sale in uk except perfect dark

Here is my 2 cents on some of these games (the ones I have played):

Bulletstorm - Pretty good. Juvenvile humor, story isn't too long. Gameplay is different enough to stay interesting. Multiplayer is a little different than your typical game, but some of the achievements are grindy.
Dragon Age: Origins - Preferred this over the sequel. Sort of like Mass Effect in a fantasy universe. Characters are interesting and a somewhat interesting story.
Mass Effect - Awesome game. Getting all of the achievements will take multiple playthroughs.
Borderlands 2 - Another awesome game. I got kind of burned out when the DLC started coming out, but it is a great game, especially playing co-op.
Max Payne 3 - Great story and great action. Typical Rockstar game, very high quality. Some of the achievements are ridiculous.
Orange Box - Great value of games. Would probably feel a little dated playing it now, but still really solid.
Witcher 2 - Really good RPG. Somewhat similar to Dragon Age as far as the game play is concerned.
Kinect Sports Season 2 - If you have a Kinect, in my opinion, you need this game if you ever have friends or family over. Great party game. Some of the sports are a little dumb (i.e. darts) but golf is a lot of fun.
Hasbro Family Game Night 3 - Cannot recommend, one of the worst games on this list.
Tomb Raider - Starting playing this yesterday. It is graphically stunning. Played it for like 2 hours and was totally digging it. Multiplayer gets old, matches can take a long time.

I would actually say that DA:Origins is more like Star Wars Knights of the Old Republic than Mass Effect. Splitting hairs, since all 3 share similar mechanics and DNA, but a better comparison. Though I get that people that didn't play last gen consoles might not get the comparison.

Hope Tomb Raider goes cheap, just rented it and there is so much to do I would love to buy it.

Borderlands 2! I traded it in early and got $33 for it. And now at ten bucks! I can finish the saga at some point before the one and ps4 drop.

But who said anything about Halo 3 and AC II in July ???
What Microsoft representative said about Games With Gold was exactly : "To kick off the program, I'd like to share just two of the titles we're gonna offer over the next few months : Assassin's creed II and Halo 3."
NOT SINGLE WORD ABOUT JULY. Do not mislead readers, please.

How dare you bring facts in this argument, sir. This is the internet and we make up whatever we want!

I never misled anyone. However, a great many places reported that those games would be arriving in July, including OXM. And like I said, everyone (as in practically everyone) did expect those games this month. :P

These deals are great for me, as I am trying to convert all of my games from physical media to digital downloads. No more clutter in my living room!
Of course, it will be uch harder to do this with my blu-ray collection. hmm.

not available in your region... sigh :(

Is this a USA offer only?

Picked up Max Payne and Crysis!

Holy shit, a lot of top games on that list :)

I got Defense Grid and I must say for a tower defense game, it is excellent. I love it!
I downloaded Dragon Age: Origins and am considering Max Payne 3 and Witcher 2. Now if only my poor 60 GB HDD could handle all of this love.

Im going to defiantly buy some games but anyone who also has a ps3 and plus can't deny we're getting better games selection for free battlefield 3 is free today also saints row 3 uncharted 3 and tons of other games Microsoft shouldn't do what they are doing but how about give us something for being loyal customers like some points

That's a fair point, but remember that if your PS Plus subscription lapses, you lose access to those games. The titles that Microsoft gives away are yours to keep forever.

I see what your saying Paul because I don't have my plus on all the time but that's only an argument for people who don't keep it on plus is cheaper then Xbox live and you get way more it will always be cheaper to keep it on for a year then buy a game that just came out and since plus will be mandatory with ps4 I'll have to keep it on anyways also they have better sales as well that's separate from the free plus games .. I know I sound as if I hate my Xbox but I don't I just get frustrated with Microsoft they pat down our pockets and rarely give us anything big in return that's why I've tried to get into doing Bing rewards

For $5/400ms points if you have not played it, Bulletstorm is a fun as heck game. A game where you get points based on how you kill people, kind of like a sport and it really is blast.

I'm waiting for the sale on Gears...it got questionable reviews but, I was a big fan of the series....