The Xbox 360 Ultimate Game Sale offers crazy-low Games on Demand prices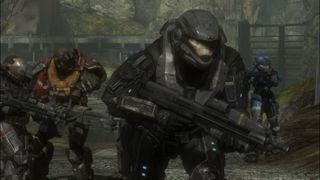 Many console gamers out there are abuzz about the Playstation 4 right now, and an official announcement of the next Xbox probably won't happen until April. How can Microsoft maintain the Xbox hype? Why, by announcing a big sale of course!
The Ultimate Game Sale starts today and runs through March 4th. 15 different Games on Demand titles have their prices slashed to $3-5 for the duration of the sale (discount varies by region). There will be daily sales every day too. In fact, three Halo games are on sale for ten bucks apiece today – awesome prices if you're looking to get into the series.
Read on for more Ultimate Game Sale and Xbox 360 Deal of the Week details!
Ultimate Game Sale Persistent Offers February 26-March 4
Note: This sale applies to multiple regions, but the prices are unique to each region.
Ultimate Game Sale Daily Offers for Tuesday, February 26
Might I recommend all three ten dollar games? Halo Wars in particular is a fine real-time strategy spin on the series from the creators of the Age of Empires series. We'll be discussing it again in my final 'How Microsoft can save Xbox Games for Windows Phone' article.
Deal of the Week February 26-March 4
These offers are open to Xbox Live Gold members only.
Gear of War 3 Season Pass - 1200 Points
Gear of War 3 RAAM's Shadow - 600 Points
Gear of War 3 Horde Command Pack - 400 Points
Gear of War 3 Fenix Rising - 400 Points
Gear of War 3 Forces of Nature - 400 Points
Gear of War 2 All Fronts Collection - 400 Points
Gear of War 3 Kryll Shield - 160 Points
Gear of War 3 Berserker Pet - 120 Points
Gear of War 3 Jack Avatar Prop - 120 Points
Gear of War 3 Armored Kantus Mask - 80 Points
Gear of War 3 Boomshield - 160 Points
That reminds me, I really need to beat Gears of War 3 before Judgment comes out on March 19! Hey, at least I completed Wave 50 on Horde Mode for once.
Deal of the Week March 5-11
Nights: Into Dreams (XBLA)
NiGHTS: into dreams - 400 Points
Sonic the Fighters - 160 Points
Fighting Vipers - 160 Points
Virtua Fighter 2 - 160 Points
Virtua Fighter 5 Final Showdown - 400 Points
Karateka - 400 Points
JoJo's Bizarre Adventure – 800 Points
Shopping time
What do you think of the Ultimate Game Sale selection so far, awesome readers? Leave a comment and let us know what games you'll be buying.
Windows Central Newsletter
Get the best of Windows Central in in your inbox, every day!
Paul Acevedo is the Games Editor at Windows Central. A lifelong gamer, he has written about videogames for over 15 years and reviewed over 350 games for our site. Follow him on Twitter @PaulRAcevedo. Don't hate. Appreciate!
Nice prices, I'll pickup a few.

I checked out halo 4 . It says it's $39.99

Your sure right! That's the only title I was going too buy

Me too. It's been a while since I have purchased an xbox game. This was going to do it for me too.

Amazong was selling for that price before Christmas.

I just got it from Amazon for $29 overnight delivery.

You are listing Halo 4 for the wrong price.

AAAAWWWWW FUCCCKKK YYEEEAHHHH!!!!

Typo, Halo 4 isn't $9.99 ;)

I'm getting Grid,bioshock,dirt 2 :)

I agree with those picks, must have!!!!!

I already have Halo 3 ,4 and I have all gears of war so

Did you mean... "crazy-low prices on Games on Demand"?

Nope. MS calls digital versions of retail titles Games on Demand.

Yep, knew that. I guess the preposition "on" is what kinda threw me, lol

I would like to know this as well ?

Worldwide but prices vary by region.

Offers are up in Norway also now.

Nope, also in Italy. As they stated some prices vary: here halo 4 is 30€ and dirt2 is 10€... still the normal conversion $->€ is 1:1.

Isn't Oblivion (9.99) and Skyrim (39.99) on sale also?

Wait, what about Max Payne 3 & Red Dead Redempition ? Weren't they on the list Major Nilson tweeted a few days ago ?

Those games will be one day sales. We don't have each individual day's prices yet.

I was ready to pick up Halo 4 for $9.99. I am not at all a FPS fan. But my co-worker keeps bugging me to get the game so he can have a friend to play the game with.

If he means for Xbox LIVE, I'll play with him. Tell him to send a friend request to Lil Frier, if he really needs someone to play with.

Some very old and irrelevant games on that list. A nice time to pick some of them up if you've missed them. This is something they have needed to do for a long time now and need to fix for the next gen Xbox. Games on demand shouldn't be at top dollar prices, it should be cheaper, both as an incentive to purchase without giving margin away to retailers and also because the costs of selling like that must be cheaper.

"irrelevant"?? Strange word... what makes a game irrelevant? Certainly not being older...

MS relies on its partners for most everything. While I understand the devs and publishers will still get their cut, MS would be competing with their retail partners if they undercut them and that would be bad business. Also, games go on sale when they get old, not when they're recent. These games are old and don't sell at top dollar prices already; this is just an additional sale.

i was excited till i saw what games they were. i usually wait for games to become cheap anyways cause 60 on new is just well should never be for a game that you lose interest in. but non of these games am i curious to play. so i will continue to have patience and wait and see.

I will be getting a few of these. Thanks Microsoft.

Perfect timing as my DVD drive no longer reads discs on my Xbox! Ill be buying El Shadadai or whatever its called.

Is halo wars worth $10? Not into halo, but a halo rts has my interest...

Yes its worth 10 but id like to know if it comes with the dlc.. If so its worth 20 imo

I don't think DLC is included in any of the downloadable titles.

Halo wars is brilliant. Pretty much best cut scenes ever, given its age. Really well designed. Nice campaign

Thanks guys. I just might pick it up tonight when I get home.

All future games should be digital downloads, that way we could see deals like this more often. PS4 FTW!!!

I disagree, as I like having the physical versions of games to take to another person's house. Otherwise, you have the whole "which licenses work on which consoles?" issues that are annoying.

You have that anyway as most big games can only be used online by the account that registers the online pass.

I have bad news for you: both Sony and MS wants to eradicate the conecpt of 2nd hand gaming via online activation and all kind of inventions coming from satan. So even a physical disk is in your hand (if there still will be such a distribution method in the future), it wont guarantee you anything. Sad, but every signs suggests this direction.

I heard about this and hope they aren't foolish enough to go through with it. I used to work at Game Stop and the overwhelming majority of our customers got new games because they were able to defray costs by trading in the old ones. I'm still holding a wait and see attitude for the next console generation.

Retailers have shot themselves in the foot by pushing secondhand games. Profit is kept by retailers and none goes to the industry. Industry was bound to fight back its just taken this long for digital distribution to catch up. Secondhand should have stayed the realm of small specialist stores and away from major retail.

Hate to break it to you but there isn't a single retail game store that could stay in business if they only ever sold new games. It's all fine and good to want the industry to be healthy but trying to cut out used games will hurt it far more than help it. Not only that but what suggestion do you have for people who want to get rid of their old games? They could just as easily sell them online, as is their right, and that money wouldn't go to the industry either. I buy both used and new games but I prefer used for certain games because I have the option to return it if I don't like it.

The way I interpreted that rumour was that each disc would have an activation code in it and must be connected to the internet sp that only one copy of that disc could be played at once. Dropping piracy not reselling.

The next question is can I play these on my next Xbox in 9 months?

Halo 3 and reach are 19.99 in canada halo wars 14.99, dirt2 2.99 grid 9.99 canada prices most the other games are the same

but i keep getting error message saying "Your purchase cannot be completed at this time. Please try again."

Finally I bought some on my phone...

If you are using MS points, here is the price for me.
- Dirt 2: 200 MSP
- HAWX: 360 MSP
- GRAW: 360 MSP
- GRAW2: 440 MSP (don't know why it is more than GRAW, as both of them have $4.99 tag)

"Note: There is currently a system issue regarding MS Points showing the incorrect price. The team is working on it. So if you want to purchase via points, you should wait for the prices to match up."

Of course, it's already been resoled by now, but that's why you paid $1 more in points.

Is this a new weekly thing, to compete with steam's midweek madness sales? Or just a random don't-look-at-Sony sale.

Anyone know if Halo Wars has all the included DLC; game of the year edition?

I too would like to know this

I doubt it has the dlc. Tonnes in it anyway. I just picked it up as my disc is scratched a bit, and my hdd install is gone.

It does not include the DLC.

What's up with this second batch of deal of the week games. Do those start next week even though they're titled as this week?

Copy-and-paste error. Thanks for catching that.

I got 10mb per second so this will take a looooong while lol

Mine is even worse. Barely 1 MBPS :'(

For me the message is that this offer is not available in my region, and those that are cost x3 the listed price lol.
Way to go MSFT.

Just bought Halo Wars, Dirt, HAWX, Grid and Halo Wars. Toying with the idea of Tomb Raider too....

Tempted to get The Darkness, heard good things about it. Everyone should get Bioshock if you don't already have it.

I already have all the Halo games, and I am saving my money for Destiny!!! THE RETURN OF BUNGIE IS UPON US!
Windows Central Newsletter
Thank you for signing up to Windows Central. You will receive a verification email shortly.
There was a problem. Please refresh the page and try again.