Unboxing and tour of the new Lenovo Yoga 900 with Skylake Core i7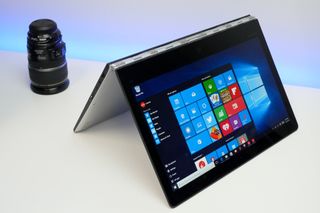 A few weeks back, Lenovo announced their new Yoga 900 a successor to the Yoga 3 Pro. The good news with this edition is Lenovo is ditching the underpowered Intel Broadwell Core M processor and going up to Skylake Core i5 and i7 ones.
We just got our review unit and decided to give it a proper unboxing and tour.
The biggest surprise? The price and how low it is for what you get.
The Yoga 900 edition we have has a Core i7 at 2.5 GHz, 16 GB of RAM and 512 GB of storage all for $1,399. The closest Surface Book that matches those specs is $2,699 although that has a dedicated Nvidia GPU, PCI-e storage and pen. Still, that's a $1200 difference!
Even Dell's new XPS 13 hits $1,999 for its Core i7 with 16GB of RAM and 512GB of storage. Here are the rest of specs:
Lenovo Yoga 900 Specs
Swipe to scroll horizontally
Category
Specification
Display
13.3" QHD+ 3200x1800
10-point touchscreen
Software
Windows 10
Processor
6th Gen Intel Core i5 or i7
(i7-6500U and i5-6200U)
Storage
256GB and 512GB SSD
Memory
Up to 16GB LPDDR3 memory
Ports
USB 3.0 (x2)
USB Type-C w/video out
USB 2.0 + AC
SD Card reader
Thickness
14.9mm
Weight
1.29kg (2.8 lbs.)
Battery
66 Wh
Up to 9 hours video playback
Colors
Clementine Orange
Champagne Gold
Platinum Silver
Price
Starts at $1,199
There is little doubt that the Yoga 900 offers a lot of power for a fair price. It is also very light, can be used as a tablet, tent mode or just a premium laptop.
We should point out that our Yoga 900 had McAfee pre-installed but that is actually an optional opt-in configuration during the checkout process in their store, so don't fret.
Compared to our Yoga 3 Pro and Lenovo has done a bang up job of fixing everything that was wrong with the previous edition. Longer battery life, more powerful processor, more RAM, lower price, sturdier hinge and just an excellent build quality.
We'll review the Yoga 900 in the coming week and we'll also compare it to the Surface Book. But so far, what do you think? Let us know in comments!
Windows Central Newsletter
Get the best of Windows Central in in your inbox, every day!
Daniel Rubino is the Editor-in-chief of Windows Central, head reviewer, podcast co-host, and analyst. He has been covering Microsoft since 2007 when this site was called WMExperts (and later Windows Phone Central). His interests include Windows, laptops, next-gen computing, and for some reason, watches. Before all this tech stuff, he worked on a Ph.D. in linguistics, watched people sleep (for medical purposes!), and ran the projectors at movie theaters because it was fun.
It is a nice looking piece of hardware. Though for some reason I am most impressed with the packaging....

In the end the package doesnt matter right? I dont want to keep my boxes atleast....

Eh, I keep some of mine..... Surface mostly. As well, still nice looking hardware. But I enjoy a nice box too. - 36 going on 6? :)

With or without carpeting?

36 y/o me says, either. Though a 70s shag is not for me. 6 y/o me says... WTF IS THAT??? :)

That, son, is an extension of my 70s moustache.

Thank you for making my crappy Monday better. Haha

i dont like the design, Y O G A logo looks like a cheap made in china crap the price is too high - its just Lenovo not Sony or DELL

Due they are ALL made in China, or Malaysia....or whatever.

I agree with the YOGA logo; it is an stupid idea. I actually like the Lenovo logo. The name YOGA is very cheasy. BUT, I love the design of the laptop and the price is perfect for all the specs: Core i7, 500gb, 16g Ram, and USB Type-C!. Compare that to Surface Book (which I love!), this device is so well priced.

Great video...Does it have any of the screen wobble when typing??

Thanks and no, they made the hinge much stiffer this time around and I can't say it has any wobble.

I'd buy it if it had a pen. That's why I'm getting the surface pro: it's the only laptop with a high quality precision pen, besides a Wacom Cyntiq, and I'm getting it for notes so no need for something that fancy (I've heard the spectre has a pen, but it's not very good, and I really don't like the designs of HP laptops). If this or Dell's XPS line (and it was reversible) had a pen, I'd buy them immediately. Excited for the future of windows laptops. When it's time for me to upgrade again there'll be even cooler stuff. These current laptops make my 5.5 year old Macbook pro look like a dinosaur. Posted via the Windows Central App for Android

All yoga having the same problem with Adobe products the tool bar font is very small and it's difficult to do any work even small projects
I have yoga pro 3 and it's on the shelf for dust

I run Adobe on a 4K display. You need to get CC as Adobe have updated all their apps for hiDPI.

Oh
Thanks a lot I will try to install the updated version
That's really helpful advice Posted via the Windows Central App for Android

How is it a Yoga problem when you're not running updated software to support HiRes displays?

Thanks a lot brother ☺ Posted via the Windows Central App for Android

So, has the display tech improved? The past couple generations have been piss poor with color accuracy, sub pixel layout, energy efficiency, contrast ratio...the list went on and on.

Very SEXY product! My wife has a Lenovo Yoga 2 Pro and we love using it. It's a great product line.

My next laptop when the price will drop to replace my U410 ! Posted via the Windows Central App for Android

I actually find these 900's and 700's quite attractive and the price is even better. But I really do want a new laptop with a gpu. I love to play games on occasion and so far the Yoga 700 is the only one I saw with a 940m.

Yo check out this laptop. I think its the best on market right now if you don't care about pen and 2 in ones.
Comes with a 960m and a Thunderbolt 3 port. With a Thunderbolt port you can add external ram,storage and even a GPU!!! Get something like this which works with windows as well. Its future proof. You can add a desktop class graphics card such as a Titan. https://www.youtube.com/watch?v=VX8Y2NWs7vg
http://www.windowscentral.com/e?link=http2F2...

It looks great.. Except for the hinges.

Too bad no IRIS GPU on i7 or I'd consider this over my i7 SP4.

Nice but the 16:9 aspect ratio and lack of a pen are just a no go for me.

To much plastic flex in the screen for my liking.

Display driver crashing seems to be a Windows 10 problem not intel because I have it on my Surface Pro 3 and desktop PC which has an AMD processor.

Wish I could afford things like this. Beautiful machine.

Don't like that, even with those high specs, I prefer Surface Book, damn that the best tech stuff always debut firstly in US, In EU we always have to wait and when it finally arrives we pay a lot more because of damn high tax in EU.

I have no love for Lenovo ideapad Support. They can go to hell in a handbasket. I hated my Yoga 11s because the screws are prone to fall out because of chassis flex. I had lenovo replace my i5 with a free upgrade to an i7. Well the problem is they have two tears of support. Tar one does quick fixes and then elevates you to tear. Tear 1 has no clue how to contact tear 1 if there is a problem. I was about to wrap up my replacement when i was disconnected. The woman never returned my calls. She dropped off the face of the earth for three weeks. I went through hell trying to figure out what the hell happened. Tear 1 was utterly useless and no one would get in contact with me. I emailed every link i could find. and i wanted to scream over the crap. Mysteriously one day she finally returned my email and after Five weeks of what the hell, i ended up with a new yoga. The screws broke loose from that one as well.... well after warranty.... Poeces of crap. Now I own a surface. No wonder the surface uses glue to hold the damn thing together.... I just wish microsoft had a longer warranty t

No Pen. Not everyone needs oe wants/uses a pen but it is an important feature. I think when you are comparing to a SurfaceBook it should be mentioned. Cost comparisons tot eh surfaceBook are difficult. Even if the specs/features were teh same, MS would price the Surface higher (20% ?) to avoid competing with their OEM Partners.

Does it have Windows Hello? I can't imagine getting a new machine that doesn't have some form of biometrics.

Definitely a bummer that there is no Windows Hello support. Also kind of a bummer that it looks like the power cord is directional. My Yogo Pro 2 power cord can be plugged in either direction, which I really like. Nice that it has USB Type-C, but why isn't that what the power uses? I guess that would be a waste of the port, so they would have had to put 2 on there. I assume SSD is PCIe? Price is really competitive, though. Do I really want to spend at least $500 more for a Surface Book (which would have lower specs)? Looking forward to the review.

I like everything except the yoga branding I'd put a sticker over that and call it good. The only read I'd choose a surface book over this is the gpu, but for 1200 less I can build a gaming rig....if only I was single and didn't have kids... I guess it is time to put in extra OT at work! Merry Xmas to me!

my Aunty Elise just got an awesome metallic Mazda CX-7 SUV just by part time work from a compute ❤❤❤❤❤❤❤❤❤❤ www.buzznews99.com

Daniel I am looking forward to your review I am a gen 1 user of the Yoga and cannot understand why Lenovo did not follow suit with Dell with the near zero Bezel. Would love to see a compaiirson of the Yoga against the XPS 15 amd the surface book.

Because in tablet mode, you need some amount of edge/frame to hold on to.

I am looking for a stylus based notebook and thought I there was one from Lenovo. Is there such a thing with the yoga. I have a Samsung note 5 and was looking for as accurate a pen on the lenovo. I am not interested in a notepad but a notebook. I have seen reviews that mention a stylus for the yoga but can't explicitly find the same on the Lenovo site or is this an add on that needs to be bought from another manufacturer? Thank you for the great review, I am glad I found your site.
Windows Central Newsletter
Thank you for signing up to Windows Central. You will receive a verification email shortly.
There was a problem. Please refresh the page and try again.