Universal Skype app updated on production with searchable chats, simplified contacts, and more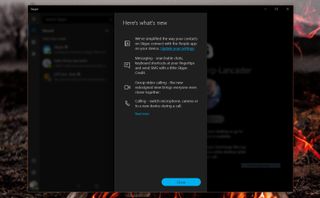 Shortly after shedding its Preview tag for Insiders, the universal Skype app for Windows 10 is rolling out the same feature-packed update to everyone. Included in this update is a new, simplified way of handling contacts, the ability to SMS with Skype Credit, searchable chats, and much more.
Here's a look at all of what's new (opens in new tab) in the latest update to the universal Skype app for Windows 10:
Contacts – We've simplified the way your contacts on Skype connect with the People app on your device. Skype will display the number of mutual contacts you share, making it easier to find the right people. You can always opt out of this setting by updating your profile for People Search and Suggestions.
Messaging - searchable chats, keyboard shortcuts at your fingertips and send SMS with a little Skype Credit.
Group video calling - the new redesigned view brings everyone even closer together.
Calling - switch microphone, camera or to a new device during a call.
That's a pretty significant batch of features and tweaks no matter how you slice it. To check out all of the above, you'll want to make sure you're running Skype version 11.13.133.0 from the Windows Store on your PC or Windows 10 phone. And if you're still wondering if it's worth a switch from the desktop app now that the app is out of preview, check out our in-depth look at Skype for Windows 10.
Thanks to Amandeep Singh and TechJunkie81 for the tips!
Download Skype from the Windows Store (opens in new tab)
Windows Central Newsletter
Get the best of Windows Central in in your inbox, every day!
Dan Thorp-Lancaster is the former Editor-in-Chief of Windows Central. He began working with Windows Central, Android Central, and iMore as a news writer in 2014 and is obsessed with tech of all sorts. You can follow Dan on Twitter @DthorpL and Instagram @heyitsdtl.
But still using the hamburger menu. They really should use a carousel for the three things in that menu

...And that's the best way to organize an app

Not everyone agrees with you. I happen to STILL prefer the look and function of the pivots. I despise hamburger menus.

I still think that WM alarms&clocks does it right.

That's a license they took (not only in mobile), on Android it happens exactly the same.

No, they should be using what movies and TV and My Music in groove do now. There are only 3 thing in the hamburger menu in Skype and they could easily be put into a carousel menu

I'm seeing a lot more than three things under the hamburger menu in Groove. :/

Reread, its in the My Music section, they use it for Artists, Albums, and Songs

I must be missing something. I don't see a "My Music" section. The only hamburger menu I have in Groove is the main one, and it lists Your Groove, Albums, Artists, Songs, Playlists, Radio, Explore, Now Playing, and then my account settings.

Like I said, its NEW. You need to be running the Creators update to get them updated apps

Yes, this happens because "My Music" has sub sections and this horizontal menu is correctly implemented. IMAGE CAPTURE But in general cases you should use hamburger menu, looks better, better use the space on PC (extended) and occupy less space in mobile.

A Project NEON Skype concept but without the hamburger menu. https://twitter.com/itsmichaelwest/status/828017878716805125

I follow michael I've already seen it, It does not look bad (only in skype), but personally I like to keep the same concept for all apps.

Hamburger menus are widely regarded by UX specialists to be a bad solution for a real-world problem. They hide away useful functions and for the user to seek out what's available rather than present the options to them up front. They're also terrible to reach on larger devices, and make no sense on large screens like tablets and desktops. So basically, no. There are better ways to solve the primary navigation problem than hamburger menus.

"They're also terrible to reach on larger devices, and make no sense on large screens like tablets and desktops." Ok, maybe compressed does not make sense in desktop, but extended yes.
What is the vertical menu of the file browser? Is the same, and there is nothing more useful than that.

An expanded hamburger menu that doesn't close is not a hamburger menu. It's a sidebar menu.

Exact, that's why I said "extended." But the organizational options are the same.

That's like saying a truck is a car because they both have wheels and transport things places. In fact they're both vehicles.

Something like that XD. I do not know how you plan to organize a section content using another type of menu without breaking the design of windows. In any way we will never reach a point in common.

Look at apps like Facebook and Twitter. They use tabs for Mobile and a side menu for larger screens. Look at apps like Photos or Movies and TV on Windows. They use pivots. Both a great options that don't hide away the navigation but instead present it to you in plain sight.

Nik, I understand your idea, similar to iOS.
Yes, in a three- or four-section application can work, but I see some problems with this kind of menus. - In iOS inevitably also have to resort to hamburgers menus for lack of space in some apps (examples). - What happens when you have 7, 8 or more sections? Do you have to scroll horizontally? add a hamburger button? It sounds chaotic. - The situation is more complicated when we talk about small screens - Currently there are two horizontal bars: submenus and actions. If you add one more, you inevitably have to hide some of them to free space. In windows 10 only need to add the function of sliding the finger to open the hamburger menu (as in Android).

But still no Live Tile support, apart from the number of messages waiting. :( (Unless I'm doing something wrong. Is this the case for everyone?)

Same for me - patiently waiting for a live, transparent tile on my 950XL. Current tile looks so out of place with only a small number in the corner for number of messages received.

It's especially frustrating when Messaging had this ability, and I believe the old Skype client showed message previews too, though I don't think it was transparent. And I suppose what makes it all the more frustrating is that this is a Microsoft app on their own platform. On my PC, I've delegated Skype to the taskbar, where it still shows the unread message count, since that's all it shows anyway. :/

I must say this again but how hard is it to make sorting contacts by online status? We had that "feature" like 15 yrs ago!!! Now I just need to scroll through the list of 150 contacts to see if the person I'm looking for is online...

I'd be okay with it even being in the settings, like something you need to toggle on and off there. (Though something front and center would be nicer.) I keep hammering the feedback app with these things but I dunno if anyone is even reading them anymore. :(

Wow you know 150 ppl that use Skype??

It's in many ways sad, but I generally find Skype to be most people's fallback. :/ I had friends jump to WhatsApp, Line, Telegram, Discord, or whatever the IM de jour is. :/ But Skype, in my circle at least, tends to see constant use. Granted, I don't know 150 on Skype myself, or even 150 altogether online, but that's my experience with Skype anyway. :)

On mobile, the messenger app will display the most recent 3 text messages in the action center. Or the most recent N number of messages based on action center settings. With Skype however, regardless of settings in action center, it will only show the most recent message so you lose context if there are a couple of rapid messages in the same thread.

Livetile, online contacts spread everywhere... don't hurry so much MS and of course, take your time 😘

My simple request would be to be able to select which number if I'm trying to text somebody who has more than one. Tried to text somebody yesterday, but the search for the name would only give me the home phone number, so instead I opened the People app and copied and pasted the mobile number over, which worked but doesn't appear connected to the People contact in any way, just shows the phone number. I feel like it should be obvious that I am more likely wanting to text the person's mobile number than their home number, but it doesn't even give the choice.

And that is the non-Preview? Just checking! When I first used Skype Preview, I had a few friends texting me going, "Uh, we just got the creepy text-to-voice on our landline..." :D It's cleared up for me recently, but I've not tested the non-Preview much myself yet...

I'm running Skype 11.12.112.0 and People app 10.2.832.0 and I use Skype preview as my primary texting app. What I noticed is if you click on where it shows "Via SMS (xxxxxxxxxx)", there is a Gears button and when you click on it, it opens up a window that lists the current number and when you click on the current number, it gives the option to change to a different number. Too many clicks :-( for sure. Aditionally what I also noticed is that the numbers listed as Home and Work on the People app contact are not showing there. So there appears to be some logic behind but I'm sure there are some bugs.

Since out got out of preview It's been worse. I was messaging someone all day with no replies only to find out it was sending it to her landline number. Never had that issue before.

Yes, my apps got updated and I'm noticing it got worse after the update and got out of preview :-( Instead of becoming better, it got worse with contact sync. What I wrote above does not work any more.

This update addresses that mess

Still can't see any reference to a received message on the tile. I still have to open the app to check for messages. Not useable for me if I can't see my message.

With every Skype update the SMS relay link to the phone is reset :(

Hopefully this will be limited to major updates, like going from Preview to non-Preview. :/ But I've noticed SMS relay breaks even if you look at it the wrong way. :( That, or I'll get nothing, and then suddenly a rapid-fire of incoming SMS on my PC. :(

This update didn't break it for me.

1) transparent tile ?? 2) landscape start screen :(

You expect a start screen change in a Skype update?

You didn't answer the question.

Embarrassing... MS fan over here, but got damn they are slow!!

Still sucks. The messaging app with windows phone 7 was better than this app. The messaging app with skype built in was better. Get it together guys.

Still no sorting contacts by online ? Wow...

Just go to recent chats and you will see who is online.

So how exactly to open the search bar within a chat? Ctrl + F doesn't seem to work. Also which are these mysterious shortcuts??

The global search bar searches contacts and chat history (but the chat search seems limited to chat history already downloaded locally).

Still can't delete notifictaions except from phone... brilliant! Just like not being able to delete in Wunderlist.

No matter what new features they add, I will continue to use the desktop client on my PC until the screen sharing feature shows up. Recently they even uninstalled the desktop client from my laptop without a warning or a message. I had to re-download.

Screen sharing is already available in the UWP app.

... And been there for a very very long time

And It doesn't work too...

Seems to me that the searchable chats only includes chat history that is already downloaded locally to your PC.

Still a really horrible app. Hamburger menu. You can't delete most conversations. It's not integrated with the Share capability. I could go on, but it doesn't matter. Microsoft really doesn't care.

Lack of integration with Share is really annoying for me, too.

i love the hamburger menu, do you think the file explorer menu is not the same?

I prefer the combination of pivots and ellipsis. Without exception.

Ellipsis in Groove, Mail or Explorer can be a mess.
Did you think what would look like this menu in mobile?

poker bot does not work still.. Previously only same cards, now no visible cards... Transparent tile would be nice..

The messaging with Skype thing was good. Out with old program in with the new. It already had a transparant tile even. Go back to that I say.

How do you send SMSs to groups like in the people app?

There might be a more graceful way to do it, but what I've found works is pick your first recipient, then click on the top-right icon that looks like a bust with a + next to it. There, you can tick boxes for everyone else you want in it. I also use groups in the People app, and it works too.

Thanks, even that way is quite painful when you have a group of 18 people... It's very easy to miss someone adding one by one. (this is a group for a sports team)

Thanks, even that way is quite painful when you have a group of 18 people... It's very easy to miss someone adding one by one. (this is a group for a sports team)

Yeah, that's what I use the groups for inside the People app. I do a regular beer 'n wings thing and that's the easiest way to text everyone at once. :) You can even pin the group to the Start screen to get at it quick.

You can't, not without going through stupid hoops. Groups in the People app are still, without a doubt, the best. Sadly, idiotic GroupMe is deplorable in this respect, and so is Skype.

Skype. Even though it's gone I don't care because I don't use it since WP8.1 with those f*****g "undeleteable" contacts :/

I've found this works a lot better now, but I can definitely understand being jaded after having to deal with some issues for so long. :/

Sweet now my conversations flicker uncontrollably.
I
Have
To
Read
My
Texts
Like
This
Because it won't stop constantly refreshing conversations causing them to go blank over and over

******* skype developers STOP ADDING MY CONTACTS TO MY SKYPE. YOU CALL THIS SYNCING? IT'S BROKEN SYNCING. THIS PROBLEM HUNTS ME DOWN FOREVER. IF I ADD A CONTACT IN MY PHONE YES I WANT TO SEE IT IN SKYPE BUT I DO ALSO WANT THAT CONTACT TO BE REMOVED WHEN I REMOVE THE CONTACT FROM MY PHONE. YOU KEEP ADDING EVERYONE. THIS IS NO SYNCING, IT'S CALLED ADDING. AND WHENEVER I TURN THAT FEATURE OFF ALTOGETHER, WHENEVER A NEW SKYPE APPLICATION SHOWS UP, EVERY ******* CONTACT IS ADDED AGAIN.. OR TOUCH THAT TOGGLE BY MISTAKE AND EVERYONE IS ADDED AGAIN. I HAD TO CLEAN MY SKYPE CONTACT LIST A BILLION TIMES AND I ALWAYS HAVE TO MANUALLY REMOVE CONTACTS FROM SKYPE THAT I DO NOT HAVE ON MY PHONE ANYMORE. AND JESUS CHRIST, FOR GOD'S SAKE LET ME REMOVE CONVERSATIONS. HIDING IS THE DUMBEST **** EVER. NO CHAT APP IN HISTORY OF HUMAN KIND HAS DONE THIS BULLSHIT. Wait... who cares.. in 3 years nobody will use Skype anymore. WhatsApp will do it all. I'm screaming because this is going on for YEEEEEAAAARRRRRSSS!!! Oh and Microsoft fix the double contacts bullshit, it looks messy!!!!

Well if it is out of preview, why in all hell is it not available as the default video calling app on its own OS? LMAO. Only under Nutella.

Between the various new features now, you can't choose between SIMs anymore, you're stuck with SIM1. I'm in preview and it's been reported since a month. it's outrageous they didn't fix such a basic function before releasing it to the public. What's the point of having a community of testers then?

Yes you can change to whatever SIM you want when sending out messages in this current update. Simply touch the number, then the setting icon next to the number and switch between SIMs. Note: all SIM messages received are combined.

I know how to swich between sim. But I can't select sim two. When I touch it, nothing happens. It does not select. Neither on mobile or PC. Check the feedback hub.

Sorry bro, there must be a problem with your device or a glitch.
I suggest you do a hard reset

Does anyone know how to "switch" calls to another device?

Checked this article all day waiting for someone to address this

I just updated mine, now I can view my SMS on PC. I am able send SMS using skype on my PC as well, please note that SMS charges apply.

I got this update like 10 days ago..........................

so, "switch to a new device during a call" is that working for anyone? how does it even work?

I just noticed that it dropped the Preview tag on Mobile. Don't know if it was taken before, though.

I show to have received this update on April 2nd. Am I more special than I think I am?

After reading every comment in here all I can do is shake my head and laugh. The whole dysfunctional cluster of Skype-People-SMS is a tire fire...in a dumpster...surrounded by hobos. It is astonishing how much time and effort Microsoft has wasted and still can't this right. LOL

Sorry bro, mine works perfectly for me

Still no sharing subscription!? This must have been an April's fool joke.

I suspect the second sim selection problems is related to not having credit for skype SMS. Anyone with skype credit and a dual sim that can switch between 1st sim, 2nd sim and Skype SMS?

Still need an MS account to use it, whihc is why I stick with the desktop version.

I'm really into effeciency of a UI. Specificly how many clicks/touches does it take to make things happen. New message in the "old" mobile messaging app = two clicks. That's pretty damn good. New sms messages in this mobile skype app = FIVE. FIVE!! Sorry, UI efficiency is important and it SHOULD be a hell of a lot more important to them and the rest of us. I'll continue to use the cleaner, better and substantially more efficient app that came with my phone.

If I didn't have the Hamburger menu, I would say that this app is excellent. The sms feature works great for me.

But will it finally allow you to delete (not hide) conversations?

Still 24 hour time displayed! I live in 12 hour, can't believe out of preview and still like this.
Windows Central Newsletter
Thank you for signing up to Windows Central. You will receive a verification email shortly.
There was a problem. Please refresh the page and try again.