Unlocked Alcatel Idol 4S with Windows 10 Mobile dips to $273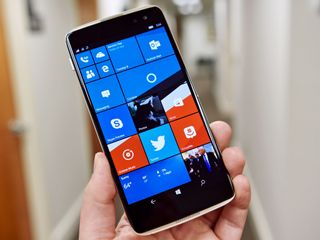 The Windows 10 Mobile-powered Alcatel Idol 4S can be had to a pretty solid discount on Amazon right now, with the price dipping down to just $273. (opens in new tab) It's not the first steep price cut we've seen on the handset, but it is the cheapest so far after the phone initially launched at $470 (via Neowin).
For the money, the Alcatel Idol 4S with Windows 10 Mobile comes unlocked with plenty of power for a Windows phone. Included in the package is also a VR headset, along with access to VR content on the phone itself. Though this is an unlocked version, be aware that it is a GSM-only phone. That said, T-Mobile and AT&T customers should have no problems using it.
Given the fact that the Microsoft Store is still selling the Idol 4S at full price, Amazon is your best bet for picking one up. And if you're looking to stay in the Windows phone ecosystem, the Idol 4S is a pretty good choice. For more, check out our full review.
See at Amazon (opens in new tab)
Dan Thorp-Lancaster is the former Editor-in-Chief of Windows Central. He began working with Windows Central, Android Central, and iMore as a news writer in 2014 and is obsessed with tech of all sorts. You can follow Dan on Twitter @DthorpL and Instagram @heyitsdtl.
If I had money now, I would buy it.
Unfortunately, still a broke student.
The no nfc thing bugs me a bit but apart from that it is an awesome phone.

not worth it, still to expensive. You can have a 950 for around 260 - 280 in some parts of EU and the price will drop. Even the 950xl is around 320 - 350

You can find a new 950xl on Ebay right now for 260. I have it on my watch list. No way I would buy an idol

Odd. The cheapest I see new is 335.
From Hong Kong.
No way.

You would take a crappy 950/XL over a modern phone? Weird.

950 has a much better camera and NFC. I wouldn't call it crappy. If a glass back makes you feel better, go for the idol.

No, the creaky chassis, tendency to get hot, and overall build quality of the 950 are why I would pass on them. The camera is good, but the rest of the hardware was average when the thing released (since it launccheds with internals that were about 8 months old). The Idol's core parts are a year newer. I hate the glass backs on phones, but I'd take that over the shoddy build of the 950 (and I say that as a 950 owner).

950xl doesn't get hot anymore. I even use it with a leather case. I have no problems whatsoever with the hardware or phone itself, maybe some issues with the os. But I love this phone. It's definitely not outdated.

Build quality is NOT shoddy. Perhaps you have a bad one.

Idol is a very nice phone, but the glass and metal combination is pointless and too slippery. You 100% need a cover/back on it, so defeats the purpose. 950 XL is still a better phone even with less specs and being older, that shows what a great job MS did on it. Can't wait for Surface phone!!!!! :)

I just bought a new 830 for exactly 100 USD. A local store didn't know what do with their old Lumia stock. The owner was so happy to see someone who talked Windows Phone that he gave me a flip cover free ! 🙂

nah, anyone should found that kind of store ;) lucky you!

You don't even use NFC, list how many times you have used it!

Not much, it is true.
This is why I said it was a great device.

I use it for MSFT pay almost daily. I am also out off by the lack of NFC

I use it every day to connect to my speaker.

Awesome, but can't you use BT as well!

I hope this is my Father's Day gift instead of ties and socks. Nothing against ties and socks but this device could take my career further than Italian stitching ever could!

True, but don't underestimate Italian stitching ;)

They are still selling it only in the US which traditionally has shown no love. Not available in Canada or India; two of the places I can buy it from. :/ Canada never had a big Windows Phone market anyways but they should have sold it in India.

I bought on launch day and haven't paid the difference of this with my two year payment plan, feels almost criminal...

Wait 6 months after any phone is released if you want a good deal.

Agreed. Also, most of the launch day bugs will have been addressed. I had zero of the issues launch day buyers of the 950/950XL had by waiting six months.

"comes unlocked with plenty of power"
too bad its crippled by this awful mess of an OS.
Hardware is high end but it performs like a budget Android device. And lag is just part of the problem.
Literally had to restart 3 times yesterday. Something always stops working. Fingerprint sensor, lte connection, camera, Hey Cortana listening service, microphone and speaker (only during calls too, weird).
Not to mention the fact that your vr video tilts more and more to the right the hotter it gets.
Theres a reason its discounted so heavily already. Stay away.

Really does. I tried loving this phone. I even bought another one after my first one broke hoping my first was just defective.

I like mine.
Replaced my 950.
Battery lasts all day.
Camera doesn't do well at night, but only because I have the950.
The ATT signal is strong with this one.

Mine does too i just don't like having to restart it every 2 hours

I thankfully haven't had that issue, mine is the unlocked version btw.
I don't put sd cards in my phones anymore. Maybe its a placebo effect, but I have less issues without them.
I'm sure you did a hard reset after CU, but I always do every few updates, and I don't restore from backup.

Mine's T-Mobile and I haven't had any of those issues, either. I have been very happy with the phone.

Do you remember how fast the read and write speeds of the SD cards were? I don't buy any that have a max speed slower than 90 MB/s and haven't had any problems. The higher price is worth it. You have to check labeling carefully to make sure both read and write are roughly the same. Many cards will say up to 90 MB/s with fine print that says that applies to read speed only, with write speeds topping out at a much slower rate.

I did my homework on them, reviews, tests.
I found I didn't need the space, so I took it out.

I got a SanDisk UHS class U3 SD card for both my wife's L650 and mine. They work very good. Write speed was 49 MB/s brand new now it's at 46 MB/s. Runs apps fine and works great for photos.

How much battery life do you lose when using edge with wifi? Is 13-15% per hour normal?

Id say it depends more on what site you're on and how many scripts they're trying to run. But that sounds about right i usually lose that much when on instagram

Some people say they get over a day battery life. Some web sites which reviewed this phone mentioned 6 hours battery life. I don't notice it is a great improvement over the 950/XL. Maybe software is the issue

yea i like to not charge my phone until its dead to recalibrate battery from time to time, and this really gives me a hard time. Gotta stay up and use the heck out of it. Though I take that as a great thing. Battery life is one of the things this phone does great aside from lookin' good.

13-15% per hour?? LOOL now that is what I call a mediocre browser. even Chrome on any Android device does not take more than 7% per hour :)))))

Yeah I agree. I think it's a mixture of both bad software and browser.

I know what you mean. I'm experiencing the same thing. I wish I went with the 950.

I wish the same sometimes too but I heard the 950 has the same issues tho

Sell it on swappa and get a 950.
Then buy a portable battery.

That's weird, because I have none of those issues. No lag, no restarts, nothing stops working, good connection (best I've ever had with any phone), etc. The camera is very average, but I was aware iof that going in. It sounds like you got a lemon and should have had it replaced (happens with all phones). I wouldn't hesitate to buy it again.

Sorry to hear of your bad experience with it. Mine has been nearly flawless though did reboot recently twice without a reason, but hasn't happened again.

I'm going to give you peeps the benefit of the doubt and get an exchange before i completely give up and jump ship. But many reviewers had the same experience.

The Idol is as good as any other, they all.have their issues.
I really wanted the fingerprint unlock, hated the iris scan.
I also wanted longer battery life, and I think a 5.5" screen is the goldilocks of screen size.
Camera can be quirky. So was my 950. Just different.

Fingerprint sensor on the 4s gets a lot of crap but once you learn you need to be firm with it it's not too bad. It's placement along with the Camera key is kind of annoying. (button placement in general on the Idol 4S is the worst I've ever worked with)

Agreed on button placement, but I like the fingerprint sensor on back, like my honor 5x.
Helps a lot to keep the sensor clean.
Double tap method works well too.

Show Canada some love!!!!

Looks like a great phone. But also, seems like a dead upgrade path if we are to believe in the rumored Surface phone to come to market.

I am hoping that this phone will be at least unofficially able to get the WoA upgrade.
Surface phone is at least a year away from announcement.
HP's new X3 may be the first WoA phone.

Surface phone is a year away....now that's what i call balooney.

You miss the at least part?
Means no reason to wait.

I didn't miss anything. Buy the idol and you'll have a dead upgrade path. I wouldn't blow 200+ on a phone that wont receive future updates. I love windows phone but doing anything pricey seems like a gamble right now.

A. That wasn't responding to you.
B. Great phone for $275.
C. Updates more frequent than my android.

If it even exists, which I hope is true. It's pure speculation until Microsoft announces it.

MS doesn't have to be the one that makes it, although they will make a small portable windows on arm device with lte that will text and make calls.
Will it be for the yoots, probably not.

Take another $200 off. Then I'll reconsider.

I don't know about AT&T but this device works quite well on T-Mobile. I've been using one as my work phone on thier network since last summer. They don't openly support it but with the right SIM (transferred from an older Lumia this replaced) I had no problems getting operational and performance is as good as naything else I've used on T-Mobile in my area.

I was going to buy it then I realized it was single sim... all phones should be dual sim now :D

I was disappointed when I saw this too. What is even more annoying is that the Android version of this same phone is dual-SIM! Go figure...

I wonder if t.obile will match this price.

Tmobile sold them for $288 before they stopped selling them. I think it was $288.

Thanks I'll check with my local tmo.

If you have ms wireless display adapter, I highly recommend this phone. My wife has the Alcatel, I have a 950xl. Her phone is a lot smoother with the adapter than my phone is. I'm sure its the updated hardware. But it made a huge difference. Now I mostly use her Alcatel with the adapter, especially for video watching. Very nice 😊

Haven't tried mine yet. I also have the dock.
My 950 was a bit slow/stuttered at times, but it was a quick setup watching Netflix on Edge via wireless while traveling.

Are you able to update the firmware for the adapter? On mine I can't as it's greyed out. Is that an issue with the adapter? Because it tried it on another computer and Lumia 950 as well.

Are you using the windows store desktop app?
I have a first gen wireless adapter.

Yes I've used the desktop and the mobile app as well.
I got the second gen

I got this phone last week for my son to replace his 640xl. Monday I got a 2 week old 950XL and asked him if he wanted it instead because of the screen size. He balked and said no way. He is autistic and Cortana is his best friend except when she cant understand him then he hates her. He has not had any issues with her on this phone or any issues at all. Its been a great phone for him so far. Its fast, looks good and works well on AT&T. Finding a good case is another story all together. I need a heavy duty case so he doesn't break it and cannot find one.

Cases for the blackberry DTEK (60?)and the android Idol 4s fit.

Get your son the Echo dot too so he can be friends with Alexa. Alexa is much more smoother.

oooooo my son has autism too, he loves cortana....unless, like you said, if she gets on his case..ha ha ha. I may do the same! He uses his Ipad everyday for ALOT of things. I started a new business and my logo even has puzzle peices for a shout out to my son, and all the families who have family members and friends with autism.

If only there was a way to buy it from other countries why can't they put it on eBay so people from other countries can buy it as well I am fine even if they do not offer any warranties or guarantees because for my last three four devices I have had and I have never gone to a service centre before I have heard Lumia and I have a Samsung and I always end up exchanging them while they are still in a good condition for a new model so going 30 and warranties and after Sales Service is increased that of a concern for me and for Windows phone fans like us who are just really hungry for anything there is nothing to buy right now.

I love the phone, I really do. However, the camera app crashes on my phone constantly...and it only saves about 50% of the pictures I take...myabe 75% of them. Videos are sometimes lost as well. Love everything about the phone, but the camera is important to me, so I can't use it as my daily phone. (I wish I could!!) Otherwise, the phone is great...I love the size, the speakers, screen & good battery life. At the $273 its hard to go wrong. I also have a 950 and prefer the Idol over the 950, but the 950's camera is better.

I agree this phone desperately needs a firmware update! If it gets that I think it'll be good to go. I just bought a brand new Idol 4s and HP Elite. I'm trying to decide on which to keep. I love the added features on the Elite. The double tap wake is much better on the idol. But it's actually more comfortable to hold minus the odd button placement.

I so want this phone! It's being at such an expensive price here in Brazil via Mercado Livre (it's like a brazilian eBay)

Wish i could get this to work on Verizon

any thoughts on bluetooth/ headset functionality? The only trouble w/ my 950 is the handshake between wifi/bluetooth is not smooth, so have to remember to turn off wifi or else I lose my radio or podcast stream. Not a huge issue but annoying. Wondering if that's a 950 hardware or software issue?

"Unlocked" is the word we don't hear often in Europe as all phone are "unlocked" here.

No Verizon support so nothing special for me...sigh
Windows Central Newsletter
Thank you for signing up to Windows Central. You will receive a verification email shortly.
There was a problem. Please refresh the page and try again.