Unlocked international HTC Titan receiving software update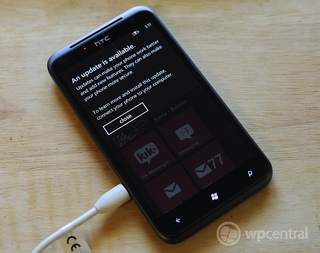 If you have an unlocked/non-branded HTC Titan, you'll want to go plug her into your Zune Desktop software as HTC has begun pushing out what looks to be a minor software update to the massive device.
This is not an OS update, so you'll see be rocking 8107, but you'll get a new firmware, bootloader and radio software. Here are the new version numbers:
Firmware - 1600.2200.20501.401 (New)
Bootloader is - 2.5.160015.3(137079) (New)
Radio software - 16.23.06.10_ 16.32.00.23U (New)
Like we said, this may be some subtle fixes here and there and we're not expecting any new features, but if you think you find any, let us know.
Update: Those with AT&T Titans, don't bother as no, this does not apply for your device.
Thanks, Jose S. and Oscar for the tips!
Daniel Rubino is the Editor-in-chief of Windows Central, head reviewer, podcast co-host, and analyst. He has been here covering Microsoft since 2007 when this site was called WMExperts (and later Windows Phone Central). His interests include Windows, Microsoft Surface, laptops, next-gen computing, and for some reason, watches. Before all this tech stuff, he worked on a Ph.D. in linguistics and ran the projectors at movie theaters, which has done absolutely nothing for his career.
This is what? The second or third update HTC has done for the Titan that AT&T have yet to release. DAMN YOU, MA BELL!!!!

So, will I get this update even if I have AT&T phone but unlocked for other providers? I'm using it on T-Mobile...

I don't see why it would as you're still running AT&T/localized firmware. Zune checks the firmware/bootloader and if it's a certain version, it updates, otherewise it ignores.

Mobile network unlocking is different to carrier unbranding. Your phone may work on any network but it is still branded as ATT in the registry

Any idea what this is fixing? I really what HTC to fix the 3G/WIFI/Internet Sharing/Bluetooth radio switching problems.

I was wondering what the update was for my Titan this Sunday. Now I know. It seemed to be a small one so I didn't look into it too much.

Unlocked in UK downloading now ;-)

also my htc radar haves an update.

What kinda update yo got bro... Cuz I got HTC Radar 4G running 8107...

I wish Nokia release that damn update for the Lumia 800, which supposedly improves the sound (it needs to be a bit louder!), and more important, the hardware lights. Btw, do you guys know that if you dial (at least in Europe) ##634#, you get Nokia test app installed? You probably do..., but nonetheless, I didn't and was really impressed.

Anything for unlocked Mozart

Just got this update on my Titan here in Norway. ( Telenor locked)

OK... so I just updated in the Netherlands. My Titan appears to be running slower, mail notifications remain after having read the e-mail. When I scroll down the start screen, there's screen tearing. Is this just me? On HTC Titan.
EDIT: Oh wow, the date got set to june 23 as well... 17:18 wile it's 22:37.

Hm, I just got finished updating. Don't have any problems at all. Emails are ok, no screen tearing and my time and date is ok.
So far I can't really see what this updates for, expept the bootloader and that stuff. Had a little hope that maybe we finnaly were getting Local Scout here in Norway. But thats a longshot.

I am having a weird problem with my HTC Radar, OS 7.10.8107.79 Firmware 1600.2200.20501.401. I am getting a weird line down my screen, but only on certain colours and places, for example red and green but not white, and not on the status bar at top or actions bar at bottom, but I do get it on full screen apps in those locations. Also facebook status us way out of date, the clock/date got changed too.
Any ideas? I have only noticed it after I have updated my phone over the weekend....

only thing i noticed is that it messed my clock up...
now says 17:04 instead of 21.59!!

Well mine can see the update but it fails on step 7, claims it has problems making the backup and gives me error 801812dc.
Any ideas?

Have you checked you are using the USB cable that came with your phone? I had a similar problem on a previous update but the stock HTC cable worked for some reason?!

turned it off and on and went from 1704 to 1925. lol

just noticed date was 26th june 1980

Just updated and got the feeling my Titan is working faster. Return to start screen is faster...

Date set to 1980 on my handset too. Good to see HTC test updates rigorously before rolling them out.

Worked flawless for my unlocked Titan here in Sweden. I can say I notice 2 things. First of the signal. Its much more stronger or accurate then before. Second, the device is snappier. So sute, the updates might be small, but its having a huge impact on performance.

Thanks AT&T for no support as usual :/

snappier could just be because the device has been reset ;) but anyways, my TITAN upgraded here in N. It lost the date and time and was set back to like 1980 we've heard about this before during updates but first timeit has affected me.
Lets hope the wifi is better.

Have to admit though it does seem much faster

Anyway to make an AT&T Titan a non-branded?

Every time I have had an update, the date was reset to 1980. It's not that big a deal to me and I thought it was quite common. I will check later if it's still the case this time, first I have to go teach some quantum mechanics :)

Could this be a hTC thing? Never had it, so far (knock on wood). HD2/Omnis 7/Titan.

I just updated my phone and the date is set to 17 February 1980. It's no problem for me, I never had any lasting effects of it that I know of.

Just updated my Titan. Clock came back to normal time, just don't disconnect Zune too fast. Looks like the loud tone when dialing (problem with Orange France) disappeared. Hope this is fixed for good.

Same here. Loud dial tone is gone and phone is a tiny bit faster. Feels like a memory management problem fixed. Still got a whole list of bugs waiting to be fixed though...

Just had voice messaging pop up. Anyone else or is this simply my new headset kicking in?

I'm in Japan on an unlocked Titan by the way. Near as I can tell no date issues here

Excellent update!!! It resolve a lot of connectivity issues, the signal is more stable and the switching between 2G/3G and Wifi is a lot better, the device feels a bit snappier, something that i think was not possible considering haw fast it was, I'm using the international version of titan

Hello, I am having difficulty updating my HTC Titan to the latest bootloader that came out recently.
My phone is unbranded, purchase from HTC UK.
I live in Australia, also wondered if this update was exclusive to areas where the phone was actually sold in. The details of phone are:
OS version: 7.10.8107.79
Firmware Revision Number: 1600.2200.20301.708
Radio Software Version: 16.23.03.17_ 16.27.00.23U
Radio Hardware Version: 2.122.0.D4
Bootloader Version: 2.3.160015.3(134621)
Chip SOC version: 1.6.0.0 Thanks heaps,

Ok
in the uk on unlocked/unbranded titan
been using for 2 days now -
Bad bits
phone on the whole slower
signal switching seems better in between 2g/3g but in bad areas unfortunately offset by the fact that I now get "no signal" much more often
Good bit
Exchange download of attachments finally fixed - this seems to have been due to the tombstoning of outlook - now works flawlessly - so i can put up with the bad bits for that !


Just bought the phone few days ago and got several updates from HTC Taiwan yesterday.
The details of phone are:
OS version: 7.10.8773.98
Firmware Revision Number: 1750.0602.40603.709
Radio Software Version: 17.5006.08.27_ 17.08.50.06U
Radio Hardware Version: 2.122.0.D4
Bootloader Version: 4.6.175006.2(140733)
Chip SOC version: 1.7.5.0 Can anyone advise if it is the latest update, please?
Windows Central Newsletter
Thank you for signing up to Windows Central. You will receive a verification email shortly.
There was a problem. Please refresh the page and try again.