UNO & Friends arrives for Xbox on Windows Phone 8 today, bringing online multiplayer thrills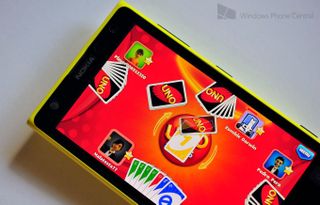 Looks like our Xbox LIVE gaming drought has come to an end as Microsoft and Gameloft have released UNO & Friends (listed as UNOFriends in the Store) for Windows Phone 8 today. The free online game allows you to challenge your friends and family to a competitive bout of UNO, all from the convenience of your phone.
These type of online multiplayer games have been yearned for by many Windows Phone users as we only have a handful of such titles, though that list is slowly growing in 2013. Combined with the free pricing point, it should ensure that there are plenty of users to challenge.
The feature list and description for the game, just released, is the following:
"Playing UNO with friends, family, and millions of fans worldwide has never been easier! Join one of the largest free online mobile gaming communities and enjoy an all-new free multiplayer experience, competitive leaderboards and fun customization options that let you shout "UNO!" on a whole new level!"
Easy to learn, difficult to put down!
Create games and invite your friends to play!
Challenge millions of UNO fans worldwide!
Utilize Boosts & Super Boosts to diversify your strategy!
See how your card skills rank on the leaderboards!
Compete in weekly contests to win rewards!
Customize your UNO game with backgrounds, card deck designs & special effects!
Play online multiplayer matches over 3G or Wi-Fi!
Connect using your free Facebook Connect account!
Overall, it's not a bad offering and you can see the teaser launch trailer above. When the game is first loaded, it will ask to enable Toast notifications and then connect to your Xbox LIVE account. The graphics are bright and poppy, though it should be clear that this is a Gameloft/iOS type port, meaning the design is not-so Modern.
Still, seeing as the game just launched on iOS and Android back in March, this can still be considered new title, which is a nice change from previous releases. When combined with the Facebook version, it also means that Windows Phone users won't be alone for gameplay [Edit: actually, it may mean that as this looks to be isolated to just Xbox LIVE users]. Of course, don't let that "free" price fool you, this is technically a freemium game, meaning you have the option for in-app purchases to give you the edge in gameplay.
We'll play with UNO & Friends over the next few hours and look for our review in the coming weeks. For now, let us know what you think in comments. Thanks, Kevin G., for the tip!
Pick up UNO & Friends for Windows Phone 8 here in the Store. All devices, even 512MB. 51MB, free
Get the Windows Central Newsletter
All the latest news, reviews, and guides for Windows and Xbox diehards.
Daniel Rubino is the Editor-in-chief of Windows Central, head reviewer, podcast co-host, and analyst. He has been covering Microsoft since 2007 when this site was called WMExperts (and later Windows Phone Central). His interests include Windows, laptops, next-gen computing, and for some reason, watches. Before all this tech stuff, he worked on a Ph.D. in linguistics, watched people sleep (for medical purposes!), and ran the projectors at movie theaters because it was fun.
Finaly a nice MP Xbox game:)

do you maybe have an idea how I can add facebook friends to my uno & friends game? because I auto login with my xbl account and I can play with a few friends I have on my xbox live account , but I want to play with some of my facebook friends can you help me ?

never plyed UNO but its good to see on the WP...... need Zynga Poker now :|

Oooh, Xbox live free game...yayy :D

It's a good game and works well even on 512mb devices :) just a shame you can't use it over Facebook etc and play with iOS/Android friends

Ah, lame. I'll adjust the post. Was hoping it'd be open to everyone.

Yeah WTF? Seems retarded to release this without the ability to play with iOS and android players. Unless I cannot find the spot to find facebook friends somewhere.
When you try to add friends to the game, you can send it to an email address. Does this mean you can email request to an iOS or Android player?

That's a restriction from Microsoft for Xbox games, not Gameloft's decision.

I gotta say, some of these decisions really make me wonder if they are actually serious about gaining marketshare. Not being able to play a multiplayer game with your iOS friends? How is that going to help sales of windows phones? The more secluded and outcast WP users feel, the less likely someone new ]]is gonna give it a try. I'm a pretty reasonable thinker, but I think this is Lame Lame Lame.

Make it not an XBL game then. When words with friends works (lol funny thought) it is cross compatible. Chess by Post is cross compatible too.

Wordament is also an Xbox Live game, and it allows you to play with iOS friends.

One more stupid restriction from Microsoft!!The restrictions of Microsoft and Xbox instead of improve gaming experience on WP they are ruining it!!!!!!!
1)The certification progress of Xbox delays the release of games.
2)Updates must be paid DLC to include achievements in contrast of GameCenter on iOS that with almost every update that brings new levels/feature people receive a new pack of achievements to hunt!
3)The lack of giving the chance to every developer to apply his game for the Xbox branding.
(It's a shame to see games like the Where my Water/Perry/Mickey, Temple Run. Epic Battle Dude,Radiant,Royal Revolt and many other!! I live for the day that i stop moan about almost everything about gaming on WP and everything will be almost perfect like iOS!
Please vote for my suggestion if you agree:http://windowsphone.uservoice.com/forums/101801-feature-suggestions/suggestions/4163745-windows-phone-xbox-live-more-something-like-gamece P.S Sorry for my bad english

Wait, Dan, Kevin G was your informant this time???? ALLL YOUUUUUU Sucka MC's ain't got nothin on me.....
Haha just kidding, thanks for the update tho.

Than Daniel and the whole wpcentral team as I was just asking about this the other day. Tell Microsoft I won't be getting an iPod, and that they have till April 2014 (that should be enough time for MS ) to get family feud on WP... Right?

Wow, it only took what, 7 years for a multiplayer Uno on WP? (going back to the announcement of "Live Anywhere")

Lolno, the game arrived on iOS in may... 2 months ago...

Doesn't count. Back when Live Anwhere was announced, Uno on WP with XBL was one of the features they showed off.

WHY on Earth would I do that?

I belive he was trying to reply to eddieDOTexe bellow whi was xomplaining about no WP7 support... This is what happens when younare pushing the wrong buttons :) :) :)

Aw boo no WP7 support. :/

Nice,can't wait for Asphalt 8 and Modern Combat 5.

Wow, I'm impressed, was playing this on my tablet the other day and thinking when is this gonna come to WP. Nicely done!

Free is too cheap for you?

It's not free. It's FREEMIUM. There' s a huge difference. Freemium apps are rarely better than spyware.
I'd happy pay for a game to not have to deal with spam., ads, and in-app purchase nags. I will never download/install another freemium game.

Freemium isn't free indeed, in many cases you're better off paying $5. Haven't tried this game so I can't judge though.

in mobile maybe , but there are many pc freemuims that doesnt allow real cash to interfere with gameplay.
team fortress 2 and league of legends as prime examples... eve online have its own wierd way too, where it can become free if ur good enough(not that hard).. surely some of those examples can be replicated in the mobile space :S

hee hee yeah, every freemium game I've played, I've spent over $5. Which is much higher than the average cost for an app. Though looking at UNO, it doesn't look like I'll actually want any of the freemium addons. Thank God.

Are you ever going to review Ilomilo?

That's a tough review. They usually only do less intricate reviews.

Depends on who's reviewing what! I like to think my reviews are as intricate as possible within a 1200-1400 word range. We did sort of review ilomilo for WP7 early on, but I wasn't the reviewer. I'll see if I can find the time to review the Windows 8 version.

I want Minions Rush!! Please please please please Gameloft!!!
Love the Minions!! PS.: Uno&Friends was just released in June for iOS and Android! Wow, this was fast!

Me too...
Waiting waiting....

I want Microsoft Minesweeper. Pls MS, port it to WP.

Check out "Minesweeper" for Windows Phone http://www.windowsphone.com/s?appid=0b00c4a3-eda9-e011-a53c-78e7d1fa76f8

Is this real-time multiplayer, asychronous, or both? What are the Xbox Live achievements like for it?

Do you? Where in the article does it explicity state whether online play is in real-time or asynchronous? Where in the articles does it explicity state what the available Xbox Live achievements are like?

My bad. I could have sworn you asked about iOS or Android cross compatability. I've been drinking too much of grandpa's cough syrup.

Considering its free, you could just download it and find out for yourself? The video in the article also shows real time game play

As much as possible I try not to download stuff unless I know I want it because I think that every time I do, even if I uninstall it, it takes up some residual space (which is probably why I have 9GB+ of 'other' storage already). So, I like to ask others who have already done so what their opinioins are so that I can make an informed decision.

xbox tiltle on 512 mb's fter a long while :p


thanks gameloft for supporting windows phone

Had my coworkers download on their IOS and android ours is better no video ads :) also xbl and achievements!

didnt wordament reintroduce facebook into the app ?

I wouldn't it the end of a drought when we're only seeing one major release every month or two. Unfortunately, it seems that the only official Xbox games are coming from Gameloft and EA. Sadly, it seems like Microsoft only takes the big publishers seriously. When we start seeing good Xbox games from indie developers I'll believe that the drought is ending. However, if the current trend continues Windows Phone gaming will never get off the ground.

Agree with you mate!!
Vote for my suggestion if you like! http://windowsphone.uservoice.com/forums/101801-feature-suggestions/sugg...

Then your going to die for Duo!

Damn.. No Xbox allowed on college WiFi.. -_-||

Ugh Gameloft. They actually charge "uno tokens" just to play. Even to play the tutorial level or if you connection to their servers was lost due to network error. Beware!

If that's the case I wish they'd have released a paid version too, ad free and token free. Freemium games really irk me. I'd rather pay once and hen be done with it. If I wanted to get constantly nagged to make donations I'd have downloaded he Salvation Army app.

Hey, don't dis the Army. When we needed it, they were the first to lend a hand. Other groups had to wade through their self-imposed red tape before they did anything.

Got this problem... But not only that... My phone restarted twice while playing Uno now...The second time it restarted after aprox 5 min... Don't know why every Gameloft game has to be so buggy... Not to mention the phone heats up like crazy during game play... I think i'll stay away from this one 'till the next update

Agree with you on heating issue and crashes....in addition i lost connection 3 times in a row when i was just going to win the games..quite frustrating.....hope they update the game soon..

this is very good. Already played one match. Happy with the results. Amazing. Xbox Live FTW!

Thanx Daniel I was just asking about this.

Too bad it hasn't Facebook connect. I've no friends on Xbox Live..

Go to wpcentral game forum, add anyone that spell their gamertag.

Awesome, not available for my country! UAE! *sigh*

Change region(US)> Restart> Download UNO. You can change region back with the game intact.

You could change your phone's region settings, reboot, and download it from the US.

Bummed as well. But for comparison, Gameloft's Uno (also an Xbox title) is 60 MB, but isn't multiplayer.

They should make it 50mb so we can download it without wifi:/

They need big, currently popular games that connect to iOS and Android (via Facebook or however).

I'm ranked... Hit me up, gamertag k3v6i0n

Anyone know why I keep getting a cannot connect to Xbox message? My gf also has a 920 and we are on the same WiFi and hers works fine.

Do someone can add Facebook friends?

Glitchy as hell. Keeps dealing me invisible cards. Ugh....

Nice little game. Bit of a battery drainer/phone heater but fun for a couple of games. Achievements are mainly of the accumulative ilk.

Is this a battery sapper?

YES!!!! My battery still drained and I played it while on the charging plate


played it for 15 minutes, great game (got 3 wins in a row!) but my hand started burning lol. charged it via wall socket, managed to reduce battery drain

Guess its a pipe dream that this'll ever come to my lumia 800

Holy pocket heater Batman!

I just need family feud.... Also why does this game look like it was made for the original Xbox ??? Or worse the super Nintendo???

Wow, four rounds of this game and it drained HALF my battery! Wtf this isn't even an intensive game!

This game rocks, seems more stable than the Droid client. Was able to play for hours till I ran out of tokens... Don't really need to spend $ unless ur lame & need the cheats. Otherwise its enough game play as is. Great game, awesome! Only negative is mass battery drain. Really good tho... Hope it stays that way...

Minions Rush next please.?! Thanks.! ;)

Finaly an Xbox release.We should receive 3-4 xbox titles per week to catch up with the others (iOS,Android) and instead of that we receive 1 release per month.
Also i thing that Gameloft doesn't need only to port games on WP but to begin focus on updating them and of course optimize them so that the will run perfectly smooth and has as few as possible bugs!! P.S (Support my suggestion:
http://windowsphone.uservoice.com/forums/101801-feature-suggestions/suggestions/4163745-windows-phone-xbox-live-more-something-like-gamece ) Sorry for spamming!

One of the few times I would care if this was a wp7 title...only for cross play with my wife in situations where we're waiting since i've got a 920, and she's got my decommissioned Focus that she uses as an e-reader.

Oh well, just need to find an excuse to upgrade her dumbphone one of these days...

When I click on Play/Create game it says my account does not allow multiplayer. Please help! Do i need a Gold membership?

Productivity in meetings now... GONE.

Thanks for a GREAT port!

It's fun actually and since its Xbox Live hopfully we can play 360/One players in the future. This game heats up my 8X though! Nice battery drain so looking forward to a fix.

this game is fun but only gives you 2-4 coins an hour, which means unless you win a game, you can play 1-2 games per hour.

thats a major thumbsdown from me for a game as simple as uno.

This Game on the Lumia 920 is really shitty! It consumes more power than you can charge, its full of bugs like keeping the 2 coins for a game, but the game wont start, a game starts where only one of 4 players is actually playing, and so on.

Why i cant add friends? Someone help. Text to pm if you know how to fix it

I have a problem with the game, similar to others, the game loads and when connecting to XBox quits out to the home screen, I tried uninstalling and reinstalling but no good, think I'll stick to my IOS version, shame really, always liked UNO and getting XBox Live achievements is an added bonus. Nokia Lumia 820.

The connection problems you mention, began since the last update of the game, a few weeks ago. Before that update, I didn't have any problems connecting. Now, you just have to keep trying connecting. Sometimes I need to start the game for over 30 times before it connects to XBOX... I don't know what that update was for, since all the known bugs are still existing. It's a pity, cause I am still addicted.