Upcoming Groove Music update will reportedly improve Windows 10 PC experience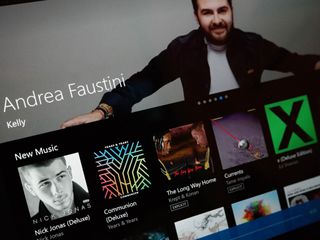 Groove Music may be getting some improvements in the near future for the Windows 10 PC desktop users. A new report claims that there will be improvements for mouse support along with other additions.
WinBeta reports:
Another new feature in the works, according to the report, is gapless playback on the desktop, which was added a few months ago to the Windows 10 Mobile version of Groove Music. It adds:
We may see these new features in action later this week at Microsoft's Build 2016 news conference.
All I want is being able to add more than 1000 song per playlist

Hahaha...you must be kidding

Why? There are some that wanted more than 512 Tiles on their Start Menu! :) It is always interesting to see how people use their systems. Personally, I can't stand wading past one scrolling motion to find ​regularly used items. That is just me.

Must say that is one strange request. 1000 songs is A LOT for a playlist But even if you did really have some legitimate use to play more than 1000 songs, you could always play oen playlist then add a 2nd playlist to the "now playing"

I have a lot of soundtracks, and most of the time I just want to listen on shuffle. But soundtracks often have a lot of tracks that aren't very easy listening, so I made a playlist to exclude those. And that one has more than 1000.

I create a playlist that contains all the music that I have not rated nor sorted yet. Since my library contains over 50,000 tracks, that unsorted playlist is large. Having a 1000 limit means that I, as much as I hate it, still use iTunes.

@nohone you do appreciate thats a really unusual use of a music app? Even at 5 mins per track, thats 4166 hours, 416 days of listening to 10 hours per day. Seems to be an "edge case" at best. Besides the fact that seems like a ton of rips. Or you've purchased 5000 albums? This all seems very dodgy and unrealistic :/

Excellent for shuffle mode in the car I bet - I have a playlist with 700+ songs on a USB. I wonder how Groove would handle that.

Well being that 700 is less than 1000 it should handle it just fine I'd imagine. But to answer the other requests above this post, the main reason long playlist support is needed is for shuffle or resuming where you left off throughout the week.

But at 5 mins per track (just taking a rough guess) thats over 80 hours of music listening a week. That seems like a lot of music listening hours. I listen to Music a fair bit msyelf, but I'd struggle to get over 40 let alone 80 hours per week. 12 hours per day, every day? Sounds doubtful to me. Perhaps you can enlighten? What scenario am I missing?

This actually does make sense to me. Since MS killed off the Like function, there is no other way to store sets of tracks that I would have flagged as Like. This is what I have been doing with my Liked tracks. Dead horse... but MS seems to keep killing off as many functions that I like as they add. Maybe focus groups or surveys just suggest I'm in a minority or something I guess.

I'm not sure that working on the desktop version means they are ignoring the mobile version.

In their own defense, GPMAA does not allow more than 1,000 songs per playlist either. You might want to look into developing your own service.


I'd like to be able to partition my collection. Maybe that's what you're after? Not everything in my collection is enjoyed by / appropriate for my wife or kids. And sometimes I'd like to browse through a subset of my collection instead of the whole thing (I manage and browse through classical music differently than I browse through other music). Neither genres nor playlists are really a good fit for these use cases.

I'm in the same boat. With WMP i'm able to make playlists with 4-5k songs which included ALL my metal genres (there are a lot). I like lots of non-metal music, but I just don't listen to that stuff very often... how else are we supposed to temporarily exclude genres of music we dont want in the mix?

Build conference is going to be awesome !!!!

Ability to share on mobile be good Sent from Lumia 950

I use file explorer to share my music, especially with Bluetooth. It's a comfortable alternative but the ability to share tracks directly in the app NEEDS to be added.

Yet another area that Zune used to excel in...

the phone version need improvment to....

I agree with this in my very soul. I still get unresponsive controls on the phone. : (

The experience on mobile sucks! A lot of times my music would not play because of failure to sign in. (even though I have downloaded music for offline usage.)

Mobile is in gestation. Nothing to see before 2018.

speaking of, wasn't an update going to stop that song and artist name flickering in the volume bar? ​also, the random song pausing needs fixing.
even using headset button to switch song is a pain. it skips the song but the new one never plays. pretty annoying.

You are soooooooooo correct about that. In the worse way. It boggles my mind that the same files and folder structure that I have on my PC works ok but some of those same files and folders wont work or even show up with the phone app. Groove mobile is terrible.

Music videos would be nice

Right! It's already on XBox. L950

Tried to use it to play files in a folder the other day and failed. I hope some basic things like that get supported. Users often have files in folders. Cannot find a way to view files by folder. Also, if you right click in Explorer on a folder there is a play in Media Player. And play in VLC as that is installed. But no Play in Groove.

Is it possible to customize equalizer in Groove music like the way it is done in Windows Media Player?

I concur 100% with this suggestion. I've got a DragonFly DAC and it sounds very bland without equalization. The cheap Logitech DAC that came with my headphones sounds much better since it has built-in bass and treble boost. iTunes and Windows Media Player both have EQ settings, why not Groove?

This is the reason I never use Groove music in PC. Windows Media Player is just fine.

They've hinted on Twitter that this may be coming.

It's been years and Microsoft is still struggling to give us the great experience that was Zune. Never have understood why they completely abandoned that platform. Rename it, do whatever, but the UI/UX was great.

I still use the Zune desktop app. The tiny player over all windows is handy (always on my bottom left corner, right where the Start button is.) Posted from Windows Central for Windows 10 Mobile

I still use the Zune desktop app. The tiny player over all windows is handy (always on my bottom left corner, right where the Start button is.) Posted from Windows Central for Windows 10 Mobile

I still use the Zune Client App as well as Media Monkey because Groove still isn't ready for anything other than a very short demo.

But thats the irony isnt it? If MS would have continued with Zune,they would have got blamed for not updating their services. Now that they have introduced Groove they are blamed for leaving behind Zune!!

updating or leaving a service are 2 completely different things. they should've kept zune and update it, or leave and replace it with a new music player that would be equal or better than zune. either way, people wouldn't complain as long as it's on par with many alternatives.
right now, it's an extremely basic music player with streaming support, and not exactly stable.

It escapes me why they couldn't at least open up the Zune code and borrow some of the ui and algorithmic elements. Especially since they struggled with that in Xbox music already.

I know this has more to do with negotiated contracts than MS, but I'll just mention that the inability to restore "purchased" music after something like a hardrive failure puts me off this a bit. Not that iTunes doesn't have it's own set of issues, but it is able to do this. If you delete Office by some error or a machine dies on you, it is no problem to restore it. It should be the same for purchased material in this digital genre.

I believe if you add all your online music to your collection or make a playlist, once you restore your computer you simply just have to select the "make music available offline" toggle switch.

What do you mean? You just tell it to download your online music. I've clean installed Windows numerous times and I always am able to restore my purchased music.

If only. So much of my purchased music is either "no longer available," or has been replaced by an identical album/song in the store that doesn't match. I can count on one hand the number of songs for which this is true in iTunes, and I've been using that longer!

This adds very little improvement.. I am not impressed.

All I want is my own local tags to be accepted, I'm fed up of being provided rubbish ones or none at all when it's non mainstream music (and don't get me started with classical music...)

Yeah, I have a band on my phone that is of the metalcore ilk, and Groove thinks it is some female solo artist. That is the only one that is really bad, though. The rest is left alone because they don't know what to do with it. It's also horrible at album recognition. I have stuff listed as being by an unknown artist within an artist in the app.

How about a way to add Artist Art on our own. Whatever I tag doesn't seem to work

Used to have an app on WP8 for it (MPATool), but it no longer works with the new app disaster. The same goes for Last.fm scrobbling (ScrobbleMe). Both died with WP8.1's Xbox Music app, I believe.

I downloaded few taging programs but doesn't matter what I tag Artist art doesn't show.

Yeah, artist art is just what Groove has. I listen to quite a few smaller bands that are not in Groove, as some just did an independent EP or something. In those cases I have a blank piece of art or the album art showing.

You can use Windows Media Player to do that, either by searching the portrait online or you can drag and drop the album art onto your library

Not sure what all you need. Artist art won't work but from Groove. If you need something nice for other tagging on the PC, I use MusicBee. It is very helpful and easy to use. It can find MOST of my stuff and tag it well with that feature (though have to manually tell it to find the stuff). Where I like it best is if something wrong, it's very easy to fix.

Hopefully it will start displaying my album arts....

Album Art you can tag, I can't seem to tag Artist Art tho.

All the other tags work fine for me except for the album art... Out of a 300 albums only 10 or something will show up.

Already sent, let me know when you receive it.

sent you a reply, all the same -.-

I've seen that WMP does better job than Groove since it downloads the disc portrait and puts it in the folder so if you copy your album from your PC to a smartphone or another device the album art stays, but with Groove does not, you need to download album art again on another device or smartphone. So you can still use WMP it gets the job done.

Too late for me. Xbox Music was so bad on PC I went to another app. There's no reason for me to switch from something I like to something I might like. Microsoft has done a terrible job catering to people who listen to local content, rather than streaming.

Groove music does a great job playing my local content on both my phone and my PC.

Except playing music is both the beginning and end of what it does will. Navigation is terrible, I hate the pop-out menus. Tagging is awful as well, and I have to go fix quite a bit of my music still.

Yeah, it was a horrible experience, they should have kept the old win32 Zune app.

That was better, but was still terrible at automated tagging, and kind of slow to do it manually. It had a very nice UI, though.

Now if I could just figure out where the playlists are coming from and how to get rid of the tons of duplicates I seem to have, it would make it easier to clean things up. :)

i want a smarter regional restriction. only buying music should be forbidden for users from non-suported countries. app login, onedrive music folder syncing across device, etc, should all be allowed for everyone. there is no point in being otherwise. -_-

They need to add a sync option for local music because it honestly takes too long for songs to appear after I add them in the music folder Posted from Windows Central for Windows 10

Really? I add all my songs with iTunes because it organize them in folders by artist>album, so the I close iTunes, open Groove and the sogs appear there almost instantly

One positive that I noticed along the way was that I can now tell whether shuffle and repeat are on or off. With the earliest Groove releases, I couldn't tell if I'd tapped the button or not and it always seemed to start in "shuffle" mode, which is horrible when you are listening to radio dramas or audio books (or some works of classical music). Tapping the shuffle icon gave no indication which mode it was in back then. Now there's a little highlighted circle around it. It's a small thing, but nice to have. The app is improving, but I agree with the above comments that the Zune software was actually pretty good, even if they needed to do something to handle the name perception issues. :-/

Microsoft should bring groove music to india.

I just wish I could choose the folders for groove mobile like I can on PC, because my library is full of WhatsApp voice clips. that is a huge oversight, it looks like Microsoft devs don't even try to use their own apps.

Can you share a song via Bluetooth/social media from Groove music? It says "not in Groove catalogue" when trying to share directly from the app.

Needs to be downloaded ands shared via file explorer as of now

Yeah of course... But xbox music allows to share directly from the app. Just wondering when Windows 10 will be 100% complete to be used without 0% dissatisfaction. Sorry.

What is that icon left to OneDrive ?

Gapless playback my ass. Mobile still only plays a selected amount of my music when shuffled.

That has nothing to do with what gapless playback is...

A worst mistake they did by selling MixRadio. They could have implemented it's features into Groove Music.

Don't get me wrong, but I think Spotify already does that, Spotify lets you stream music for free in PC and smartphones, in PC you can even play the songs in the order you want since its not randomized. IMO Groove does a good service with a subscription service (Music Pass) but it needs to merge with WMP if they want to succeed, WMP still has play options no other music player has like playback speed, SRS sound enhancement, last.fm integration, Windows network playback, etc.

MixRadio had an offline option that you have to pay Spotify for, regardless of where you run it. What you're referring to has to do with playing your own music through Spotify.

Bring Groove to more countries!

Nice updates are coming but we dont want wait game. it should be quick

Releasing in India would be nice

Still no last.fm scrobbling or equalizer in PC or SRS surround or playing speed like WMP ? I like Groove's UI design I think is good, I also like the music library and their OneDrive integration, but without last.fm integration I cannot see myself investing on Music Pass, I'll still purchase singles and music albums, sice I can download them and scrobble them using Windows Media Player, but I want to do this in Groove, I really want to move from WMP to a newer platform, but I just can't without last.fm and all the options WMP still has on Windows 10.

I use MusicBee on my PC. I can sign in to Last.fm, and it has an equalizer (though I don't use it because I have it playing through TV soaked).

Thanks for the tip, I'll look into that app, never heard of it but having last.fm scrobbling is a good feature every music app should have.

Integrated podcast support would be handy.

Edit song info / metadata. That feature's been around in other music players including Windows Media Play for a couple of decades now. It's about time to add it to Groove.

Adding a decent way to import my cd-collection would be a nice improvement. But maybe Groove is aimed at kids only who do not know music other than from streaming-services or youtube. It's a shame that ITunes remains the only satisfying tool for this

They should add gesture control in film and to app too for windows 10 mobile

Must include a library managing system, manual tagging system.

Since my subscription expired it has worked much better. No more "buffering" or skipped songs. So I think I'm good for now. In other note: Didn't Zune already have some of these functions they're now trying to implement?

If they'll finally allow cd boxsets to play in the correct playing order then I can *finally* ditch iTunes

What this app needs above all else is a graphics equalizer. Music playback on a mobile phone with earphones is nothing but torture for the ears.

Why don't you use the phones EQ that's what I do on my Lumia 830. Posted from Windows Central for Windows 10 on my Lumia 830.

here is the one thing that should be done to improve Groove Music (but undoubtedly will never happen) is having an option for Hifi lossless streaming. it is only reason I will not renew my subscription.

The only thing I want back is DLNA streaming

Format and bit rate conversion and support for external storage of the music library is a must and should already be part of the app. These should be at the top of their list.

Just PLEASE, give it a little memory to the app... so it can remember that I left it in the SONGS tab and not in the ALBUMS tab... PLEASE!

Would be nice to see a windows media player uwp app instead

update the mobile app first..it still need more improvements..artist tags wont work,album arts(some not all) dont get displayed correctly(but shows correctly in loco music player),provide grid view in addition to list and so on...

I left groove for deezer as there where simply too many bugs and features missing.. If ever groove becomes "finished" I will most likely return, but at this moment and since launch, it's really not a contester in the music streaming universe.. Posted from Windows Central for Windows 10

Rating/Favorit? Sync with external storage? Contextual search? Maybe I am the one stuck in last decade, but for me these are essential feature for a desktop experience. Without these I am stuck to using Windows Media Player.

These are not unreasonable or lost causes. I hope you've submitted them on User Voice. This isn't the forum for wishing and wanting. Having said that, I've added that I'd like to see Plex integration.

I have. I have indeed. But they don't have much votes unfortunately.

Bringing Groove Music to countries like India with local songs and artists would be nice. I really miss a quality streaming service since Mix Radio is down.

The power of universal apps is coming in sight! #ILike

Some pundits tell we Zune users to get over it, and move on, cough #windows weekly; but the Zune software was fully functional and fully featured. XBox music, and by extension Groove music just don't go far enough. It would have been helpful if Microsoft started with the Zune App and improved on it instead of ignoring something that already existed, and starting from scratch (making old mistakes all over again).

Windows Groove does not allow to log in due to regional restrictions and all I wanted was to stream my onedrive files. Well at least the iOS version works perfectly fine. Windows Platform go figure. Don't let MS trick you guys! The best Microsoft apps experience is definitely not on WM10.

I only want two things from grove:
1. Make signing in from here, Hungary available
2. Last.fm scrobbling.
And that's all I want :D Posted with the Windows Central app for Windows 10 on HP 250 G1 notebook. It is a scary old monster, I think :D

I would like to be able to create a playlist open it then be able t drag and drop songs from a folder with some songs I ripped from a CD but I don't want to add all of them. You can do this in iTunes. Or am I missing something in Groove that allows that?

I just want to be able to listen to my music from my OneDrive/Pc on my Lumia 950xl and not have to be connected to a secure connection. I've used up all my data streaming my music at my school, but the school doesn't have a secure connection for their gust WiFi :(

I'm only wainting for 1 thing to use Groove : bring back the "Play to" (also called "Cast to") function ! I don't listen music through my laptop's speaker, I stream my music from my laptop to a network dlna speaker. Please, Microsoft, bring this back !

Why can't shuffle playlist be random, it's alyways the same. Now Groove is adding my music from one drive so my songs are playing twice for each track and seems they removed the offline online streaming only options. Or i just can't find it.:(
Windows Central Newsletter
Get the best of Windows Central in in your inbox, every day!
Thank you for signing up to Windows Central. You will receive a verification email shortly.
There was a problem. Please refresh the page and try again.