Upcoming ReCore Xbox One update will shorten its loading times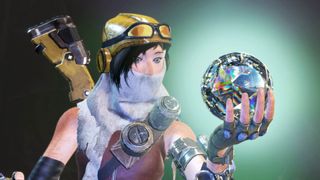 Microsoft will release an update this week for the Xbox One version of its recent action-adventure game ReCore designed to shorten the game's loading times.
In a post on the game's official website, Microsoft stated they have liked the response it has seen from people who have played ReCore:
A more exact date to expect the update wasn't given, but this should be welcome news for those playing the Xbox One version of the game nonetheless.
See ReCore on the Microsoft Store (opens in new tab)
Get the Windows Central Newsletter
All the latest news, reviews, and guides for Windows and Xbox diehards.
Ah, the load times was a shock the first time I went from playing on Win10 to my Xbox One. It's not fun dying on the X-Box. I figured it had to do with the SSD HD in my PC.

How long are we talking here?

A couple of minutes sometimes (at the very most). On PC (I have it installed on SSD) it loads very quickly

Wow. While I agree the load times are long, I've never encountered any ones that took a few minutes. Playing on XB1S though.

It seems to take a lot longer when it's loading as a result of dying, also I never timed it specifically so I could be exaggerating unintentionally.

Holy crap, that's what i figured. I remember some Xbox and 360 games that did that in the past. Can't remembr which though. Sucks when it happens often too.

The Witcher 3 on PC non SSD takes ages so I'm sure the consoles take even longer. Even with an SSD some games like The Division still took ages.

I'd forgotten about The Witcher 3 but you're right. I played from HDD on PC and it had longload times.

Agreed! I started on the Xbox One and quickly became frustrated by load times. But I don't want to go back after playing it on my Windows 10 PC in 4K (thank you NVIDIA GTX 1060) with load times measured in seconds instead of minutes. For those who don't have a high-end PC, this will definitely be a very welcome update for an otherwise great game!

I am still happy switching between both, but I know what you mean. I'm only playing in 1080p but with everything maxed out at solid 60FPS and there's a noticeable difference v.s Xbox One. A few extra effects but overall sharper graphics and obviously the big framerate difference. I think this game is a good example of the differences we'll see between Xbox One/S and Scorpio. The game is still enjoyable on both but on the PC you get the better framerate and visuals. Still really enjoy it on both and love the seamless transition between platforms.

Yes! The load times for me was the only blemish on otherwise fantastic game. I'm about 18 hours in and loving it!

I really enjoy playing it too. Fun and interesting game that keeps you going.

I've done about 5 hours on Xbox and maybe 2 or so on PC and absolutely loving it. Haven't played since the weekend as been working etc. If I do then I'll end up staying up until stupid o'clock lol

Great game, and while I find the load times extremely frustrating on my XB1, I use it as motivation to think before I jump/shoot. I always do better in this game when I remember that a death during a boss fight means I get to waste 2 more minutes of my life. Fallout 4 load times can be just as slow so it's not something I blame the developers for. Can't wait for Scorpio!

I fell like since the release of Nuka World the load times on Fallout 4 (XBO) have increased substantially.

That's good to know. I don't play Fallout 4 much anymore, but its one of those games I'll always make my way back to for another playthrough eventually.

The games' experience is great, good to see its only getting better.

I just picked up the game a couple days ago. Read the reviews on load time but still was shocked at how long it took. Great fix but can't believe it was overlooked

Unlikely that it was overlooked. It was probably just a lower priority, or required longer than expected to resolve.

It wasn't overlooked. In fact, they had a day-one patch to address it - believe it or not, it was even worse than it is now. I have faith that they will fix the major issues.

Oh wow good to know. I stand corrected

I love this game. But, yeah, the load times can get pretty bad. Like Skyrim at it's worst, bad. My biggest complaints though, are bugged achievements and infinite death respawn bugs. I hope they make that a priority. Really a great new IP though. Just please fix the problems soon.

Oh, those lovely death respawns xD haha happened quite a lot for me. The loading times seems okey for me thou. I think GTAV is worse.
Now I'm just stuck at a enemy platform at e-tower, floor 2 xD level 22 req, but I'm 25, and all my bots as well, but instant death by those trap thingies.

Is there a place to go to submit feedback/bugs? Posted via the Windows Central App for Android

I'm sure the feedback hub right? Or is this not on XB1 yet?

I can't wait for this update! Posted via the Windows Central App for Android

Great, hopefully it will be Ultra Wide monitor support for the PC next.

Because of loading times on Xbox I got a USB3 SSD. Already had a SSD in my PC.

Yeah the loads times could take up to two minutes...that crazy...the update seems like it fixed most of the load lag.