Update required to keep using Windows Live Mail 2012 with Microsoft accounts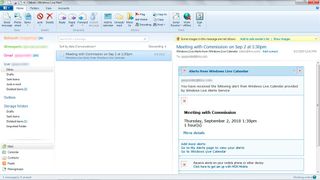 If you're still sticking with Windows Live Mail 2012 as your email client of choice, there's a change to Microsoft email accounts coming that you'll want to be aware of. Microsoft is alerting users that some changes coming to Outlook, Hotmail, Live, and MSN accounts will prevent email from being delivered to the Windows Live Mail 2012. Never fear, however, as there's an update available that should correct this. From Microsoft:
Microsoft goes on to recommend that users on Windows 8, 8.1, and 10 go ahead and make the switch to the built-in Mail app on each OS. And honestly, that's not a bad idea considering support for Windows Live Mail 2012 is most likely waning. Still, if you plan on sticking it out, you can go ahead and grab the required update (opens in new tab) from Microsoft.
Dan Thorp-Lancaster is the former Editor-in-Chief of Windows Central. He began working with Windows Central, Android Central, and iMore as a news writer in 2014 and is obsessed with tech of all sorts. You can follow Dan on Twitter @DthorpL and Instagram @heyitsdtl.
I switched to outlook.com very early on, means I don't have to do anything right?

Of you don't use Live Mail 2012 to check your mail, then you don't.

It makes the built in mail app look like a turkey.

Because it has always worked flawlessly?

Not just live but the Office Outlook app too

I use MS Office Outlook. I find it better than half baked Mail app.

It should be better. Outlook is paid software made fo work and school.

I guess they can make Mail app as good as Outlook, then not many need to buy Outlook.

My wife still users the Live client. I use Outlook 2016.

Outlook online, best always feel like working on the actual server

Till you don't have a net connection, then your screwedd.

Got the email about this today. I love how they recommended using the built in Mail app on W10 yet mine still refuses to sync on it's own no matter what I do. Works good on mobile but not desktop. Guess I'll keep using Windows Live Mail for my primary Hotmail account.

Check permissions in system settings

I've checked just about everywhere. Mail initially syncs on it's own when my PC 1st boots up and then almost never after that. I have it set to sync hourly. I've checked all the sync settings, Privacy Mail and Calendar settings, etc. Not sure where else to look. I've even unpinned/repinned the live tile. Also, not sure why but on W10M I see the Mail app allowed to run under Settings->Privacy->Background Apps. On W10 Desktop there is no Mail app listed here at all. Weird. Maybe I need to do a clean install of W10 on my PC. Trying to avoid that.

Windows Mail, along with Calendar and People (contacts) are found by clicking the START menu and then All apps. Scroll through the alphabetical listings to find these. You can pin each one to your task bar by doing a right-click on the app, itself, and sliding down to Move and over to "pin to taskbar." You will then be able to one click Windows Mail to get into it. Same with Calendar (if you have events and appointments, for example) and People to get contact info about them. All contacts that were created in Windows Live Mail will be in the Win 10 People app. Anyone wanting an email client similar to Windows Live Mail 2012, that is, that can handle several email accounts [I have 4 and my Windows Live stopped working when it was open and my computer crashed. I had to do a hard shutdown and reboot on 27 March 2016. I can no longer get it to work no matter what I do to uninstall, reinstall, repair] you might want to give eM Client at www.emclient.com a look. It can read all Windows Live Mail 2012 folders and saved emails automatically. You will still need the People app in Win 10, however, to reconstruct your contacts in eM Client - it does not pull those in. It will also work with most mail servers but those using Comcast.net for email will want to set the SMTP server for that email account to port 465. The port eM Client wants to use will not allow any outgoing mail from it. Googles GMail works just fine - not issues. Hope this info helps someone down the line...

Glad they aren't killing it altogether. I'd use Windows 10's built-in email client, but the lack of a unified inbox is a killer. It's doable on WP10 mobile, though (but barely).

I hate how all the new mail clients are removing the ability to delete multiple msgs with select all. This is the only reason I like the old clients better. Too often my inbox gets cluttered because I have no way to delete msgs I don't care to read.

"Select All" does work now, Mobile and PC. Also using [Ctrl] + [A].

Btw, the update they're doing also borks custom domain accounts. They put my dad on the preview and he can only get his mail over there web now. Problem is widespread... if you were using the discontinued Microsoft domains, you will have to make a change soon.

Can you explain that a little further? I haven't read anything or received any notice about changes in custom domain accounts other than the discontinuation of Live Admin Center for domain management. I have my personal email on a custom domain and it's working fine but I upgraded my OnePlus One a few days ago phone to Marshmallow and yesterday I noticed that outgoing emails take some minutes or even hours to get sent. A week ago in Lollipop I didn't have that problem. I don't know if it's related to the changes you talked about or just a problem with Exchange Services itself or within Marshmallow. Unfortunately this article just quoted a part of what I think is a communication from Microsoft but didn't provide a link to the source. I can't find anything about it searching the web either. Thanks!

WLM2012 is just SO MUCH FREAKING BETTER than that stupid gimped 'mail' app we're supposed to use now.
Honestly, the new ones are like trying to open an envelope while wearing boxing gloves and have less than 10% functionality. Not many people actually want to use the outlook office app as its just an absurd mess of stupid settings and user unfriendlyness and unnecessary complexity, the new metro mail app is just as unusable for the opposite reasons.
WLM just freaking works, and gives ppl exactly what they want without hiding anything away and without needing a phd to understand

I agree completely with your comments.

I ran this update and now Live Mail crashes when I start it. Thanks Microsoft. And oh look, Outlook 2013 doesn't know how to import Live Mail messages, so I have to go through all kinds of hassle to get my email back. I'm more than a little angry right now.

Thanks for the heads up. Guess I won't be running the update for my Live Mail until I'm happy with the Mail app. Right now it doesn't sync hourly like it should. Stupidity!

I had the same problem as you , but I found that if I uninstalled Live Mail and re install it works again ,just dont run the patch.All your mail should still be there.

Another here who has WLM2012 crash after installing this. I tried running the repair tool from the Control Panel Programs & Features but that didn't fix. Probably have to uninstall and reinstall.

I ran the update and all the message I had in various folders disappeared completely! Fortunately they were still on the server - or so I thought. I just found out last night that only most of them are still on the server. And apparently there is not rhyme or reason to which ones remained on the server and which ones did not. Also, some of my messages that came in yesterday appeared in my WLM inbox are not appearing on the server, even though they should be - and there are some messages on the server in two separate locations and I cannot delete them from one of the locations where they do not belong. I did manage to import some of the older folders back to my WLM program, however those messages and folders will now only appear under the Storage Folders and I cannot move any new messages to those folders. So, in order to organize new incoming message, I have to re-create folders with the same names under the Inbox and if I want to find a message I now have to look in that folder or in the folder under Storage Folders which defeats the purpose of trying to organize things. Needless to say I am in the process of finding a new email program because I have 3 email addresses that I manage at one time and then an email address for my mother that I manage. Having a program such as WLM made that better than switching from live.com, yahoo. com, and the two roadrunner.com accounts - but with the loss of something close to 2,000 messages I am not at all pleased with Microsoft right now!

can u send me the active update link. Here the link has been expired or removed the file.

The Mail app is grossly inadequate. After Microsoft's update wrecked my Live Mail install I took a look at Mail for the first time in over a year. It's gotten better. Where it used to be laughably primitve it is now merely inadequate. There didn't appear to be any way to create your own folders of to import existing Live Mail messages, something you'd think would be a major function for getting people to switch over. I wasn't using Outlook portion of Office 2013 becaus eit was overkill for my needs and used a lot more resources as a result. But I suppose I have no choice.

Live mail 2012 til the end!

I just installed this update because I like Live Mail 2012 and its totally killed it. I can no longer access any of my email accounts from any provider as the client simply says it has stopped working and closes. I either have to go through the hassle of uninstalling it and trying again in the hope it doesn't kill it or switch to outlook which I really don't like. The new mail program in W10 doesn't appear to meet my needs. I can't change the pane layout at all, just apply stupid colours and pictures to the background that frankly I don't need to read my mail. Time to reinstall lIve mail for all my non microsoft accounts. I have one account affected by this stupid change so that account can go through the stupid app. I'm keeping live 2012 un updated and working for accounts I actually use regularly. The folder options are a joke in W10 app.

its a piece if **** update! welcome back MS where you have you been, with untested updates... guess could not expect anthing else..

Installed this supposedly necessary update and now I can't view my emails in Windows Live Mail 2012. Thanks Microsoft for nothing. I am not upgrading to 10 for as long as I can.

I did system restore and I still cannot read emails. I am Furious!

Try uninstall, then reboot and install Windows Live Essentials with Windows live mail and that should work.

After the patch, WLM will not stop crashing once it gets to updating my Outlook.com calendar. I can't find any free alternatives that do even half as good of a job as WLM. I tried Thunderbird, but its calendar support is terrible. I guess I'll move to Outlook 2016 since I already paid for it... It's just overkill.

Same here. It was crashing when "updating calendar" upon launch. I uninstalled WLM 2012 and then reinstalled (the reinstalled version does not have the patch). I am good for now, but this is just a temporary fix, unless MS fixes the patch before the Outlook.com changes are made.

I officially switched over to Windows 10's new mail app. It's better than I thought it would be. Next best free option out there to WLM2012, it seems.

I'm also suffering from the crash after upgrade (on Windows 10). Not impressed. Like others I have looked for alternative windows email clients and WLM does the job just as I want.

Just thought I would mention that I was able to WLM working again. I went to the Start Menu and right clicked on Windows Live Mail - I selected the Run as Adminstrator option and this time it didn't crash. It took a couple of hours before the latest emails displayed correctly (initially only the stub of the email would show) but is now working correctly even without doing the Run As Adminstrator thing. I wonder whether those who have the issue are like me and have thousands of emails in their inbox and folder structure - I must have around 30,000 mails or more.

The Windows Live Mail update is now managing to receive emails, but it still isn't managing to show recent sent messages.

Same problem here. Installed the update, now the calendar stopped working. The calendar seems empty, when I start to click around WLM crashes.
I don't want to update to Windows 10. Windows 7 works perfect for me, once I tried Win 8.1 and had many problems, so I will continue using Win7 as long as it's possible. You know, never change a running system...

The update worked okay for me. I'm going to keep using Windows Live Mail, as the hopeless Mail app just doesn't permit you to have POP email accounts. At least with WLM, I can have all my various email accounts going into one place. If Microsoft are dumb enough to stop supporting WLM (which seems to be the way it's going) and trying to force people on to mail, I will simply switch to using something like Thunderbird. I've already switched to Firefox and Open Office because their supposed innovations to IE and Office just make those programmes worse. Microsoft do seem to be persuing a strange business plan, which is to annoy as many people as possible with their new products. They want us all to upgrade to Windows 10 (for example), but can't make it do something as simple as keep your information private (even if you set all the privacy settings to, in effect, "none of your business", it will still send data back to Microsoft).

Dude, are you f'n kidding me? I never liked Outlook because it never seemed user friendly enough. Window Essentials Live Mail 2012 was the shiznit as far as I was concerned. Now they want to do away with it and literally force us to just deal with using what is provided with Windows. I am livid. Why? Where is the support for Outlook? I received an email stating that Microsoft will discontinue Windows Essential Live Mail 2012 and is forcing us to use Outlook. Ok fine, Outlook is not syncing with my Hotmail or Live Mail account folders. It sees them but says there is nothing found. I literally have hundreds of emails, important account info emails from all sorts of vendors, saved on the Windows Essential 2012 version of Live Mail. What the heck am I supposed to do so I don't lose all that important info? What are you going to do to fix the situation so I don't loose that information? If I lose any of those important emails there will be heck to pay. Obviously I am not happy, the Windows Live Essentials was the better email app like it or not. So now what do I do in order to not lose my important info?

Oh and by the way, the update did not work for me. Crash, Crash, Crash!!!

is this update designed to ensure you switch to the win 10 built in app as I have just installed it and windows live mail no longer works

This sucks! I did the update. Wish I didn't. Now none of the emails are coming in. No syncs. I tried to re-install the update. I ran as administrator. Both did not work. I guess the next step would be to uninstall WLM and re-install. Not looking forward to this. An earlier message said that it didn't work. I have Windows 7 Pro and am hesitant in updating to Window 10.

DO NOT UPDATE Windows Live Mail 2012. I did and now my mail is all messed up. I cannot get any mail. It says I have no new mail but when I check on my older computer & on my tablet, I have tons of mail. I repeat, DO NOT UPDATE. I contacted Microsoft and they will not help me online or via phone.


I went to control panel to do the Live Essential repair and that did not work. I ran as administrator as mentioned in an earlier comment, that did not work. I guess I will have to uninstall and reinstall. Hopefully that works. Will let you know.

As far as I can tell, the uninstall and reinstall worked. For anyone interested for the fix on the update of Windows Live Mail 2012 for Windows 7: 1. Go to control panel and uninstall Windows live Essential (Mail only). 2. Reboot computer 3. Install Windows Live Essential: http://windows.microsoft.com/en-us/windows/essentials (Just install the mail) 4. Reboot computer 5. Start Window Live Mail 2012 6. Go do something since it may take awhile to download your mail. Hopefully you don't do the update. But if you do or did, there is a fix. Just uninstall and reinstall. Happy Holidays!

Okay I jumped the gun. It partially worked. I don't get my subfolders. So If I use this computer, I don't get all my mail. If anyone knows how I can get my subfolders back, please let me know. Thanks.

It's me again. I think I got my subfolders back. I removed the email account and then added them back. For now, I got my subfolders back. If you don't hear from me again that means everything went well.

microsoft doing stupid things every day more!
This new President is a disaster! the guy think that he is the best! You guys ruined my message boxes, I have thousands of emails of more than 10 years! work and etc.
and now ? It would be the case of some people join and beginning a class action?

I have similar problems as everybody, but now a new one I have roughly 7,000 saved emails. Receipts, Support correspondants etc. They all disappeared when I went to Win 10. I paniced, at first, but did find them on the hard drive eventually. It was impossible to get WLM to see them after I moved them to it 'store' folder. I tried about 4 other email programs, but that was useless to try to import *.eml messages. My new problem is when I display a stored email, and it works, every subsequent stored email I try to display will still be the firstone that worked. Anybody have any suggestions on this ? Also the links in this article did not wook for me, when I looked for the fix at:http://target.georiot.com/Proxy.ashx?TSID=15093&GR_URL=http2F%2Fwww....

Typical of MS to f*ck things up for everyone, that link above is now a dead end, my WLM wont download my mail and there is no fix, so I am finished with MS and there bullcrap, I am now moving my address book to a non-MS application, and doing away with anything related to MS, I am tired of their crap.

Back when the "fix" was availble it destroyed my Mail 2012 program. So was it a fix or a way to force you to use what they tell us we will use? I had to restore my computer to be able to get my mail. Why can't MS leave well enough alone. The new crap does not have a decent tool bar. I have to hunt for everything each time I want to do something. I am not interested in their sync features used by businesses. I just want simple access with a decent tool bar. I loved Outlook Express more than anything. MS Mail 2012 ranked at the top too.

Thanks for nothing Microsoft. I'm on Windows 7, HATED Windows 8 and don't expect Windows 10 to be any better, so Idownloaded a different email client. I didn't realise it's default settings were to delete emails from the server once downloaded, so due to WLM not working, I now cannot access all of my old emails on my mobile phone. Partly my own fault for not checking things properly, but it only happened because Microsoft forced the change on me.

Don't really understand it. But my WLM l2012 still seems to be working . I converted another Hotmail account I use to support POP before the June 30 date and that still works fine but I left my primary account using the DeltaSync protocol and now I find that it is still working.

I don't know myself but I also are still using WLM. Maybe it was certain features that would not sync like the calendar or their 365 package. But I am content that my WLM is still working.

Looks like Microsoft finally converted my primary hotmail account and my WLM 2012 could no longer access it. Had to remove this hotmail account from WLM 2012 then logon via web and change it to support POP and finally add it back to WLM 2012. It now works fine again. However I may have more problems when Microsoft removes support for WLM 2012 next year. Cannot understand why Microsoft does not improve tthe Windows 10 Mail App to support same features as WLM 2012

The link for the update is broken. Please update the link or tell the name of the update needed for this.

OR, if you'd like to keep using Live Mail 2012, here's some simple instructions, that work. Search for: Guiding Tech How To Set Up Outlook.com Using IMAP on Windows Live Mail Unbelievable, that MS broke this, screwed millions of people. It wouldn't be so bad if their new email was better than (or even as good as) 2012.

Too bad support for windows live mail will eventually end. I do not like windows 10 mail app. It doesn't have all the bells and whistles of windows live mail. For instance, I cannot file emails I want to save into different folders to keep them organized like I used to in windows live. You can't create new folders in windows 10 mail app. I'm trying to go paperless as much as possible and I used to file my receipts in different folders that I created. The windows 10 mail app is very basic and doesn't allow you to do much. I suspect in order to get a better mail app you'll have to purchase Office 365, which I don't want to do because I don't need it.

I'm guessing your read the mind of Bill Gates and his stock holders.

I use Windows Live Mail. Recently I have found that trying to send out emails they got to the outbox and stay there. Can anyone help on this?

I would say it is MS forcing you to use their "improved" online email. Mine stopped working this morning. I hate this new online email myself. I have to hunt and hunt for things that would normally be in a toolbar across the top in WLM.

Check this link. My WLM quit sending and receiving this morning. I found this information and it works now. Check it out.
I would post the full link but this place thinks it's spam. Believe me it is not. The article when found has a working solution for making WLM work again. It is simple as recreating your same account but making a change to server settings. After that all your folders and emails will transfer over to your new account. Make your new account default and disable the old account. theguardian dot com slash technology slash askjack slash 2016 slash jun slash 02 slash microsoft-killing-windows-live-mail-what-should-i-do-hotmail-msn-outlook

Suggest you check your configuration settings for Outgoing Mail. both the Server Settings and the Port Settings.

Who thinks up this crap. The new Outlook is even worse that the Office Outlook. Bells & whistles the ordinary home body will never use. If you don't have your adresses on a CSV File you have to put it in manually then it just disappears. Moving, Saving & Deleting is a nightmare, not to mention the garbage on the right side of the screen which I can't get rid of. I don't want my emails connected to my Facebook or Skype account. I really don't want a Gmail Account, a Yahoo mail account or a Hotmail account. I just want the one original account. For Fu(#sake fix it!
Windows Central Newsletter