Update Roundup: Flixster gets UltraViolet streaming on Windows Phone, Subway Surfers, Nokia Creative Studio, Play To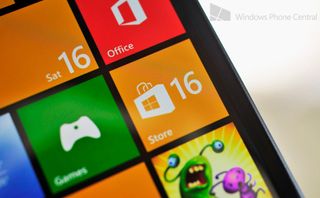 Another morning and another crop of app updates.
This morning we only have four (so far), but we're sure that will change as the day goes on. Let's get these four out of the way, since they're some pretty big apps or games for your Windows Phone, including Flixster finally (finally!) getting UltraViolet support for Windows Phone 8.
Flixster Windows Phone 8 app gets UltraViolet streaming!
This isn't an app update, so much as an in-app new feature. We're receiving numerous reports that the Flixster app for Windows Phone 8 now allows you to view and stream your Ultraviolet collection.
What's UltraViolet? It's a digital rights authentication (DRA) system for watching digital movies basically anywhere. Think of it as a "buy once, play anywhere" system.
Ever since Windows Phone had the Flixster update, users have been clamoring for UltraViolet. Because once you get a digital copy of the movie, in theory you could watch it on your computer, your iPhone, iPad and more. Just not your Windows Phone.
Indeed, going to Flixster.com and logging into our account, we got a free digital copy of the movie Matchstick Men (good movie, too!). After we launched our Windows Phone 8 Flixster app and jumped into My Movies > I Own, that movie was now sitting there, ready to play.
Some have compared this new feature to getting the Xbox Video app yesterday, and we have to agree.
So if you have a Flixster account with some UltraViolet content, fire up your app and go to your collection. No app update required. (If you do need Flixster, you can grab this link here).
Subway Surfers 1.16.1.0
Bumped from its 1.16 launch version, this is just a minor update to the super popular endless runner. Unfortunately, no changelog is present, though we'll get this out of the way, it's not a fix to add 512 MB support. That update probably won't be for a few weeks, so you have time yet.
Instead, if we had to venture a guess, we would imagine this address some Facebook login issues. Many complaints rolled in from some of you that you the Facebook integration was not up to snuff, if there was ever a need for a quick update, which would be it. Facebook integration after all lets you connect to friends and share your scores, so it's a big deal in this game. Let us know below if that gets fixed or you notice any other changes.
Pick up Subway Surfers 1.16.1.0 here in the Store. Windows Phone 8 only with 1 GB of RAM.
Nokia Creative Studio
You have to give Nokia credit here: Creative Studio is a fine photo editor. Besides just your usual crops and fixes, you can do unique things like 'color pop', collages and blurred backgrounds. It's a fun app that shows off Nokia's developer capabilities, so if you have a Lumia, it's a must have app in our opinion.
The last update for Creative Studio was way back in September. Today's update bumps it to version 5.5.1.3 and contains no new features. That's a bit of a bummer as we'd like to see this app grow a bit more. So what do you get?
"General stability improvements and storage related enhancements."
But wait, that's the same changelog from last time, meaning either Nokia is repeating themselves or this is a real small change. Considering this is a 0.0.0.1 change in version numbers, we're going with the latter.
Pick up Creative Studio here in the Store. Nokia Windows Phone 8 Lumia's only.
Nokia Play To (general release)
Nokia recently released a Play To beta for Lumia 1520 owners. That enabled the DLNA streaming app to work on that new device and even interact with the Xbox One. Today's update though is for the general version, read "all other Lumias".
Version 2.2.2.9 is now live in the Store, with the previous version being 2.2.1.4 (way back in June!). So what do you get with this update?
"This latest version includes improved Wi-Fi connectivity ensuring it continues working with future devices and firmware updates."
That sounds like code-talk for this is 'Lumia Black' ready. Lumia Black is a forthcoming firmware update that will roll out with Update 3 OS change in early 2014. Nokia is evidently laying the groundwork for that improved Lumia experience by making sure their Play To app works. Sounds good to us.
Pick up Nokia Play To version 2.2.2.9 here in the Nokia Collection.
Thanks, Robin V., Steve M., Akash P., and Tomi V., for the tips!
Windows Central Newsletter
Get the best of Windows Central in in your inbox, every day!
Daniel Rubino is the Editor-in-chief of Windows Central, head reviewer, podcast co-host, and analyst. He has been covering Microsoft since 2007 when this site was called WMExperts (and later Windows Phone Central). His interests include Windows, laptops, next-gen computing, and for some reason, watches. Before all this tech stuff, he worked on a Ph.D. in linguistics, watched people sleep (for medical purposes!), and ran the projectors at movie theaters because it was fun.
I do not use any of the 4 apps that have been updated. Good for those who use them. :) Really very disappointed with Subway Sufers. At first I thought it was updated for compatibility with 512MB phones.

Same i also thought of 512 mb ram bt...

So we might get subway surfers early jan with Lumia black update I think so(512mb devices)

I also thought of so quick update for optimization for 512mb devices
:|

I wasnt excited b4 for subway surfers as I knew it would take more 4,5 months to come on Windows phone but the post of subway surfers by Daniel made me super excited that im dying for it now. Kiloo please release it soon till year end

This update allows you to see your facebook friends' scores. Hopefully the 512mb update will come soon.

I've been streaming UV on flixster for at least a few weeks. I can't be the only one that noticed.

Thanks for telling everyone else then... meany.

That feature was in the last update on 11/13 but very few seemed to know about it, including me lol, sent tip in this morning, after over 3 years finally got credit for a tip LOL

You're not alone. In fact, it was reported by Seth on November 12: http://www.wpcentral.com/flixster-updated-unknown-improvements

Yeah, I streamed a movie using the Flixster app a few weeks ago. Were you streaming something you got on Vudu? I got two free movies when I did something sign-up related to Vudu/Flixster/UV. Both of them showed up in 'My Movies' on the Flixster app, along with a TV episode I bought on Vudu. I could stream both movies, but not the TV episode. I don't have any UV copies tied to the purchase of a physical disc or from a service other than Vudu- maybe that's the difference?

My VUDU account was already linked to my Ultraviolet account, so yeah, maybe it was some kinda promo for linking UV with VUDU, or something like that

If you link them to BestBuy CinemaNow and Target Tickets you can get 10 free movies from each, at least I did

That may be worth investigating- although in my experience these types of deals typically force you to select from a limited pool of movies (and they're usually not very good). I understand they don't want to give away movies they think they could otherwise sell, but OTOH offering a bunch of mediocre content is maybe not the best way to get people coming back to your service over and over again.

The apps are just pouring in... Microsoft has confirmed that the store now has over 200k apps.. Not that its all about the number, but the number shows how much developer support we have..

I'll have to try the Play To later...the last time I tried to use it (Nokia 920), it instantly connected to my SmartTV and blanked out the TV screen as soon as I opened the app. That was a little annoying as I was just trying to play around with it to see what options it had and to see if it could find my Xbox One, and the Mrs was watching a show so I got in trouble, haha. The Flixster update though, that is great news in time for Christmas. The wife and I give eachother a lot of movies and a lot of movies include the codes now, so I'll be able to just plug in those codes and watch from anywhere!

PlayTo update is broken. I get a black screen. Latest reviews in the Store show that I'm not the only one.

I'm getting this problem when I try to update subway surfers!

Same here on my 920. Uninstalled, rebooted, reinstalled. Same issue.

Mine is not totaly black top line is actually the bottom of the app ...

And you are running stock Amber and not GDR3 preview?

Where is the game GTA...you guys said it would be coming...this week

It was coming out today, but you jinxed it. Now, early 2014. Thanks.

I thought GTA requests had to be accompanied by an F-bomb ;)

UV on Flixster has not worked for me. I contacted Flixster and the said if you have a large library it's not working. We need Vudu.

I've been petitioning Vudu via email, Twitter and their support forums to come out with a WP8 app. Please do the same :)
They're HDX option is awesome and they have a great catalog.

Wondering why I didn't get a free copy of that movie when I logged into my flixster account this morning lol

AFAIK UV support is US only, at least according to the store page it is anyway.

Yeah, I'm from the UK and cant watch my movies at all.

Email them saying, i emailed a month ago when uv support first came and they said only us but thanks for showing interest i. Getting it in the uk

Don't install the PlayTo update, it doesn't work anymore ! Only shows a black screen (Lumia 625, GDR3).

I get a similar result. Lumia 822, GDR3

GDR3 preview does not include necessary firmware components from Nokia (it's MS only) to run any version of Play to. Play To 2.x works in regular pre-Black devices, Nokia Play to 3.0 beta in Black.

App social is also updated out of beta .

I just can't update Subway Surfers! The store tells me about the update, but when I click "update" it just downloads nothing... and the update keeps on showing =/ Already uninstalled and installed again... same thing Any1?

Restart phone and try again

Flixster needs to enable DOWNLOADS of UV movies, not just streaming....

Play To has never given me more than spotty photo viewing. And if it pairs up, it is super laggy. I've never gotten video to work at all.

Could it be your WiFi?
I've used PlayTo successfully on Xbox 360, Playstation 3 and a DirecTV box.
Edit: looks like this update messed up Playto on my 822.

The update is working fine for me. Nokia 1020 GDR2 Amber. With Play To I can listen to my music directly from my Squeezebox devices. Nice :)

Um I've been able to stream movies through flixter ultra violet now for a bit. I have a Lumia 920. Is the question can you now download for offline viewing now?

Oh great. So i updated subway surfers and now Facebook works, but it wiped my weekly challenge progress!! I had 34 of 40 Xmas trees collected...NOW ITS ZERO. So mad

NASCAR Mobile, Drag Racing, Plex and Sysapp Pusher were updated yesterday/last night too.

Any hope of adding the ability to purchase tickets through Flixster? Currently there are no official apps that can do this.. (Still have Fandango, although that is no longer supported)..

I have no sound with Flixster streaming movies from UltraViolet....anyone else?

Yeah, UV streaming doesn't seem to work in Canada (my movies still don't show) and Play to is now unsable on my L620... Nice round of updates indeed...

UK uv isn't working on wp, but it reminded me i own an nexus 7 and bing it working there. In HD!?!?

I had to reset my UV/Flixster connection, I guess because I hadn't used it in so long. After that my collection showed up on my WP.

Nokia Creative Studio has its logo updated.

I have Nokia Play To beta on my 1520 and it has a higher version number. What gives?

Nokia Play to beta 3.x is for Black devices (only).

HERE transit and App Social get update....

It has been a feature on Flixster for months. I have been streaming mine. Downside is, you can't download them on WP 8 like you can on iOS and Android. Also, better be on WiFi cause it doesn't adjust quality to your speed like Netflix.

The Subway Surfers update fixed the facebook problem. :)

Just out of curiousty, when will Jetpack Joyride and Fruit Ninja be updated on Windows Phone 8? We are still at version 1.1 while JJ is already at version 1.6

Um I have been streaming ultraviolet on flixster now for about almost three weeks now..
Am I missing something? This is from my 1020.

I thought that the flixster UV streaming was enabled I couple of weeks ago?

Please subway surfers for wp7.8

UV in flixster has been there for at least a month

New version of play to broken on my 925

Play To has never worked for me. It would load, then when I would try to send something to my TV the TV screen would show "loading" then, nothing!! Did the Play To update yesterday, NOW when I open it up it shows just a narrow band at the top of the phone screen where my photos to tap on can be seen, can't even see the full photo to click on. Uninstalled it.....call me when this program ACTUALLY WORKS!!!!!!

Unfortunately many TVs have broken DLNA implementation. In any case, Nokia Play to 3.x might work better - try it once you get Black update.

UltraViolet streaming is available in the US only; another WindowsPhone #fail
Windows Central Newsletter
Thank you for signing up to Windows Central. You will receive a verification email shortly.
There was a problem. Please refresh the page and try again.